The threat by one of the nation's largest media companies, against one of the nation's smallest, to sue over a column that attacked their Islamophobia shines a pretty bright light on the value some in our society really place on free speech, writes Michael Brull.
So it is now public knowledge that in June this year, Channel 7 threatened to sue New Matilda for defamation. Specifically, they objected to an article I wrote about their coverage of the threat from Muslims in Australia, as exposed by such figures as "Sheikh" Mohammed Tawhidi.
In the story, Tawhidi had star billing. He claimed that Muslims planned to take over Australia, rename the streets after terrorists, ban drinking and so on. Due to this emergency, Australia should stop the building of mosques, and the government should start investigating Muslims. The alleged journalist who presented this investigation described these kinds of claims as "a stunning admission from the Imam of Peace", and a "stark warning of a plan to alter Australia forever, to establish a caliphate here right under our noses".
A Muslim news organisation called One Path quickly demonstrated that Tawhidi's supposed credentials were questionable. For example, his centre, the "Islamic Association of South Australia" had only just been created, and no one knew anything about it, or if anyone else was involved in it. The Imams Council of South Australia wasn't familiar with Tawhidi either. Another "Imam" on Today Tonight was described by One Path as a "known impostor", who had previously falsely claimed to be Mufti of Australia, and had no known credentials in Islamic studies.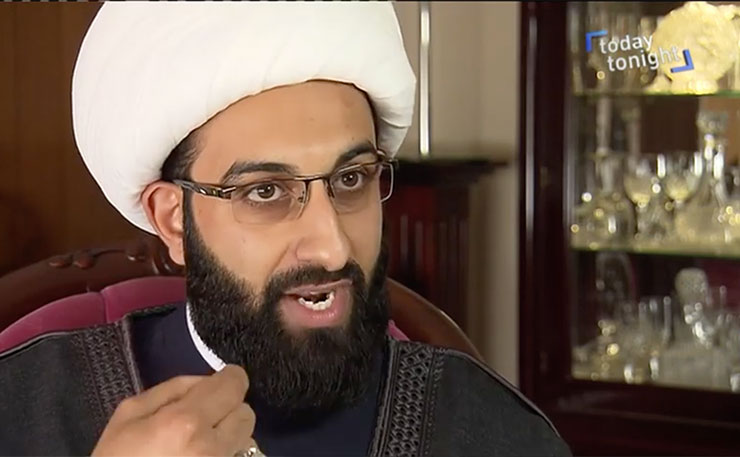 The response to the story on Facebook was predictable. "Deport this scum now". Muslims were identified as a "cancerous tumour" requiring excision.
In their defamation threat, the lawyers acting for Channel 7 vehemently deny that anything like racism or bigotry could be detected in the Today Tonight clip. They are "entirely without foundation", have no "regard to the facts", "unfounded, unfair", breaches "all of the standards" I referred to as relevant in the story, and so on. They "strongly refute any allegation or suggestion of being racist or anti-Muslim". "Far from being anti-Muslim, the segment is aimed at ring-fencing the views of extreme elements", and separating those "extreme views from the mainstream Muslim community".
Most impressively, "Any suggestion that the segment is 'racist' not only disregards the manifest purpose of the segment but is also ridiculous. Muslims are not a race." They go on to demand an apology, removal of the story from New Matilda, my Facebook page and so on. My original Facebook post was taken down by Facebook, presumably in the face of legal threats from the lawyers at Channel 7.
I think the above is a fair enough summary of the present situation. The lawyers for Channel 7 also observe that I characterise Today Tonight as the "trashiest 'news' program in Australia", among other harsh criticisms of their TV show.
NEW MATILDA HAS LAUNCHED A CROWDSOURCING CAMPAIGN TO RAISE FUNDS ON THIS ISSUE. IF YOU CAN ASSIST – EVEN JUST A FEW BUCKS – PLEASE CLICK HERE AND JOIN THE MOVEMENT.
Under different circumstances, I would relish debating the propositions put by Channel 7's lawyers. I regard the arguments in their letter as outrageous and absurd, and would particularly enjoy dissecting the segment which they characterise as factually supporting their position.
But there is another point, which I want to emphasise in this sorry episode. Virtually every day, you can read claims in the Murdoch press about how political correctness is destroying freedom of speech in this country. It is supposedly so hard to have an honest discussion about certain issues because of the stifling environment created by PC bullies. It is utter bullshit.
There is hardly a day that goes by without gratuitously offensive things being written and spoken about minorities, particularly Muslims. From politicians and across the media spectrum, Muslims are demonised, and Islam is endlessly portrayed as the true underlying cause of terrorism. Islam is reactionary and backwards, Muslim women are oppressed, Muslims want to impose sharia on Australia, they aren't willing to integrate, their values are incompatible with liberal enlightened Australia, and so on. Whilst some elements of the media briefly expressed outrage at the lowbrow bigotry of Pauline Hanson, she was quickly assimilated into the mainstream. Ultimately, the only difference between her and respectable media is the crudity and openness of her contempt for Muslims.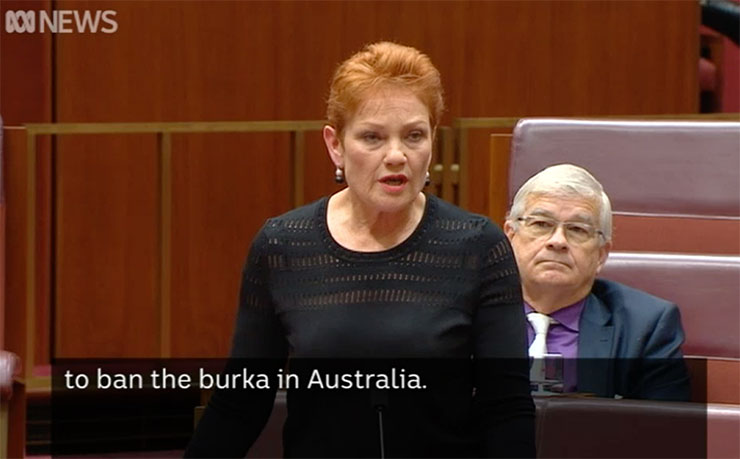 Yet there is no real pushback against any of it. Most of it goes by unnoticed. Herald Sun and Sky News presenter Andrew Bolt wrote a column where he predicted a "civil war", as a "frightened public" will "defend themselves" from Islam. "God knows how soon non-Muslim vigilantes will themselves take up arms. Who could blame them"?
Sure, "Innocents, particularly Muslims, could get hurt". And it is "easy to demonise" the "rise of right-wing resistance to Islamism… But innocent people, mostly Christians" are already being murdered. So….
In a civilised country, that column would have caused an uproar. Here, it's the kind of thing that no-one notices. Andrew Bolt was characterised by the Power Index as the most influential and best read columnist in Australia, with a reach of over 11 million people. Despite his enormous audience, it seems I was virtually the only person who took exception to what he wrote. Certainly, no other media figures used their platforms to say anything about it.
That is one example. There are countless others. Not just in the sense of what is said about Muslims, but what isn't said.
In the last 16 years, we have gone to war with Libya, Afghanistan, Iraq and Syria. We have supported wars in Palestine, Yemen, and drone strikes in Pakistan and elsewhere. Yet none of it seems to matter.
NEW MATILDA HAS LAUNCHED A CROWDSOURCING CAMPAIGN TO RAISE FUNDS ON THIS ISSUE. IF YOU CAN ASSIST – EVEN JUST A FEW BUCKS – PLEASE CLICK HERE AND JOIN THE MOVEMENT. 
Progressive intellectuals and pundits justified the war on Libya, and lost interest as the country was destroyed. Our support for the Saudi led coalition's war on Yemen may result in a famine killing some 7 million people. This should be a horrifying scandal.
Instead, it is entirely absent from the media agenda. Australia contributes to killing 7 million people, overwhelmingly Muslim? Yawn. Who cares.
Former Senator Scott Ludlam spoke out on the issue when he was still in Parliament. Human Rights Watch issued a principled statement, and then wrote a letter to the government seeking information on our military exports to Saudi Arabia. Amnesty International – inexplicably – decided to become the only branch of Amnesty in the entire world to not support a military embargo on Saudi Arabia, seeking to water down their only statement on the issue.
That is, racism is central to Australian media and political life, in many ways, and fundamental to virtually all mainstream discussion of Muslims in Australia. It is difficult to briefly set out this position, let alone argue for it. Yet it is harder to do so in a climate where racism is forced off the agenda by the kind of bullying demonstrated by Channel 7.
Australia's defamation laws are extremely harsh and repressive. They are arguably worse than the UK's defamation laws, which are considered an international scandal.
Importantly, defamation lawsuits don't need to be won to be effective. A party with deep pockets can silence a party that can't afford to fight a defamation action – and this is regularly done.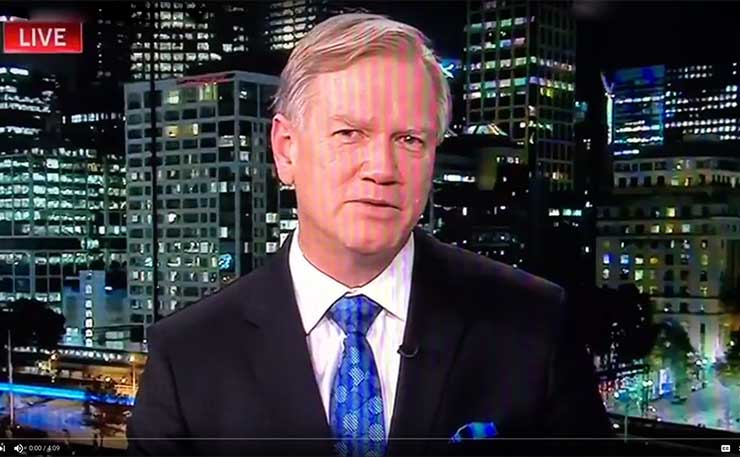 One of the richest men in Australia was able to get a video critical of him by the Yindjibarndi Aboriginal Corporation taken down from the internet. They were trying to prevent mining on land which they worried would "destroy holy places and culture".
Alas, they did not have the good fortune of being billionaires, and the mere threat of a lawsuit was enough to prevent criticism of the process of their land being taken from them.
Most Australians can't afford to prevent public criticism through defamation actions. Structurally, they mostly act to prevent powerful and wealthy people from being criticised, particularly from the marginalised and poor.
New Matilda has generously backed my original column about Today Tonight. The prudent action is usually to avoid using the word "racist" when discussing news programs and public figures. Typically, I use euphemisms and polite understatement on such occasions.
New Matilda is in no position to fight every battle. It seems even Today Tonight isn't fair game for such critique: my column could lead to New Matilda being wiped out.
This is the issue that I want to stress. Those who care about freedom of speech should not be complaining about the imaginary climate of political correctness, which has never existed in Australia. They should worry that defamation actions effectively make only one side of the argument extremely risky to make in Australia.
It is hard to discuss racism when you know that the other side has a loaded gun, and can choose whether or not they want to pick it up.
As I said, in their letter threatening a defamation lawsuit, Channel 7's lawyers made some arguments that I would love to refute. Yet it is hard to take such arguments seriously whilst they point a loaded gun at us.
If they want to discuss the merits of their reporting, they can begin by putting the gun down. If they want to win arguments through extortion, that simply tells us something about how confident they are of being able to win a free and fair argument, and how afraid they are of public scrutiny, even by a tiny media company with a fraction of their resources and platform.
NEW MATILDA HAS LAUNCHED A CROWDSOURCING CAMPAIGN TO RAISE FUNDS ON THIS ISSUE. IF YOU CAN ASSIST – EVEN JUST A FEW BUCKS – PLEASE CLICK HERE AND JOIN THE MOVEMENT. 

Donate To New Matilda
New Matilda is a small, independent media outlet. We survive through reader contributions, and never losing a lawsuit. If you got something from this article, giving something back helps us to continue speaking truth to power. Every little bit counts.