'Political things' are finally happening in Australia over the War on Yemen. If you're a Green, opposition is growing. If you're Labor, you'll be very confused. And if you're a Liberal, then you're making a lot of money. Michael Brull continues his series on the humanitarian disaster unfolding in a nation we're helping to destroy.
The war on Yemen appears to be finally breaking into the mainstream political agenda. On Wednesday last week, Greens Senator Scott Ludlam gave notice of a motion for the Senate on Australian military exports to Saudi Arabia. The motion ordered the Defence Minister, Marise Payne, to disclose by 30 March 6 pm, two things.
Firstly, Christopher Pyne MP's itinerary when he visited Saudi Arabia. Secondly, "Any documents relating to approvals for military exports to Saudi Arabia since January 2016."
Remarkably, though most politicians have studiously avoided criticising Saudi Arabia or mentioning the war in Yemen, this motion received strong support in the Senate. The ALP backed it, and so did the cross-bench, including Senators Pauline Hanson, Derryn Hinch, David Leyonhjelm, and Cory Bernardi.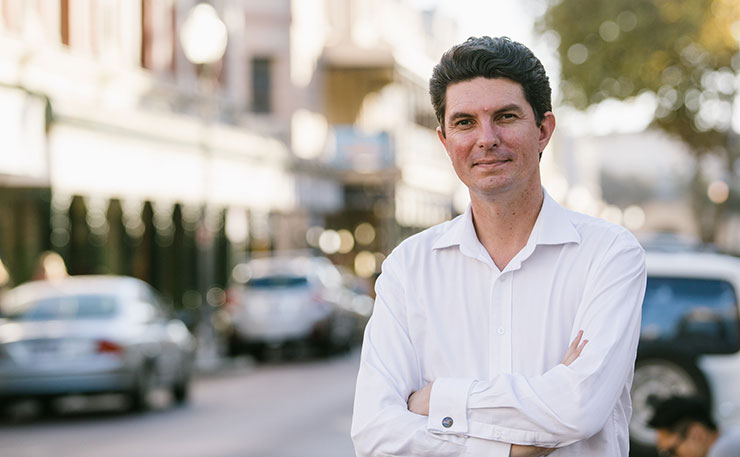 It also noted that the Dutch parliament voted to ban military exports to Saudi Arabia in 2016, activists tried to ban exports in the UK, and the US briefly suspended some arms exports at the end of the Obama Administration.
Given the ALP's cowardice on the war on Yemen, their support for this motion was particularly surprising. Shadow foreign affairs spokesperson Senator Penny Wong did not vote on the motion, as she was not present. The motion passed by an impressive margin of 39 to 22.

Senator Ludlam has also stepped his game up on speaking out about the war on Yemen. In a powerful speech on Tuesday, he said:
"Late last year, the Minister for Defence Industry, Christopher Pyne, made his way to Riyadh to flog Australian military equipment to the head of Saudi Arabia's National Guard, seemingly oblivious to the Saudi government's genocidal war in Yemen, which has killed at least 10,000 people. This one-sided conflict now threatens seven million people with deliberate starvation. Defence analysts believe that this conflict would end tomorrow without US and British military, logistical and intelligence support—with Australia contemptibly scrambling along behind."
How Australian support for the war on Yemen started entering public discussion
In an important report for Fairfax, Patrick Begley reported that, "Defence has approved four military exports to the kingdom in the past year and the Australian government has led the push for more. But the government is refusing to release details of the approved military sales, citing commercial-in-confidence rules."
Pyne visited Saudi Arabia in December to promote the export of more military equipment to the Saudi government.
Begley reported that, "Mr Pyne would not comment on the value of materiel exports to Saudi Arabia or say whether the market was growing. He declined to name which businesses accompanied him to Riyadh. The shipbuilder Austal told Fairfax Media it joined the trip and had held preliminary talks about providing Saudi Arabia with high-speed support vessels. Thales Australia would not comment on whether it attended or exports to the country."
Pyne claimed that military export applications are subject to "strict controls", including consideration of human rights criteria.
Presumably, he knows this is a lie. Otherwise, why wouldn't Pyne tell us about all the money being made from selling weapons to Saudi Arabia? Why wouldn't he brag about this triumph for Australian industry? Why aren't the businesses in question gloating about their contribution to the Australian economy?
Pyne took some pictures during his visit to Saudi Arabia.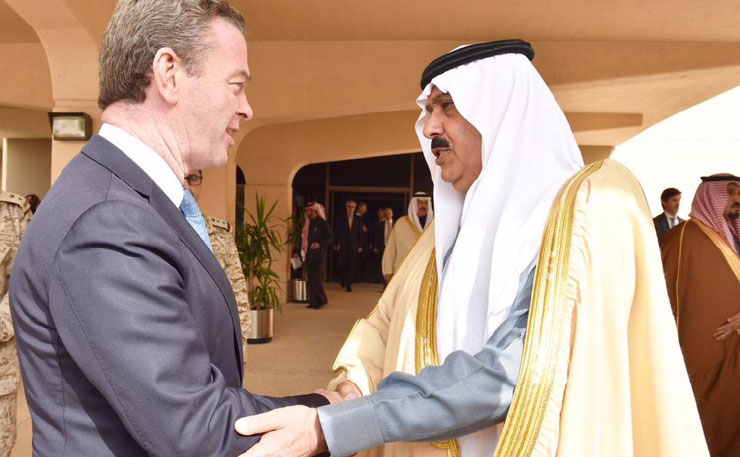 Shortly before his visit, on December 14, he put out a press release about his plans. He explained that "Promoting Australian defence exports has underpinned the Minister's visits already to the United States and the Middle East and will be his key priority for his visits to Saudi Arabia, the United Kingdom, France, and Austria next week." He proudly said that, "The Government is committed to working with Australian defence industry to develop export opportunities".
Two days earlier, on December 12, Pyne said that he "looks forward to meeting with Saudi Arabian Defence Minister, Deputy Crown Prince HRH Prince Mohammed bin Salman bin Abdulaziz Al Saud."

Furthermore, in February, Pyne visited Abu Dhabi to discuss further exciting opportunities to help destroy Yemen. Pyne had a constructive chat with the Deputy Supreme Commander of the United Arab Emirates Armed Forces, Abu Dhabi Crown Prince Sheikh Mohammed bin Zayed al-Nahyan. Pyne told Reuters that the fruits of this discussion resulted in the "two agree[ing]to consider a 10-year defence plan that could include more than $A1 billion in sales to the UAE".
Pyne also issued a media release, saying how "honoured" he was to meet with the dynastic tyrant of the UAE, and the Deputy Supreme Commander of the UAE army.
Pyne gushed to the media about the opportunities to help the war effort. "They are looking for genuine partners, not just foreign military sales, and that suits Australia's attitude extremely well".
Sales could include everything from ammunition to large items such as "high- speed support vessels", he said. "We have very significant capabilities, particularly around coastal protection and surveillance, which I think we should be sharing with our Middle Eastern partners."
Media reports suggest that Mike Hindmarsh, a former Australian major-general, is leading the UAE forces, which lead the ground invasion of Yemen. Hindmarsh reportedly commands some 1,500 soldiers in Yemen.
The war we are supporting
Trying to export weapons to the countries destroying Yemen in effect means giving the Coalition a green light. Already in September – two months before Pyne's visit to Saudi Arabia – Oxfam estimated that 82 per cent of Yemen's population was in need of humanitarian assistance.
On December 13 – the day between Pyne's two separate press releases announcing his excitement at his plan to visit Saudi Arabia shortly – UNICEF reported that a child died every 10 minutes in Yemen. There were at least 462,000 children with severe acute malnutrition, and 2.2 million in need of urgent care.
There are currently over 17 million people in Yemen who are "dangerously hungry", according to Oxfam. Oxfam also warns that "14.8 million people lack access to basic healthcare, while a lack of water and sanitation has caused an outbreak of cholera".

Seven million people are on the "brink of famine". Oxfam in the UK is currently running a campaign called #RedLineForYemen to stop British arms being sold to Saudi Arabia. Oxfam in Australia has not yet issued any similar call in relation to the Australian government. Amnesty International has also called for the "international community [to]act immediately to impose an arms embargo".
Save the Children has warned that "we're at the point of no return. If things are not done now we are going to be looking back on this and millions of children will have starved to death, and we'll all have been aware of this for some time. That will shame us as an international community for years to come."
The New York Times has said the invading coalition would be grounded without Western support. The Brookings Institute's Bruce Riedel says the war "would end tomorrow" if the US or UK told the Saudi government to end the war.
It appears the Australian government's response is roughly the opposite.
In an interview with New Matilda, Greens Senator Scott Ludlam strongly opposed the war on Yemen, and called for an arms embargo on parties to the conflict.
The ALP does not take a position on the invasion of Yemen, the blockade, or on the sale of arms to Saudi Arabia and the UAE. They call on "both sides" of the conflict to "to restore peace, security and stability to Yemen and the region."
Their vote in the Senate appears inconsistent with their policy, which was released to New Matilda on Wednesday.

Donate To New Matilda
New Matilda is a small, independent media outlet. We survive through reader contributions, and never losing a lawsuit. If you got something from this article, giving something back helps us to continue speaking truth to power. Every little bit counts.