It's a fierce contest, but here are the Coalition MPs who outdid themselves and their miserable party in 2015. Who made the cut and who missed a nod? Max Chalmers brings you the definitive 2015 political sh*t-list.
If 2013 was the year that broke Jonathan Green's politics, 2015 was the year that politics broke the Coalition.
Deeply unpopular and directionless under the leadership of a kamikaze captain, the Liberal Party finally ditched Tony Abbott in September after the PM's reverse Midas touch continued to turn everything he handled to dirt.
But what was really impressive about the mid-term government was its ability to continue to serve up genuine depravity from a range of sources including a rabble of MPs who have redoubled their efforts, and their volume, since Abbott was removed from the leadership.
This crusading cabal fought off marriage equality for yet another year and remains the major roadblock between Australia and anything approaching serious climate action. They swindled entitlements, laughed-off human rights abuses, and traded the trusted dog whistle for a Reclaim Australia branded megaphone.
Here are the 13 Coalition MPs who resolved to make 2015 an even more humiliating year for their party.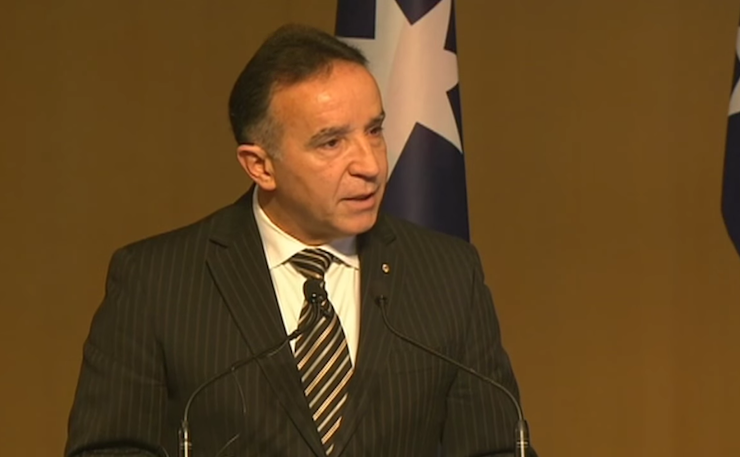 Andrew Nikolic
The Liberals under Tony Abbott were initially a self-proclaimed party for freedom. But somewhere around mid-2014, when the debate about freedom threatened to extend beyond the right to racially vilify, the party's resolve broke. Since then, the Coalition has piled on the restrictions to free speech, movement, and association, with an ever growing list of surveillance and national security laws.
A member of the parliamentary committee tasked with reviewing these laws, Andrew Nikolic has openly ridiculed the idea that civil liberties might be an important part of the debate, calling them "redundant". The former soldier has become a major cheerleader for the small anti-multicultural caucus that has found voice within the parliament of late, and he joined the self-evidently misguided attacks on Australia's Grand Mufti following the Paris terrorist attacks.
For his efforts Nikolic was dubbed "obviously one of our finest in parliament" by Peter Dutton. Praise from a source like this is perhaps the deepest condemnation of all.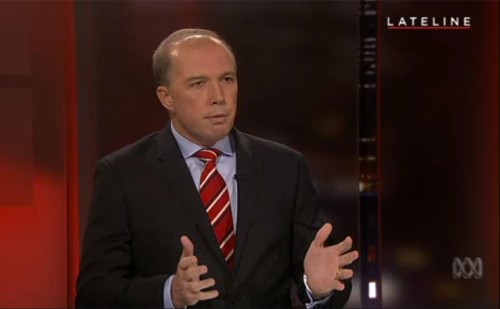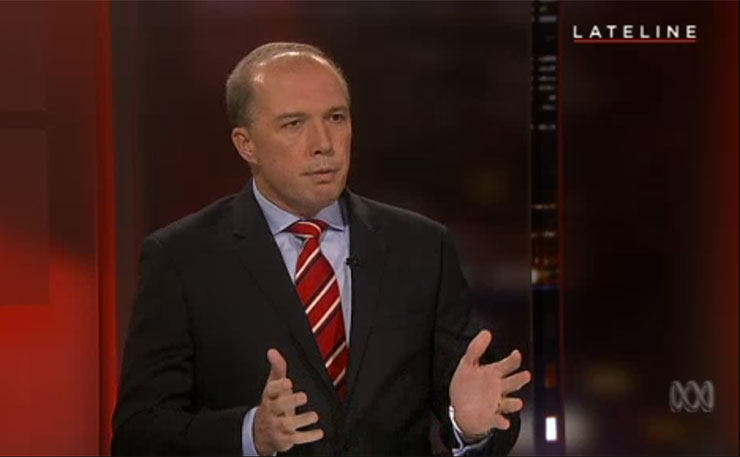 Peter Dutton
The difficulty in assessing Peter Dutton's year stems from the divergence between his stridently anti-charismatic but entertainingly hapless persona and the unbending severity of his approach to asylum seekers and refugees. The former Queensland cop has overseen the ongoing militarisation of the Department of Immigration, manifest most obviously in the Border Force Act, which extended government powers to punish whistleblowers earlier this year (credit also to the ALP for that one). Legislation allowing more violent force to be used against detainees has thankfully stalled.
At the same time, 2015 saw Dutton's reputation for dim-witted buffoonery consolidate. He's often drawn as a potato, but you feel First Dog On The Moon had it right when depicting the Minister as a disposable packet of cabbage flavoured two-minute noodles: somehow simultaneously plain and repulsive.
Dutton's most telling moment came just days before Tony Abbott's axing, caught by a low hanging boom mic making a racist joke and following up with a zinger about the impact climate change is having on our neighbours in the Pacific.
In the dying hours of Abbott's leadership, as it became evident his deputy Julie Bishop had abandoned him, rumours swirled that a joint Abbott-Dutton ticket would emerge. At this point even we started to feel a little sorry for Tony. Imagine looking around a room and appraising Dutton as your most worthy ally. That's an allegory for hopelessness if ever there was one.
Dutton has been at his chirpiest and most animated when attacking his enemies, chiefly Gillian Triggs and Greens Senator Sarah Hanson-Young. His ad hominem swipe at Hanson-Young after she alleged she had been spied on backfired spectacularly when government contractors conceded she had been.
Meanwhile, the processing of refugee claims has barely moved at all this year as those in Dutton's care have continued to perish.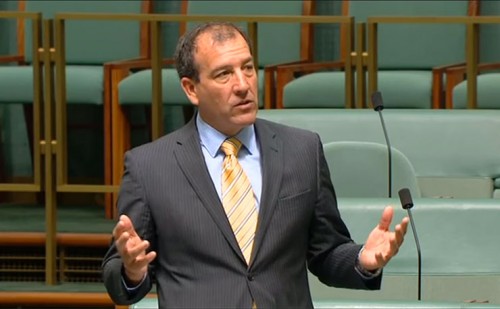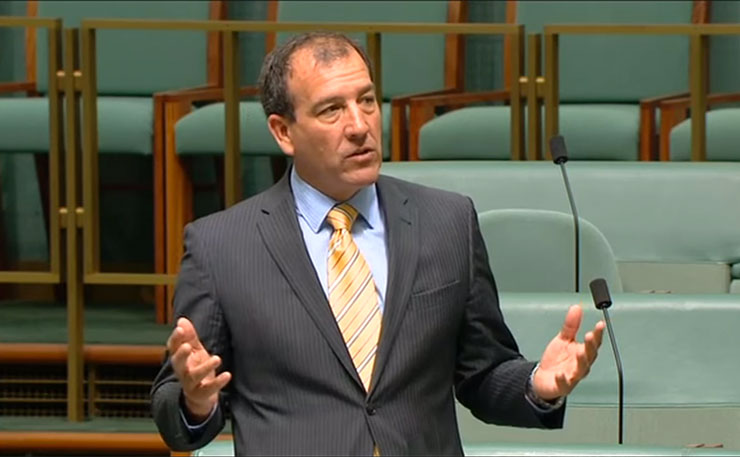 Mal Brough
Of all the images of intrigue and betrayal that will come to define the year in politics one in particular deserves to be near the top of the pile: the snap of Malcolm Turnbull and his posse swaggering into the party room vote that would see him return to the leadership.
Among the crew were an array of misfits and dissidents hitching their hopes for happier returns in 2016 on the good ship Turnbull. Mal Brough's presence among them was a potent symbol, proof that Turnbull was prepared to do any deal with any devil to get himself back on the throne.
It was a poor omen for the Coalition government's second take.
Yes, Brough was soon back in the ministry, and badder than ever, with allegations about his role in the Peter Slipper episode quickly causing problems for the new leadership team.
It's all fun and games for now, but Brough's legacy of failure and deception in Aboriginal affairs is staggering. Brace for more incidents to add to that list when The Adventures of Mal & Mal returns in 2016.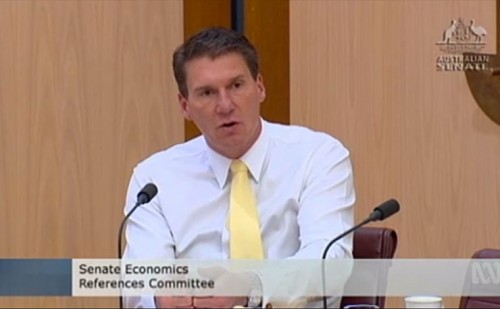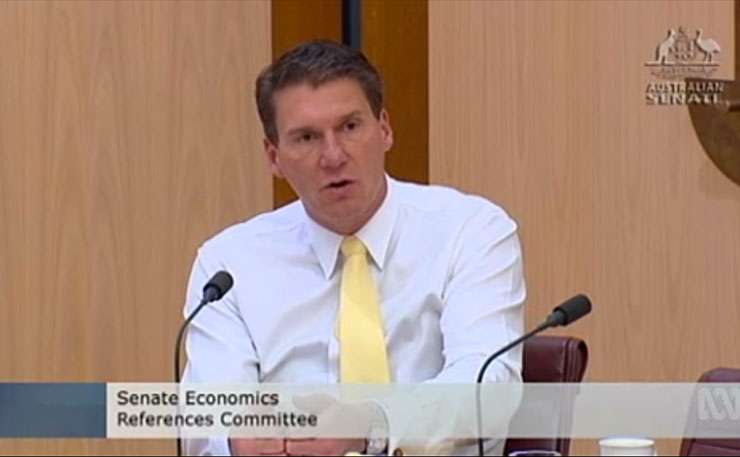 Cory Bernardi
With someone hitting the switch and bumping Auspol from 'unsustainably bonkers' to 'completely deranged' mode, Cory Bernardi has been well and truly in his element.
Quick to take advantage of terror panics and a rising tide of Islamophobia, Bernardi refocused his energies from Oxford Street to Lakemba, helping to establish a parliamentary inquiry into 'food certification', which just so happened to include halal.
Granted, it was fun at times.
Sadly though, the inquiry failed to provide any evidence to sustain the conspiracy theories of Bernardi et al.
Cory did learn one thing, however. In a program about halal the ABC's Four Corners interviewed the South Australian Senator who argued, despite the absence of evidence, that there could always potentially be links between halal certifiers and proscribed terror organisations, giving Hamas as an example.
The Senator looked a little surprised when reporter Geoff Thompson told him the group was not, in fact, listed as a terror organisation by the Australian government.
Bernardi paused. "Well, there you go," he eventually responded. It was easily one of the best political moments of television this year.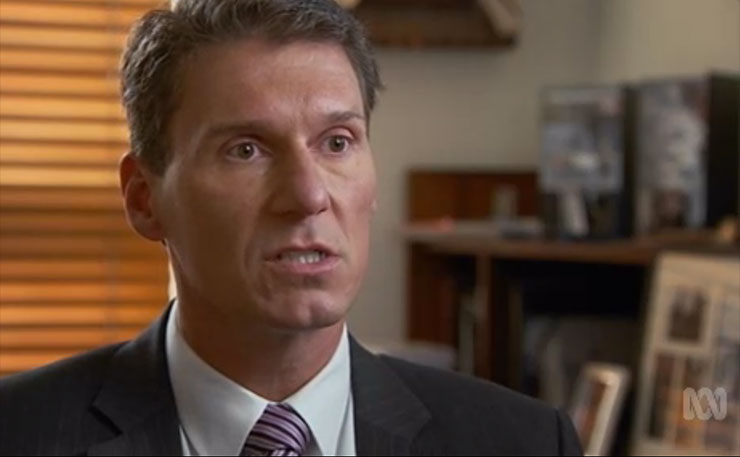 In response to Bernardi's baiting on terror and halal, Dr Jan Ali put it best when he spoke to us in May.
"That's an interesting link isn't it. I mean you and I can also make all kinds of links about everything," Ali said. "I can also make an assumption that all this money actually goes into Cory Bernardi's savings account but then Cory Bernardi might say, Jan, can you provide the evidence?"
Perhaps a Senate inquiry into the question will put our minds at ease just to be sure.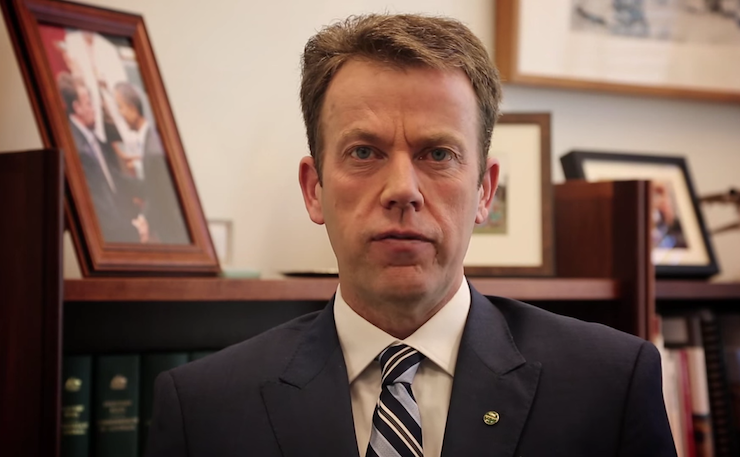 Dan Tehan
Compared to the gallery of rogues on this list, Tehan has been a quiet achiever. Representing the regional Victorian seat of Wannon, formerly held by Malcolm Fraser, Tehan was not so long ago preoccupied with the impact environmental laws would have on local anglers but has gone on to bigger things in 2015.
Chairing the Joint Parliamentary Committee on Intelligence and Security has seen his profile rise as he, like Nikolic, has championed the government's march against civil liberties.
This year he has served as a harbinger of dread, popping up in the media to help kick-start government campaigns on citizenship stripping, indefinite detention, greater military involvement in the Middle East, and even the GST (just four days into the new year, in fact).
Bernard Keane argued last week that Tehan has now spruiked himself out of serious consideration for the role of Chair he currently holds, while former National Security Legislation Monitor Bret Walker mocked the MP in July.
"I've got no idea what it means," Walker said, referring to Tehan's references to the UK's citizenship laws to defend his own government's moves. "I don't think he does either," Walker concluded.
At the end of the day Tehan is a slightly less theatrical Liberal hardliner. It's all the policy baggage minus the fun. Along with Dutton he's helped consistently put the ostensibly conservative party at odds with the rule of law, something you would expect to be one of its fundamental tenets.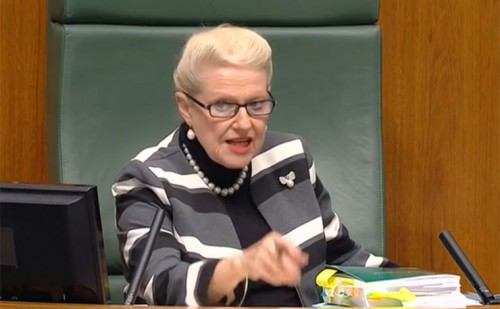 Bronwyn Bishop
If there was any doubt left about the hypocrisy of the Coalition's rhetoric on entitlement and benefits, former speaker Bronwyn Bishop put it to rest. In fact, she slay it like a Valkyrie.
The Speaker was busted spending $5,000 of taxpayer moolah to wrangle a helicopter ride from Melbourne to Geelong. To go to a Liberal Party fundraiser. On a golf course.
It was the controversy that let fly some of the dankest Auspol memes ever seen to date.
As we know, Bishop then resisted leaving the Speaker's Chair, dragging Abbott down with her and accelerating his demise. Incredibly, she would later go on to vote against Abbott when he was challenged for leader out of spite.
It's not easy to turn the nation's right wing tabloid newspapers against the Coalition but Brony, bless her deeply entitled soul, did it. A hero till the end, she has vowed to stay on in parliament to fight terrorism. It did nothing to halt the sniggers at her expense and her expenses.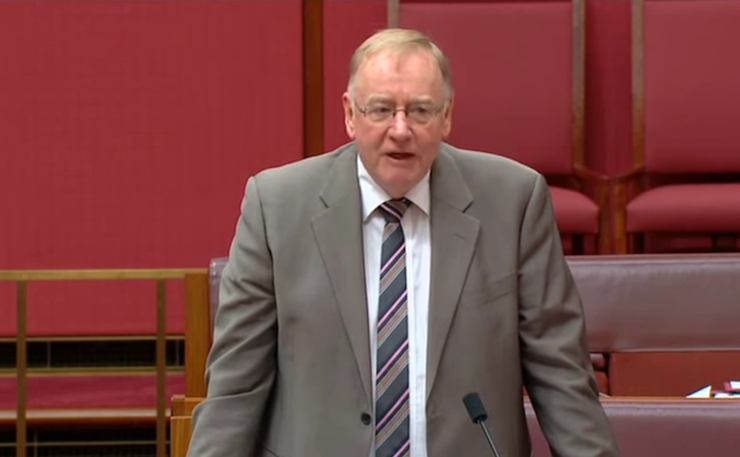 Ian Macdonald
For a man who has been in the Senate since July 1990, longer than I've been alive, Ian Macdonald hasn't really amounted to much, aside from occasionally helping Scott Ludlam to go viral. After 25 years of inquiries and committee reports, however, you might have expected the LNP man to have at least developed a close acquaintance with the English language. Not so.
In February, Macdonald issued an early contender for most jumbled press release of the decade after laying in to Gillian Triggs and Sarah Hanson-Young and being forced to defend himself against accusations of sexism. In doing so he offered the following:
"Thanks to all of those who have kindly (and not so kindly – they are the majority and are all Labor/Greens staffers, Union heavies and staff and good old Get Up and old leftie journalists) made media and social media comment on recent media reports on the Senate Estimate Committee on Professor Triggs and the partisan-ly titled report on children in detention "Forgotten Children"."
It's the Ulysses of press releases except for the fact that, unlike Joyce's nearly indecipherable masterpiece, a close reading won't help clarify the author's intent.
And grammar wasn't the worst of it for Macdonald, Auspol's real life portrait of a Liberal fogey as an old man. After giving Triggs the what-for, hauling her over the coals for that "partisan-ly titled report", Macdonald was forced to admit he hadn't actually read it. We humbly prescribe a little more reading in the future to help improve the Senator's written expression.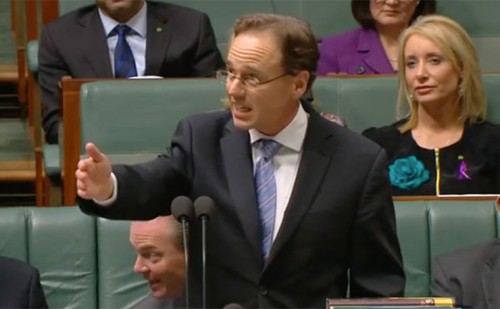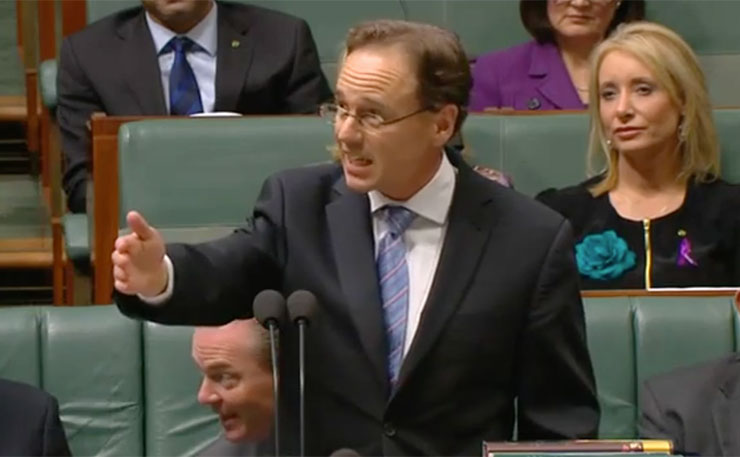 Greg Hunt
Probably the worst minister in the government, Hunt has done three things well; appeasing the Coalition's climate change sceptics, keeping big mining interests happy, and not losing his job. He's also provided plenty of fodder for my colleagues Ben Eltham and Thom Mitchell, waving through environmentally hazardous projects so quickly that one of the most problematic, Adani's planned 'mega mine' in the Galilee basin, was struck down in court because Hunt botched the paper work.
As Environment Minister Hunt has intentionally dismantled clean energy initiatives and went to war with wind.
The minister's appalling year climaxed in Paris, where he launched a desperate defence of coal by dubbing himself an anti-colonialist. Coal, however, is not good for humanity. And Greg Hunt is not good for this country or the climate. We'd suggest the minister deserves coal for Christmas but he'd probably be pleased with the gift.
George Christensen
There simply isn't enough space in this review to give Christensen the credit he deserves, but here are his big hits for 2015.
The Nationals MP has been chief among the Coalition's bigot squad, decrying creeping sharia at any opportunity and rallying hard against basically anything that's nice. He called the #IllRideWithYou hashtag a "pathetic left wing black arm band brigade campaign". He was the only Federal MP to speak at a Reclaim Australia Rally, and then challenged someone on social media to an IRL dual. He's led a concerted charge against environmental groups, embracing a senate inquiry targeting their tax deductable status while trolling them on Twitter at the same time. As Thom Mitchell explained in November, that inquiry is not just a side-act, and sits within the Coalition's broader hostility to green groups and the environment.
Christensen wants the death penalty back and Muslims to be stripped of their citizenship for practicing basic elements of their faith. He argued taking Syrian refugees would force Australians out of work, despite a recent Bureau of Statistics report showing refugees have historically been the most successful immigrants in terms of settling in and setting up businesses (thus creating, not taking, jobs). It's all a bit strange coming from an MP who serves an electorate in which the Muslim population is so sparse it doesn't even leave any impression on local demographics.
On the upside, Christensen's anti-Islamic grandstanding has provided easy pickings for Labor, with Tim Watts calling him into line and Graham Perrett handing him what remains one of the best burns of the year.
His concern for jobs, supposedly the reason the MP stands fiercely behind expanded coal mining, doesn't extend to those tied to the health of the Great Barrier Reef, or export markets that require halal certification.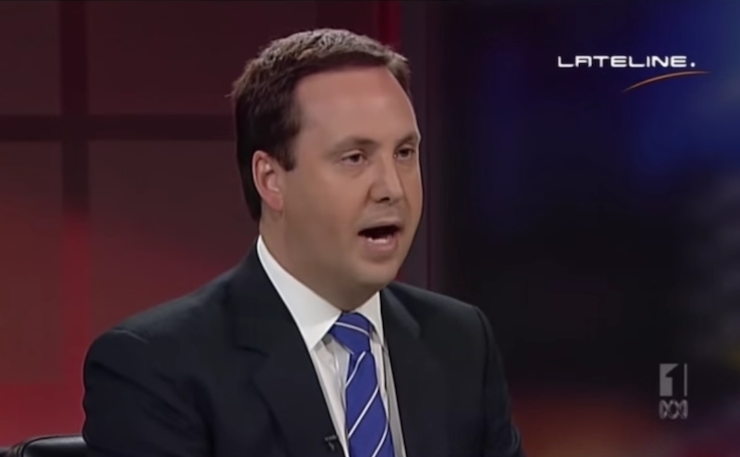 Steve Ciobo
There are plenty of reasons to hate Ciobo's year, not least among which was his comparison of Islamic State to the Nazis (we get it, they're both bad, but not really historically or politically similar so please just stop saying that). But it was Ciobo's much discussed performance on Q&A that gets him on to the list.
After the ABC somewhat foolishly fielded a question from Zaky Mallah the entire country went into meltdown for weeks, with the frenzied period of media hyperventilation drawing attention to just how petty and boring Australian politics and journalism really can be.
Ciobo, who responded live on air to Mallah's question, cashed in as best he could, exacerbating the already profoundly irritating event by confecting all the outrage he could muster and trying to squeeze every last drop of political juice from the encounter, providing comment and spewing-up op-eds to anyone who would listen.
Meanwhile, all anyone wanted to know was who the hell is Steve Ciobo and when the hell will he go away. The answer, it turned out, was 'who fucking cares' and 'almost immediately'.
Except for Peter Dutton.
"I think Steve Ciobo knocked it out of the park and exposed left-wing bias at the ABC," Dutton said at the time. "He's the hero of his colleagues.'' Finally, someone had the courage to stand up to Mark Scott and his notorious Bolshevik comrade Zaky Mallah. Again, Dutton's praise speaks for itself.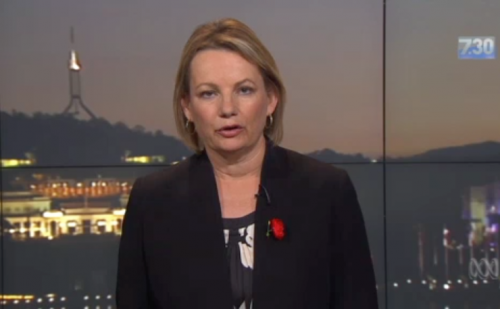 Sussan Ley
Moderate and well-spoken compared to the insufferable boy's club who constitute the Coalition's worst offenders for the year, Ley is a surprise inclusion. Yet, as Ben Eltham has pointed out throughout the year, Ley's portfolio has been a silent catastrophe in 2015.
Health, one of the most important areas of public policy, has been trashed, with millions wasted and promises broken on top of the savage cuts in the 2014 budget. While banging on about an Ice epidemic, the Coalition has moved money away from the kinds of preventative programs that keep populations healthy and safe.
Not as personally egregious as her colleagues, Ley has none-the-less been lucky to fly under the radar this year.
Eric Abetz
Here we have a man who embodies the true spirit of contemporary conservatism by standing athwart history and yelling 'stop the presses'.
Not content with fighting the good fight against marriage equality or serving as the Minister for Employment while his own departmental staff took part in rolling industrial action, Abetz has turned full time media critic, recently lashing ABC Middle East correspondent Sophie McNeill for 'letting her emotion get into her reporting'.
He has also bemoaned the lack of airtime given to anti-marriage equality groups. All you need to know about the accuracy of that critique is this delicate takedown by Buzzfeed reporter Lane Sainty.
When taking time out from his tired media shtick, Abetz kept busy by using racially insensitive language, calling marriage equality a fad which he deemed unnecessary because Dolce and Gabbana never wanted to get married, and doing what he could to characterise Christians and conservatives as the true victims of Australian bigotry. No wonder, what with all those mass anti-Christian rallies this year.
Abetz's ideas were long ago put into retirement by the Australian people. It's time for him to go the same way.
Tony Abbott
How could we possibly publish this list without the Great One. Utterly indefatigable, and completely in denial, Abbott has not let the rage fade the way his political career has.
Since being dumped by his pals we've been reminded of just what a narrow, self-invested and, frankly, nasty politician he always was. Being removed from the intense attention focused on a Prime Minister offers the opportunity for contemplation and, God forbid, critical self-reflection.
Not for our Tony though, who is working hard to reframe his legacy and book a place in the crypt kept for the conservative warriors who changed the world.
He can check-in right now for all we care. It won't change the fact that no matter how bellicose his rhetoric became, no matter how hard he tried to slam the 'terror-panic' button, no matter how many absurd strategies he devised to stay in the top job, 2015 proved Abbott is worse than a failed leader, which was always obvious. He's also a failed politician.
Despite his post-coup protestations, he mercifully failed to change the character of this country. Even conservative allies will soon forget his doleful Prime Ministership, an oddity more likely to be recalled at pub trivia nights than in the annals of Australian heroism. Damage has been done, but not enough for Tony to be worth mentioning too often in a hopefully brighter 2016 and beyond.
* New Matilda survives almost entirely on reader subscriptions. If you like this sort of independent Australian media, please consider supporting us by subscribing here. Subs start from as little as $6 per month.

Donate To New Matilda
New Matilda is a small, independent media outlet. We survive through reader contributions, and never losing a lawsuit. If you got something from this article, giving something back helps us to continue speaking truth to power. Every little bit counts.