Federal Queensland Liberal-National Party politician George Christensen has issued what appears to be a veiled threat to non-government organisations to "get the donations in" before a committee he sits on strips environmental charities of their tax-exempt status.
Yesterday, the National Party Deputy Whip grilled environmental groups in the first of a series of public hearings which the House of Representatives Standing Committee on the Environment will stage as it considers whether to strip environmental organisations from receiving tax-free donations.
The Queensland Minerals Council – which has allied itself to Christensen in the debate over how huge new coal mines in the Galilee Basin will affect the Great Barrier Reef – appeared first, yesterday morning.
Then Christensen turned his attention to environmental groups, who he described as "morons" during a technical exchange over whether land should be considered to be part of the Great Barrier Reef's ecosystem.
Felicity Wishart from the Australian Marine Conservation Society was interrogated by the Queensland MP, whose electorate takes in a swathe of coastline adjacent to the Great Barrier Reef.
"He was questioning me about our commitment to accurate information that wasn't misleading and then trying to grasp at straws and find something that we had done that was misleading," Wishart told New Matilda.
The Marine Conservation Society had used an image in its campaign material which superimposed a 'grab dredger' over the Calley Valley Wetlands and an image of Abbot Point Port, 25km north of Bowen.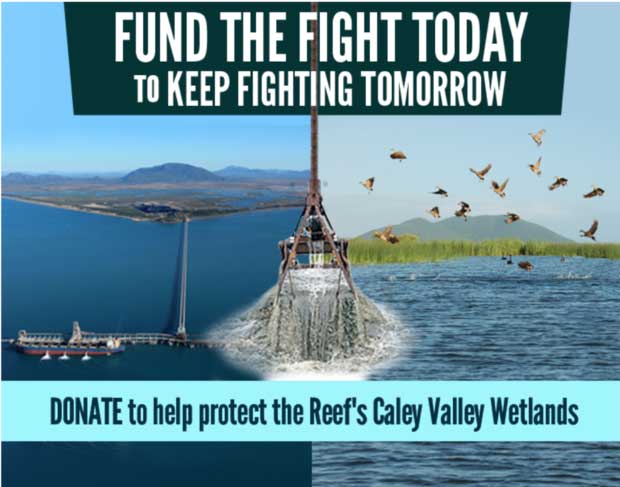 Reportedly, Christensen's main gripes were that the wetlands are 'not part of the reef', and the type of dredge to be used for the Abbot Point Port expansion was 'suction dredger', not a 'grab dredger'.
While maintaining the wetlands are an important part of the reef's ecosystem, Wishart said that the image of a grab dredger was a metaphor for the "one million cubic metres of dredge spoil… that was to be dumped on the wetlands" under previous plans.
After grilling Wishart about the integrity of her organisation's campaigning, Christensen took to Twitter insisting "they were caught out fibbing, and the committee will sort these sort of lies out".
Pathetic bloggers with nothing better to do turn up to #REO inquiry & write false reports. Extreme greens are good at lying to kill off jobs

— George Christensen (@GChristensenMP) July 14, 2015
@fightforthereef @AusConservation @AustMarConsSoc Time to get the donations in. I can't see it continuing longer once we report.

— George Christensen (@GChristensenMP) July 14, 2015
The Australian Marine Conservation Society denounced Christensen for "unparliamentary" behaviour, accusing him of "announcing the outcome of the inquiry before it has concluded", but Christensen said he was "just reading the tea leaves".
Christensen has previously attacked "gutless green grubs" and "eco-terrorists" for campaigning to win more stringent protections for the reef and battling against an increase in Queensland's coal exports, which would pump out emissions roughly equal to those created by the United Kingdom, South Africa, or Italy.
The Member for Dawson, who has questioned widely accepted understandings of climate science, has a history of Tweet-controversy. Last month he was forced into an apology over comments linking the American right to bear arms with a recent court decision which legalised marriage equality across the US.
Yesterday, at the inquiry, groups like the AMCS got the distinct impression Christensen was pressing the gun harder to their temples.
"This sounds very much like a government member of the Inquiry threatening environment groups who have been vocal about issues like dredging, dumping and increased shipping in the Reef's waters," said Wishart, who acts as a Great Barrier Reef Campaign Director.
In late March, Wishart's work was singled out as part of a pack of "extreme greens" working for organisations like "Greenpeace, the Australian Marine Conservation Society, Friends of the Earth, Get Up, and the Environmental Defenders Office" who Christensen said "act like Wormtongue from The Lord of the Rings".
"That is treason," Christensen told Parliament, "flying overseas and whispering in the ears of the decision-makers and diplomats who have anything to do with UNESCO and the World Heritage Committee, poisoning their minds on the state of the reef".
The reef has lost around half of its coral cover in the last 30 years, and climate change is recognised by government scientists as the greatest threat to its survival.
"What treachery," Christensen said, "to go against the interests of your own nation and your own people for no sound reason at all!"
Donate To New Matilda
New Matilda is a small, independent media outlet. We survive through reader contributions, and never losing a lawsuit. If you got something from this article, giving something back helps us to continue speaking truth to power. Every little bit counts.