Just over a year after publicly railing about politicians misusing defamation laws, Greens MP Jeremy Buckingham threatened to sue a teenager for posting comments critical of him in a closed Facebook group with less than 600 members. When the young woman offered to remove the post in exchange for Mr Buckingham agreeing to not sue, he told her it was "not a negotiation" and demanded she provide a contact email address so his lawyers could serve her with legal papers.
At the time, the young woman was sitting at the beside of her gravely ill mother in the Intensive Care Unit of a far north coast hospital.
And the comments which upset Mr Buckingham? He was accused of bullying, and being a "massive fucking hypocrite".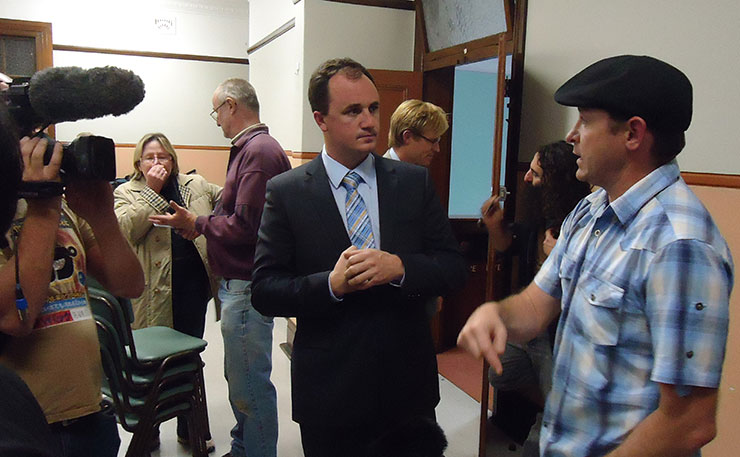 Mr Buckingham is coming under increasing scrutiny for his use of lawyers to threaten political colleagues, after launching legal action against four current/former Greens party members who commented on public allegations he sexually assaulted a Greens staffer, Ella Buckland, in 2011. The incident is the subject of an ongoing New Matilda investigation, although Mr Buckingham has strongly denied the assault occurred.
The young woman at the centre of the latest story – Vanamali Hermans – had met Mr Buckingham in 2014 while she was a Year 11 student on the NSW north coast. She joined the party soon after, but quickly became disillusioned. In December 2016, aged 18, Ms Hermans took to the closed NSW Greens Facebook group – total membership less than 600 at the time – to vent after being accused by Mr Buckingham of favouring other Greens politicians' Facebook posts over his.
NEW MATILDA RELIES ALMOST ENTIRELY ON READER DONATIONS AND SUBSCRIPTIONS TO SURVIVE. CLICK HERE TO CHIP IN AND HELP US HUNT THE TRUTH.
"Yep! I love that we have MPs and a wider membership that use young people as political expenditure and free labour, then blame issues on them to cover their own asses or want nothing to do with them after they've squeezed them of all their free time. As a volunteer, I love being harassed by Jeremy Buckingham during parliamentary time for not sharing his content, then having the massive fucking hypocrite refuse to share our content. I love being called a young socialist troll. I love being a young person in this party! It rocks!"

The following day, Mr Buckingham tracked Ms Hermans down through her Twitter account, and privately messaged her.
"I have been made aware a (sic) defamatory and damaging comments by you, which name me, on Facebook yesterday the 17.12.2016. I request that you delete these comments immediately. Could you please provide me with an email or postal contact for yourself or your legal representative. Jeremy Buckingham."
Ms Hermans received the message while she was sitting next to her mother's bed in a hospital on the far north coast.
"For context, at the time… my mum had been diagnosed with Guillain-Barre Syndrome. I was literally sitting beside my mum's bed in the intensive care unit going, like, 'Is she going to die?' when I get this message from Jeremy.
"Mum was in hospital for a year and a half to two years. She's a quadriplegic now – it was a pretty intense time. Jeremy was just the cherry on top."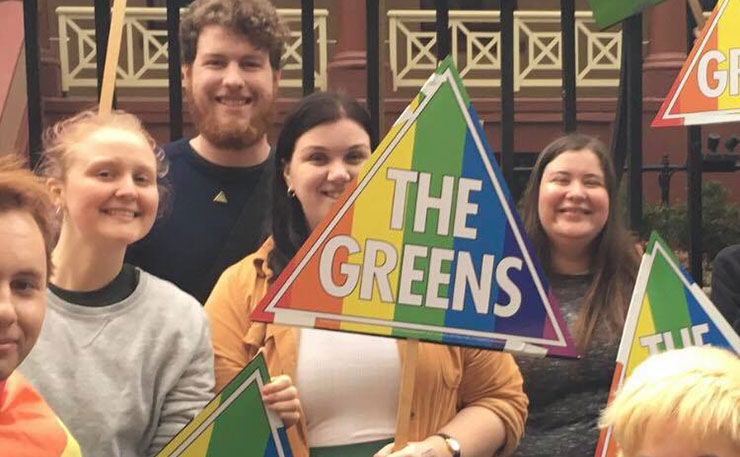 Ms Hermans immediately sought legal advice, and was told that the threat from Mr Buckingham was an empty one – it wasn't "actionable". She replied the following day.
"The message I sent back [to Mr Buckingham]  was exactly what the lawyer told me to send," Ms Hermans said.
She wrote: "Jeremy, I have sought legal advice and do not accept that the comments referred to by you are actionable. If, however, you are willing to agree not to sue in relation to the comments, I will have them removed."
Mr Buckingham appeared unmoved at the offer to make amends, replying:
"This is not a negotiation. Again, I request you immediately delete your comments referring to me, and provide me with the best email."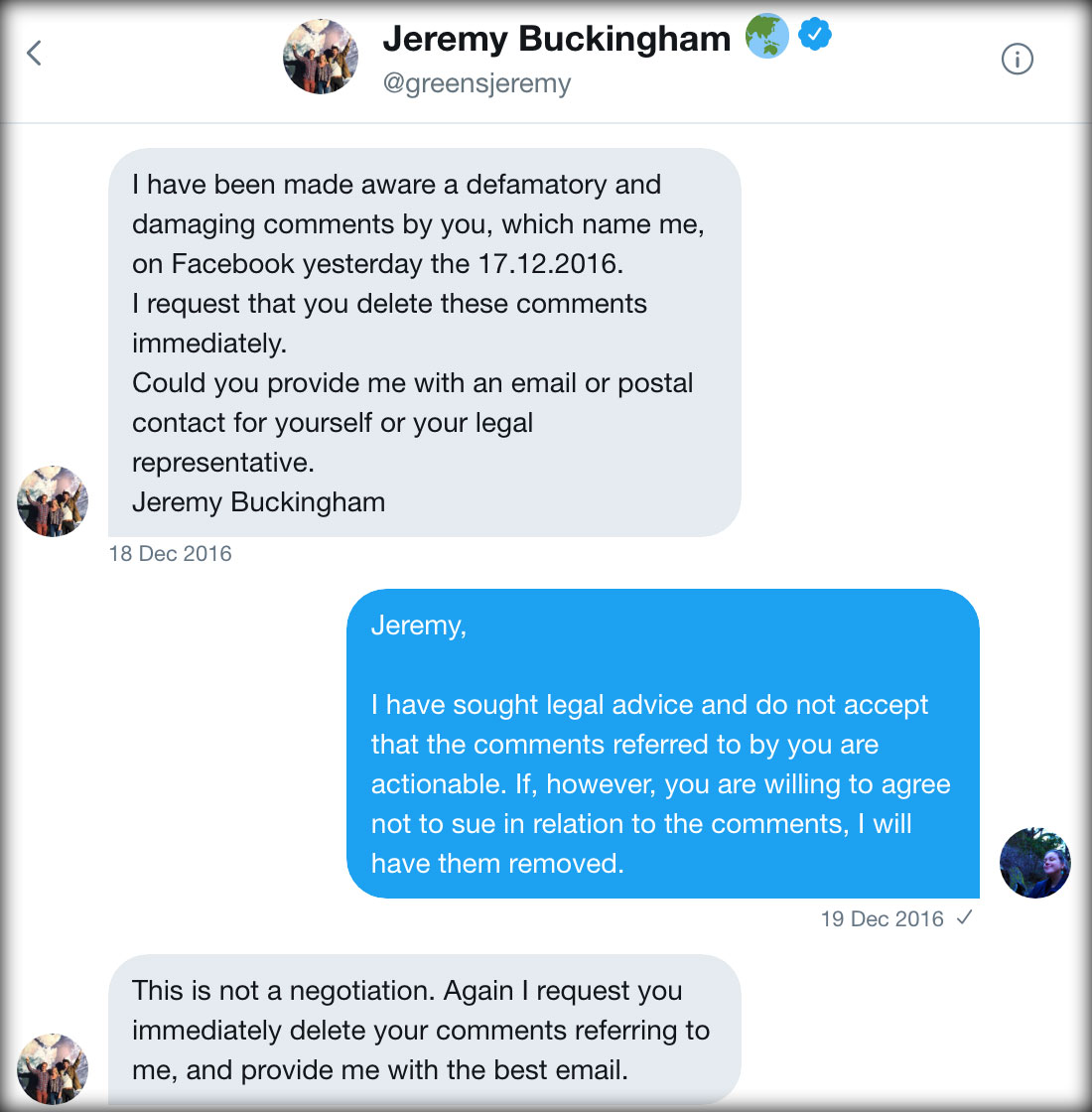 Ms Hermans says she ignored his reply, blocked him on every social media channel, and never heard from him again.
"It was clear to me from the get go it was him trying to intimidate me and be a bully. He definitely knew I was a teenager… because he'd had dealings with me as a young Greens convenor, and he'd met me in my high school uniform two years previously."
Despite escaping unscathed, Ms Hermans said she was shaken by the incident.
"I was 18. Of course I was going to be scared when a 40-year-old MP is messaging me trying to sue me," she said.
"It was a horrible time. I don't think I was processing much at all. Mainly I was just worried 'Is my mum going to die'. But it definitely increased my anxiety. It was awful."
NEW MATILDA RELIES ALMOST ENTIRELY ON READER DONATIONS AND SUBSCRIPTIONS TO SURVIVE. CLICK HERE TO CHIP IN AND HELP US HUNT THE TRUTH.
Ultimately, Ms Hermans lasted less than three years in the party, leaving at the beginning of 2017 just two months after she was pursued by Mr Buckingham. She doesn't look back on her time with the Greens fondly, despite her initial enthusiasm in high school.
"I had met Jeremy… when I was 16, when he came to a Greens dinner in my home town of Murwillumbah. At the time… I was like 'Cool'. I was new to the party and didn't know he was a massive fucking cunt."
Mr Buckingham did not respond to a series of questions from New Matilda, or requests for comment.
DO YOU KNOW ANYTHING? Have you been threatened with defamation by a politician? You can email newmatilda.com by clicking here or contact the authors of this story directly by going to Nina Funnell's Facebook page here, or Chris Graham's Facebook page here. They're both on Twitter here, and here.
Donate To New Matilda
New Matilda is a small, independent media outlet. We survive through reader contributions, and never losing a lawsuit. If you got something from this article, giving something back helps us to continue speaking truth to power. Every little bit counts.