This looks to be a hostile parliament in which the combative politics of Tony Abbott will come to the fore, writes Michael Brull.
The Coalition: Abbott Is The Winner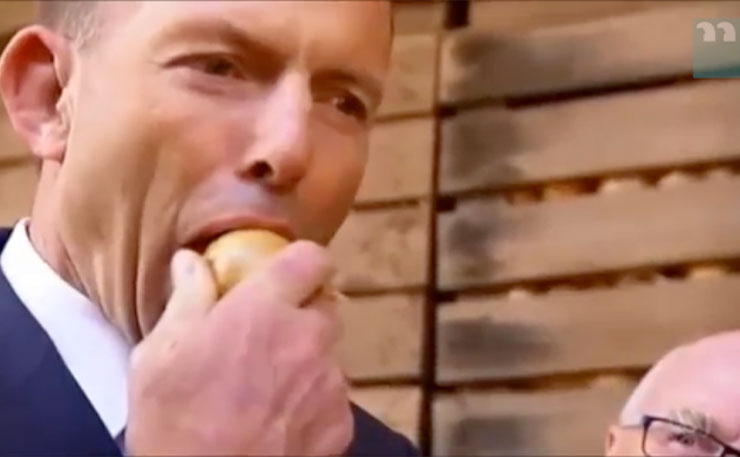 At time of writing, the Coalition has 67 seats, with 7 in doubt. That includes Chisholm, where the margin at time of writing is 66 votes. The Coalition needs 76 seats to win, but that appears unlikely. It may be a month before we have all the results. For now, it looks most likely that the Coalition will form a minority coalition government with whatever crossbenchers they can scrape together.
Even if Turnbull somehow makes it to 76 seats, the election will still be a disaster for the Coalition. Tony Abbott sunk the Liberals with his infamous 2014 budget, and various gaffes and blunders that convinced the public that they had made a terrible mistake. The cronyism, the arrogance, the insularity – he was wounded early, and the closest he ever came to learning from a mistake was his relatively mild 2015 budget. I said his legacy would be scapegoating Muslims, and the strong results for One Nation seem to bear this out.
As for Turnbull, he came to power by promising Coalition MPs that he would remain loyal to Abbott's agenda. His popularity plummeted as he implemented high-brow Abbott-ism. In the end, progressive Liberals turned on Turnbull, because he offered no change. Abbott loyalists turned on the Coalition, because he wasn't conservative enough for them. Now Turnbull's position is weaker than ever. He overthrew Abbott, promising a future different to one where Abbott had lost 30 Newspolls in a row and the "trajectory" was clear. Right now, the trajectory seems clear, too. It also seems clear that Turnbull cannot save the Coalition.
His coup against Abbott now looks foolish and short-sighted. If he'd waited for Abbott to be repudiated by the public in an election, his hand to re-create the Liberal Party's image would have been much stronger. From his point of view, he bided his time for an agonising period, waiting for the right time to strike. Yet in the end, by promising to change nothing, he wound up gaining power for its own sake, with no room or ability to change anything. Turnbull may have gained office, but he never had much power, and soon he'll lose both.
What's next? Where Turnbull was previously hamstrung by his party, now he will also be boxed in by a divided lower house, and god only knows what kind of results will come in the senate. He will be paralysed, fighting two hostile houses and his own party, and voters will turn on him even more.
Many Liberals have been biding their time since the ouster of Abbott last year. Conservative MPs held weekly lunches with Abbott, which they swore were innocent, but which other Liberals regarded as a "resistance movement". Abbott promised "no wrecking, no undermining, and no sniping". That wasn't exactly how he conducted himself. To be fair, there weren't the kind of leaks we saw during Kevin Rudd's quest for vengeance. It's also possible he just didn't have any of that kind of material on Turnbull.

Even so, there seemed to be some campaign to defend Abbott's honour and destroy those who had overthrown him. Their primary mouthpiece in the media was Andrew Bolt. Dubbed the "Del Cons" (delusional conservatives) by well-known moderate Miranda Devine, they have done their best to strike back at Abbott's enemies. On 17 April, Bolt produced a not-at-all insane blog. Bearing way-too-much-resemblance to Kill Bill, it included an image of the 54 so-called traitors who allegedly betrayed the dear leader by voting for Turnbull as new Prime Minister. Those who had been paid back had circles around their faces
Bolt didn't come out and say someone was organising the campaign. But he strongly hinted at it: "Beware the curse of Abbott! Bronwyn Bishop is the latest Liberal to lose their career after betraying Tony Abbott. This is becoming more than coincidence, surely. It seems that one by one, punishment is being inflicted." He then listed various others who quit, resigned, or were under attack. "Coincidence? Karma?"
In May, Bolt produced a new infographic, with new circles around the faces of new treacherous Liberal MPs that had been subjected to proper revenge in some form or other. "The Curse of Abbott strikes again", Bolt cried. Once again – "Coincidence? Karma?
Not everyone on the list really suffered in any way. Julie Bishop, for example, supposedly suffered "reputational damage", and would be "unlikely to serve out another full term". Yet at least some of Turnbull's backers did face backlash in one form or another, and I expect we'll soon see an updated version of the image with some more red circles around Liberal MPs who lost their seats.
Bolt wasted no time in rallying the troops and urging Turnbull's resignation, getting in his blog by 10:07 pm. There can be no doubt that other Liberals will be keen to end the Turnbull experiment.
Yet how can they go forward? The number of backers of a progressive Turnbull agenda within the party were small to begin with, and have dwindled further. The backers of Turnbull fronting an Abbott agenda have dwindled too. As support for Turnbull continues to fall, backers of Abbott-ism, if not Abbott himself, will become ascendant, if they aren't already.
What then? If Abbott's camp had another well-established conservative who hadn't supported Turnbull, they might have a chance. Yet it is hard to imagine who it might be. Scott Morrison, Julie Bishop, George Brandis, and Christopher Pyne all made the list. If there is a return to purer Abbott-ism, this might mean a return to Abbott himself. This will re-invigorate conservatives, regain some of the voters who turned to One Nation, but turn off much of the public. He would no doubt promise things would be different this time. The upside of Abbott facing an election would be his ultimate repudiation by the public, sadly thwarted by the rise of Turnbull.
The Coalition's path forward seems unfavourable. It seems likely their decline will continue. It also seems likely that to arrest this decline, they'll turn on Muslims again. It is to Turnbull's credit that he didn't go down this path, and even spent political capital on holding an Iftar at Kirribilli House. The right-wing press branded this "political appeasement", seemingly objecting to any expression of sympathy or kindness to Muslims.
Labor: Not Quite Victorious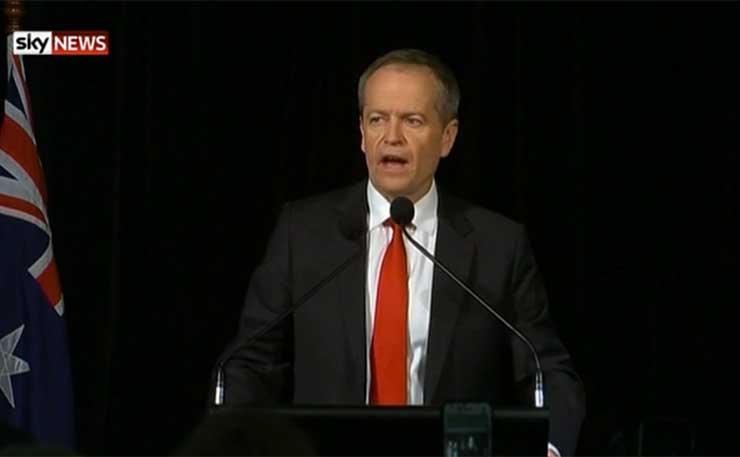 Bill Shorten is delighted at the ALP result. The ALP is back, he says, within a handful of seats of winning a majority. Yet their primary vote is a not very inspiring 35.5 per cent. The AEC says they have 71 seats at time of writing. Yet just as Turnbull's position isn't secure, neither is Shorten's. By 4pm the day after the election, Grayndler MP Anthony Albanese was already reported to have backing for a challenge to Shorten's leadership. Just two days before the election, squabbles within the ALP for the leadership were already playing out on the pages of the Daily Telegraph.
In a sense, this is nuts. According to ABC, the ALP increased their vote by 1.9 per cent. The Coalition fell by 3.7 per cent. That is a good result under normal circumstances. The fighting between Shorten and Albanese bodes poorly for the future of the ALP, which seems not so far from the dysfunction and infighting of the Rudd-Gillard years.
Bill Shorten has some cause to say, as he did, that the Coalition had lost its mandate. But the ALP hasn't quite won one either. Many voters have turned against both parties. Some 77 per cent of the primary vote went to the two major parties. That's a lot of disillusioned voters, especially considering how close the two-party race was. The campaign was between a neutered Liberal Prime Minister, and a faceless man without conviction or charisma. Turnbull has whinged about the ALP's Mediscare campaign, declaring he is shocked – shocked – at such lies in an election. Apparently, he doesn't remember the Interest Rates election, or Children Overboard.
It should be said that both major parties fought dirty when it suited them. In Cowan, the Liberals sought to defeat their ALP opponent with sleazy innuendo about her supposed links to a radical Muslim. The fact that that seat currently sits on a very narrow margin suggests how desperate the Liberals got.
Likewise, in Melbourne Ports, incumbent ALP MP Michael Danby sought to win by implying his opponents on the left and right were anti-Semitic. In June, he wrote in the Australian Jewish News that Foreign Minister "Ms Bishop must think, 'What a pushover these Jews are'". He also called his Greens opponent an "obnoxious bigot". By a happy coincidence, the AJN joined the campaign against the Greens candidate, trashing her on its front page. Danby naturally joined the attack, saying his opponent's behaviour was "shameful", "offensive", the "mask is finally off".
The Greens' true colours … Full coverage of the debate debacle in this week's AJN https://t.co/H6jlgg8JLK pic.twitter.com/s8FDhiTiYh

— Jewish News (@aus_jewishnews) June 16, 2016
Danby seems to have narrowly kept his seat, by scraping more first preferences than the Greens, and by a slim margin collecting enough preferences to beat the Liberals. Remarkably, Danby campaigned with How-to-Vote cards advising voters to preference the Liberals over the Greens. Considering how close the election is, and how close the seat is, if the Greens had overtaken Danby, he might have brought the Liberals one seat closer to victory, if not victory itself. Fairfax reported that any disciplinary action was "likely to occur after the election".

The Greens: Time For Introspection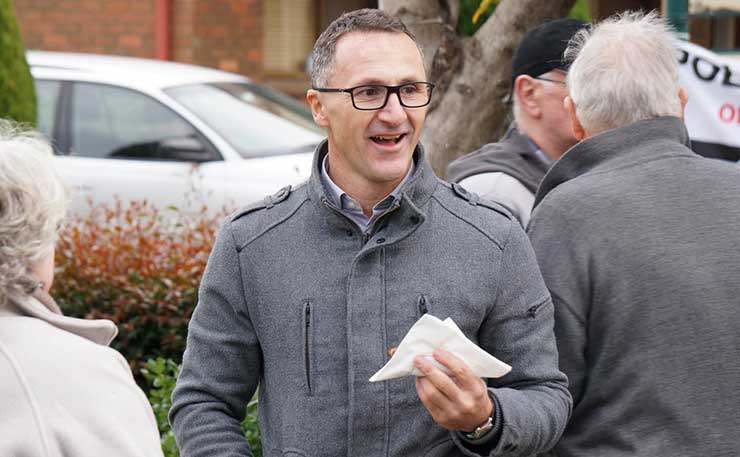 The Greens result was mostly lousy. Though a substantial amount of the public abandoned the major parties, not many found a new political home in the Greens. For example, where Grayndler was meant to be a hopeful prospect, the Greens were trounced by the ALP, and even beaten by the Liberals. In Sydney, the result was worse. In Batman, the Greens were close against one of the ALP's most inept MPs – and that was basically the closest the Greens got to winning a new seat. In Melbourne Ports, Steph Hodgins-May seemed to sabotage her own campaign by offering dishonest and inconsistent reasons for boycotting a Zionist Victoria event. Adam Bandt kept his seat, but it is unlikely the 10 Greens Senators will. Right now, they look likely to lose one, though they may lose more.
The fact that the Greens did so poorly during a swing against the Coalition, when the public was so uninspired by Bill Shorten's ALP, in my view is cause for introspection. Though the Greens deny that there has been a shift to the right under Richard Di Natale, there is a general perception that the Greens have become more pragmatic and centrist.
Though the Greens never made a deal with the Liberals, they were slow to rule it out. At the end of the campaign, in the space of about 30 hours, Di Natale went back and forth over how negotiable closing the camps on Nauru and Manus Island was (non-negotiable, negotiable, non-negotiable). Where once the Greens seemed a party that actually believed in principles, now they seemed to blow with the wind on what they were willing to sell out to gain a taste of power.
While being reasonable may get some patronising pats of approval from ABC and Fairfax, pragmatism is not why most people support the Greens. Anyone devoted to unimaginative realism would back one of the major parties. People put blood, sweat and tears into fighting for the Greens because they have convictions, because they're passionate about change, because they're connected to social movements outside the two-party consensus. The Greens need to grow if they are to survive. If they become assimilated into mainstream political life, they'll become another victim of backlash against politics as usual, already experienced by the ALP and the Coalition.
The Anti-Muslim Block: Our New Overlords
Pauline Hanson has a shot at three Senate seats. The Christian Democrats have a shot at a seat too. And Jacqui Lambie should get a seat in Tasmania. That's a pretty substantial base for anti-Muslim sentiment. It is hard to exaggerate how crude that anti-Muslim sentiment is.
The CDP leader Fred Nile put out a press release in 2007 titled "NO MORE MUSLIMS". They oppose Muslim schools, and had to apologise after writing abusive emails about Muslims engaging in "child molestation, incest, pack rape", and more.
Lambie offers even cruder anti-Muslim sentiment (sharia "obviously involves terrorism").
On the other hand, here's Pauline "We need a Royal Commission into Islam" Hanson responding to an offer of Halal snack packs.
How do you even distinguish one party's bigotry from the next?
How will they promote it from their Senate seats? Maybe it will be Senate inquiries. Maybe it will be the quid pro quos they demand in exchange for pushing through Coalition legislation. Regardless, the anti-Muslim trajectory of federal politics is clear.
In terms of votes, kicking a marginalised and stigmatised minority is a no-brainer for the Coalition. If Turnbull is currently shying away from it – though not disciplining his colleagues who don't – it seems likely the next Coalition leader will aggressively court One Nation voters with the kind of rhetoric that Abbott used to proudly engage in. Federal politics is likely to get a lot uglier over the next election cycle or two. In this realm too, it seems that the real winner of the election was Tony Abbott. Though the ALP campaigned reasonably well against Turnbull, it is about time they took the fight to the real enemy.

Donate To New Matilda
New Matilda is a small, independent media outlet. We survive through reader contributions, and never losing a lawsuit. If you got something from this article, giving something back helps us to continue speaking truth to power. Every little bit counts.