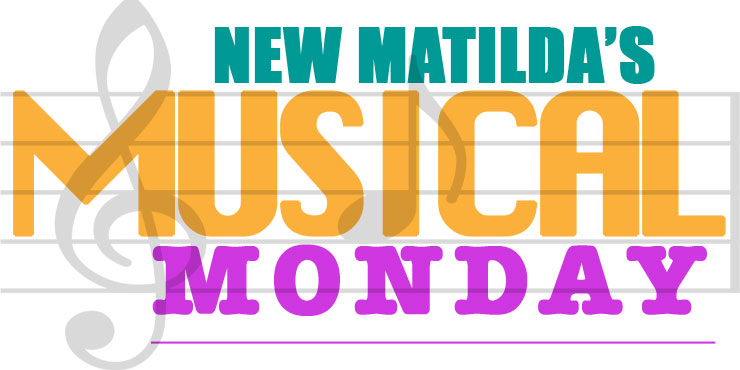 One of the obvious downsides of social media is that it's enabled people with zero talent and even less of a moral compass – people like Jake Paul, his brother Logan Paul, or his brother Jake Paul again – to flourish and find, if not fame, then certainly infamy. Which are really the same thing these days.
But one of social media's definite upsides is it's also enabled people with genuine talent to bypass the traditional curated, highly guarded pathways to manufactured success. And nowhere is this more the case than the music industry, and in particular 'talent shows' like Idol and The Voice.
For example, ask yourself this: if The Voice really was a show about musical talent why is at least half the show focussed on the judges competing with each to pull stupid faces, sit in uncomfortable but interesting poses, and generally try to outdo each other with attention-seeking behaviour aimed at increasing their time on camera?
And if Idol was about musical talent, then why was Kyle Sandilands – an obese, 50-something shock-jock who once asked a 14-year-old if a rape she'd just disclosed live on air was her only 'sexual experience' – a judge?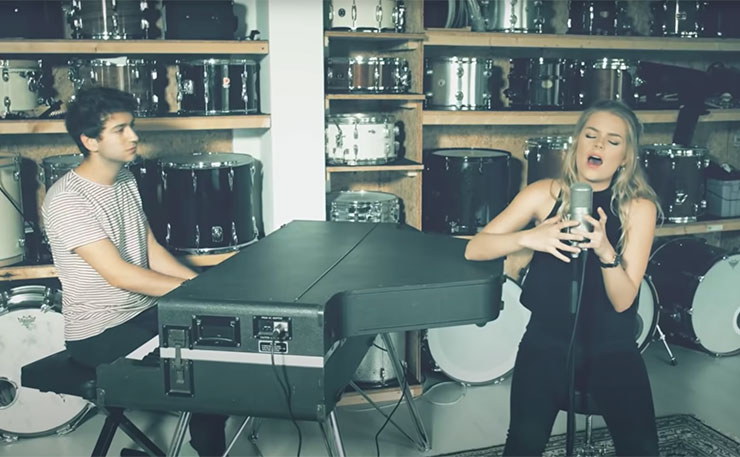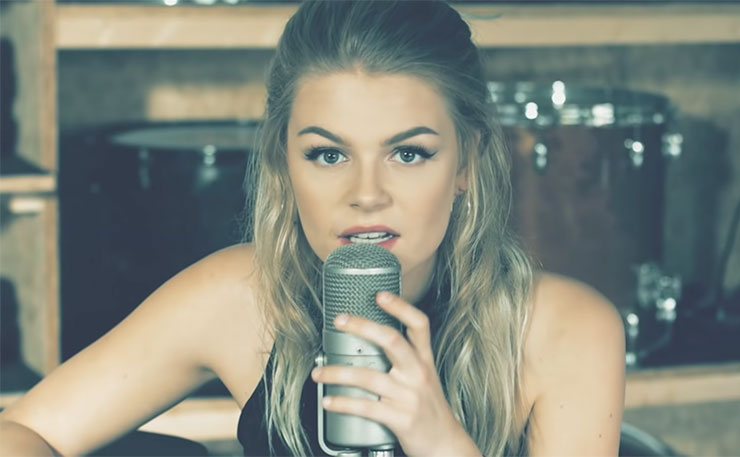 The answer is, because those shows are mostly not about talent, they're about ratings, which are two very different things. And Michelle Davina Hoogendoorn is one of the more extreme and wildly successful example of that.
Better known by her stage name 'Davina Michelle', Hoogendoorn appeared on season five of the Dutch version of Idol. She was eliminated on the first night. The eventual winner was a young woman named Nina den Hartog. Nina's Soundcloud page is here. She has 42 followers.
By contrast, after crashing out of Idol, Hoogendorm started her own Youtube channel in 2017 under the fairly unimaginative pseudonym 'Davina Michelle'. In August of that year she posted an acoustic cover of What About Us, by US superstar Pink. Nek minute….
The video gained some traction in its own right, but it was a video of Pink reacting to the cover of her own song that really sent it into the stratosphere (the video of the cover has 22 million views, the video of the reaction to the cover has 24 million), in part because of Pink's reaction: "… now I know how [the song]is supposed to sound".
Pink then asks someone off camera, "Is she like a recording artist that makes records and put records out?"
"Not that I know of."
"Okay, well that needs to change."
And change it has. Davina Michelle is now one of Holland biggest stars. If a big power ballad is more your flavour, then here's Michelle doing What About Us with all the musical trappings.
And speaking of success on Youtube and power ballads, an article that mentions them wouldn't be complete without featuring the 'Mother of them All'… the 'Hamlet' of power ballads, as it were.
Zendee, full name Zendee Rose Japitana Tenerefe, competed in the Philippines version of X Factor at age 20. As you might have guessed, she went nowhere. Then someone uploaded a video of her up a karaoke challenge at a mall in Manilla, taking on Whitney Houston's I will Always Love You. Known as 'A Random Girl Steps Up To A Karaoke Machine and Floors Everyone', the video went very viral (25 million views). I Will Always Love You is that song that no-one should attempt in a singing competition, let alone if they intend to mess with the melody. Zendee somehow gets away it.
And finally, a Youtube success story out of the US that will makes the hearts of Older, frustrated musicians sing.
Lots of people try to cover Toto's Africa because, well, it's just one of those songs. But few extract 'so much from so little', as Mike Massé and Jeff Hall did back in 2010. The gents in question are two otherwise 'non-descript' musicians who were performing at a random pizzeria in a small town in Utah called South Jordan (Massé had a regular once a month gig there).
Massé explains here how the subsequent fame all came to pass – the video's sitting at 17 million views, and has been described as "opne of the greatest covers of Africa", including by the guy who actually wrote it. So, if you find yourself state-side in the next 18 months, you can get Mike and Jeff's tour dates here.
As a few bonus extras, if you're interested in going down a few rabbit-holes, other great artists who've 'made it big' courtesy of Youtube include Welsh singer Ren Gill (Hi Ren has 19 million views… and deserves every one of them and more), and Allie Sherlock, whose cover of Ed Sheeran's Supermarket Flowers (13 million views, from an outdoor mall in Dublin, Ireland) went viral in 2017, the same year she was rejected by Britain's Got Talent.
And of course, Sheeran himself was rejected by the industry, only to gain initial popularity on Youtube, before independently releasing his own album in 2011, which ended up topping the UK Album Charts.
Until next week….
ABOUT THIS COLUMN
Musical Monday is a new regular column in New Matilda. Submissions and recommendations are welcome (email here). This week's author, Chris Graham, is the editor and publisher of New Matilda. A life-long and passionate lover of music who, like 90 per cent of the population, describes himself as having "unusually eclectic tastes", Chris began learning piano from an early age, and then later percussion and drums. Chris was a member of the Bankstown City Choir, and the Bankstown City Brass Band. None of this qualifies Chris as any more of an authority on music than anyone else, but he owns New Matilda, so he can publish whatever he wants. His pet hates are talent competitions and music Nazis. To get an idea of the future flavour of this new column, you can read his coverage of the 2018 BluesFest here, here, here and here.
Donate To New Matilda
New Matilda is a small, independent media outlet. We survive through reader contributions, and never losing a lawsuit. If you got something from this article, giving something back helps us to continue speaking truth to power. Every little bit counts.