Chris Graham continues his fall from public grace at Day 4 of the 29th annual Byron Bay BluesFest.
Admittedly, until last night I didn't know a lot about Seal, at least not as a performer. I've long loved his song Kiss From A Rose, but to me, he was mainly just some dude silly enough to sit next to Deltra Goodrem on a reality television show.
If that wasn't bad enough, it was a reality television show that passes judgment on a whole pile of (mostly) young, hopeful musicians… people in glass houses etc.
I can't actually remember the name of the show, which pleases me greatly and makes me feel slightly superior to people who can. But I have two major objections to it.
The first is that it claims to be 'reality television'. But like all reality TV shows, it has nothing to do with actual reality (think 'Big Brother' when Merlin was evicted and entered the stage with his mouth taped shut… confronted with actual reality, Gretel Killeen was directed to throw to a commercial break because they had no idea what to actually do).
My second major objection is that while the music show purports to be about a singing competition trying to unearth fresh new talent, it's not really that at all.
Instead, the cameras spend an inordinate amount of time zoomed in tight on the 'celebrity judges', waiting to see how long they can take to hit a big red button that spins their ridiculous, over-sized, Dr Evil chairs around to reveal the mystery talent.
While they do that, we get to see how many stupid faces they can pull which suggest feigned surprise… and whether or not they can make creative new noises that seemingly indicate approval or curiosity… and whether or not they can upstage each other and the person actually singing to satisfy their own gigantic egos.
In other words, the show is actually about attention seeking celebrities.
So of course I was quite looking forward to not enjoying Seal's show, and then unleashing on him in a particularly harsh and overly judgmental review.
Helpfully, a few minutes into his performance Seal gave me some early fodder by asking for the house lights to be turned up so he could see "my friends, my family, my people".
This struck me as a little, shall we say, disingenuous. Firstly, Seal – while clearly a man of great virility – does not look like he could father 20,000 children. Secondly, if I am, as Seal suggests, both his 'friend' and his 'family', then why doesn't he return my fucking phone calls? I just want to borrow some money to pay the rent, Seal. Where's the love?
My notes in my phone from the early part of his performance also indicates I was intending to write "Can't dance, looks like Mr Whippy doing a shit", which BluesFest Friend (BFF) thought was more "he looks like he's trying to shake out a wedgie". In other words, I had planned to make sure things got pretty petty.
Unhelpfully, Seal turned out to be a pretty amazing performer. Indeed, absolutely amazing. I've been to five BluesFests. It is one of the best performances I've ever seen, hands down. My notes actually reflect that it was "the best performance ever", and while I may have been swept up in the moment a little, last night at 7:30pm it genuinely seemed like it was.
But then Melissa Etheridge came on … and, well, Seal who?
If you don't know who Melissa Etheridge is, then, first, don't ever speak to me again, and secondly, she is a lesbian. This is important, apparently, because virtually every article I've ever read about her mentions it. So I have as well.
Contrary to the popular Anzac-ism, age does actually weary people, particularly singers. As you get older your voice is supposed to get weaker. Etheridge appears not to have read the rulebook.
Without going into the detail – because you don't deserve to know it if you didn't pay to see it – Etheridge did an encore that had to be seen to be believed. After a lengthy guitar solo she walked over to the drummer, grabbed some sticks and did a duet – at times with an arm either side of the drummer – before returning to her guitar and slaying another solo.
Melissa Etheridge IS everything that is great about rock 'n roll. She's basically without peer, and the "best performance ever". Sigh. At least she was… until half an hour later, when the John Butler Trio started up on the neighbouring stage.
I would say 'No words', except I'm a writer so that's not particularly helpful. Of all the acts at the 29th Byron Bay BluesFest, the John Butler Trio was the one I was most looking forward to seeing. And not only was I not disappointed, but John Butler is now officially my 'free pass'.
As a musician and performer, Butler is extraordinary. But as a human, he's even better.
Midway through his set, Butler halted proceedings and out on stage walked a whole pile of protestors and other artists, including deep, dark brooding serial killer William Crighton, and Michael Franti… PS. Michael, if you're still holding BFF, please let her know that while the Easter Bunny did visit our campsite, her absence meant no eggs were left… actually I just ate them.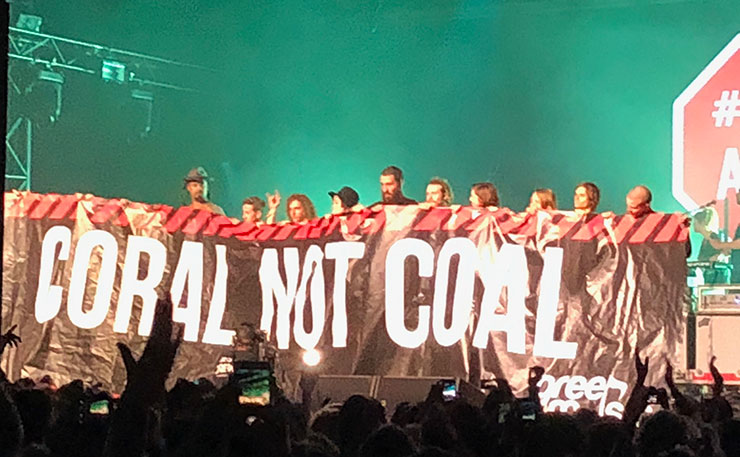 Said artists and protestors were carrying the largest 'fuck off Adani' banner you ever did see – actually it didn't say 'fuck off Adani' it said 'Stop Adani: Coral Not Coal, but you get the drift.
If you don't know what or who Adani is, then, firstly, don't ever speak to me again. Secondly, it's the plans – supported by our two major political parties – to open up the Carmichael Basin in Queensland to the largest coal mine in the southern hemisphere. Because we haven't released enough carbon into our atmosphere already.
By way of brief background, Adani is largely being funded by the taxpayer; it's carbon emissions will exceed that of a small country; it will provide fewer than 2,000 jobs and threaten tens thousands of jobs on the Great Barrier Reef; and the mining royalties will go to a foreign company headed by a corrupt billionaire. Because a billion dollars is never enough.
Long story short, the Adani deal is a steaming pile of shit, and our political leaders have sold us out (we've written on Adani countless times in New Matilda – you can read those articles here).
But back to the John Butler Trio, or rather, Adrian Burragubba – one of the leaders of the Wangan & Jagalingou people who are fighting to stop the mine – who then took the stage and told some home truths to 30,000 screaming people.
The only way things could have been any sweeter is if they then brought Queensland Labor Premier Anna Palaszczuk on stage then armed the audience with rotten fruit. Or now that I think about it, maybe coal. That would leave 'more of an impression'.
Speaking of leaving an impression, a few hours earlier BFF and I had caught Yirrmal, an Aboriginal performer who debuted at BluesFest last year by headlining the Boomerang Festival, which used to be a festival in its own right and is now incorporated as a mini-festival within BluesFest.
Yirrmal was awesome in 2017, but I wasn't quite prepared for how awesome he is now, or how much he would have in common with the John Butler Trio.
Of all the acts I've seen over the last few days, Yirrmal struck me as the performer with the least inhibitions, the guy who has most embraced 'rock star status' (even though most people probably haven't heard of him, but definitely should). His performance in parts looked like a parody of a rock star in that he threw himself around on stage with absolute indifference to the people watching on. It was complete and perfect, or in BFF's words: "Last year, he was like a pretty bird – like a birdsong – whereas this year he was pretty much breaking guitar strings."
And like the John Butler Trio, in the midst of his performance, Yirrmal also handed over his stage to a protest group… specifically, West Papuan activists, who danced and sang and flew the Morning Star, the flag representing the West Papuan Independence Movement and the piece of cloth that can get you shot by the Indonesian military if you raise it in public.
It's the first time I've got serious goosebumps at BluesFest. BFF shed a small tear. And there's a point to all this: Neither Yirrmal nor Butler had to share the limelight. They're performers, they're stars, it's their moment to shine. But unlike Seal, or the other celebrities on that stupid show, the name of which I don't know, Butler and Yirrmal made a conscious decision to put someone else – or rather something else – forward. Something much more important than a cracking guitar solo or a Kiss From A Rose. Something that really matters.
Yesterday, I really, really enjoyed Melissa Etheridge and Seal. And quite a few other musicians as well. But I loved Butler and Yirrmal, because people who use their privilege, their profile and their power to advantage those who without have my greatest respect.
On that front, the people who help make that happen do as well. So to Rhoda Roberts, who organized the Boomerang Festival, and in particular to Peter Noble who allows it to happen within Blues every year (and who a few days ago I called a "misogynistic bastard" because the queue to the womens' toilets is always 10 times longer than the queue to the mens'… honestly though, fix that, just add more fucking women's toilets) I say, a sincere and heart felt thank you.
Yirrmal and Butler got nothing from their acts of defiance and generosity. Indeed they took 'political' risk doing it by turning off fans who came to see a show, not a protest. And the folks behind BluesFest made it possible, also at considerable risk, in an era when reality is very unreal, and acts of dissent are filtered and legislated out of existence.
Genuine change comes from acts of inspiration, and the most inspirational acts I've seen in the last five days had absolutely nothing to with music. They were the difference between attention seeking and seeking attention.
Donate To New Matilda
New Matilda is a small, independent media outlet. We survive through reader contributions, and never losing a lawsuit. If you got something from this article, giving something back helps us to continue speaking truth to power. Every little bit counts.