A second person has come forward with details of another defamation threat levelled by Greens NSW MP Jeremy Buckingham against current and former party members, in a growing battle that threatens to derail the Greens' campaigning in the lead-up to the 2019 state election.
Yesterday, New Matilda reported Mr Buckingham is suing Greens candidate for the seat of Summer Hill, Tom Raue for defamation and demanding $75,000 after he commented about public accusations that Mr Buckingham sexually assaulted a former Greens staffer, Ella Buckland.
Late yesterday, a second person – former Greens member and freelance journalist Albert Santos – came forward, posting on his social media that Mr Buckingham is also suing him over the same matter, and seeking $45,000.
New Matilda understands at least another two former or current party members are being sued by Mr Buckingham, in addition to legal threats issued against two media outlets.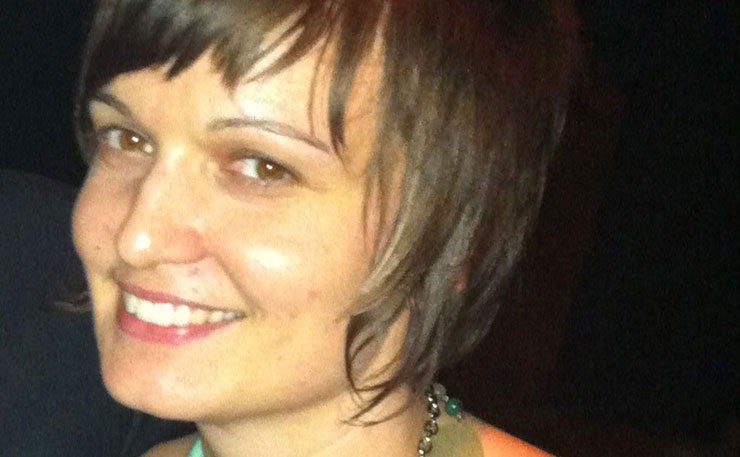 Allegations against Mr Buckingham – a member of the Legislative Council and known state-wide for his strong opposition to coal seam gas – were levelled in a report on ABC's 7:30 program on August 2, which focussed on failures within the Greens to deal with four alleged incidents reported against several party members in NSW and the ACT.
While the ABC suppressed details of the actual alleged assault on Ms Buckland, it reported that Mr Buckingham "grabbed her inappropriately" and kissed her on the neck, after drinks at his inner-city home in 2011. The following morning, Mr Buckingham phoned Ms Buckland and allegedly threatened her employment. Video footage of the night, shot by Ms Buckland on her mobile phone, shows Mr Buckingham was heavily intoxicated. Mr Buckingham strongly denies the allegations.
Yesterday, shortly after details of the threats against Mr Raue were published, Albert Santos took to his Facebook page and Twitter account, to disclose details of the legal threats he also received from Mr Buckingham.
A statement on a thing that happened before I flew halfway across the world.

Context: https://t.co/LOcXk1dYyX pic.twitter.com/rG27iiBbUJ

— Albert Santos (@albertinho) October 11, 2018
"In mid-September I was given a concerns notice from Jeremy Buckingham's lawyers regarding comments I made on Twitter. I was accused of defaming him across three posts, two of which were nested in replies to twitter user Richard Au Tuffin, in relation to a 7:30 report that aired in early August.
"In this notice, Buckingham asked that I delete my statements, publicly apologise, pin said apology to the top of my Twitter feed, and pay him a sum of $45000."
Mr Santos said his Twitter account had just over 1,000 followers, and the comments gained "little, if any, engagement". He also dismissed any suggestion he was part of an internal factional war orchestrated against Mr Buckingham.
WE CAN'T DO THIS ALONE – IF YOU VALUE GENUINELY INDEPENDENT INVESTIGATIVE JOURNALISM, YOU CAN HELP US KEEP REPORTING BY THROWING IN A FEW DOLLARS HERE. EVERY LITTLE BIT COUNTS!
"I left the Greens party in 2015, after my membership lapsed, citing dissatisfaction with the political system as a whole, and the need to devote more of my time to my personal health. My departure from the Greens predates the formation of Left Renewal, or any faction that Jeremy Buckingham claims to be against him."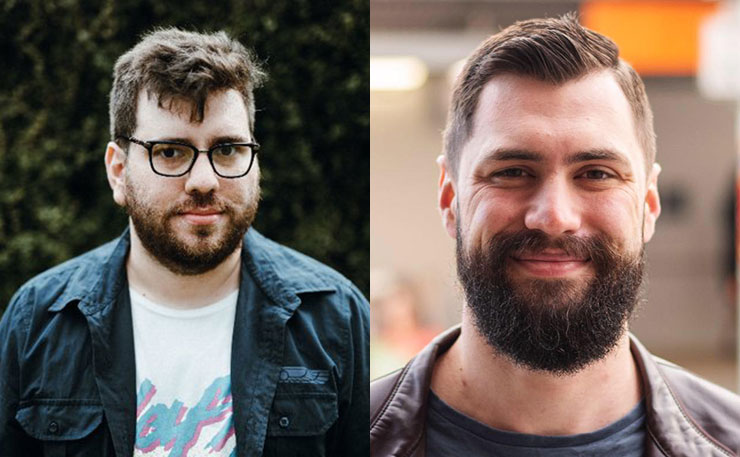 Mr Santos wrote that the defamation proceedings had seriously impacted his family, and that the $45,000 demand from Mr Buckingham – who earns more than $220,000 a year in salary and electorate allowances – amounted to half of his combined family income for a single year. And like Mr Raue, Mr Santos pointed to past calls by Mr Buckingham for a tightening of defamation laws in Australia, to prevent the laws being abused.
"Buckingham has said himself that defamation laws are a tool used by the wealthy to silence dissent, and that politicians should be held to a higher standard when filing for defamation law. It's ironic that this is exactly what he has done in this instance to me, a journalist, and to other journalists and members of his political party, because he didn't like what we've said," Mr Santos wrote.
In 2014, Mr Buckingham and Sydney radio shock jock Alan Jones were sued by former NSW deputy premier Andrew Stoner for defamation. Mr Stoner abandoned the case after federal treasurer Joe Hockey won a defamation action against Fairfax media, but was rumoured to be hundreds of thousands of dollars out of pocket.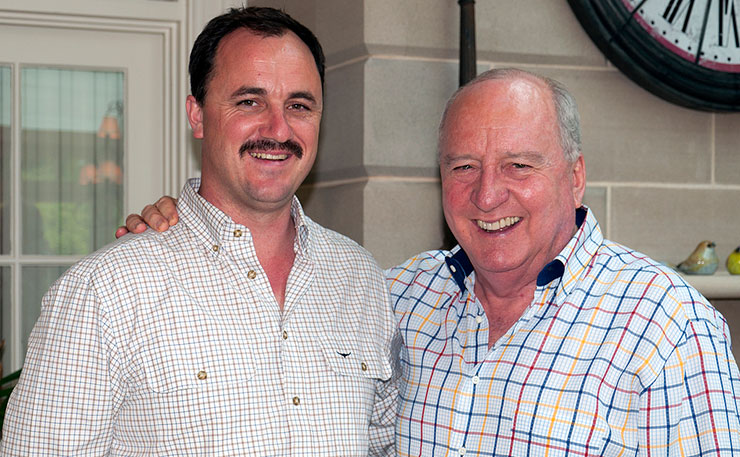 At the time, Mr Buckingham stated: "This was a SLAPP suit [a 'strategic lawsuit against public participation]launched on the eve of a state election in an attempt to silence myself and Alan Jones because we are the biggest critics of the National Party on the issue of coal and coal seam gas threatening our farmers and food bowl.
"I am not a wealthy individual and this law suit threatened my career and the financial security of my family, but the Greens have a history of standing up and will not be intimidated by the rich and powerful.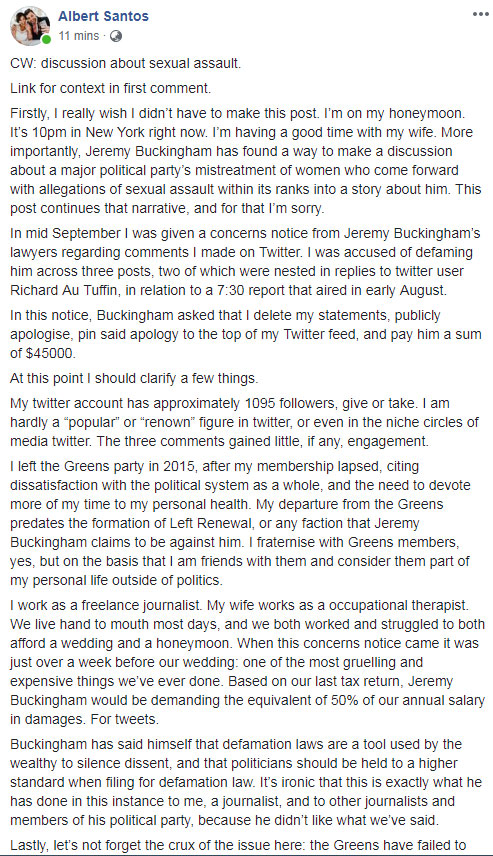 "Having been tangled up in defamation law, I am convinced that it needs serious reform. It is skewed towards wealthy people who can risk large legal costs, and it infringes on free speech, particularly political communication, which ought to be provided the highest protections in Australia."
"Australia is a robust democracy and criticism of public representatives is an important part of our democratic system. There should be a much higher bar set for politicians to sue for defamation, such as what exists in the United States.
"As a stone mason in the Central West of NSW, I used to tend to former Prime Minister Ben Chifley's grave in the Bathurst Cemetery. The epitaph on his headstone reads: 'If an idea is worth fighting for, no matter the penalty, fight for the right, and truth and justice will prevail.'
"Defamation law, as it currently stands, undermines the ability of those without wealth to pursue Chifley's ideal. This must be fixed."
Mr Santos ended his public post by calling for people to focus on the issue at hand.
"Lastly, let's not forget the crux of the issue here: the Greens have failed to act properly and decisively in regards to allegations of sexual assault and misconduct in the party. These have not been dealt with, both at the time of the posts and today.
"To the women who have come forward with your stories: your bravery and strength should not be forgotten. I again apologise profusely that this has been handled in such a poor manner by all parties."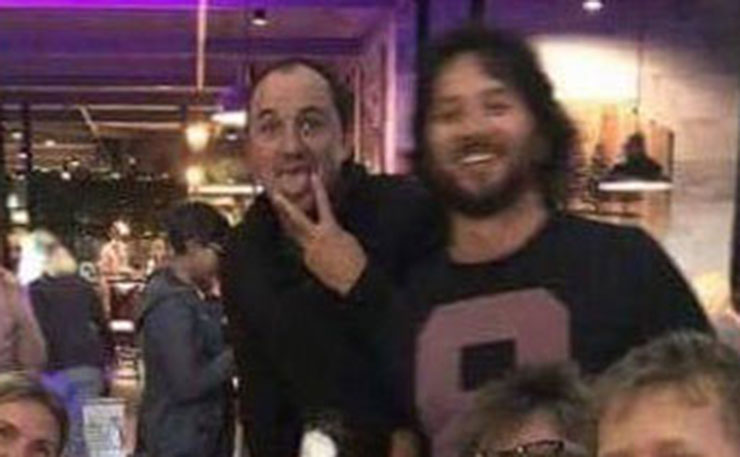 Mr Buckingham strongly denies the alleged incident occurred, claiming the allegations were part of an internal factional fight. While Mr Buckingham does acknowledge phoning Ms Buckland the day after the alleged assault, he says it was to check on her welfare. He has pointed to an internal investigation launched by Greens NSW, which he says "cleared" him.
The Greens have refused to release the entire report, but have acknowledged it finds there is "insufficient evidence to substantiate" the core claim around the alleged sexual assault.
However, in a statement last month, the Greens added: "The report does not make any finding that the complaint was false or vexatious, nor does it support Jeremy's assertion that the complaint was made for political reasons. Any claims to the contrary are inaccurate."
New Matilda is seeking comment from Mr Buckingham, however he has so far ignored a series of written questions and repeated requests for an interview.
In the meantime, an ongoing New Matilda investigation into the allegations is expected to conclude next week.
WE CAN'T DO THIS ALONE – IF YOU VALUE GENUINELY INDEPENDENT INVESTIGATIVE JOURNALISM, YOU CAN HELP US KEEP REPORTING BY THROWING IN A FEW DOLLARS HERE. EVERY LITTLE BIT COUNTS!
Donate To New Matilda
New Matilda is a small, independent media outlet. We survive through reader contributions, and never losing a lawsuit. If you got something from this article, giving something back helps us to continue speaking truth to power. Every little bit counts.