This is the third feature in an investigative series commenced by New Matilda in March 2017, and spearheaded by UK Journalist Of The Year, Michael Gillard. Lethal Lies exposes the actions of a British film-maker who posed as a journalist while employed as a spy for an US intelligence firm, and a Kazahkstan asbestos company, to infiltrate the global anti-asbestos activist network pushing for a world-wide ban on a product that kills an estimated quarter or a million people every year, including thousands in Australia. In Part 3 Michael Gillard brings you an update on a legal action pending against the spy, Robert Moore, and his ties to senior media figures across the United Kingdom.
CHARLOTTE Moore, the most senior woman at the BBC who is tipped as its future boss, has become embroiled in the international spy scandal involving her brother who used their relationship to infiltrate campaigners, journalists and lawyers on behalf of private investigators acting for asbestos oligarchs.
Last year, in the first two parts of the Lethal Lies investigation, New Matilda revealed how Rob Moore posed as a documentary maker to spy on the anti-asbestos movement between 2012 and 2016. In reality, he was on a £73,000 annual retainer working undercover for K2 Intelligence whose high-rolling Kazakh clients owned one of the biggest white asbestos mines in the world.
In this third part, we reveal how Moore has traded on his relationship with Charlotte, the BBC's head of content, to further his espionage activities and reinvent himself as a "whistle-blower" ahead of his trial in London.
The whistle-blower delusion
ROB Moore needed to stage manage his own exit from the dirty world of corporate espionage after a decade as a paid undercover operative betraying others.
He was under pressure from his new wife and from his own mental health and conscience. He also feared the blowback on his sister's stellar career of being exposed in the media.
One day in 2015, the skinny secret agent alighted on a way to come out of the shadows as a hero not a villain. It would take a further two years of remaining undercover but he believed those he was betraying would eventually come to see him with more generous eyes as a "whistle-blower" not a weasel.
Moore imagined coming out as a corporate spy in 2017 during an anti-asbestos conference stuffed with his victims, whose jaw-dropping surprise would be caught on camera by an award-winning director as he gave a carefully crafted but rousing explanation.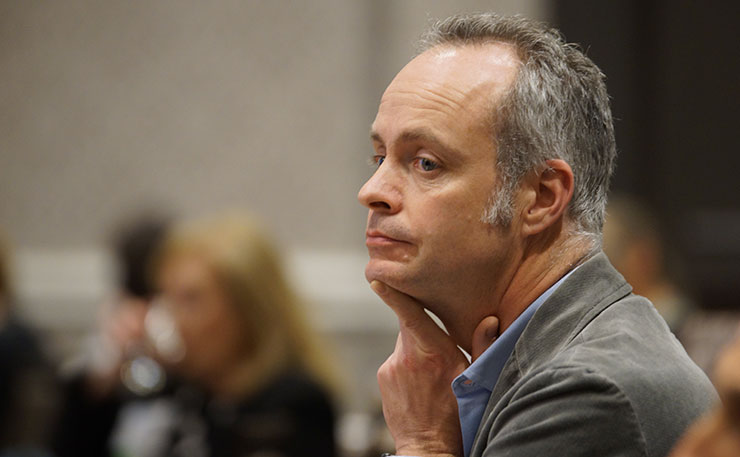 The big reveal, he wrote, would be a "spectacular" ending for a documentary, provisionally entitled 'The Man who… '
It was a tall order, one that a less deluded mind would consider unworkable or at the very least unethical and a further insult to those he had been spying on since 2012.
In any event, Moore badly miscalculated the next step in his plan, when in June 2016 he approached Global Witness, the anti-corruption campaign group.
In a double whammy revelation, he told the chief executive that he was spying on the anti-asbestos movement for Kazakh oligarchs and on Global Witness for an oil company they were investigating for bribery.
Then, in another extraordinary act of self-delusion, Moore offered to continue working inside K2, this time as a double agent for Global Witness, but insisted that the anti-asbestos movement had to be kept in the dark until his documentary was ready in a year's time.
Global Witness rejected Moore's offer and outed Moore. Soon Leigh Day, the lawyers for the anti-asbestos movement, were all over him, not least because one of their partners, Harminder Bains, had been duped into sitting as a trustee on a sham asbestos charity that Moore conceived as a "cover" for his further espionage.
With events now spiralling out of his control, and damaging headlines looming, Moore made a desperate plea for Leigh Day not to sue him. He also made a baseless but tactical claim that his life would be in danger from his paymasters if they did.
But Leigh Day pressed on and soon Moore, forgetting the danger they posed to his life, joined forces with K2 and the Kazakhs to try and prevent details of their rotten association from being made public.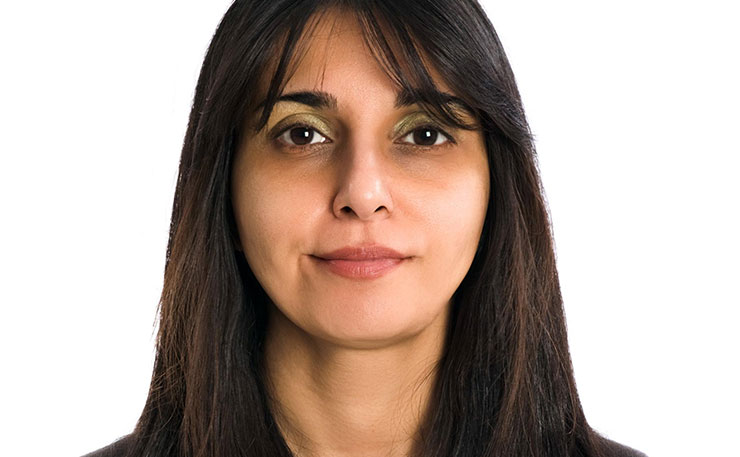 It was a gagging order that only applied to the media in England and Wales, and one New Matilda ignored by publishing the first part of its Lethal Lies investigation in March 2017.
Moore, K2 and the oligarchs tried to bully and intimidate New Matilda into taking down the article and never publishing on the matter again.
But Moore still hasn't given up on the idea of a redeeming documentary that will exonerate him as a whistle-blower who supported the anti-asbestos movement and not 'the man who … ' betrayed it for a lot of money.
To that end, he has been talking to quirky British filmmaker Jon Ronson, whose book The Men Who Stared At Goats was made into a comedy starring George Clooney.
Based on new witnesses and documents, including his defence to the legal action, New Matilda today exposes the real Robert Sinclair Moore before the fake one reaches your screens.
In contrast to the urbane erudition of the modern corporate intelligence world, the picture is one of mediocrity living in the shadow of success; an arrogant man who struggled with depression and marital problems then turned to Buddhism; a man who cynically claims he is more saint than sinner and someone who helped the anti-asbestos cause rather than undermined it.
Moore has spent the last year avoiding an interview with New Matilda. He remains close to his sister but is still fearful of the fallout of the spy scandal on her career.
So Moore refuses to discuss what 'Cha', as he calls her, knew about his life as a corporate spy as she rose up the BBC's greasy pole while he wormed his way into people's lives posing as an "investigative journalist" developing documentaries for the British broadcaster.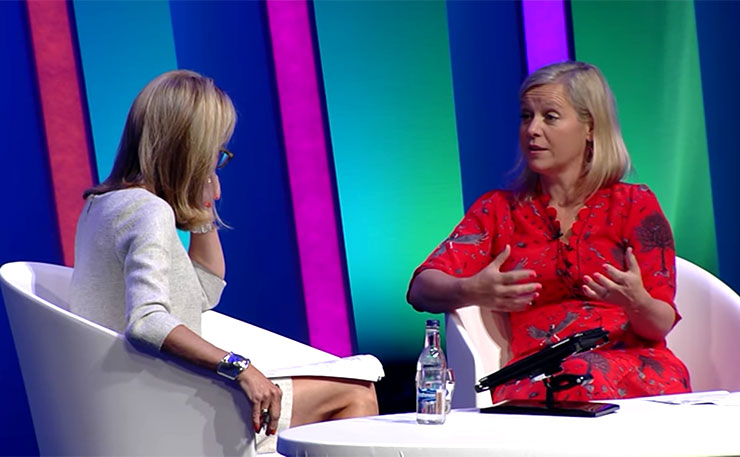 Charlotte Moore, 49, also refuses to answer any questions about their relationship, nor will she condemn her brother for spying on campaigners.
Perhaps she is waiting for the conclusion of his trial for misuse of private information and breach of confidence. But for an executive responsible for a legion of BBC reporters in the field it is troubling that Charlotte Moore won't even condemn the practise of using journalism as a cover for corporate espionage and corporate espionage as a cover for journalism.
Beware. There's a BBC spy in the camp! Yes, you.
LAURIE Kazan-Allen, one of five spied on campaigners who is now suing K2 and Moore, has told the high court how he first approached her in the summer of 2012 using Charlotte 's lofty position at the BBC as part of an "arsenal of persuasion" to get her to open up about key international campaigners and their sources of funding.
With K2 money, Moore had invented a production company, Expert Films, and a website to give the impression that he was developing documentaries for Panorama, the BBC's flagship current affairs strand, on how "businesses in developed countries seek to benefit from poorly regulated markets and working conditions in the developing world". Ironically, that was exactly what K2's clients were doing in Kazakhstan and across Southeast Asia, especially Vietnam.
In his defence statement, Moore now claims that around six months into his undercover deployment he came to realise he was on the wrong side of the asbestos debate.
However, new evidence has emerged showing how, four years later and still undercover, Moore used his sister to try and obtain commercially sensitive information that would benefit the asbestos lobby.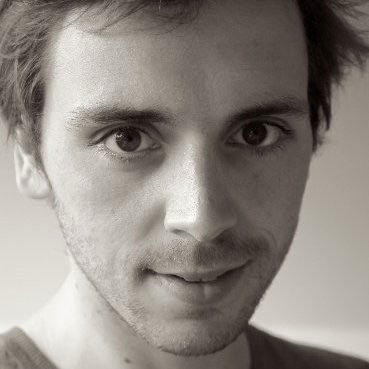 On 7 June 2016, he wrote to Maarten Schmidt seeking a copy of the Belgium producer's documentary proposal, which was in production but needed funds. Schmidt was asked to prepare a tailor-made pitch for Moore's "overworked" sister to look at.
"I'd be happy to ask my sister if she knows people who could be interested… My sister might have some ideas about European broadcasters or people who fund features docs. Do you have a more updated proposal I could give her?" a chummy Moore inquired.
Breathless follows director and fellow Belgium Daniel Lambo to Kapelle-op-den-Bos to document the effect of Eternit, an asbestos company, on his hometown. The two filmmakers also travelled to India with a British barrister who represents asbestos victims there.
However, when Moore first approached Schmidt he had been spying for years on the barrister (who wants to remain anonymous) and duped him into being a trustee for his sham charity, Stop Asbestos.
In an extraordinary ending to the June 2016 email, Moore warned Schmidt to be careful, as there was a spy on the loose.
"By the way, we think there's an industry infiltrator sniffing around, posing as a freelance researcher for BBC Radio 4," he wrote. "Just in case someone gets in touch, could you let us know before you say anything? And obviously don't mention anything about what we're doing in the UK. Thanks. And please tell Daniel that I'm still thinking a lot about stings, sedition and the dark web. I feel there's a lot we could do."
Only five days earlier, on 2 June, Moore had been sitting in the office of Global Witness admitting his role as a corporate spy and offering to work as their double agent.
Global Witness's quick rejection of Moore's unhinged offer would suggest his warning to Schmidt was the act of a worried man looking to regain some control over his fate.
There was, of course, another option open to Moore. He could have come clean. But had he done so, Schmidt would have raised the alarm.
In the end, it was Global Witness, who outed Moore to the barrister and others. And by September 2016 the game was up and Moore was in a panic about how the cards would fall and affect his sister.
Nevertheless, he still found time to put in his last invoice to K2. On the plus side, in four years Moore had collected £336,000 in wages alone and claimed back £130,000 in expenses.
TV's dirty secret
WITH Leigh Day firmly on his case in November 2016, Moore sketched out his fears and weaknesses in a document. "I'm also concerned for my sister, whose prominent job might make the story especially interesting to some papers. I haven't told her about the court actions yet as I didn't want to cause her any further stress but if this situation isn't containable then maybe I should."
He then wrote: "Several people in TV know about the work I do. It is useful to them because there is very little funding in TV for the research and development of investigations."
Moore first embarked on a career as a corporate spy in 2005 after an unremarkable one in light entertainment. It is an illuminating claim that a group of British television folk saw his betrayal of the principles of journalism as a source of cheap research for programme ideas. But Moore refuses to name names.
However, documents disclosed in the legal action show that he worked with Greg Atkins Productions.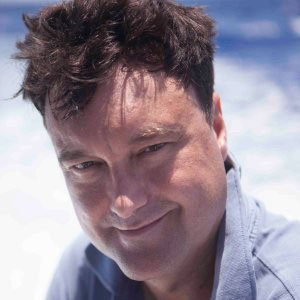 Greg Atkins, 51, is a former sports commentator and reporter who moved into television production. He once made a film about puppy smuggling but, like Moore, has no real record of investigative documentary making.
Instead, Atkins and his wife Larissa, a co-director of the production company run from their south-west London home, appear to make money from corporate videos and shooting ads for champagne.
Atkins went to India with Moore, who was undercover, to make a short film for the World Health Organisation (WHO) after an introduction from anti-asbestos campaigners.
The WHO was an original target of Project Spring, the K2 codename for the infiltration of the anti-asbestos movement. K2's clients wanted to know if the WHO was "funded by law firms to generate money from asbestos related litigation" and the health body's stance on white asbestos in Southeast Asia, where the Kazaks were making a big push.
Internal documents also show that Moore saw the trip to India as good for his "cover" and charged expenses to K2.
On his website, Atkins describes himself as having "a reputation for someone who is capable of bringing out the best in people and telling their stories." However, when it comes to his own involvement with Moore, Project Spring and K2, he is staying quiet and refused to return calls or respond to emailed questions.
Get rid of that, it makes me look bad.
MOORE'S attempt to be portrayed as a real "investigative journalist" who risked his life to blow the whistle appears to be working in influential television circles, says Maarten Schmidt.
Breathless is now in the can and will shortly be shown to international audiences as a true picture of how Moore endangered the asbestos movement. But in the UK, the Belgium filmmakers encountered resistance to this message.
"The story we are bringing is being challenged by people that hold important positions in the British media industry, more specifically the independent documentary funders and distributers. The industry we operate in is a close-knitted one. We believe we have done our job correctly and can support the view we hold in the film that Rob Moore passed information from activists, lawyers, doctors trying to ban asbestos use particularly in south east Asian countries and that by passing on their names and information to his employees he put these people in danger," says Schmidt.
Friends and influential supporters of Moore are claiming that it was always his intention to work as a double agent against K2 and its real client, the young billionaire Yerkin Tatishev, chairman of the Kusto Group in Kazakhstan.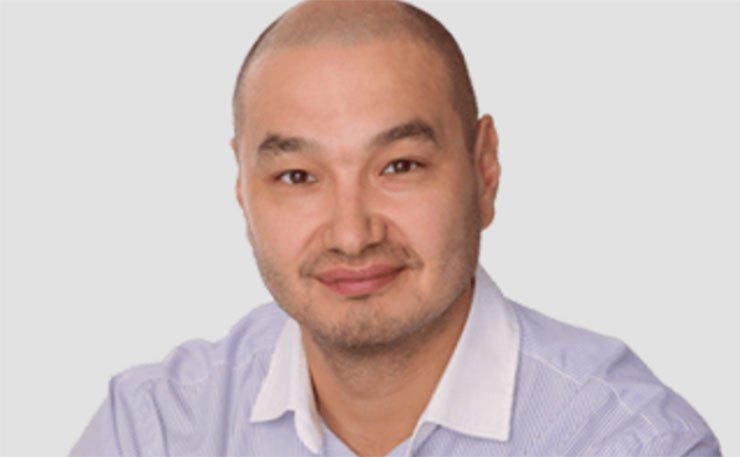 Maybe these television courtiers are just showing blind support for the idiot brother of their young queen in waiting, who is tipped as the next director general of the BBC. But those espousing such views would do well to read Moore's defence statement, which was filed at the high court last year.
The 46-page document makes no such claim. Quite the contrary, it says, "it is admitted that Mr Moore's initial aims and objectives were to obtain intelligence" on the WHO and Laurie Kazan-Allen's International Ban Asbestos Secretariat (IBAS).
It goes on that Moore's mission was to see if IBAS was a "front" for her brother's law firm that represented US victims of asbestos-related illnesses. And far from being contrite, it is Moore's case that his undercover investigation was "in the public interest, legitimate and justified". K2 makes the same claim.
Moore, however, argues that at some undefined moment he had an epiphany and "came to greatly admire" the anti-asbestos campaigners and "respect their cause, motives and integrity".
The defence statement says that "by about late 2012" he "came to believe" that white (chrysotile) asbestos was actually "extremely dangerous", the industry was peddling "misinformation" and K2's clients were not good people.
So the now troubled Moore apparently "decided to use the opportunity provided by his commission for K2 to expose wrongdoing within the asbestos industry and thereby further the objectives of the campaign".
Although Moore admits obtaining confidential information about campaigners under false pretences and passing it on, he claims what he gave K2 was "of little or no use" and he never "materially damaged the long-term goals of the campaign".
There are a number of problems with the epiphany theory.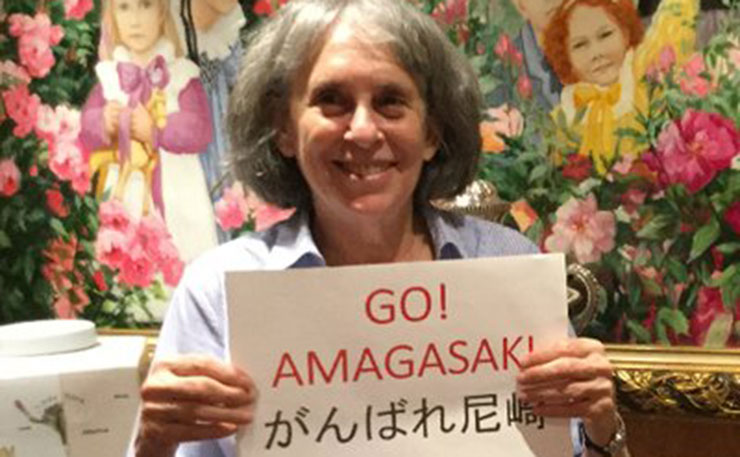 Firstly, Moore continued to betray the movement for almost three more years and during that time earned huge fees and took extreme measures to ensure he wasn't caught.
For example, he asked K2 to remove metadata from his reports on the anti-asbestos campaigners that were being passed to the Kazakh oligarchs. He also demanded that K2 delete his time sheets from November 2013 to January 2014 because they made him "think too much about Andy Coulson". Coulson, of course, was the former editor of Rupert Murdoch's Sun and News of the World titles in the UK who became a spokesman for the Conservative government of David Cameron before being jailed in July 2014 for hacking voicemails.
The fall of Coulson, indeed the whole hacking scandal, was unfolding while K2 and Moore were spying on the anti-asbestos movement. Journalists, private investigators and sources were being put on trial in a febrile atmosphere. So when the cell door closed behind Coulson, it is no wonder Rob Moore was keen to cover his tracks.
I'm coming out, just not yet.
BUT why did Moore decide to stay hidden inside the anti-asbestos movement rather than come clean when his alleged epiphany occurred sometime in late 2012?
Didn't the campaigners he had betrayed deserve the right to decide if they wanted him on their side as a double agent?
What reason could there be for compounding that betrayal by continuing to spy on those whose cause he claimed to support?
Moore's answer to these questions is remarkable and provides a chilling insight into what makes him tick. According to his defence statement, "[He] planned to remain undercover within the campaign because he considered he was in a unique position to carry out tasks, and that it was of the utmost importance to the campaign for him to do so."
Moore knew that coming clean would mean the campaigners stopped engaging and cut off his access. So he didn't.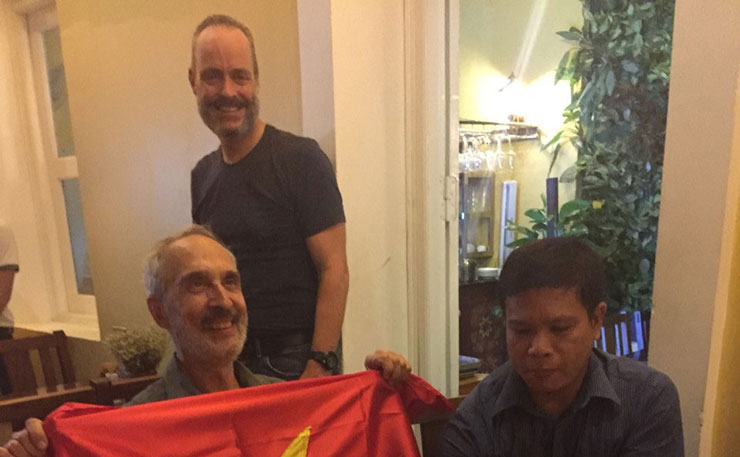 And what were these pressing tasks he could only complete by continuing to betray their trust? Moore says he had to finish researching a report into the global supply chain of asbestos so he could make a hard-hitting expose of industry corruption. This would be followed by a second documentary where he finally reveals himself as a spy turned whistle-blower.
New Matilda has obtained a copy of the global supply report. It wasn't based on Moore's research and there was no need to continue spying on the anti-asbestos campaign to complete it.
Bill Lawrence is a veteran union activist, anti-asbestos campaigner and industrial diseases researcher. He was unaware about Moore's undercover work for K2 when he agreed to provide him with data on the worldwide shipping and trading of white asbestos from Russia and Kazakhstan.
Lawrence had been collating the data at his own expense since 2011 and now believes that Moore manipulated his "insecurity" and willingness to see his "original research" on the screen.
Moore set up a form of secret email communication similar to the one he was using to pass his handler at K2 reports on the anti-asbestos campaign. Documents were dropped into the draft folder of one gmail account with a shared password so they never went out over the internet.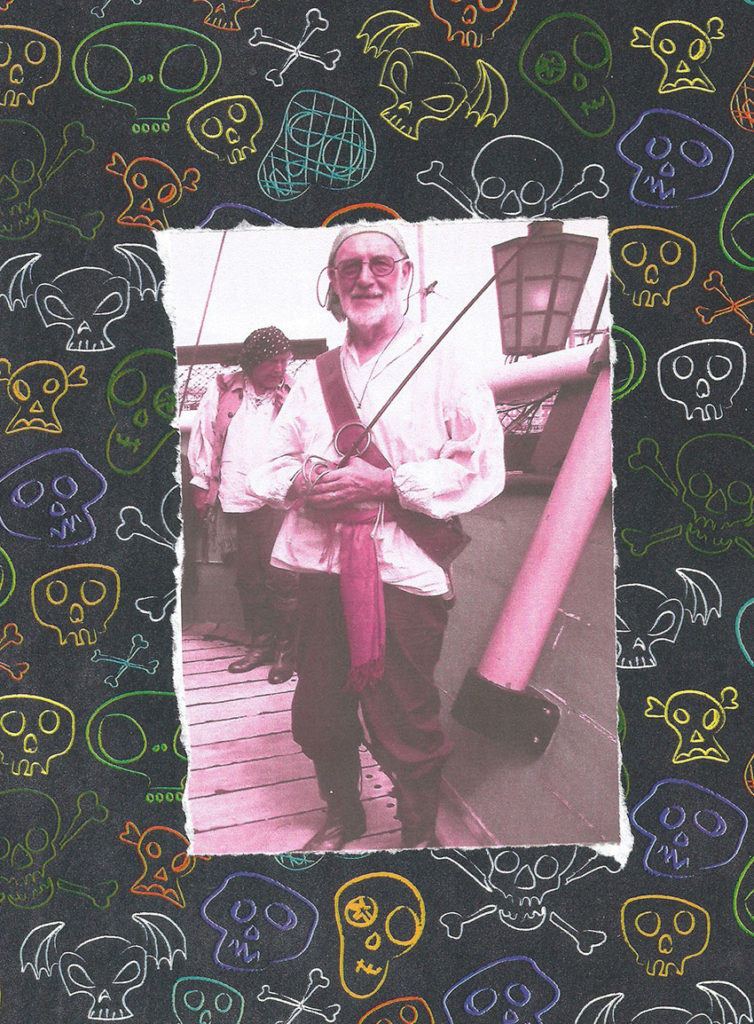 Moore named the account piratebilllawrence after a photograph of his research partner dressed as a pirate. "[It] was very appropriate for someone following the [asbestos]trading fleets… We feared we might be bugged," Lawrence recalls with irony.
A year later in July 2015, Moore, through an intermediary he will not name, approached a powerful player in the British television world who was also friendly with his sister. John Willis was a former chairman of the British Academy of Film and Television Arts (BAFTA), and chief executive of Mentorn Media.
Moore told Willis that he was operating as a double agent inside an unnamed corporate intelligence firm and really wanted to expose the asbestos industry and come out as a whistle-blower.
Willis, a former senior BBC executive, was interested and saw no need to alert the anti-asbestos movement, who revered the veteran documentary maker as a hero. In 1982, Willis produced Alice, A fight for Life a powerful documentary about a former asbestos worker at Turner & Newall in Rochdale near Manchester.
Ironically, it only emerged publicly in January 2016 that the asbestos company had spied on campaigners and tried to smear them and the programme makers as "communists."
Five months later, Moore finally presented Willis with the finished report on the global supply chain, which he claimed contained the smoking gun research that validated his continued betrayal.
A senior source at Mentorn insisted to New Matilda that Moore's pitch didn't even get off the ground and no development money was ever invested. Willis, said the source, considered the global supply chain report to be "incoherent".
But in June 2016, he passed it to Mark Daly, a respected BBC reporter on the Panorama programme. A source close to Daly said he too struggled with the material and couldn't find a UK angle let alone hard evidence of the money laundering and corruption that Moore was alleging. Worse still, the report contained the already published work of real journalists, which made the project even less appealing.
Moore was also insisting that Panorama viewers could not be told the truth about his role as a corporate spy. He said that this big reveal was something he was saving for the second film he was making with the BAFTA winning director, Dan Reed of Amos Pictures.
Willis and Daly passed on the project but the anti-asbestos movement were not told of the spy in their camp. Reed, however, was more supportive of Moore. He told New Matilda: "The fact that Rob outed himself to me and others makes no sense unless he was genuinely preparing a public denunciation of the clients." But their documentary proposal, he said, is no longer "an active development".
Bill Lawrence has some interesting observations about Moore's motivations, which he gleaned over several frank late night phone calls or meetings.
On one occasion he recalls Moore opening up and describing himself as the "black sheep of the family" overshadowed by his younger sister's meteoric rise in the BBC. Moore went on to reveal that he had suffered from depression and once tried to take his own life before converting to Buddhism.
Moore refuses to say if these claims about his mental health are true or were part of an act to get Lawrence to trust him. However, his defence statement refers to a difficult divorce and problems seeing his children.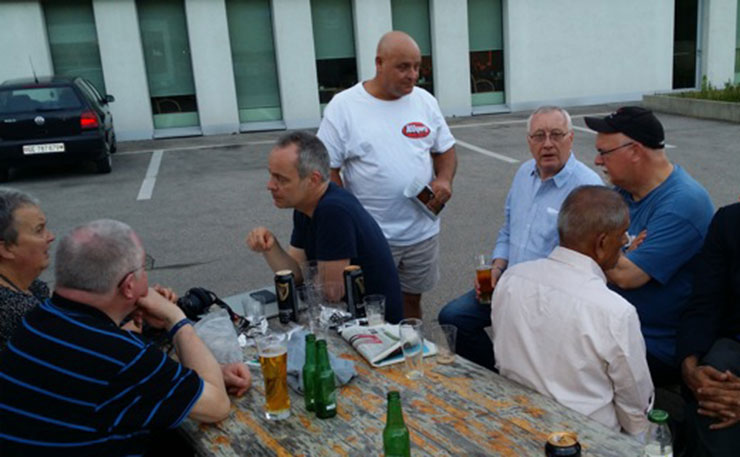 Moore now lives with a new partner, Nicola, in Baldock, Hertfordshire. Lawrence recalls that she was not happy with her partner's activities and told him to stop during one phone call.
Interestingly, in its defence statement K2 describes Moore as having "a personality and desire to demonstrate his usefulness and importance". The corporate intelligence agency claim this attitude explained his exuberant early reports about how he was going to infiltrate the anti-asbestos movement and his tape-recording of a dinner with Laurie Kazan-Allen at her home. K2 said they never asked Moore to do this.
For his part, Bill Lawrence feels "duped" when he discovered from other campaigners that Moore was a spy.
He also accuses Moore of "utter hypocrisy" over his continued undercover work while claiming to assist anti-asbestos campaigners.
In particular, Lawrence provided New Matilda with a picture of a lecture that Moore gave to Thai anti-asbestos activists on "ethics in research" (pictured below).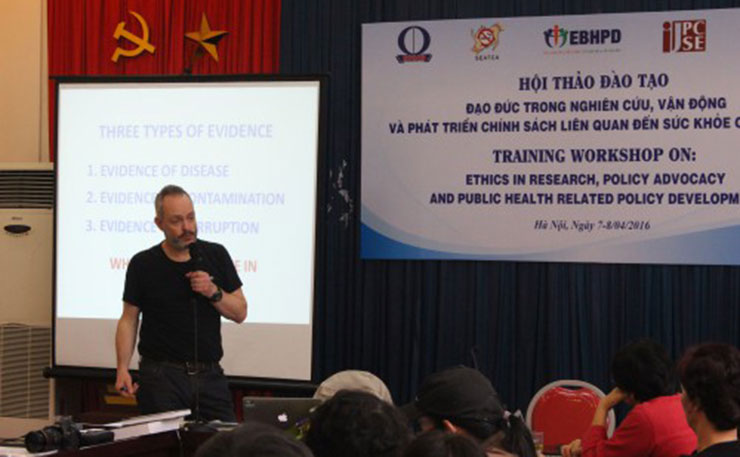 Lawrence says he has also denounced Moore to his local Labour party as a spy. "He was a member until I reported him and the regional secretary held an investigation."
Moore denial
THE Buddhist spy told New Matilda he is looking forward to his day in court when "the whole truth" will be known. But at the time of writing no date had been set for the trial.
K2 says it will robustly defend the action. The likelihood, however, is that the publicity shy spooks are negotiating a settlement deal. K2 has every reason to avoid the reputational damage of an open court hearing that will cast the company in an incompetent light for employing Moore, and a harsh one for spying on those trying to help the victims of asbestos related cancers.
K2 is also being sued in the US after one of its agents recently alleged on a PBS Frontline documentary that an undercover operative was used to dig dirt on model Ambra Guttierez after she filed a report in 2015 with the New York police department alleging sexual abuse by Harvey Weinstein.
K2 initially responded to the Moore scandal by appointing two heavyweight figures from the US security establishment – Admiral Mike Mullen, former Joint chiefs of Staff, and Ray Kelly, a former New York police department commissioner – to sit on a newly created US advisory board.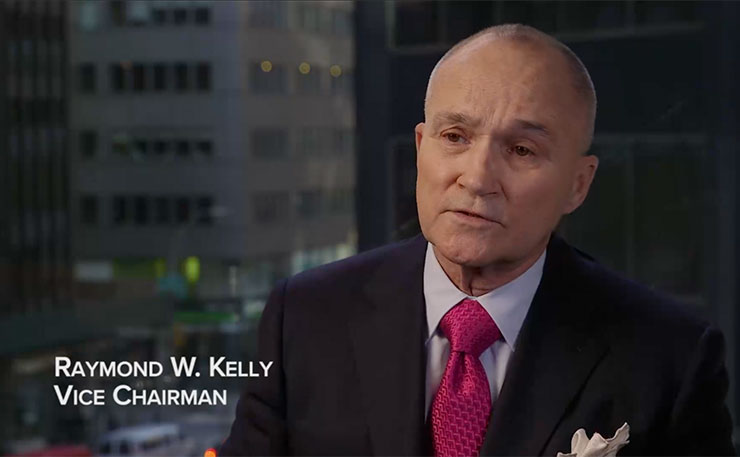 And last September, Charles Carr, head of the London office, stepped down. He is said to be a casualty of the scandal.
Matteo Bigazzi, however, who was Moore's handler, is still employed at the London office. This might be because he is a co-defendant in the UK court case and it would not be the right time to show him the door.
The firm also has a record of employing real journalists from The Mail on Sunday and The Sunday Times in the UK. It is part of a rising trend as cut backs affect news floors in print and television and reporters look for extra income or better-paid jobs with more security.
However, the use of journalists and journalism as cover for corporate espionage makes the job of genuine newsgatherers operating overseas, where there is already a culture of suspicion, even more dangerous.
Charlotte Moore declined to answer specific questions about how much she knew about her brother's activities. A BBC spokesman refused to answer questions about any work Moore had done for the broadcaster while he was a spy and said his antics had nothing to do with them.
In a statement, Rob Moore said: "I maintain that through my investigations I managed to uncover evidence that goes to the heart of the issue of corruption in the asbestos industry, and that the real story is not about me, but that this industry continues to thrive in developing countries only through subterfuge, bribery, financial corruption and the abuse of shell companies – through the entities, individuals and strategies I identified. Whilst I can well understand the indignation campaigners must have felt when it was revealed, through my own whistleblowing, that I was being paid by K2, I hope they will soon come to understand how I chose to use my position to try to identify the client, investigate the industry and expose wrongdoing, and support the campaigners.
"I hope they will each also come to appreciate how very little of their information (if any) I misused and how trivial that information was, and I wish that they and others would now make proper use of the work that I started to put a stop to these grossly abusive practices."
Nope. No delusion there.
Donate To New Matilda
New Matilda is a small, independent media outlet. We survive through reader contributions, and never losing a lawsuit. If you got something from this article, giving something back helps us to continue speaking truth to power. Every little bit counts.