DISCLOSURE TO READERS: New Matilda is currently being threatened with defamation by Channel 7. Also, a lawyer quoted in this story has threatened litigation against New Matilda earlier this year, over an unrelated investigation. Declarations are included at the end of this story. – Ed.
A top-tier Australian law firm which represents Channel 7 has denied suggestions a fake 'GoFundMe' page it set up under the name of 'Amber Harrison' was done to harass the former Seven staffer, who turned to the public for financial help last month after she was sued by the network for revealing details of an affair she had with her boss and Seven CEO, Tim Worner.
The dummy fundraising page was launched last month from the Sydney offices of Addison Lawyers, which represents Seven West Media Group*. Screenshots of the fake page have been obtained by New Matilda.
The fake fundraiser ran alongside a real fundraiser set up by Amber Harrison on August 14, and remained active for almost a week until site administrators were alerted and closed it down.
Addisons Lawyers told New Matilda it had no interest in Ms Harrison, and that the page was part of a general research project into crowd sourcing, and had been published in error by a junior staff member.

Harrison has previously accused Channel 7 of conducting 'legal warfare' against her after she publicly revealed she had an 18-month affair with Worner, which included regular drug use.
Despite Seven alleging Harrison stole more than $180,000 from the company through misuse of her corporate credit card, it negotiated a payout of more than $400,000 in exchange for Harrison's silence about the affair with Worner.
Harrison went public in December last year after she alleges Seven reneged on that deal.
HOUSE AD – CHANNEL 7 IS CURRENTLY THREATENING TO SUE NEW MATILDA FOR DEFAMATION. YOU CAN READ ABOUT IT HERE AND YOU CAN CHIP IN TO OUR CROWD SOURCING FUNDRAISER HERE.
Channel 7 responded by suing Harrison and seeking a permanent gag order preventing her from discussing the affair, or Channel 7. Harrison, who worked at Seven's Pyrmont headquarters but is now based in Melbourne, lost the case in July and was ordered to pay the network's legal costs, which will likely run to hundreds of thousands of dollars.
In desperation, Harrison turned to the public for help last month by launching a GoFundMe appeal. At the time of writing, Harrison's real GoFundMe page had raised just $9,000 of its $200,000 goal.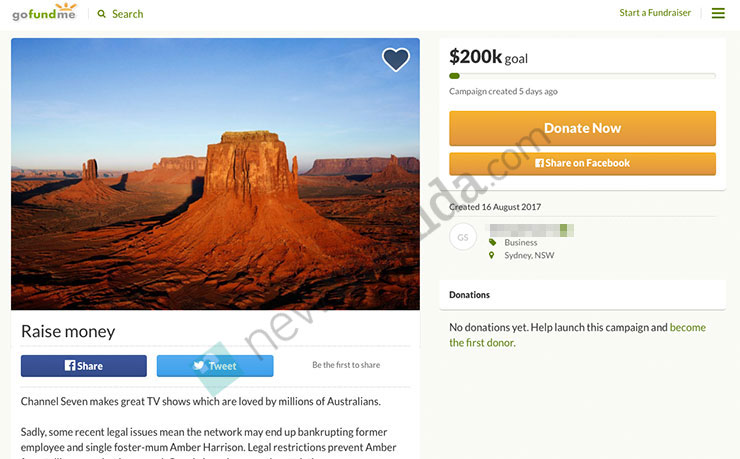 The text on the fake page set up by Addisons Lawyers replicates exactly the text published on Harrison's fundraiser. Apart from the image, the only other difference is the name of the creator of the page, the law clerk based within Addisons. The law clerk is part-time employee and law student. New Matilda has suppressed her name for ethical reasons.
It reads:
"Channel Seven makes great TV shows which are loved by millions of Australians. Sadly, some recent legal issues mean the network may end up bankrupting former employee and single foster-mum Amber Harrison. Legal restrictions prevent Amber from telling you what happened. Google is under no such restrictions.
"If you are worried you might not enjoy Seven's shows as much, knowing they bankrupted Amber, support the "Amber Harrison: Guilt-free TV" campaign."
Partner at Addisons Lawyers, Justine Munsie** told New Matilda that there was never any intention for the page to be made public.
"The page was created in error by a law clerk whose apologized for the error," Munsie said.
Munsie also said her firm had no interest in Ms Harrison, and that the fake GoFundMe page was unrelated to its work for Channel 7. Instead it was just part of the firm's research into the broader issue of crowd source funding.
"This had nothing to do with Channel 7. It was just a lawyer wanting to understand how this page works."
Munsie said the fake fundraiser did not attract any donations.
Munsie and Addisons Lawyers have represented Seven on numerous matters, and were advising Seven West Media group on its negotiations with the family of jailed drug mule Schapelle Corby.
Seven had always claimed it never paid the Corby family for any interviews, however emails tweeted by Amber Harrison in February reveal executives, including Tim Worner, discussing contract negotiations with Corby's sister, Mercedes.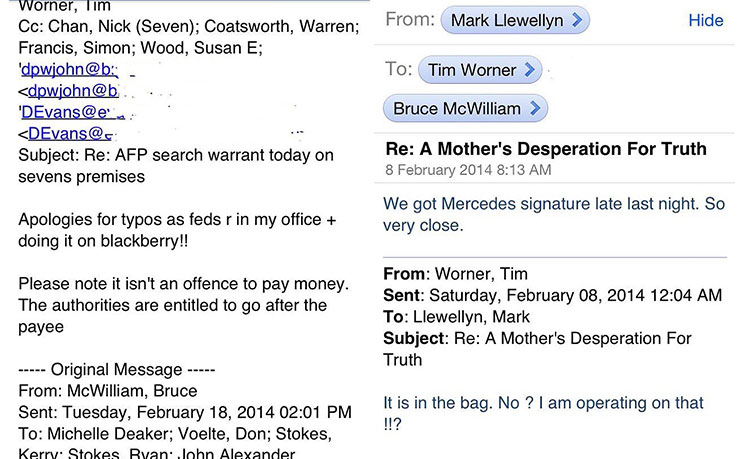 It's those tweets about the Corby negotiations which helped sparked Channel 7's successful pursuit of a gag order against Harrison.
Addisons Lawyers also acted for a group of women who it says were falsely accused of having an affair with Worner in a Human Rights Commission complaint made by Harrison.
For her part, Harrison, who is now under a permanent court-issued gag order as a result of Seven's litigation, declined to be interviewed for this story. However, she's already said plenty on the public record about life at Channel 7, about the way the network treats women, and its use of 'legal warfare' to bully and silence opponents*.
In this recent interview with the ABC, Harrison described how her legal battle with Seven was "a lesson in how many ways you can screw a girl".
"… I'm just one person against a huge company with huge resources and it's changed me and it's exhausted me in every way," Harrison told the ABC.
"I think the boys club has shown that they are still, for now, in control, but we can change that and we will."
A spokesperson for Channel 7 told New Matilda it had no knowledge of Addison's Lawyers actions: "Seven has no involvement in any GoFundMe page, nor has it created one, and we had no knowledge of its creation."
It's been a horror year for Seven, with the network coming under repeated attacks for its treatment of women, and its 'boys club' corporate culture.
An investigation launched by the Seven West Media Group Board into Tim Worner's conduct found the CEO had no case answer, despite the allegations of drug use and the affair with Harrison.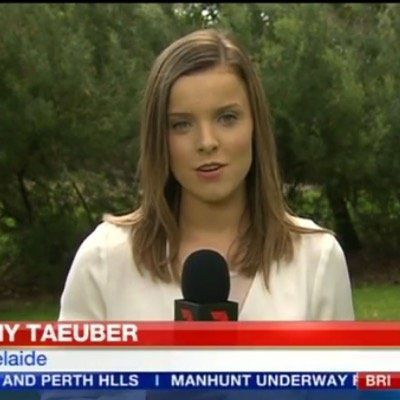 Earlier this week, the ABC revealed details of a secret tape recording which exposed the sacking of Adelaide-based cadet journalist Amy Taeuber by Channel 7.
Taeuber was sacked from the network earlier this year amid allegations she bullied a fellow staff member who was a friend, and had never made a complaint against her.
Her dismissal came immediately after she made a formal complaint against Rodney Lohse, a senior reporter on Today Tonight, alleging that he had called her a lesbian and made disparaging remarks about her appearance and marital status.
Shortly after the complaint, Taeuber was summonsed to a meeting with her news director, Graham Archer, and a representative from the Human Resources department. The tape recording reveals Taeuber's support person at the meeting was asked to leave, before Taeuber was suspended from work, effective immediately.
Court documents reveal Ms Taeuber alleged her personal Facebook page was subsequently accessed by an unknown person from Melbourne after she was escorted from the building without the opportunity to log out of her account.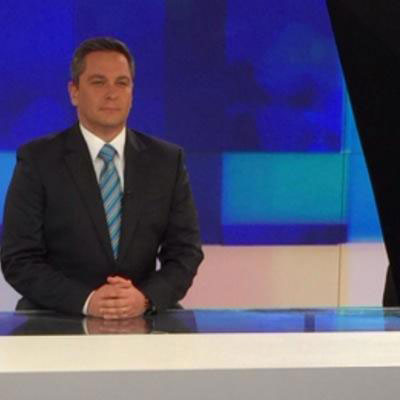 Monday's ABC story sparked a massive online backlash against Seven. By Tuesday afternoon, Seven was conceding the meeting with Taeuber could have been "handled better". However, it doubled down on the reasons for her sacking.
The ABC quoted a spokesperson as saying:
"The program broadcast on 7.30 on Monday night… was neither accurate nor balanced. Amy was not sacked because she made a complaint.
"The termination of employment was made pursuant to a breach of contract. This did not occur during the recorded conversation broadcast by the ABC last night, but many weeks afterwards following meetings and discussions when the former employee was represented by two successive firms of lawyers and the union.
"There is no doubt the initial meeting could have been handled better."
In April, Seven reached a confidential settlement with Talitha Cummins, after the former newsreader alleged she was unfairly sacked while on maternity leave.
Mr Lohse has not responded to multiple attempts to gain comment. A spokesperson for Channel 7 told New Matilda, "A public apology was issued by the person and he now works another newsroom.  Seven has policies in place on appropriate workplace behaviour."
You can read Channel 7's full statement in regards to Ms Taeuber here.
*DECLARATION TO READERS
* Channel 7 is currently threatening to sue New Matilda for defamation over an article that appeared in March, describing Today Tonight as "trashy journalism".
** Addisons Lawyers partner Justine Munsie is the same lawyer who, in March this year, wrote a series of legal threats to New Matilda, after we published leaked documents which exposed an international spy ring set up to infiltrate anti-asbestos activists. Ms Munsie represented the Kazakhstan asbestos company at the centre of the scandal.
New Matilda is a small, independent publication. It relies on reader subscriptions for its survival. If you want to help us break more stories like this, please consider subscribing, from as little as $6 per month. The author of this article Facebooks here, and tweets here.
Donate To New Matilda
New Matilda is a small, independent media outlet. We survive through reader contributions, and never losing a lawsuit. If you got something from this article, giving something back helps us to continue speaking truth to power. Every little bit counts.