In spite of all the spin and smear, the racism storm surrounding the AFL's treatment of Hèritier Lumumba refuses to go away, with one of the nation's most loved 'brown' comedians weighing in overnight with a scathing attack of one of the nation's most loved 'white' ones. Chris Graham reports.
At the start of the week, Peter Helliar – a regular on Channel 10's popular show The Project – probably had no 'Fear Of a Brown Planet'. But by this morning, he might be reassessing after fellow comedian Aamer Rahman delivered a searing takedown on his official Facebook page in response to Helliar weighing in on the Hèritier Lumumba racism scandal on Tuesday night.
Lumumba blew the whistle on endemic racism within the AFL in a documentary called Fair Game which began airing on SBS's On Demand three weeks ago. He revealed how during the course of his 12-year career he was subjected to regular racist abuse and jokes, and had been nicknamed 'Chimp' by some players at Collingwood. After publicly objecting to club president Eddie McGuire's 2013 suggestion Aboriginal star Adam Goodes should be used to promote the movie King Kong, Lumumba's relationship with his club nose-dived, and he requested a transfer at the end of the following season.
Lumumba was a guest on Tuesday night's The Project, and endured a lengthy grilling by host Waleed Aly about the racism allegations he's levelled against Collingwood, and the AFL more generally.
Helliar – himself a Collingwood supporter – threw in his two cents worth at the end of the segment, lamenting Hèritier hadn't provided "more details" including the names of players who called him 'Chimp', before suggesting it looked as though Lumumba had "smeared" an entire football club.
Rahman – part of the now retired hit comedy duo 'Fear of a Brown Planet' and a personal friend of Lumumba's – punched back last night, describing Helliar's remarks as "cowardly, desperate and dishonest".
Over to Rahman…
"Obviously Hèritier Lumumba's story means a lot to me. He's my friend. He's decided to completely cut ties with professional football as the cost of challenging the AFL on racism.
"He is single-handedly fighting one of the richest and most influential institutions in Australia."
Last night, Peter Helliar had this to say about his story. For years, Helliar has been a part of the 'larrikin' boys' club culture that Tier is shining a light on. These comments by him are cowardly, desperate and dishonest.
1. 'It would really be helpful if we heard more detail.'
Translation: "Racism is not real unless you can illustrate a magic number of sufficiently horrible and dehumanising incidents to me as a white person at which point I will still deny systemic racism and say the perpetrators of those incidents were bad apples."
2. "We can't find anyone to confirm the nickname."
You fucking liar. 4 former players have confirmed the culture of racism at Collingwood, including the nickname, and this was well reported by the time the program went to air. DO YOU EXPECT A LOT OF PEOPLE TO IMPLICATE THEMSELVES IN A CULTURE OF RACISM?? Do you expect people who get named to admit it??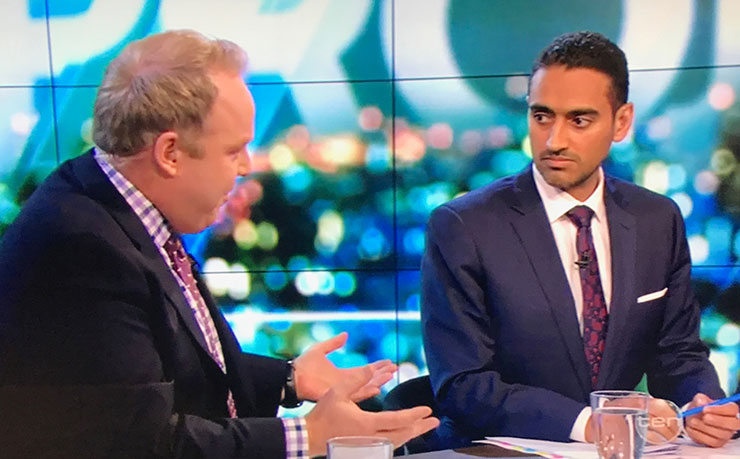 3. "Even if you have to name names. Take us into your experience."
He made a fucking feature film about his trauma. How much more blood do you need before you can accept his version of events? How much more labor needs to be done for his pain to be taken seriously? Tier is not a snitch. He has never threatened to name players. He is talking about the institutional responsibility of the AFL and clubs to create environments where these things don't happen.
4. "You're smearing an entire club."
Oh, ok. It's ok for Collingwood to say Tier is mentally unwell and liar but Tier suggesting that he had to work in toxic culture is unacceptable.
5. "I hope Hèritier doesn't go to war with the AFL."
I hope people realise that bullies only rule because cowards like you do their dirty work. You're embarrassing.
Meanwhile, as The Project went to air on Tuesday, Lumumba and Rahman were preparing to film a special 'Let's Talk' panel in Queensland with the Brisbane Indigenous Media Association (BIMA), in conjunction with New Matilda and the National Indigenous Radio Service (NIRS).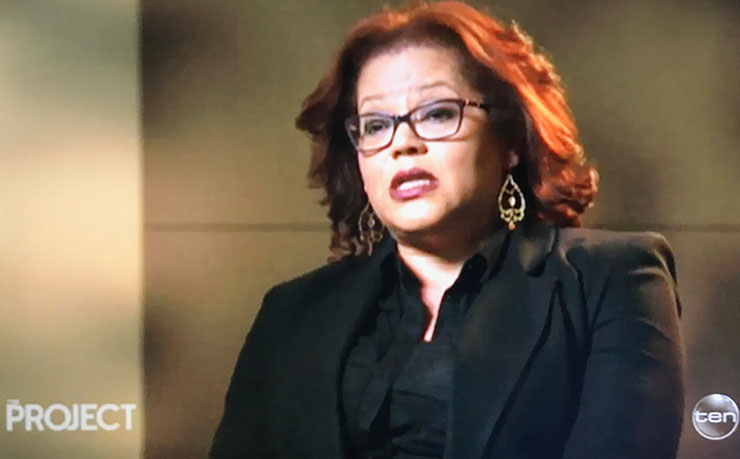 During the discussion, Lumumba described how he endured a two-hour "interrogation" by Waleed Aly, in stark contrast to what appears to have been a 'soft ball' interview with AFL official Tanya Hosch, who was caught up in the scandal after AFL CEO Gillon McLachlan mislead media by claiming Hosch had met with Lumumba over the issue.
McLachlan – who claims the AFL is a national leader in dealing with racism – went on to suggest the story was actually about Lumumba's "state of mind", rather than racism within Australia's richest sporting code. The AFL has since gone silent on the issue, dodging a suite of questions.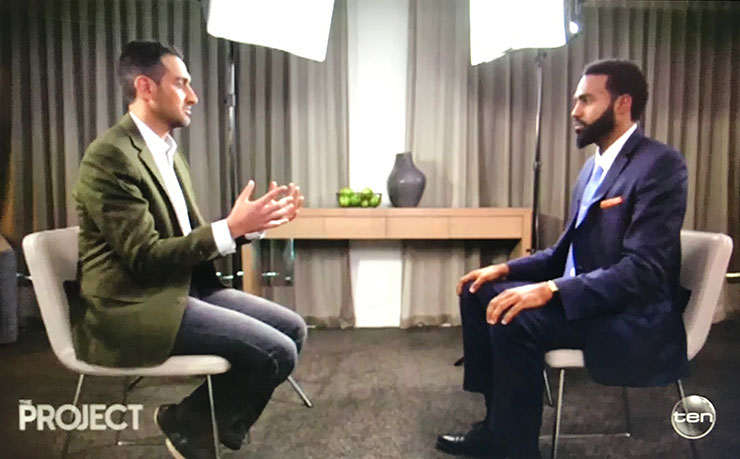 If Aly did ask Hosch about the false claims, it wasn't broadcast in the final edit, nor was there any quizzing of the AFL about the smears it directed against Lumumba.
YOU MIGHT ALSO LIKE
• Channel 7's Today Tonight is suing New Matilda for calling it 'trashy'
Instead, in his monologue after the segment, Aly suggested there was "a lot more goodwill" from the AFL towards Lumumba than the former Collingwood star realized, and added Collingwood was at a disadvantage in responding because it didn't want to publicly attack its former star player.
That's despite this press conference (below) from the coach of Collingwood, Nathan Buckley recorded last week in which he repeatedly suggests Lumumba is mentally unwell, before an overtly evasive reaction to a question from a journalist about whether or not he'd ever heard Lumumba called "Chimp".
The Let's Talk panel – hosted by BIMA CEO Kaava Watson and also featuring Aboriginal journalist Amy McQuire and academic Dr Chelsea Bond, will be released as a series of video discussions over the coming days and weeks, on New Matilda and on the BIMA and NIRS websites.
* PLEASE CONSIDER SHARING THIS STORY ON SOCIAL MEDIA: New Matilda is a small independent Australian media outlet. You can support our work by subscribing for as little as $6 per month here. The author of this article Facebooks here, tweets here.
Donate To New Matilda
New Matilda is a small, independent media outlet. We survive through reader contributions, and never losing a lawsuit. If you got something from this article, giving something back helps us to continue speaking truth to power. Every little bit counts.