The AFL has not responded to questions about how its CEO came to mislead the public that the organisation had met with a former player at the centre of a growing storm around racism allegations.
The AFL has also refused to explain why Gillon McLachlan, the CEO of the wealthiest sporting code in Australia, claimed the issue was about the mental health of the player, rather than the allegations of racism leveled at other players and officials.
A fortnight ago, former Collingwood star, Héritier Lumumba – of Brazilian and Conoglese heritage – publicly revealed in a documentary on SBS that his nickname among some players in the early days of his time at the Collingwood Football Club was 'Chimp'.
Lumumba also revealed that after he spoke out publicly about club president Eddie McGuire's racial slur of Adam Goodes (McGuire suggested in 2013 that Goodes should be used to promote the film King Kong) he was targeted by senior officials within Collingwood, and eventually forced out after a decade playing for the club.

In a statement to media last week, Gillon McLachlan claimed that the AFL had met with Lumumba to address his concerns. But emails obtained by New Matilda reveal the AFL was still trying to secure a meeting with Lumumba the day after they claim to have met with him.
Lumumba maintains he has never met with the AFL, and only had a brief interaction with Tanya Hosch, General Manager of Inclusion and Social Policy.
Hosch had turned up to the screening of Marngrook, an AFL television show, and waited backstage for Lumumba. They spoke for several minutes, before agreeing to meet later in the week. That meeting never took place – the AFL continued to publicly smear Lumumba, claiming that his mental health was the real problem.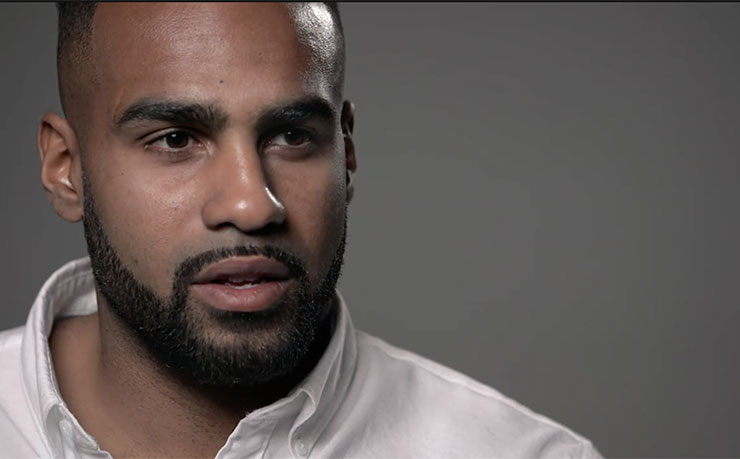 Four days later, in response to scathing criticism of the popular Fox Footy podcast, the Herald Sun and Fox Sports reported that McLachlan claimed the AFL had met with Lumumba, and was simply concerned for his well-being.
"The AFL is a far different place to what it was four years and we're all still improving and listening to people and learning," the Herald Sun quoted McLachlan.
"That's why we've got Tania Hosch, amongst others, around my management team. We learn from her on a lot of issues.
"With respect to Collingwood – I know Tania has met with Héritier – this issue is really about where he's at and his state of mind and his welfare."

"We'll do what we can and what's appropriate. We're so much better but we're not where we need to be."
Last week, New Matilda sent the AFL a list of questions about the claimed meeting with Lumumba, and the smearing associated with Lumumba's mental health. The AFL media unit promised to respond on Thursday, but has since gone quiet. Below are the unanswered questions.
Meanwhile, Lumumba is expected to appear on Channel 10's popular show The Project tomorrow evening, after a lengthy interview with host Waleed Aly.
Lumumba will also be interviewed on a panel in Brisbane on Tuesday night, in a joint project between New Matilda, the Brisbane Indigenous Media Association and the National Indigenous Radio Service.
That footage will be released later in the week.
QUESTIONS TO THE AFL STILL UNANSWERED
Can the AFL please provide the exact wording of the statement given by the CEO and published in the Herald Sun on September 4, in relation to Héritier Lumumba?
Mr McLachlan has been reported as telling media that Tanya Hosch "met" with Lumumba. On what basis does Mr McLachlan make that claim?
In hindsight, does Mr McLachlan accept that his description of the "meeting" between Ms Hosch and Mr Lumumba is misleading? If not, on what grounds?
Has the AFL or Mr McLachlan attempted to clarify the story published by the Herald Sun in relation to this issue? If not why not? And if not, will the AFL or Mr McLachlan now seek to do so?
Mr McLachlan is reported as stating in the article that "this issue is really about where [Lumumba's at] at and his state of mind and his welfare." Why does Mr McLachlan maintain that the issue is about Mr Lumumba's mental health, and not allegations of the mishandling of racism by the AFL and Collingwood?
Mr McLachlan also states: "We'll do what we can and what's appropriate." What has the AFL done? What does the AFL now deem "appropriate"?
Has the AFL attempted to contact Mr Lumumba, and if so, who made those attempt/s and when did they occur?
Has Mr McLachlan spoken to Mr Lumumba about the issue, or made any attempt to? If so how did this occur? If not, why not?
If Mr McLachlan hasn't spoken to Mr Lumumba, on what basis does he make the claim that "this issue is really about where [Lumumba's at] at and his state of mind and his welfare"?
What actual knowledge does the AFL claim to have about Mr Lumumba's current state of mental health?
Has the AFL media unit or any senior officials backgrounded any journalist and claimed that the problem is Mr Lumumba's mental health? If so, which journalists, and why did this occur?
Does the AFL believe it has handled this matter appropriately? If so, why? If not, why not?

Donate To New Matilda
New Matilda is a small, independent media outlet. We survive through reader contributions, and never losing a lawsuit. If you got something from this article, giving something back helps us to continue speaking truth to power. Every little bit counts.