It's always best to keep your mouth shut and have people suspect you don't know what you're talking about, than to open it and confirm it. Michael Brull pulls apart white-anointed Aboriginal 'leader' Warren Mundine's latest 'thought bubble'. This is the second of a two part series. You can read Part 1 here.
I don't know Warren Mundine's heart. I cannot say why he is so eager to spout Likudnik propaganda. But it may be worth considering the following.
Last year, people in the NSW ALP wanted to prevent politicians from going on trips to, Israel paid for by pro-Israel groups. Mundine claimed that this position was "crazy", "disgusting", and "anti-Jewish". Mundine admitted that he has been on "sponsored trips from the Jewish community to Israel". By his own admission, Mundine has been on five trips to Israel in the last decade alone.
In 2013, Mundine founded NyunggaBlackGroup. He is its Chairman and Managing Director. Their clients include G4S. G4S has long been a target of the Boycotts, Divestment and Sanctions movement in support of Palestinian rights.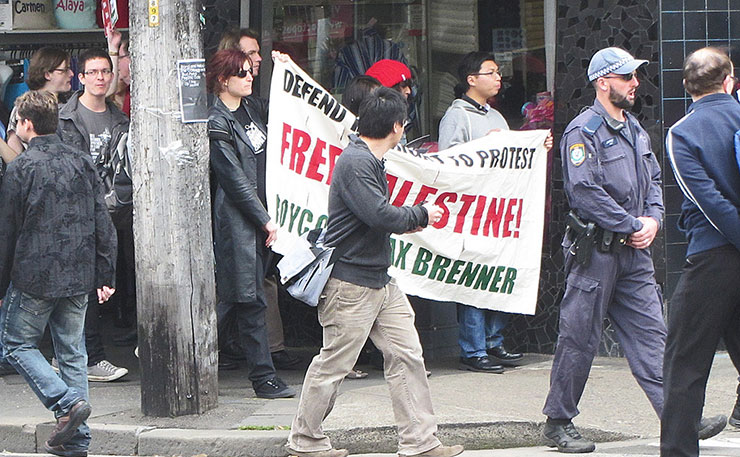 In December last year, G4S sold most of its Israeli operations, for a total of over $110 million. According to liberal Israeli paper Ha'aretz, G4S was "the largest private security company in Israel, providing not only guards for institution and companies, but also alarm systems and security technology like metal detectors…. Among its activities are operating the Ofer Prison, which holds Palestinian prisoners, and staffing West Bank checkpoints."
G4S will "maintain a smaller role in Israel with its stake in a police training academy alongside FIMI and Shiun and Binui, an Israeli real estate firm. The Israeli unit, which G4S acquired in 2002 when it was a local company called Hashmira, employs some 8,000 people and has an annual turnover estimated at between 600 million and 800 million shekels."
In 2014, a county in North Carolina in the US dropped G4S. It was alleged that this was in connection with a BDS campaign against G4S. The county denied being influenced by BDS campaigners, as did G4S when it sold most of its interests in Israel and the West Bank.
It may be a happy coincidence that Mundine's pro-Israel advocacy over the years neatly aligns with the interests of his client.
G4S is a corporate behemoth, with over 600 000 employees across 120 countries. Some readers may remember G4S as the company whose custody van cooked Mr Ward to death.
Mundine's reactionary right-wing politics
On the other hand, Mundine offering right-wing talking points is not exactly an anomaly. He is a reactionary through and through, as is quickly demonstrated on virtually every subject he discusses.
For example, Mundine says that notorious Islamophobe Ayaan Hirsi Ali is "My hero". She is listed as an anti-Muslim extremist by the Southern Poverty Law Centre.
Mundine is avowedly anti-socialist, and regards free market capitalism as the solution to poverty. For example, in this tweet, Mundine wrote "Another socialist racist corrupt regime. Freedom, democracy & liberal economies lift people out of poverty." He said that socialist regimes – like Venezula – "have delivered amongst the worst poverty and injustice ever". Mundine retweeted Malcolm Turnbull condemning the CFMEU and calling for support for the ABCC. He retweeted a link to an article which doxxed a woman in response to her criticising Centrelink.
Mundine complained about the government giving too much support to renewable energies. He also complained about those who "Demonised" nuclear energy. From 2012-3, Mundine was a Committee Member of the Uranium Mining Implementation Committee. From 2009-13, he was a Non-Executive Director of the Australian Uranium Association.
Mundine responded to a call for a tax that would target financial elites by calling it "fantasyland". He said he prefers "this quote from the Economist: 'The biggest poverty-reduction measure of all is liberalising markets to let poor people get richer'." Mundine has never "seen evidence welfare reduces inequality or government lifts people out of poverty."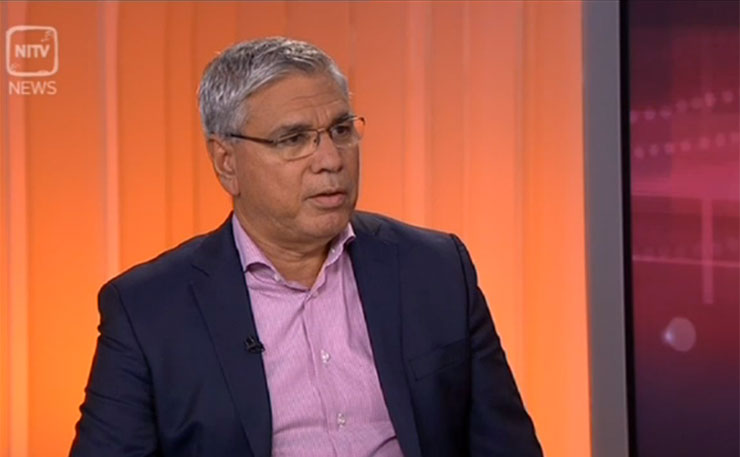 In another article, titled "Class warfare will misfire", Mundine defended negative gearing and opposed increasing the capital gains tax. He replied to leftists by saying, "So what if negative gearing benefits high earners more in absolute terms. High earners contribute most of the tax". Mundine claimed that, "Working class people don't particularly care that someone else earns more money or gets more deductions. The people I grew up with didn't focus on who had more. We focussed on getting ahead ourselves. The working class ethic isn't about jealousy or feeling entitled to something from someone who has more than you. It's about hard work, self-sufficiency and providing for your family, not relying on handouts."
He went on to complain that "Left ideology isn't grounded in 'fairness' at all, but in socialist principles that no-one should get more – or do better – than anyone else and government should counteract it if they do." In case you missed it, Mundine is not a fan of socialist principles.
On another occasion, Mundine argued that tax reform targeting negative gearing and the capital gains tax was a distraction, as a lot more money is spent on welfare each year. He insisted that "Australia must rein in spending. And the way you reduce spending is to spend less. That's the unpalatable truth."
Amazingly, Mundine thought that cuts to welfare could even be considered a form of populism. He concluded that, "Politicians should redefine populist messages – stop telling people what they want to hear and start telling people what they need to know. After all, perceived straight talk is part of populism's appeal."
It is unlikely Mundine would argue with this characterisation of his neoliberal politics. Mundine has described New Matilda as "a far left publication with which I usually don't see eye to eye." Perhaps he would agree that he usually doesn't see eye to eye with most of the left.
Mundine on Aboriginal affairs
Most people who saw the Four Corners report on how Dylan Voller was treated in Don Dale detention centre were horrified. Here was a young boy repeatedly assaulted and brutalised. Threatened by man significantly larger than him, repeatedly forcibly stripped naked, kneed and punched to the floor, and tear-gassed. And he was strapped into a "restraint chair" with a hood over his face, in footage reminiscent of Guantanamo Bay style torture.
Mundine thought the public was being overly sympathetic to Voller. He explained that Voller's "no innocent. Let's not pretend he is an innocent. There are reasons why he had that hood on his head because he was spitting on people…. What do you do? You just stand that and cop people spitting on? It's a tough job to go out every day and have people abuse you and spit on you… You've got to be able to restrain people. So I think people who jump up and down and point fingers have got to relax a bit and let these things roll through."
When the Federal Government was considering who to appoint as Royal Commissioner to inquire into the abuses at Don Dale, it consulted three people, among them Mundine. They appointed the wildly inappropriate former Chief Justice of the Supreme Court of the Northern Territory, Brian Martin. Mundine backed this choice, claiming that critics of Martin were a "bullying mob". After he resigned, he complained that Martin had "wimped out".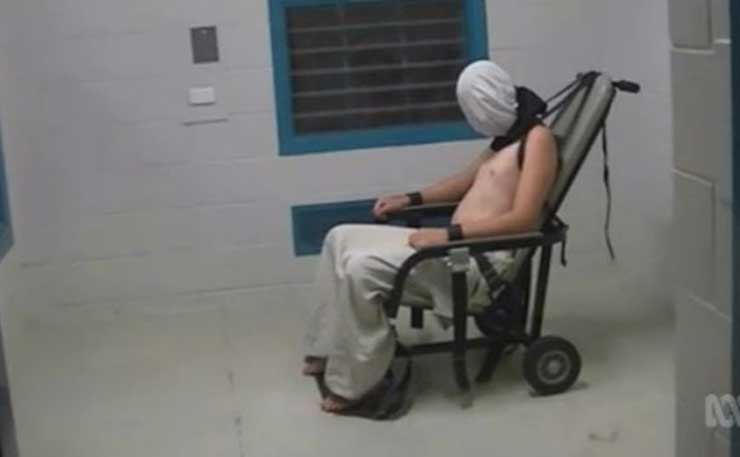 In 2004, 17-year-old Aboriginal teenager TJ Hickey died in Redfern. Aboriginal activists and his family argue that Hickey was being chased by police, causing him to race on his bike, lose control of it, and wind up impaled on a fence.
Though police had a warrant out for his arrest, and had two police cage trucks about 50 metres from him before he died, they deny all responsibility for the death, and claim they weren't even following him. A coronial inquest supported the police version of events, but the family continue their campaign, Justice for TJ Hickey. The NSW government has agreed to erect a plaque honouring Hickey. But it has refused to allow any wording that blames police for the death in any way.
Mundine's response on Sky News was to ask "Why are people making heroes out of these people"? He urged people to look at the "offences that they had committed". He tweeted at Pru Goward "have you gone mad!!! A memorial to TJ Hickey. What next a statue to Chopper Read! What a joke!!!" Aboriginal people on twitter were not very impressed by the comparison, to put it mildly. This was not the first time he elicited that kind of reaction. In 2014, Aboriginal activists in Brisbane burned an effigy of Mundine.
As Prime Minister, Tony Abbott created an Indigenous Advisory Council. Handpicking its members, Abbott appointed Mundine as the head of the council. Amy McQuire observed that Mundine still "held no political sway", despite the appointment. Abbott had previously said that if he wanted to know anything about Aboriginal affairs, he'd just call Mundine or Noel Pearson.
For his part, Mundine was impressed by the performance of Indigenous Affairs Minister Nigel Scullion, saying he was "very happy" for him to keep that portfolio. Fairfax reported that Mundine regarded Abbott, in their paraphrase, as "without peer in his engagement with Aboriginal issues as Prime Minister". Thus, it was a "bit of waste of talent" to keep Abbott outside of cabinet. Interested readers can compare this to my colleague Amy McQuire's devastating review of Abbott's record in Aboriginal affairs. Or her reaction to inflammatory comments Mundine made about family violence in Aboriginal communities.
At time of writing, Bill Leak has just died. Many of us remember the hurtful and offensive cartoons he drew about Aboriginal people. Mundine's reaction was different: "Devastated to hear my friend & favourite political cartoonist, Bill Leak, has died today."
Devastated to hear my friend & favourite political cartoonist, Bill Leak, has died today. #auspol 😥 pic.twitter.com/rQaxyP34Nq

— Nyunggai W Mundine (@nyunggai) March 10, 2017
And this.
The Left's immorality: Castro (murdering, bigoted dictator) eulogised. Bill Leak (talented, decent man persecuted by ISIS) abused. #auspol

— Nyunggai W Mundine (@nyunggai) March 11, 2017
Given his reactionary politics across the board, it is not a huge surprise Mundine takes such an uncritical view towards Israel and its treatment of the Palestinians.
That was more or less the reaction to Mundine's op ed by Steve Hodder Watt, a former media officer at the Central Land Council. He said "Coming from someone who likens remembrance of an Aboriginal boy being killed while chased by police to that of a glorified hitman, this doesn't surprise me though."
Nor should it.

Donate To New Matilda
New Matilda is a small, independent media outlet. We survive through reader contributions, and never losing a lawsuit. If you got something from this article, giving something back helps us to continue speaking truth to power. Every little bit counts.