The use of the device on children shocked Australia, but it goes beyond what we've witnessed, writes Michael Brull.
On Monday, Four Corners showed footage of a child, Dylan Voller, being strapped in to a "restraint chair", with a hood over his face. The scene was reminiscent of how detainees have been tortured at Guantanamo Bay.
These devices were reported on by the ABC in April, just a few months ago. Last year, Kate Wild reported on Dylan Voller being strapped to the chair and hooded for two hours at the ABC. She commented that the "event was videotaped in its entirety but the department has denied the ABC access to the vision."
The Northern Territory Chief Minister Adam Giles claimed he was unaware of what Wild called a "Guantanamo Bay style incident". The former NT Corrections Commissioner Ken Middlebrook was aware of the incident. He responded to it by making "sure that everything that was done was supposed to be done and that they recorded the incident. And I was satisfied with that." He initially claimed the "restraint chair" was used for "short periods of time", twice, and "the hood was used once". When he provided a report showing Voller was held in the chair for 1 hour and 50 minutes, he said "There would have been a reason". He alleged that Voller "would have been self-harming or he would have been spitting".
John Elferink, Minister for Corrections until this week, said that restraint chairs were used on children "as often as they have to be". "It needs to be remembered that from time to time a person in custody whether they are an adult or a juvenile nevertheless have to be restrained by any number of means", he said.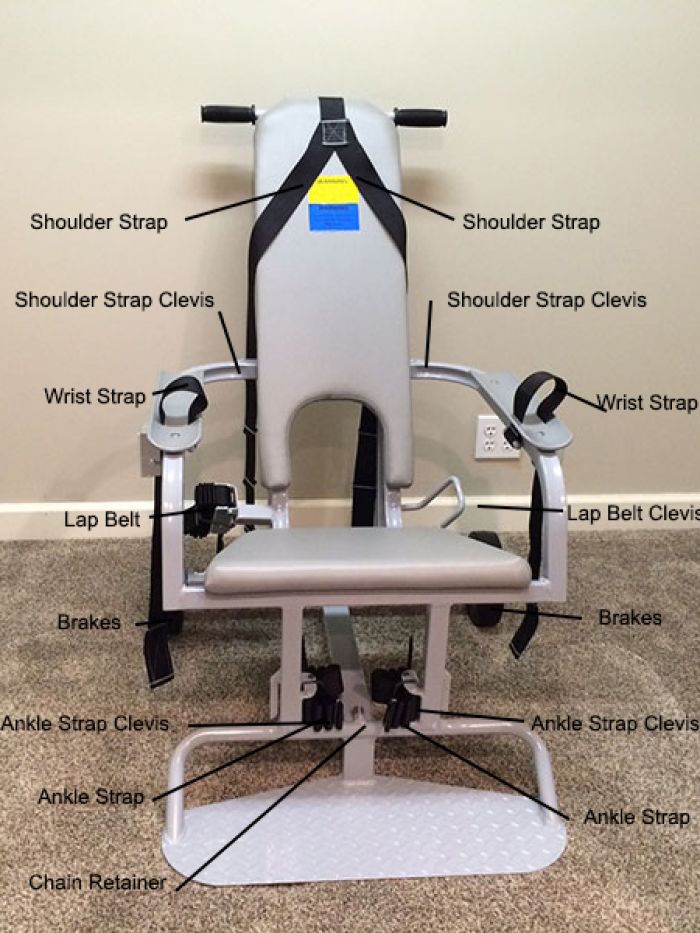 In April this year, Wild reported on other jurisdictions' uses of restraints. She showed what spit masks are, and who they're used on, and she showed an image of what a restraint chair looks like. At the time, the NT Parliament was considering a bill (now passed) to further expand their use against children in detention.
In Elferink's second reading speech, he applauded this expansion. He claimed that staff in prisons were facing grave peril from the children they guarded:
"In recent years, children in custody have become increasingly violent, dangerous and irresponsible. Recent critical incidents in youth detention centres demonstrate the legislative impediments upon government to adequately provide for the safety of detainees, members of detention centre staff and the public. Without urgent legislative change there are grave concerns that a detainee, member of detention centre staff or a member of the public may be seriously injured."
The legislation did not define what kind of restraints could be used – this was to be left up to the Commissioner of Correctional Services.
Children are violent, dangerous and irresponsible. Watch the footage of children being brutalised by grown men twice their size, and remember that Elferink thought they needed more powers to abuse children. And while Elferink has lost his position as the NT's Minister for Correctional Services, he is still the Minister for Children and Families, the Minister for Health, Minister for Disability Services, the Minister for Mental Health Services, the Minister for Justice, and the Attorney-General.

We Also Restrain Aboriginal People With Mental Disabilities
Four Corners only showed footage of one child being seated in the "restraint chair". We don't know how pervasive its use is. The fact that legislation was passed specifically to institutionalise and expand their use suggests that its use was hardly isolated.
One person familiar with the restraint chair is Patrick McGee, coordinator of the Aboriginal Disability Justice Campaign (ADJC). McGee is the guardian of a young Arrente man, known as KA (for legal reasons his name has been suppressed). KA has a severe intellectual disability, and has been imprisoned since 2009 for killing his uncle.
Talking to McGee, it is not hard to understand why a maximum security prison is an inappropriate place to hold KA. KA has a repeated history of banging his head against cell bars and walls. McGee argues that making KA sit alone in a cell for 10 hours at a time with nothing to do contributes to KA's self-harm.
In response to KA banging his head against cell bars, the prison authorities put him in the restraint chair. McGee was first aware of this being done to KA in 2012. Though he is KA's guardian, the prison authorities do not inform him of each use of the restraint chair. In McGee's rendering, the prison authorities said the restraint chair was necessary because KA was "breaching their security protocols". They argue that it is needed to prevent KA from harming himself. They also use a chemical restraint on KA, injecting him with a tranquiliser to calm him down.
McGee says that he has researched the comparative restrictions on use of restraints on people with disabilities inside and outside of prisons. The use of restraints in general legislation relating to people with disabilities comes with about 10 pages of restrictions. These are designed to ensure the use of restraints is carefully supervised and regulated. The NT's legislation guiding the use of restraints in prison is about half a page, and is far more permissive. The head of prison can authorise almost any type of restraint. Looking at the legislation guiding the use of restraint for children in detention, it seems similarly permissive.
McGee is only aware of the use of the restraint chair against KA through careful reading of reports submitted to the Supreme Court of the Northern Territory by the Department of Corrections. These reports are submitted as part of the periodic reviews of KA's custodial supervision order. By McGee's calculations, the restraint chair has been used on KA at least 17 times from 2012-2015. The longest period KA has been held in the chair for is about two and a half hours. As KA's guardian, McGee has strenuously objected to the use of the restraint chair on KA, and has notified the authorities that he does not consent to the prison using physical or chemical restraints on KA.
The last time McGee is aware of these restraints being used on KA was in September last year. As KA has autism, he can find it difficult to adjust to changes in his routine. KA spent that day at the Secure Care Facility, which McGee explained was "purpose built for people like KA". When the prison authorities turned up unannounced and demanded KA get in the back of the prison transport, he was upset and angry at the change in routine. Once he had been forced into the back of the vehicle, he started banging his head on the roof and sides of the vehicle. By the time he arrived at the prison, his head was bloody and needed medical attention. He was forced into the restraint chair, and held there for about 45 minutes.
McGee says that this is just one instance which shows why someone with a severe intellectual disability shouldn't be in a maximum security prison. McGee argues that "if they needed to put him into a restraint chair, then he should not be held in prison. There were other less restrictive mechanisms by which he could be restrained". McGee cites Community Justice Programs in NSW and Victoria as examples of criminal offenders with intellectual disabilities being treated humanely.
McGee and the ADJC have repeatedly made submissions to the Northern Territory and Federal Governments on KA's behalf. They have also complained to the United Nations, the Australian Human Rights Commission, and other institutions like the Ombudsman. Not much change has come from their research, lobbying and complaints.
McGee seems to have found particularly dispiriting the experience of writing to Elferink, the Minister for Disability, Health and Attorney-General at the time in the NT. McGee says that Elferink was "aware of what was going on", and "in the end it was a waste of time writing" to him, as it was "clear he had no intention of doing anything different". Elferink clearly supported the use of the restraint chair.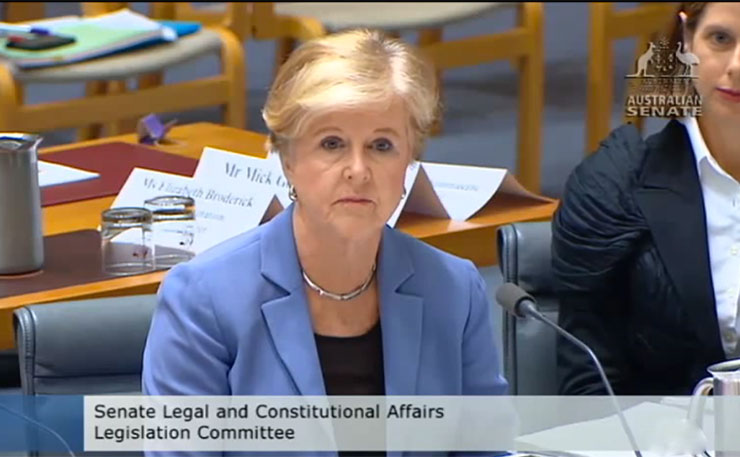 Four Aboriginal men in the NT with intellectual and cognitive disabilities complained about their imprisonment to the Australian Human Rights Commission. In 2014, Gillian Triggs, the AHRC President, wrote a report responding to their complaint. She found that "the Commonwealth failed to take measures to work with the Northern Territory to provide accommodation and other support services, other than accommodation in a maximum security prison, for people with intellectual disabilities who are unfit to plead to criminal charges."
This failure, she said, was inconsistent with their rights under the International Covenant on Civil and Political Rights, and the Convention on the Rights of Persons with Disabilities. The Federal Government responded by denying that the AHRC had the jurisdiction to investigate the issue.
I asked McGee how pervasive the use of the restraint chair was in the Northern Territory. He said he didn't know. He was only aware of its use against KA because he is KA's guardian. And even in that case, it was hard for him to find out about its use. He observed that "if they're prepared to use it on an intellectually disabled person, I suspect they're prepared to use it on anyone."

Donate To New Matilda
New Matilda is a small, independent media outlet. We survive through reader contributions, and never losing a lawsuit. If you got something from this article, giving something back helps us to continue speaking truth to power. Every little bit counts.