Not all heroes wear capes. And neither do all tragicomic factional warlords, apparently.
After the weekend's leadership debate saw ennui crowned the winner, it seems only appropriate to pay tribute to the one man giving voters a reason to stay tuned in to the increasingly bland 2016 campaign.
David Feeney, the Labor MP for Batman, is a campaigner who can't help but lose even after he has already declared victory. His heroic determination to trip over every hurdle placed in his way – and then double back, drag a further obstacle into his path, and ram headfirst into that too – has made his race to be returned in what should be a safe Labor seat a joyous spectacle to behold. He's the reverse Daniel Ricciardo of Australian politics – instead of having a certain victory dashed by his hapless assistants, he's doing the necessary damage from behind the wheel.
Here's to Feeney, the people's powerbroker.
When He Pulled Defeat From The Jaws Of Victory Today
Feeney was in flying form today. As incumbent, you have one big advantage: pointing to what you have done for the electorate while in charge. And so, he tweeted this, about cash provided for local school.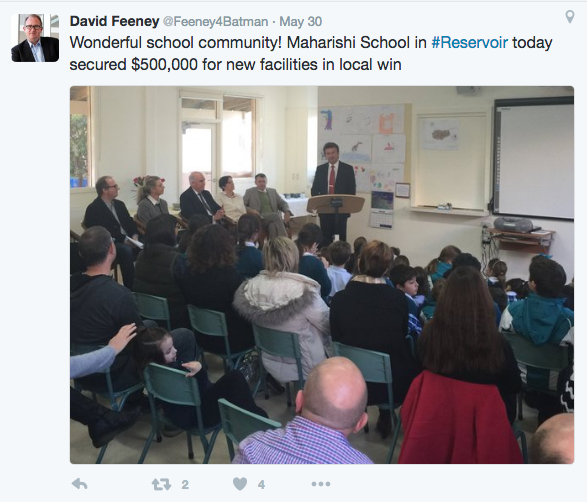 Like everything the "embattled" candidate has done in the past two weeks, it blew up on him.
Turns out the schools is being investigated by a Victorian regulatory body, has virtually no students left, and may have sold alternative medicines to its own students. Could the money perhaps have gone to, oh, I don't know, a public school, some asked?
Soon Feeney had dropped the apparent funding brag, and was blaming the decision to hand the money to the school on another party.

A win for the local community? Doubtful. A rare victory for Feeney? Certainly not.
Luckily for the MP, Greens Batman candidate Alex Bhathal was also at the event.
When He Forgot To Declare His $2.3 Million Negatively Geared House
This one really kicked it off for Feeney, after he not only forgot to declare the property on his parliamentary register of interests, but also conceded it (and another property) was negatively geared. Not a great look when your party is running hard against the policy. The good news for Feeney is that his party's plan is grandfathered, so his own investments won't be harmed should Labor form government after July. The bad news is, his income may be severely impacted by then anyway.

When He Got Speered On Live TV
An attempt to apologise for the above mistake turned into a David and David battle in which Sky News host David Speers came out on top after Feeney failed to recall what the school kids bonus was, confusing it with the baby bonus.
"I've been a little distracted over the last few days, David," Feeney said. The self-awareness did him little good.

When He Leaked Against Himself
The interview was immediately dubbed a train wreck, but quickly became a disaster of an even grander scale – a titanic, if you will. The good ship Feeney struck a rather bad leak, with a briefing paper falling into the hands of Murdoch tabloid The Daily Telegraph after he apparently left it behind at Sky News waiting room.
Given how hard the Tele has dug in behind Anthony Albanese, another inner city Labor MP fending off the Greens, it's perhaps a sign of his current luck that Feeney fared so badly in the paper the next day when it served up the scoop.
1/2 @Feeney4Batman left notes on a couch in the waiting area outside Sky News studio. An area heavily trafficked by other guests & staffers

— David Speers (@David_Speers) May 25, 2016
To gift two gaffes in a single interview to a press and population thoroughly bored of the government's 'jobs and growth' talking points was truly a selfless deed.
When Everyone Else Leaked Against Him Too
After installing a massive billboard with his own face on it, in an apparent attempt to calm nerves and woo back voters in Batman, one ALP source was happy to do what Feeney had just done to himself, providing background and ammunition to News Corp.
Feeney was reportedly told not to go for the personalised branding given, you know, who he is. One insider told The Australian the advertisement looked like like a piece of North Korean propaganda, with another describing his campaign as a "clusterfuck".
Don't let the faceless men get you down, David!
When He Got Stumped By A Question In His Own Campaign Video
You know things are not going well when your own campaign video is a bit suss on you. And worse, when it appears to put you on the spot almost as much as David Speers might.
Halfway though a clip shared from his Facebook page, Feeney responds to this question.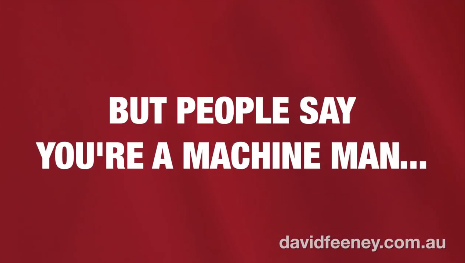 Tough one, especially for a man who was right at the heart the coup that swept Rudd from office, for which he was reportedly rewarded with the seat of Batman after his Senate spot became untenable.
But bizarrely, Feeney doesn't even deny the suggestion in his own video, instead trying to re-characterise it as a strength in a borderline nonsensical response.
"That allegation ultimately goes to the fact I have a seat at the decision making table in government then [sic]for me that will be mission accomplished," he says.
What mission? Which table? It's all rather unclear.
Feeney's campaign appears to have reversed the famous dictum, coming to the conclusion that 'defence is the best form of attack'. Once you're attacking yourself, it gets kind of hard to tell the two apart anyway.
To be fair, there is one part of the video that rings very true.
"This is a country where everybody can hope to be something special," Feeney declares.
His ongoing position in the Australian parliament proves that beyond all doubt.

Donate To New Matilda
New Matilda is a small, independent media outlet. We survive through reader contributions, and never losing a lawsuit. If you got something from this article, giving something back helps us to continue speaking truth to power. Every little bit counts.