Anthony Albanese insists he's never criticised his Greens' opponent for being a socialist, as Greens have laughed off a front-page attack by Sydney's major tabloid. Thom Mitchell reports.
Anthony Albanese's battle to fend off a Greens challenger to his seat of Grayndler took centre stage today after Sydney's Daily Telegraph ran a front page endorsement of the Labor-Left politician, declaring that "a Greens win would be a loss for us all".
Albanese very nearly became the Opposition Leader in 2013, and has held his seat of Grayndler since 1996. Over the past three elections though, the Greens have been closing in on his progressive patch of Sydney's inner west.
This year 'Albo' is being challenged by Jim Casey, the Secretary of the New South Wales Fire Brigades Employees' Union. And Murdoch's Daily Telegraph is clearly concerned Casey could win.
In much the same way they once proclaimed "Australia needs Tony," the conservative tabloid is now campaigning to "save our Albo". According to this morning's edition, "Albanese is not a development-averse, wealth-hating Labor cartoon."
It's good the Daily Tele is consistent, each election, in its view on @AlboMP pic.twitter.com/EKLOlvhtZX

— James Massola (@jamesmassola) May 10, 2016
In an interview with New Matilda, the prominent Labor politician conceded that "it's not their normal practice to endorse Labor politicians," but he said the paper was simply "expressing their view that they would prefer me to the Greens candidate, in acknowledgement that the Liberals can't win Grayndler".
Jim Casey's camp see things somewhat differently. When contacted for comment, Casey was working a shift as a fireman, but in an interview his media advisor Julie Macken argued that the "front page says it all".
She maintains "they're campaigning for Anthony Albanese because he reflects their values".
"News limited historically backed the most conservative and powerful politicians, and Jim is a progressive candidate," Macken said.
"Anthony [Albanese] does obviously embody a lot of the values that News Limited respect. He is entrenched power. Certainly he describes himself as a progressive politician, but I don't know any progressive politician who votes to imprison children, to gag doctors and nurses, to support metadata surveillance, to oppose a national ICAC".
"So, whatever he says, in fact, how he votes represents a very conservative politician."
Albanese stridently rejects this characterisation.
In today's Tele, Casey came under fire for a 2011 tweet in which he advocated the "overthrow of capitalism".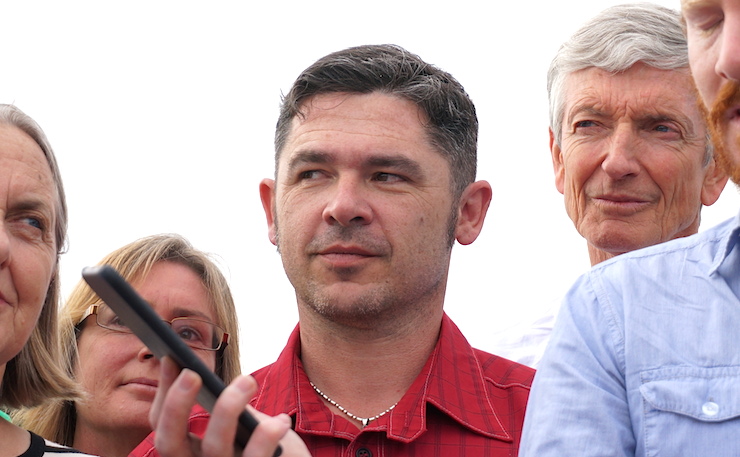 Albanese, in turn, has drawn attention to Casey's links to the International Socialist Organisation, which he said believes in "revolutionary marxist politics," and not "parliamentary politics".
While he says he's "never been critical of Jim Casey for being a socialist," Albanese said that the last three Greens candidates to contest Grayndler have been associated with "revolutionary marxist organisation(s)".
"There is a pattern of people who have become candidates for the Greens who haven't come through the environmental movement, or through the green movement, but who have come through revolutionary marxist parties," Albanese said.
"And that's okay, but the distinction that I draw is between [those]people joining the Greens – [and]not really changing any of their ideological positions on the way through – as opposed to political organisations that are involved in parliamentary politics."
Albanese said he respected Greens like Bob Brown and Christine Milne with a long history of environmental advocacy, but he said his challenger is a different breed, and one which is more interested in "playing politics".
Responding via email, Casey said that "the Greens are a political party, not a conservation group".
"That means we concern ourselves with the drivers of inequality, with the issues that make life harder for the community, and we pursue ways to make Australia fairer, more respectful and more sustainable," he wrote. "Anthony really needs to come up to speed with today's political landscape."
Macken said Casey's comments about the 'overthrow of capitalism' were ultimately in line with these sentiments, and that they were "shorthand" for his concerns about trickle-down economics.
"When he looks around his community and sees the inequality, the sometimes-despair of those who are outside, you know, who are running on the margins, he looks at that and says 'yep, capitalism is not working for a lot of people'," she said.
"And you know of course he's going to use language like 'overthrow capitalism' as an expression of saying capitalism is not working for many Australians, [that]the trickle down theory of economics is leaving many Australians in real poverty [and]in real desperate circumstances."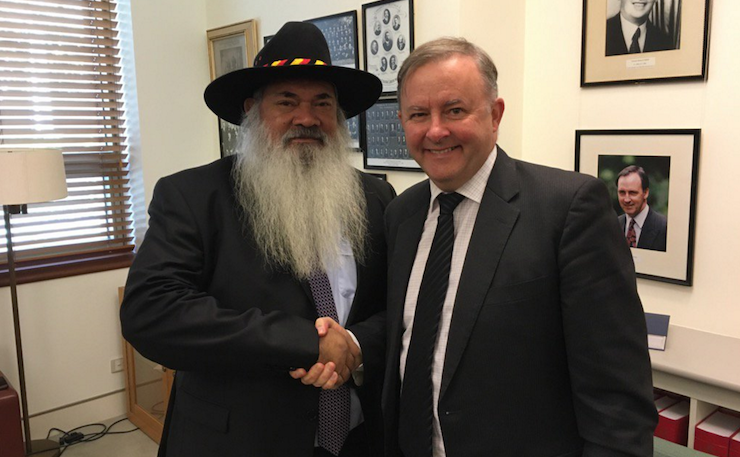 The key point that Albanese makes is that a "deal" between the Liberals and the Greens – which Labor insists has been done, after Liberal powerbroker Michael Kroger suggested he's open to one – will lead to exactly the kind of trickle-down economics that Casey is criticising.
The assertion is that the Greens will run open tickets – not preferencing Labor ahead of the Liberals – in seats that could go to either of the major parties but not the Greens. In exchange, Labor asserts, the Liberals would preference the Greens ahead of the Opposition in electorates the minor party does have a chance of winning. Like Grayndler.
"That's what Michael Kroger is saying," Albanese said. "The Greens could say tomorrow that they will preference Labor ahead of Liberals in all the marginal seats, and that would improve the chances of a progressive government. Why is it that they don't do that?
"That's the issue…whether the Greens' priority is to have someone for Adam Bandt to talk to [in the Lower House], or whether it's trying to defeat the Coalition government [and]support the election of a Labor government ahead of a Coalition government," he said.
"They pretend they're not a political party, and yet they're prepared to take action in issuing open tickets [which]will improve the chances of the re-election of the Turnbull government."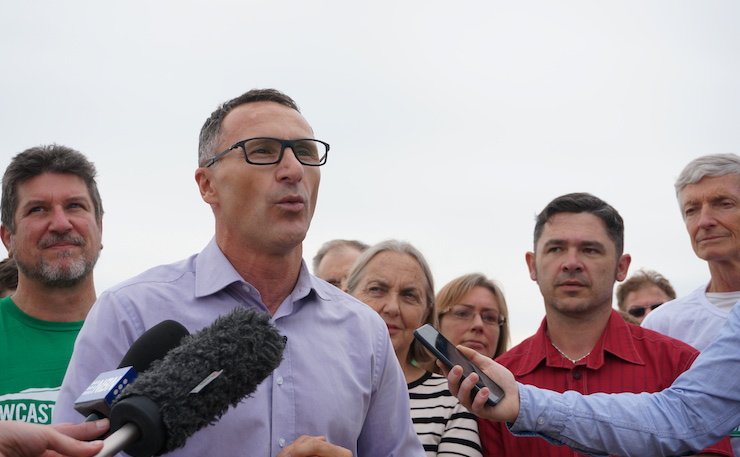 For their part, the Casey camp maintains they have no control over the Liberal's preferences, and Macken said they have "no idea what the Liberal party is going to do". Labor and the Greens both say they'll preference each other in Grayndler.
Notwithstand that, there's clearly no love lost. Casey said Albanese's "dissembling" over preferences is "pretty disrespectful to the people of Grayndler". Albanese said "the Greens need to be judged on the fact that they aren't the Bob Brown type of Greens in the inner west".
Some of Casey's Greens colleagues have welcomed the Daily Telegraph's intervention in this debate, with Federal Senator Lee Rhiannon declaring it a "badge of honour". State Greens MP Jeremy Buckingham wondered aloud if, in one of the nation's most progressive electorates, Murdoch's endorsement was the "kiss of death".
No doubt the tabloid will be bestowing more smooches during this years election campaign but, with more than seven weeks to go, there's no telling how that might influence the outcome as yet.

Donate To New Matilda
New Matilda is a small, independent media outlet. We survive through reader contributions, and never losing a lawsuit. If you got something from this article, giving something back helps us to continue speaking truth to power. Every little bit counts.