ANALYSIS: The Queensland government has all but approved the largest coal mine in Australia's history. They're treating voters with contempt when they ask them to believe this could possibly be 'sustainable', writes Thom Mitchell.
With plans to extract 60 million tonnes of coal each year for sixty years, and a footprint 10 times the size of the City of Sydney, Indian company Adani's Carmichael coal mine is gargantuan.
But it's just one of nine Galilee Basin mines being courted by both State and Federal Governments, which would lock Queensland into decades of escalating coal production.
Adani's mine would produce four times the carbon emissions of New Zealand each year. Taken together, the projects proposed for the Galilee Basin would pump more carbon into our choking atmosphere than the United Kingdom, Australia, or South Africa.
Queensland Minister for Natural Resources and Mines, Anthony Lynham continued today to advance the Orwellian argument that his decision to grant three key mining leases to Adani's is 'sustainable'.
Thousands of jobs 4 regional qld 1 step closer with approval of Carmichael mining leases 2day #qldpol @AnnastaciaMP pic.twitter.com/FlaUjSTBHK

— Dr Anthony Lynham (@DrAnthonyLynham) April 3, 2016
"My decision to approve these leases is tangible evidence of the Palaszczuk Government's commitment to the sustainable development of the Galilee Basin for the thousands of jobs and economic development it will create," he said.
"Many voices have been heard, and a lot of evidence considered," Lynham declared, on a Sunday afternoon when media attention is at its lowest ebb. It's obvious the evidence considered was highly selective.
Apparently we're meant to rely on Adani's latest claim that its projects will create up to 5,000 jobs during construction, and 4,500 at peak operations. That's about half of what the company had been claiming before its figures were discredited by an expert witness it engaged in the Queensland Land Court.
According to Adani's expert, the Carmichael coal mine and an associated rail link to shift coal to the coast will create just 1,464 direct and indirect jobs. If the numbers the Queensland Government is relying on are correct, it figures that Adani's port at Abbot Point would need to create a minimum of 3,000 jobs.
That's more than double what the mine itself and the rail link to AbbotPoint port would create. Clearly, like Adani's initial 10,000 job figure, the numbers the Queensland Government is endorsing are bogus.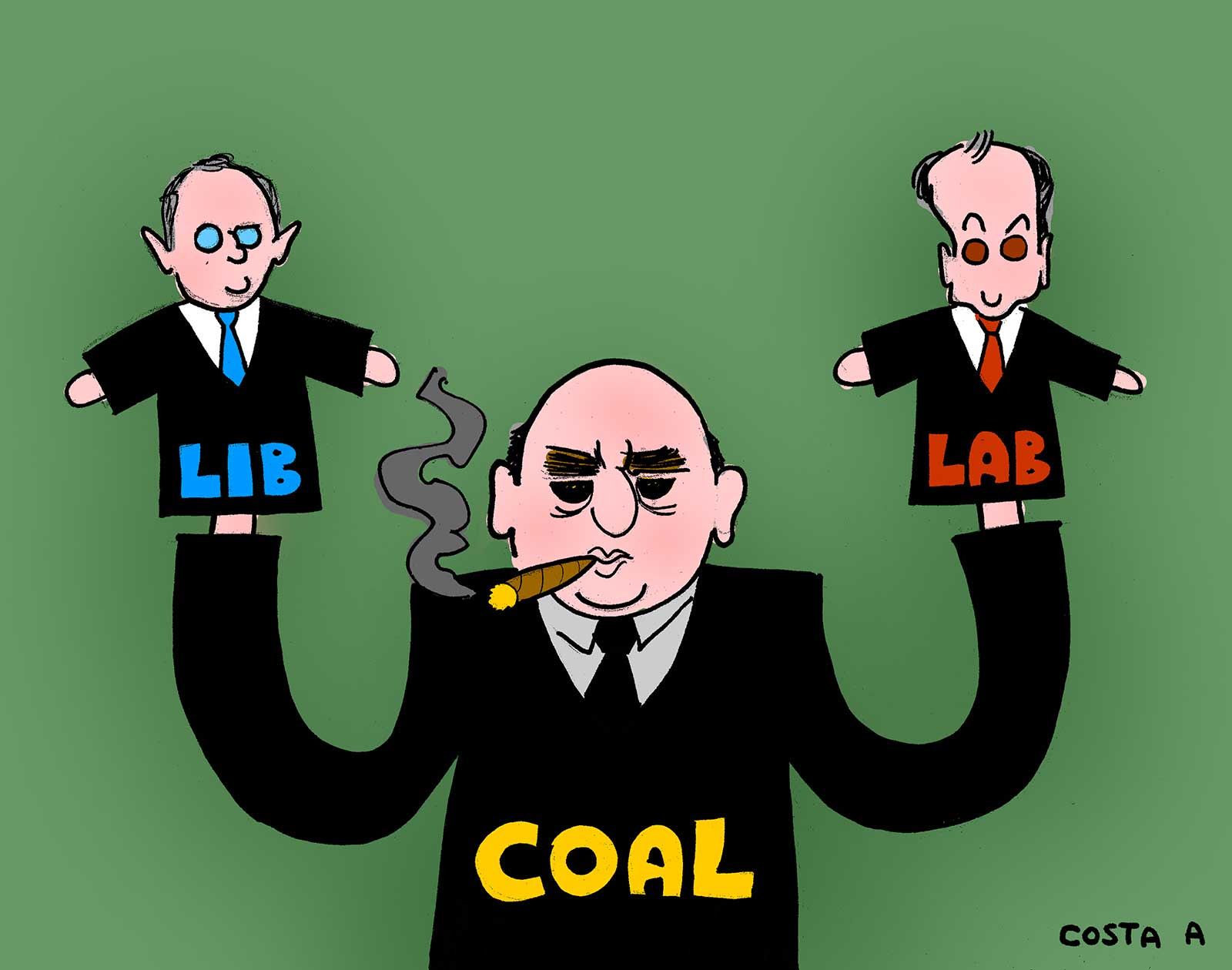 But the Abbot Point Port – which would be one of the largest in the world and facilitate the shipping of potentially hundreds of millions of tonnes of coal each year – does represent a real threat to the 69,000 jobs supported by the Great Barrier Reef.
Ironically, the Queensland Government's claim to have "protected" the Great Barrier Reef by not allowing dredge spoil to be dumped in the World Heritage Area comes as it suffers extreme coral bleaching.
This widespread and potentially terminal devastation of the Reef is, of course, a direct result of climate change driving up ocean temperatures. Government scientists and the United Nations recognise global warming as the greatest threat to the Reef, which is already weakened by the loss of 50 per cent of its coral cover over the last three decades.
The idea that the Queensland Government can be pro-coal and protect the Reef is patently absurd, as is made increasingly clear by the litany of climate records being broken over recent months and years.
According to America's National Oceanic and Atmospheric Administration: "the six highest monthly temperature departures [on]record have all occurred in the past six months [and]February 2016 also marks the 10th consecutive month a monthly global temperature record has been broken."
Since records began in 1880, 15 of the 16 hottest years have occurred since the year 2,000. The 16th hottest year since 1880 was 1998.
Yet global emissions are not declining. In fact, because of decisions like Queensland Labor's, they're projected to continue to increase dramatically as climate change bites.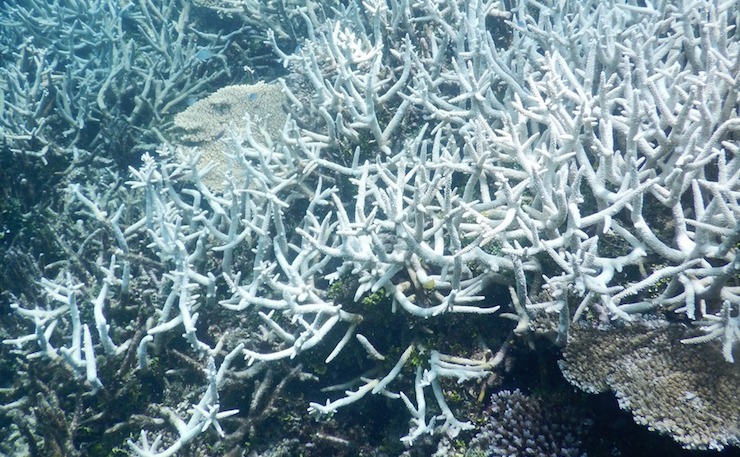 But there is some hope: "Lynham said there would be no dredging at Abbot Point until Adani demonstrates financial closure and Queensland taxpayers will not fund infrastructure for the project".
Increasingly, Adani appears unable to stump up the billions of dollars it needs to reach financial close, which means the port would not go ahead. If the port doesn't go ahead, Adani's left with limited options to export their coal, and so are a number of other Galilee Mines that are largely relying on Abbot Point Port for their own ventures.
A host of the world's biggest financial backers of Australian coal mines – more than 15 banks, including the Commonwealth and NAB – have all rued out finance for Adani's project.
They recognise that it would likely be an economic disaster, in keeping with Queensland Treasury's advice to government that the Carmichael mine is 'unbankable', and a thankless stain on their brand. They've identified the public's awareness that Adani's mine and 'sustainable development' are oxymoronic.
Queensland Labor, in contrast, has taken voters for mugs. The Palaszczuk government clearly lacks the vision to match their rhetoric on climate and the Reef with any meaningful action.

Donate To New Matilda
New Matilda is a small, independent media outlet. We survive through reader contributions, and never losing a lawsuit. If you got something from this article, giving something back helps us to continue speaking truth to power. Every little bit counts.