It's clear the Paris climate conference won't do enough to tackle climate change. So one international leader is hedging his bets and asking for divine intervention to bolster his lobbying for greater ambition. Thom Mitchell reports from Paris.
Kiribati's President Anote Tong is pushing hard for an ambitious global agreement on climate change in Paris, but he took time out of his busy schedule to pray for the survival of his country and people on Sunday.
A small island nation sinking below sea level in the central Pacific Ocean, Kiribati and its low-lying neighbours are the canary in the coal mine when it comes to climate change.
At an event run alongside a two week United Nations summit scheduled to wrap up on Friday, Tong acknowledges that from where Kiribati is standing, "deep down there is this deep concern that it may not [yield]a positive outcome".
"This morning my wife was pestering me," he told supporters of the Coalition of Atoll Nations on Climate Change on Sunday night. "You know, 'I want to go church in the Notre Dame': So I thought about it, and at the last minute I said 'yes, let's go, I'll join you'.
"And the only reason I wanted to do that was to pray that the outcome would be positive by the end of the week, and I hope you would all join us in saying a prayer that we leaders can make a bit of a sensible decision by then."
Kiribati is already feeling the heat of rising sea levels, intensifying storm surges and extreme weather events, and facing crippling salinity levels on land and in scant freshwater reserves.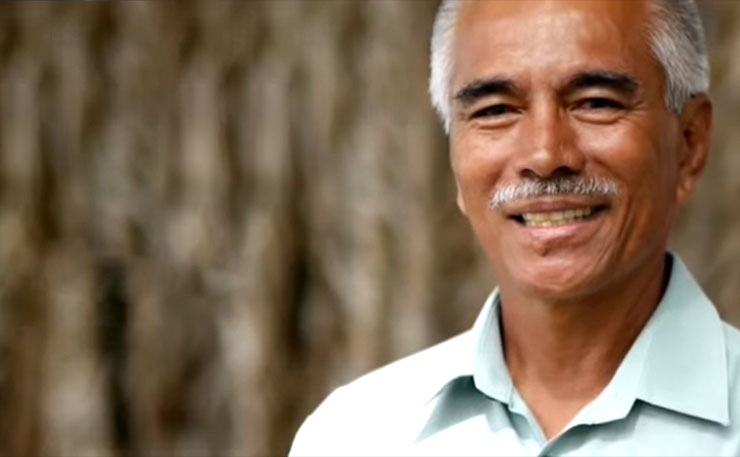 "I've been to Kiribati a couple of times this year, and it is happening faster than the scientific models predict," said Dr Gregory Stone, an advisor to the Kiribati government.
"I think there's going to be major issues on Tuvalu, Kiribati, [and the]Marshall Islands within 20 or 30 years," he said. "And that's because the storm systems are getting more intense. They're being energised by the increased heat in the atmosphere and that's something that sea level rise models don't think about.
"They just think about sea level rise inching up a couple of millimetres a year, but with an increased storm surge it will over-wash islands well before the mean sea levels get on top of the islands.
"So it's very urgent and there really isn't any published science out there talking about this, but I can tell you from empirical observations that it is happening."
It's already clear that the Paris climate talks will not solve the problem. The Foreign Minister of Tuvalu, Taukelina Finikaso pointed out that based on the carbon cuts the global community has put on the table so far, the world would warm by 2.7 degrees celsius or more.
"That will mean that we have accepted to start the process of eliminating ourselves, starting with the small island states," Finikaso said. "They start it all, and then as we progress on it will go on and on and on, and we will come to a stage where we cannot stop this phenomenon."
Even temperatures two degrees above what they were in pre-industrial times is far too much, according to James Hansen, perhaps the world's most prominent climate scientist and the former head of NASA's Goddard Institute for Space Studies.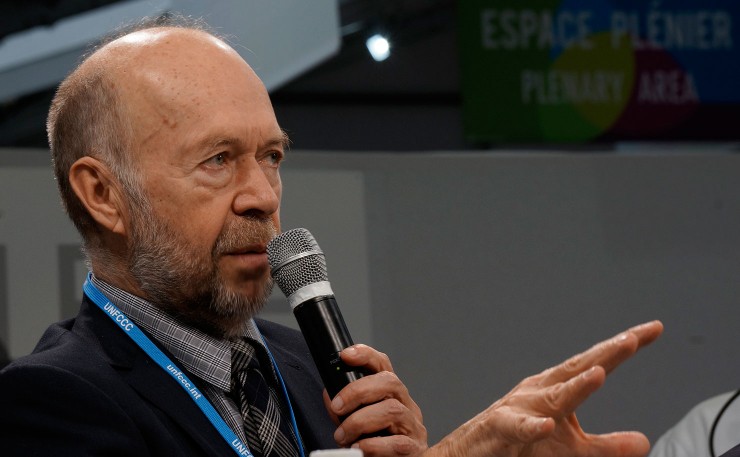 That's why a group of 100 mostly developing countries advocate a tougher target of limiting the rise in average global temperatures to 1.5 degrees or less. They make up more than half of the nations involved in the Paris negotiations, but it seems clear the agreement will, at best, only reference their ambitions, and that those opposed to their proposal will prevail in blocking it.
For Finikaso's homeland of Tuvalu, the science suggests that failing to move to 1.5 degrees or less would spell desolation, and recently it was confirmed that the Earth's surface temperature is already two thirds of the way there, at warming of 1 degree.
"We're three metres above sea level; not much room to manoeuvre, not much room to play with," Finikaso said.
"Sometimes it's very hard to explain to friends what small is," he said. "Unless you come see our islands, you will [not]experience what small is. Small, as I used to try and explain it to my friends, is when you come on a plane and as you're about to land, you cannot see land. You see sea, until you're just a few metres above the land, and that is when you see the land."
As New Matilda reported last week, many in the Pacific Islands will be looking for new land to make their home, as climate impacts worsen. At the Coalition of Atoll Nations on Climate Change function, Tong mentioned he's been giving thought to the construction of "floating islands" that "seem like the only way to survive at the moment".
For the tiny non-self-governing atolls of Tokelau, another bitter sweet option exists. As a protectorate of New Zealand, residents could migrate to higher ground as and when climate change makes their homelands uninhabitable, but their representative in Paris, Francois Martel, said "there is no talk of relocation".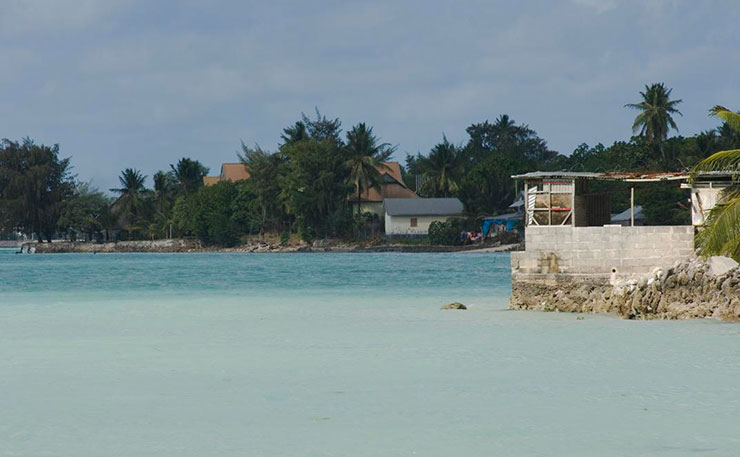 "We don't want to be part of the nations of Indigenous people who accept being left behind as a forgotten people swallowed by waves," an approved statement from Tokelau said. "This would be admitting defeat in our fight against climate change caused by developed countries' emissions, while speeding up the demise of our culture, way of life and future aspirations."
As New Matilda reported earlier today, there is a push at the Paris talks for the establishment of a climate-induced migration facility, in recognition of the vast displacement the greenhouse affect is likely to drive globally.
Whether that proposal will grow legs is unlikely to be determined until the eleventh hour, according to Oxfam's climate specialist Dr Simon Bradshaw. Unsurprisingly, developed countries are averse to any regime which would imply liability or commit them to providing compensation for the impacts of their historical emissions, and this has hindered progress on a framework around climate finance and support for impacts already occurring or locked in.
In his address to the function, Dr Stone drew an analogy: "If you were in a neighbourhood and you had a nice house and by accident your heating system flicked off a spark and you burned your neighbour's house down – you didn't mean to do it but it happened – then the next morning you see your neighbour trying to find a place to live with their bags and whatever they have, and you look over and go 'oh that's too bad, what're you going to do now'."
"That's kind of the dialogue in the world today," Dr Stone said.
"There's no lack of resources in the world. There's no lack of food, there's no lack of money. It's really a question of where it's allocated and how we as a global society value things and distribute resources to support that."

Donate To New Matilda
New Matilda is a small, independent media outlet. We survive through reader contributions, and never losing a lawsuit. If you got something from this article, giving something back helps us to continue speaking truth to power. Every little bit counts.