Former Prime Minister Kevin Rudd has thrown his weight behind Pacific Islanders' calls for global climate change negotiations to focus ambitions towards a lower 'guardrail' on temperature increases, a move which he said is likely to be necessary to "ensure their existential survival".
In an interview with New Matilda on the sidelines of crucial United Nations talks underway in Paris, Rudd said "in the preambular sections of the proposed Paris agreement there should be a clear statement about the impact which two degrees could well have, according to the science, on low lying island states".
He stopped short of backing the call of 100 nations, more than half of those involved in the talks, for a new global 'guardrail' of 1.5 degrees, which would supersede the current target of limiting any rise in average global temperatures to less than 2.
But he said he "fully supports" the process which is being pieced together to ratchet up ambition towards a more stringent goal, arguing "the key question is whether we are serious about the temperature targets which are necessary to ensure their existential survival".
Rudd noted that an Intergovernmental Panel on Climate Change review of what two degrees warming would mean for Pacific Islanders in countries like Kiribati, Tuvalu, and other islanders in places like the Maldives had returned alarming results.
"Reflecting that particular report in the preambular section would be a useful addition giving us a head of power to revisit the actual nature of greenhouse gas reduction commitments in the years ahead," he said.
The focus of the Paris climate talks has turned very much to process, because it's almost certain that there will be no legal mechanism to actually hold countries to the commitments they've made in the lead up to the summit.
Negotiators seeking an ambitious goal are now concentrating on how to ensure that there is a solid framework for scaling up global climate action over the next few years, with a view to ratcheting up towards the 1.5 degree goal.
A supporter of the push, Rudd argued the two degree target actually laid the foundations.
"In 2009, the language inserted into the Copenhagen accord that temperature increases must remain below two degrees centigrade was an Australian amendment inserted by me," he said.
"Prior to that there was no agreement even on two degrees, and the language that I was able to work with the Small Island Developing States at that time was to insert the word 'below': Five years later, we're now working on bringing that down further, and I fully support that," he said.
Some sort of mechanism for periodic review of countries' targets appears very likely to make the final text, and the focus now is on what that will look like in terms of transparency requirements around reporting, accounting for greenhouse gas emissions, and the level of ambition countries can reasonably be expected to commit to.
The idea being pushed by a number of nations – including rich countries that want a pay-off from developing nations for the $100 billion of climate finance they've committed to providing each year after 2020 – is that countries will not be allowed to 'backslide', and a framework would be developed that would allow civil society and other nations to pressure countries into increasing their pledges to take action towards reducing emissions.
"What I'd say is that given that the commitments are at this stage, aggregated across the world, inadequate to bring about the quantum of greenhouse gas reductions necessary to keep temperature increases below two degrees this century, then as a matter of logic, it is useful to have them in a drafting form which can be renegotiated up," Rudd said.
"What we may find in the legally binding part of the Paris agreement is entrenchment of a view that nationally determined commitments can become more ambitious, but not less, so there is therefore a potential logic in that proposed arrangement," he said.
"What many of us would be utterly distressed about is if the actual machinery of the Paris agreement," referring to the review, accounting and transparency measures which look most likely to carry legal force, "were themselves outside a legally binding arrangement," Rudd said.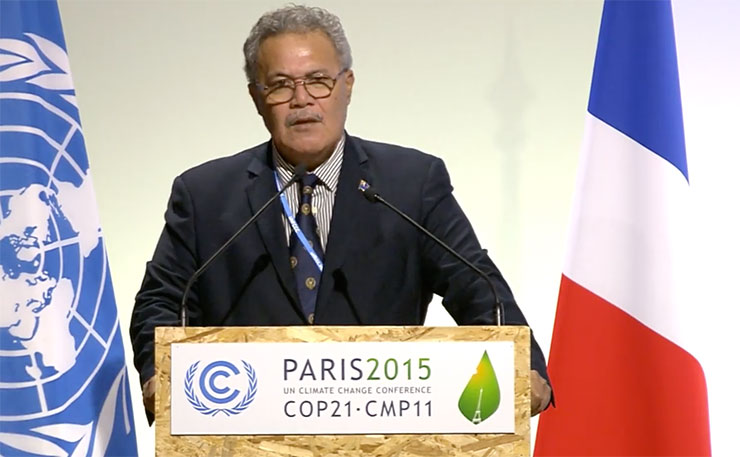 At a press briefing overnight (AEST time) the United States Special Envoy on Climate Change, Todd Stern, said America had proposed the new system that Paris is working on, where nations put forward targets ahead of the conference rather than during the summit as was done in the past, because it would be impossible to negotiate 195 nations' targets in that environment.
"I think that the proof is in the pudding with respect to the fact we have 184 targets that have been put forward," Stern said. "This is a way that works, this is a way that you can get countries to come forward with pretty ambitious targets. Not perfect, but pretty ambitious."
The most recent estimate out of the United Nations found that, at the very best, the proposals submitted to the ahead of the Paris summit by individual parties would lead to a rise in average global temperatures of 2.7 degrees.
But yesterday, perhaps the world's most eminent climate scientist and former head of NASA's Goddard Institute for Space Studies, James Hansen, told media that even a two degree target did not reflect the gravity of scientific findings on climate change, but rather political "convenience".
The Prime Minister of Tuvalu, in the South Pacific Ocean to Australia's north east, made it clear in his leader's address on the opening day of the two week climate talks that he feels this as a cogent reality.
"No leader here in this room can say that the total of its territory and all its citizens will disappear if we were to allow the temperature to increase by anything more than 1.5 degrees," Prime Minister Enele Sopoaga said.
"I appeal that we do the right thing – that we save and protect the people of countries that are in the most vulnerable region of the world – I simply ask that our future, and the future of our children, be assured out of Paris," Sopoaga said.
He said that "we must be obliged to implement our nationally determined commitments, and not just communicate them".
That ship has almost certainly sailed to the preambular waters of the Paris agreement, and so a robust process which will force a scaling up of the global effort to tackle climate change is the best outcome that residents of the imperilled Pacific Island can hope for.
Discussions around what a review mechanism will look like, how different countries will be forced to report on their progress, account for their emissions, and provide transparent information around that process, are in their early stages.
They're likely to come to a crunch when key political questions are worked through in the second week by various ministers.
In the process, they will determine what hope Pacific Islanders have of maintaining their homes and cultures.

Donate To New Matilda
New Matilda is a small, independent media outlet. We survive through reader contributions, and never losing a lawsuit. If you got something from this article, giving something back helps us to continue speaking truth to power. Every little bit counts.