Australia's Pacific Island neighbours already face poverty, and soon they'll be facing even worse. Thom Mitchell reports from Paris.
More than 70 per cent of households in the Pacific Islands of Tuvalu and Kiribati to Australia's north east say they're likely to migrate if the impacts of climate change become any worse than they already are, according to research presented in Paris at a global summit on climate change yesterday.
Climate change already exists as a key driver of migration in the region, according to the study presented by the United Nations University's Dr Koko Warner, which found it motivating 23 per cent of Kiribati's migration and eight per cent of Tuvalu's.
In Nauru – an island nation Australia uses to arbitrarily and indefinitely detain many of its asylum seekers – more than 40 per cent of households said they feel migration would be their likely response if sea level rise or flooding worsened.
All three islands are extremely vulnerable to the climate change impacts like sea level rise, saltwater intrusion, and storm surges, and the survey of more than 7,000 people across the three countries found that climate change was already affecting agriculture and fish stocks, and reclaiming or spoiling land.
Pacific Island leaders have been pushing the issue of climate-induced migration in the opening days of the Paris talks, arguing for a more ambitious target than the two degrees of average global warming the negotiations are aiming for.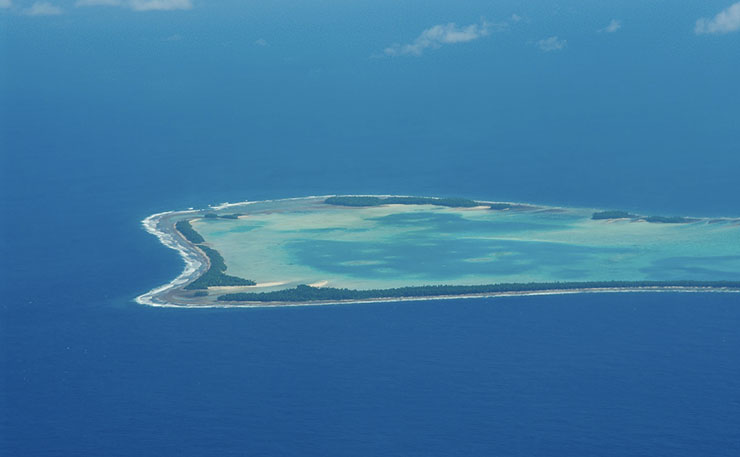 Tuvaluan Prime Minister Enele Sopoaga said the two degree target was about "saving economies," and that for Pacific Islanders their preferred target of a 1.5 degree rise in temperatures is about "saving our people".
According to the study most of the migration will be internal, presumably because the majority of people in the countries surveyed live very close to the coast. Assuming the Intergovernmental Panel on Climate Change emissions scenario corresponds to around 2.3 degrees warming, migration would increase by 100 per cent in Kiribati and 70 per cent in Tuvalu by 2055.
A source close to Pacific Islanders said the 1.5 degree target "is their sticking point, but realistically they're not going to get that". While they are also seeking compensation for loss and damage that's already been locked in, or which is occurring now, the source said, there is concern that pushing too hard on that front could jeopardise support for a 1.5 degree target.
"They need to be compensated for the loss and damage that's already occurred, but they're not going to trade away their future and allow their homes to be destroyed by doing that," they said. "They want a resource package to go back home and say this is going to help us stay, build up the island, and survive."
The President of Kiribati, Anote Tong, has repeated his calls for Australia to stop approving new fossil fuel developments at the talks, arguing that to be serious about cutting emissions you've got to be serious about not approving new coal mines.
"They use the excuse of the poor. But we are the poor, and we are speaking on our own behalf and we will be affected," Tong said in November. Yesterday, Australia's Environment Minister Greg Hunt argued that the reason he approved the massive Carmichael coal mine in Queensland is that, as a government minister, he makes assessments of projects against the existing law, that greenhouse gasses do not form part of that law, and that it would be "neo-colonial" to make decisions about another countries' "energy future".
At a press conference today, New Matilda asked Hunt whether the government had a plan or position for dealing with the migration that is by now on some levels inevitable, and he said he was focused on securing a global pact that would ensure the two degree target is met.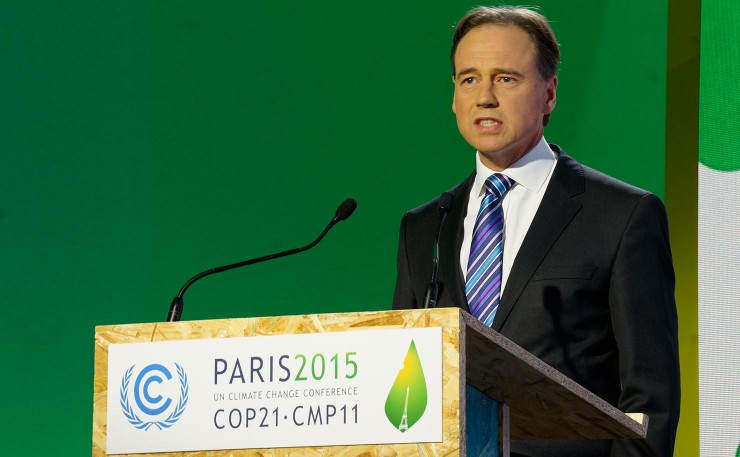 "I actually met with the Prime Minister of Tuvalu briefly last month and we were discussing the early warning systems, and he was very, very thankful for Australia's role and contribution on that front," Hunt said.
"And [I] met with the head of the Pacific Islands Forum today, and again there was a great deal of support for Australia's role…."
"On the issue of climate refugees, I think that's something as a country we would deal with as and when it arises. Our general approach has been to work very constructively firstly on mitigation and secondly on adaptation, to avoid that problem arising," he said.
"Our goal is to avoid that problem for the sake of the environment, but above all else for the millions of people in those countries, and so I don't want to pre-empt or to set out a position on something which would be country to country in the future."
Greens Deputy Leader Larissa Waters is also at the Paris climate talks, and she said it is "dishonest and deceptive for Minister Hunt to say he hopes there are no climate refugees at the same time as he approves mega coal mines that he knows full well drive dangerous global warming and threaten our Pacific Island neighbours".
"President Tong yesterday said that politicians have no compassion, only election cycles; and looking at the Turnbull Government's dangerous climate policies it's hard not to agree," she said.
While Dr Warner said she "can't make a comment specifically on Australia's refugee processing system, drawing from the experience we have in Europe right now it's clear that we are not prepared".
"These institutional frameworks from the last century are not adequate to address the needs of people today…Solutions need to be found and adjustments need to be made to current policies," she said.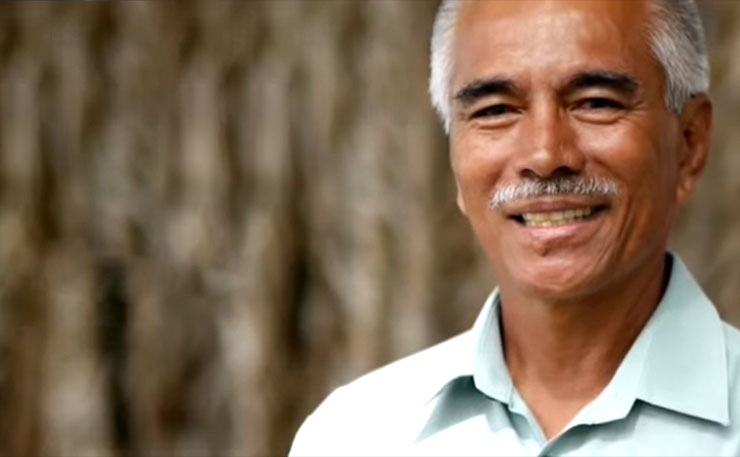 Phil Glendenning is the Director of the Pacific-focused Edmund Rice Centre and the Refugee Council of Australia, and he said a two degree rise in temperatures would be devastating for Tuvalu and Kiribati.
"Where will these people go? And more importantly, if there was some sort of arrangement where they had some sort of certainty of their future, that would give them a choice and ease the burden they feel at the moment, where they feel it's all inevitable," he said.
"I think Australia could play a creative role to become part of the solution rather than a fence or a barrier, but having said that most people want to stay in their homes," he said. "If they do choose to move, though, Australia should make it easier rather than harder."
Glendenning said it would be good to see "some sort of freedom of association that would be different but similar to the arrangements that New Zealand has with the Cook Islands and Niue; different but similar to what the Marshall Islands have with the United States".
"Kiribati and Tuvalu do not have that access," he said, "and yet both of those countries use Australian currency, and look to Australia as their largest neighbour".
"Why not have a look at that, because if we look at it Tuvalu has a population the size of Lithgow (to Sydney's north west) and Kiribati is the same size as Toowoomba (in Queensland's Darling Downs)."
The study found that while the majority of respondents would prefer to migrate if climate impacts worsen, the average monthly per capita income is just US$12 across the three countries studied, and only a quarter of the population felt their households will have the financial means to relocate.

Donate To New Matilda
New Matilda is a small, independent media outlet. We survive through reader contributions, and never losing a lawsuit. If you got something from this article, giving something back helps us to continue speaking truth to power. Every little bit counts.