We have some good news, some really, really good news, and then some news (or thoughts, really) about you handing over some of your hard-earned. First the good news.
The end of July marked the first time in a year that New Matilda has been lawsuit free.
Much of that is courtesy of our sensational lawyers, in particular our pro-bono guru of all things legal, Geoff Holland. To give you an idea of just how good a lawyer Geoff is, we had bugger-all money to start with, then we got sued from what-not to breakfast time… and yet, we're still here!
So props to Geoff (plus Tom, Stewie and the folks at O'Briens).
And now, the news about your money.
New Matilda is famous for surviving on the sniff of an oily rag, and we've certainly been doing that of late.
By way of example, young environment/worker's right reporter Thom Mitchell has a 'new' office chair. We found it discarded on the side of the road in Glebe. A little polish and it's now holding Thom relatively upright while he produces some of the best environmental reporting in the country.
And believe it or not, the chair has a built in massage function, which still works! Here's a photo for you to enjoy (and share widely). Honestly, who throws out a perfectly good massage chair?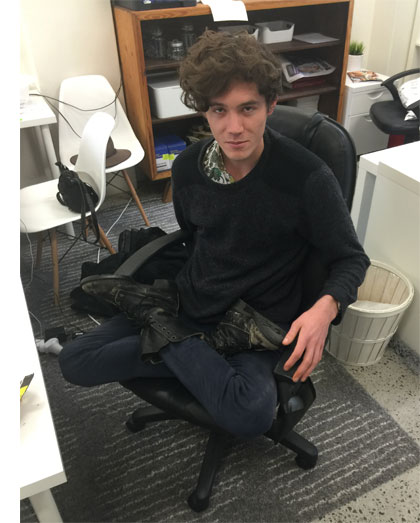 Thom's luxurious new digs helps explain his lift in productivity of late (we'll get to that shortly). But the upshot is that we need your help to keep New Matilda (and hard-hitting independent media) alive and punching above our weight. It's not so that we can buy chairs, it's so that we can pay our writers, and feed our staff.
If you haven't already subscribed, you can do so here.
A basic subscription to NM ($90 per year) equates to half a cup of coffee a week.
The Keen Level subscription (which we recommend, and which comes replete with a bagload of DVD goodies and your choice of charity to receive free advertising!) still costs less than a full cup of coffee a week.
Or, if you're a member of parliament, a chopper flight to Geelong from Melbourne airport will cost you 29 Keen Level subscriptions, and a holiday with the Burke family, flying business class return to Uluru, will cost you 66 Keen Level subscriptions.
Here's a graphic that explains that more simply. Click to enlarge.
We're happy with just the one subscription, obviously… a small price to pay to help keep the bastards honest.
And speaking of which, here's what New Matilda has been doing of late, and why we hope you'll consider subscribing to support independent media.
Today, we brought you a stunning essay by pyschologist and New Matilda columnist Dr Lissa Johnson on why people don't care about the death of democracy or the planet, and what you can do to change that. It's a long read – almost 4,000 words – but if you're involved in activism, it's also a must-read.
We recently brought you the story of a petition that went viral aimed at ending animal cruelty in Bali, Indonesia (tourists have been riding on, and kissing, dolphins held in small, chlorinated pools). Meanwhile, precisely the same practice is occurring in Australia. There's more to come on this story… watch this space, and if you get time, the video below as well.
Last week, we sent young Thom Mitchell to spend a chilly night at Port Botany, to report on a picket staged by workers who were sacked by text message. We also broke the news of the story behind the bark petition opposing same sex marriage, and the Pastor who claimed that 'homosexuals reproduce by molesting children'.
Contributing editor Wendy Bacon revealed details of asbestos being removed from the Westconnex site without approval; Michael Brull nailed Fairfax over its selective outrage at Islamophobia; Amy McQuire brought you the heart-breaking story of Julieka Dhu, and how the justice system has failed her and her family; and Max Chalmers revealed what the Nauruan president neglected to mention during a free kick comment piece in the Daily Telegraph.
We also revealed that one of the men appointed to review parliamentary expenses has a strong background in scandals (he was chairing radio 2UE when the cash for comment scandal broke), and Thom Mitchell showed how the Coalition was fiddling the books on its emission targets. And that's just the first half of August.
 
In the last week of July alone, we broke the story of Jason Akermanis' dodgy past when it comes to 'ape comments', and Amy McQuire wrote a stunning analysis on the Goodes saga.
We sent Max Chalmers to the ALP national conference in Melbourne, while Michael Brull took aim at the ALP's 'Clayton's support' for Palestine. Thom Mitchell delivered yet another expose on Whitehaven coal, this time revealing that the mining giant has still not replaced their 'fake ghost Greenie' and is lying about why, and we even brought you a 'Gentleman's Guide To Not Having Smarter Women Take Your Job', with the coolest graphic we've produced in NM's long history.
We revealed Labor's role in keeping Choppergate out of the FOI net, and Amy McQuire tore apart 7 years of Noel Pearson's trials in Cape York. We also broke the story of a NSW politician who's planning a 'Carnival of Coal' at Parliament House, primarily to 'make eco-lunatics lose their minds'.
That's just some of our effort for last three weeks, and if that's not enough to convince you to subscribe and support independent media, then we're fresh out of sales pitches.
And so now, the really, really good news.
 
The long promised New Matilda website overhaul is nearly complete. It's taken longer than expected, courtesy of said legal actions, but we're almost there.
We need a handful of bunnies from the New Matilda faithful to try out the new site before we go live (ie. we basically need you to try and break the site, and provide us some feedback about what you like and don't like).
If you're keen to help out, and get yourself an exclusive preview of our brand new site in the process, you can email Ange here and she'll hook you up with a password in the coming weeks.
Until we email begging for funds again, stay safe, if you have any office chairs to throw out leave them in Glebe or Redfern, and if you can stump up the cash and SUBSCRIBE we'll keep doing our best to make it worth your while, and to deliver you what we think is some of the best independent journalism in the country.
Regards, Chris Graham
Editor
Donate To New Matilda
New Matilda is a small, independent media outlet. We survive through reader contributions, and never losing a lawsuit. If you got something from this article, giving something back helps us to continue speaking truth to power. Every little bit counts.