Move along, nothing to see here… except for more than 100 unarmed protestors shot dead by Israeli snipers and thousands more injured Palestinians, including over 700 children. Michael Brull reviews Australia's political and media response to Israel's latest atrocity.
From 30 March, Palestinians in Gaza have held weekly protests, demanding the right to return to their homes, and for an end to the blockade of Gaza. Both demands are in accordance with international law.
Israel has responded each week by shooting hundreds of unarmed, peaceful protesters. At first, Israel merely claimed that attending these protests made someone a member of the military wing of Hamas, and declared that soldiers who shot the protesters deserved a medal.
HOUSE AD: NEW MATILDA RELIES ALMOST EXCLUSIVELY ON READER SUPPORT TO SURVIVE. YOU CAN CHIP IN TO OUR CROWDSOURCING CAMPAIGN HERE.
More recently, the Israeli army has claimed that these supposed terrorists posed a serious threat to Israel. One Israeli soldier has reportedly been lightly injured over some eight weeks of protest. The Israeli army has claimed that the military wing of Hamas has been deeply involved in the protests. It has also claimed that to achieve its nefarious goals, it hasn't used traditional weapons like rockets or guns, but children, rocks, "disabled civilians", burning tires, and "rope tied to fence".
As the world reeled in horror at week after week of Israeli massacres of unarmed, peaceful protesters – who at the most, tried to cut a fence or use slingshots to take down drones firing tear gas at them – Australian politicians have been mostly silent.
Foreign Affairs Minister Julie Bishop said, "We recognise that Israel has legitimate security concerns and needs to protect its population, and we call on Israel to be proportionate in its response and refrain from excessive use of force. Australia urges Palestinian protesters to refrain from violence and attempting to enter into Israeli territory during the March of Return."
Note how, despite the false symmetry, Israel has a right to be violent, unlike the Palestinians. Israel has legitimate security concerns, and needs to protect its population – the Palestinians have no needs or rights. And no actual criticism of Israeli conduct.
More offensively, Prime Minister Malcolm Turnbull decided to blame the Palestinians for being killed by Israeli snipers. He claimed that "this is Hamas pushing people to the border… Hamas' conduct is confrontational. They're seeking to provoke the Israeli defence forces." His position was that "you're basically pushing people into circumstances where they are very likely to be shot at, as Israel seeks to defend itself". That is, by standing hundreds of metres from the Israeli army, they provoked the Israeli army, which defended itself by shooting them.
Shadow Foreign Affairs Minister Penny Wong called on "both sides to de-escalate tensions". She said that "Labor will continue to call on both sides of the conflict to refrain from any actions that hamper peaceful outcomes for both the Israeli and Palestinian people." And she "urges Israel to show restraint". Which puts her more or less on the same page as Bishop.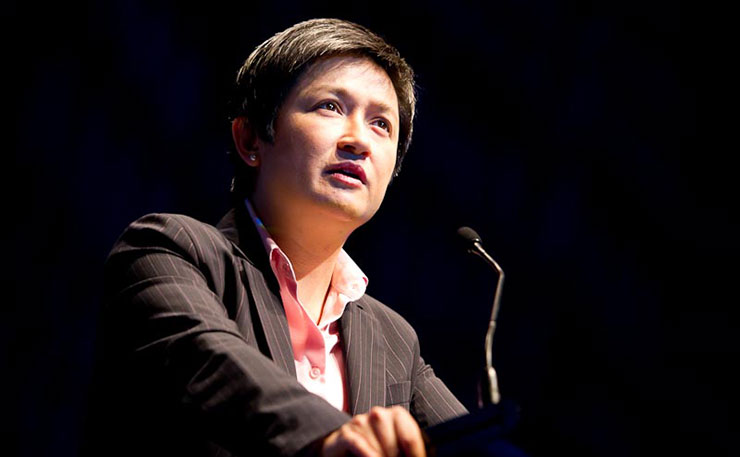 Wong cites both sides, one of which happened to murder dozens of the other side. As for peaceful outcomes, it seems peace isn't hampered by Israeli snipers shooting thousands of Palestinians. The call for "restraint" essentially justifies Israel's use of violence. It recognises that Israel was provoked, but hopes that it will not kill too many Palestinians. Though whatever number might be too many, we don't know, as there is not an implied rebuke, just friendly advice.
Other than a similarly atrocious interview around the same time, Senator Wong mostly avoided mentioning Gaza during a month and a half of protests. Likewise Foreign Minister Bishop.
It seems the Israeli government wasn't too worried about the threat from the protesters. Member of the Knesset Avi Dichter, who chairs the Foreign Affairs and Security Committee, wasn't concerned about Palestinians breaching the fences around Gaza: "The IDF has enough bullets for everyone. I think that ultimately, the means that the IDF prepared, whether non-lethal, or if needed, lethal, in cases where it's justified by the open-fire regulations — there's enough ammunition for everyone." He later changed the word "everyone" to "terrorists". Presumably, he regarded Palestinians as a synonym for terrorists.
Senator Richard Di Natale from the Greens condemned "in the strongest possible terms" Israel's "excessive use of force". In a typically incoherent sentence, he condemned "this disproportionate response against Palestinians exercising their legitimate and important right to engage in non-violent protest". If the Palestinians were exercising their legitimate and important right to protest, why is shooting and tear-gassing a "disproportionate" response, rather than a manifestly criminal and immoral response?
Why is it "excessive"? Like Bishop and Wong, Di Natale's statement implicitly justified the use of some force against Palestinians exercising their legitimate rights.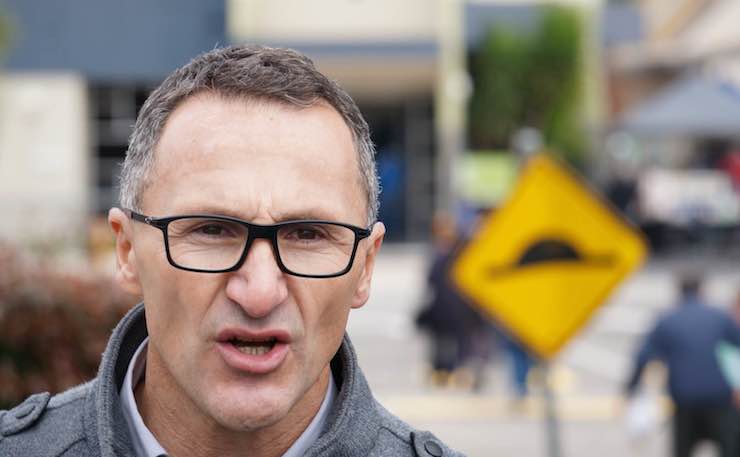 It is to Di Natale's credit that he did condemn the violence. Yet it is also noticeable that he didn't adopt the straightforward demand of the protesters to oppose the siege on Gaza. He merely called for Australia to recognise Palestine.
In Di Natale's previous statement – over a month earlier, on the subject of breaking the silence – he similarly condemned Israel's "disproportionate" response. It is not clear what kind of violence would be regarded as "proportionate" against non-violent protesters. I suspect he would not call it "disproportionate" if Australian army snipers murdered dozens of Australian protesters, especially in circumstances where no Australian soldiers were threatened, and none were harmed.
Di Natale also urged "the Israeli Government to facilitate an independent investigation." This can be contrasted with Israeli human rights group B'Tselem, which has decided to stop calling for these kinds of investigations as they have no independence and never hold Israeli officials accountable. Amnesty International has said similar.
The United Nations Human Rights Council had a special session on Palestine. They proposed a motion to investigate Israel's attacks on protesters, and called for a cessation of attacks on peaceful protesters.

Australia and the US were the only countries to vote against the motion. According to the UN's summary:
"Australia, in an explanation of the vote before the vote, said it was concerned that the language of the draft resolution prejudged the outcome of the inquiry. Australia was of the opinion that the inquiry must also acknowledge the role of Hamas, which was not mentioned at all. Furthermore, the draft resolution did not just cover Gaza where the events had occurred and the time period during which it had occurred, but had an unlimited time period and all areas. Australia was very concerned that it was not independent and impartial. For these reasons it would vote against it."
Here's a helpful graph which sheds light on our nation's shameful actions.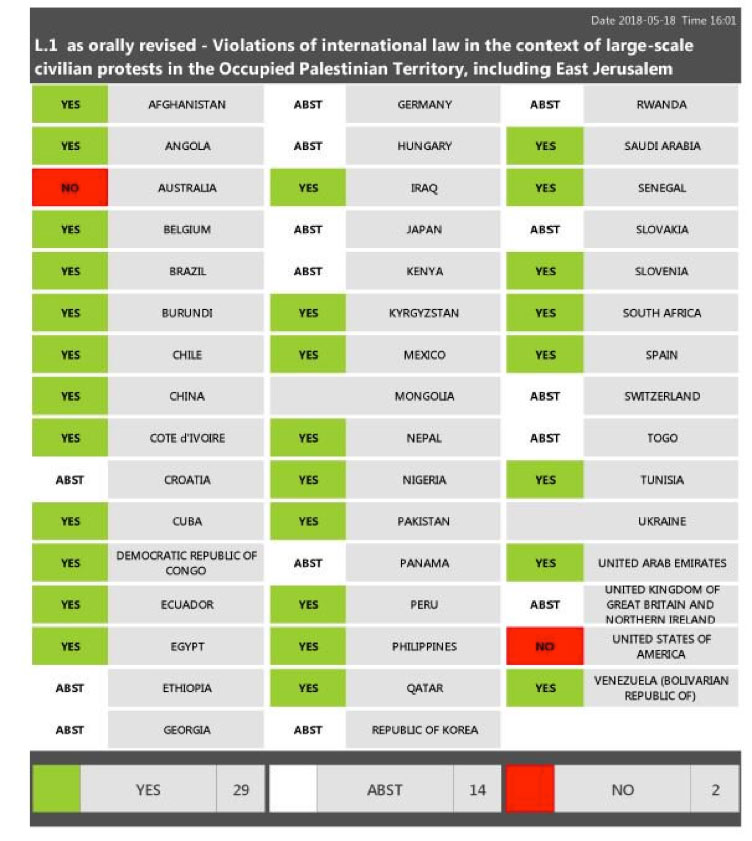 Australia has a long record of complicity in Israeli war crimes and oppression of the Palestinians. Indeed, in March it similarly voted against five motions at the Human Rights Council upholding the rights of Palestinians. For example, in a vote on Palestinian self-determination, 43 countries voted in favour, the Democratic Republic of Congo abstained, and Australia and the US voted against.
Most Australians would have no idea about that. And they wouldn't know about what Israel does to Gaza with Australian support. To get a sense why, let us consider how the Australian media has distinguished itself lately.
The media and Palestine
As a short biography of Doctor Randa Abdel-Fattah shows, she's quite distinguished. She "is an award-winning author of 11 books. She was a lawyer for 10 years and has a PhD in Sociology, focusing on the topic of Islamophobia in Australia. She is currently a DECRA Research Fellow in the Department of Sociology at Macquarie University. Her latest novel, When Michael Met Mina, won the 2017 Victorian Premier's Literary award for Young Adults and the People's Choice award."
Perhaps naively, Abdel-Fattah submitted a moving series of reflections on the Nakba – an Arabic word for catastrophe, referring to the expulsion of the Palestinians over the course of 1947-1949 – to the Saturday Paper. The editor declined it on the grounds it is an "anniversary piece".
In 2014, Tim Robertson wrote at Overland about the politics of the publisher of the Saturday Paper. He noted that at the "Wordstorm Festival in Darwin, John Van Tiggelan, former editor and now staff writer at The Monthly, said this:
"… when you work at a small publication, it doesn't matter if it was Graham Wood at the Global Mail or whether it's Morry Schwartz at Black Inc. or The Monthly, you work very closely with the publisher and things do get spiked and you have raving rows about what goes through and what doesn't and there are certain glass walls set by the publisher that you can't go outside of and […] one of those is Palestine. I mean, it's seen as a Left-wing publication, but the publisher is very Right-wing on Israel […] And he's very much to the, you know, Benjamin Netanyahu end of politics. So, you can't touch it; just don't touch it. It's a glass wall."
That is, Quarterly Essay, The Monthly, and Saturday Paper – the ostensibly mainstream, left of centre high-brow publications – all place the question of Palestine off-limits.
Randa wrote of her experience:
"Holding so-called left-wing media accountable is critical because the virtue signalling and self-idealisation of media like TSP is a joke.
It's simple really. If you care an iota about human life and rights, progressive politics and freedom, you not only don't ignore Palestinians, you should actively platform and give voice to the Palestinian cause. Goodbye TSP."
Then there is the case of Fairfax. The print media in Australia is dominated by Fairfax and Murdoch, and Murdoch leans to the right. Fairfax is more or less the only option, and the most widely read by those left of centre. A Jewish-Israeli-Australian woman I know, Na'ama Carlin, hoped to write for Fairfax on the occasion of the 70th anniversary of the Nakba.
She wrote to an editor at Fairfax, the Age's Maher Mughrabi, who wanted a Palestinian writer too. Na'ama suggested Lana Tatour, a Palestinian academic at the University of New South Wales. According to Na'ama, they:
"wrote a piece each for The Age/Fairfax for a Nakba Day special. They were meant to be run side by side – mine a personal commentary, Lana's an analysis of the Nakba's socio-political legacies. This was at the start of May. They were scheduled to go to print last weekend, Saturday/Sunday 12/13 May. Thursday night, we got an email from the editor saying the pieces were pulled because they 'weren't newsy enough'. This was out of our editor's hands. Mind you, we were surprised why two pieces on the Nakba weren't deemed newsy enough by Fairfax only days before the embassy move and Nakba day."
Na'ama said that, "The editor passed on the pieces to other editors but we never heard back. I found the response that they aren't 'newsy' suspicious". She said that "we worked on these commissioned pieces for 2 weeks and a day before going to print they got pulled".
Lana and Na'ama both submitted their essays to Overland, which ran both. Later – strangely – they were also up on Fairfax for a few hours on Saturday 19 May, until they were taken down. It is worth stressing – Lana's essay is almost entirely focused on present day Israel's policies of discrimination and occupation. Whether or not it is "newsy", it is certainly not focused on what happened in the past.
I'm in the @smh I guess? https://t.co/7xrdBBN7Qp

— na'ama נעמה (@derridalicious) May 19, 2018
My Nakba piece via the mainstream media: Cry Palestine: this crime is not history, it is still happening https://t.co/i5BDb8YvLb via @smh

— Lana Tatour (@Lana_Tatour) May 19, 2018
Since taking down the op eds, the Fairfax site only shows an error message now on each formerly working link. Fairfax weekday editor Ben Cubby speculated that a technical error may account for the brief publications.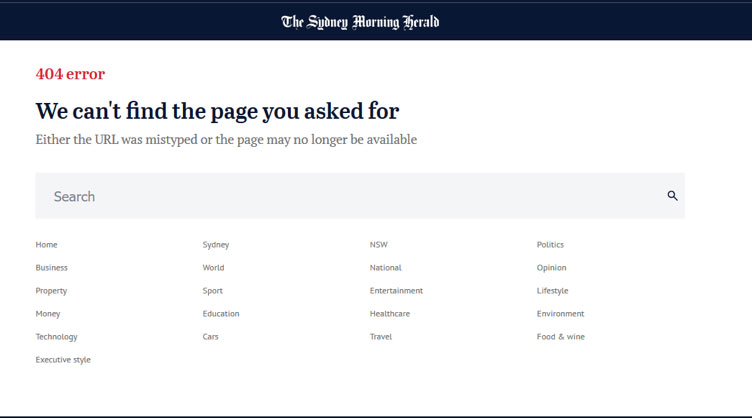 It seems Fairfax prefers different types of opinions gracing its website and print edition. Thus, on 17 May, Fairfax ran an op ed by AIJAC, blaming the Palestinians for being shot by Israeli snipers.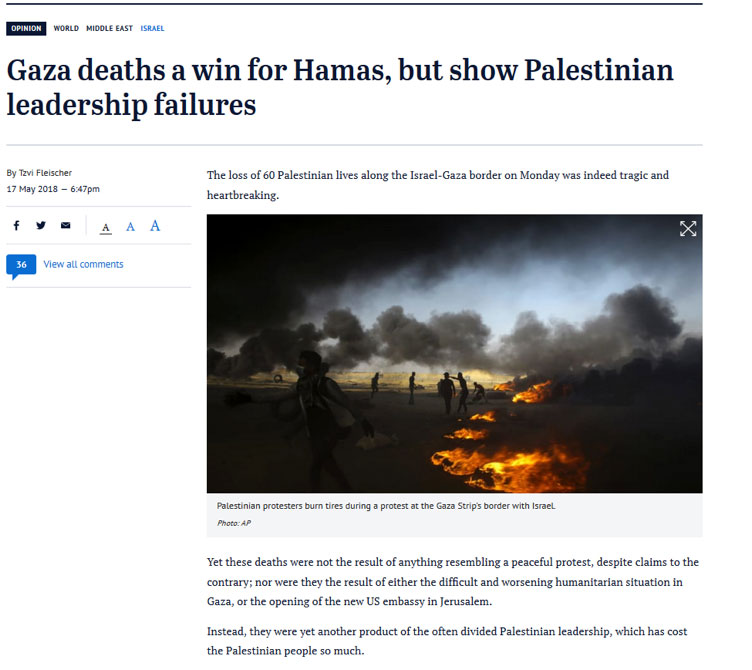 Then, for the sake of 'balanced debate', Fairfax ran another op ed, this time by Dave Sharma, the former ambassador to Israel. Sharma also blamed the deaths on Palestinians, rather than on the Israeli snipers who shot them. He went on to applaud President Donald Trump moving the US embassy to Jerusalem, urging Australia to follow suit.
Those two repulsive op eds are still up. Unaffected by any technical errors, they are apparently more "newsy", which seems to be a euphemism for serving the interests of the Israeli government.
I will note one more example. Amy McQuire is a brilliant journalist, who served as editor at the National Indigenous Times, before working as editor at Tracker, at the time each regarded as the leading paper on Aboriginal affairs in the country.
HOUSE AD: NEW MATILDA RELIES ALMOST EXCLUSIVELY ON READER SUPPORT TO SURVIVE. YOU CAN CHIP IN TO OUR CROWDSOURCING CAMPAIGN HERE.
In March and April, Amy wrote a series of blazing essays for Indigenous X. On 9 April, word broke that Aboriginal singer Jessica Mauboy would give a free performance in Israel, having posted on Instagram her love for Israel. Amy messaged me her disappointment, and was keen to collaborate and respond to Mauboy's uncritical embrace of Israel.
We rushed to put something together, and get signatories on board. Amy was confident Indigenous X would publish our letter, which would have Jewish, Aboriginal and Palestinian signatories. On 12 April, Amy phoned me to express her frustration and disappointment.
She had spoken to the editor, who refused to run our open letter. Among its crimes, it lacked "nuance". We wound up publishing in New Matilda instead.
There are other reasons the media is lousy. Palestine is not the only issue the media fails on. But in a month and a half of weekly massacres of unarmed protesters, the media has signally failed to show what is happening. That is why politicians can so breezily ignore the massacres, or issue weak statements and move on.
What others have been saying
Just for the sake of balance, given the repulsive and disturbing nature of the above, it is worth reviewing some of the record by less deplorable figures and organisations.
In April, Amnesty International complained that Israel was carrying out a "murderous assault", targeting "demonstrators who pose no imminent threat to them". As Israel shot unarmed protesters in May, Amnesty tweeted "We are witnessing an abhorrent violation of Int law and human rights…. This horror must end now."
We are witnessing an abhorrent violation of Int law and human rights. 38 confirmed dead, including children/minors, with close to 2000 people injured in #Gaza . Many are reporting injuries to the head and chest. Over 500 injured with live ammunition. This horror must end now.

— amnestypress (@amnestypress) May 14, 2018
They complained of Israel "in some instances committing what appear to be wilful killings constituting war crimes…. The rising toll of deaths and injuries today only serves to highlight the urgent need for an arms embargo."
A few days later there was this:
"Eyewitness testimonies, and video and photographic evidence suggest that many were deliberately killed or injured, while posing no imminent threat to Israeli soldiers and snipers.
Israeli forces have used high-velocity military weapons and ammunitions to disperse protesters, injuring approximately 3,600 Palestinians, including men, women and children – a shocking and appalling number. Many who have not died have suffered life-changing injuries and will likely face further complications, infections and some form of physical disability."
Human Rights Watch was similarly appalled. Sarah Leah Whitson observed that "This is about individual snipers safely ensconced hundreds of feet, even farther, away, targeting individual protesters and executing them one at a time. So inhumane."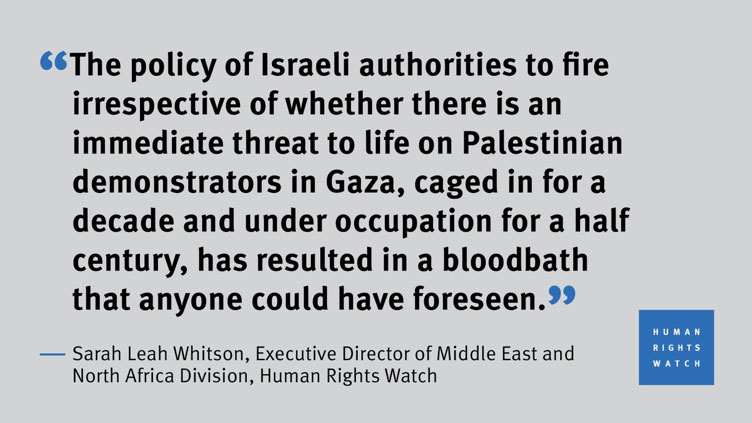 A media statement, titled "Israeli Open-Fire Orders Predictably Result in Bloodbath", concluded:
"Bloodshed on this scale results directly from these open-fire orders that green-light the firing on demonstrators irrespective of the threat they pose, along with Israel's decades-long failure to hold accountable soldiers who violate their already lax open-fire orders. As criticism of this predictable bloodbath pours in from leaders around the world, the Trump administration is blaming Hamas alone, giving Israel a green light to continue killing and maiming."
Doctors Without Borders statement was issued on May 14:
"What happened today is unacceptable and inhuman. The death toll provided this evening by Gaza health authorities — 55 dead and 2,271 wounded — including 1,359 wounded with live ammunition, is staggering. It is unbearable to witness such a massive number of unarmed people being shot in such a short time.…
This bloodbath is the continuation of the Israeli army's policy during the last seven weeks: shooting with live ammunition at demonstrators, on the assumption that anyone approaching the separation fence is a legitimate target. Most of the wounded will be condemned to suffer lifelong injuries."
Save the Children complained that over 250 children were shot with live ammunition by Israeli snipers. 700 children have been injured since 30 March.
Israeli human rights group B'Tselem again called on Israeli soldiers to refuse to shoot unarmed protesters. They observed that, "The fact that live gunfire is once again the sole measure that the Israeli military is using in the field evinces appalling indifference towards human life on the part of senior Israeli government and military officials. B'Tselem calls for an immediate halt to the killing of Palestinian demonstrators." They also observed the collapsing healthcare system in Gaza was unable to properly care for over 2,000 Palestinians who had been shot, due to the blockade.
Nine distinguished Israelis compared the latest slaughter in Gaza to the Sharpeville massacre in Apartheid South Africa, urging the world to "intervene to stop the ongoing killing". They included the internationally renowned specialist on fascism, Ze'ev Sternhell. He previously wrote that, "The weekly killing on the Gaza Strip border is a campaign of barbarism".
On 18 May, another protest in Gaza was held. The UN observed that of 3,000-5,000 Palestinians who showed up, Israel injured 56. At least three were shot with live ammunition.
"Since the first protest on 30 March, according to the MoH in Gaza, Israeli forces have killed 104 Palestinians, including 14 children, during the course of the "Great March of Return" demonstrations. In addition, 12 Palestinians have been killed during the same period in other circumstances, including five reportedly shot at the fence or after crossing into Israel, whose bodies are reportedly being withheld by the Israeli authorities. The cumulative number of injuries by Israeli forces is approximately 12,600, of whom 55 per cent have been hospitalized. One Israeli soldier has been injured."
The UN High Commissioner for Human Rights, Zeid Ra'ad Al Hussein, gave a speech to the Special Session of the Human Rights Council. He observed that
"Israel, as an occupying power under international law, is obligated to protect the population of Gaza and ensure their welfare. But they are, in essence, caged in a toxic slum from birth to death; deprived of dignity; dehumanised by the Israeli authorities to such a point it appears officials do not even consider that these men and women have a right, as well as every reason, to protest."
Similar sentiment was expressed by the Gazan activist, Muhammad Shehada. Interviewed on Democracy Now, he asked "For how come on Earth that the entire world is watching 2 million people chained to the ground, dying slowly, and doing absolutely nothing?"
A fair question, and one which calls for considerable condemnation of both our media and political representatives.
HOUSE AD: NEW MATILDA RELIES ALMOST EXCLUSIVELY ON READER SUPPORT TO SURVIVE. YOU CAN CHIP IN TO OUR CROWDSOURCING CAMPAIGN HERE.
Donate To New Matilda
New Matilda is a small, independent media outlet. We survive through reader contributions, and never losing a lawsuit. If you got something from this article, giving something back helps us to continue speaking truth to power. Every little bit counts.