An open letter about Jessica Mauboy's decision to perform a concert in Israel, by Michael Brull, Amy McQuire, Nayuka Gorrie, Meriki Onus, Randa Abdel Fattah, Samah Sabawi, Bassam Dally, Jordy Silverstein and Jordanna Moroney.
Dear Jessica,
We know that you are an avid user of Instagram. For the most part, we are too. Instagram allows us to filter our lives, to blur our imperfections and present the sanitised version of ourselves that appeals most to our followers. You can wash it out in blues and reds, cloak it in sepia or strip it of all colour. But the underlying truth remains, and can't be edited out.
We are writing this letter to express our deep hurt and disappointment at your post on Instagram recently, in which you announced you were performing in Israel.
We know you are there for Israel Calling, featuring a free concert in Tel Aviv with 25 performers from 43 countries in the lead-up to Eurovision. According to the Jerusalem Post, it is "run in conjunction with the Foreign Ministry, the Tourism Ministry and Keren Kayemeth LeIsrael-Jewish National Fund".
You can't hide the inconvenient truth that lies behind emojis and hashtags. It is natural that the Israeli government would be involved in organising and promoting an event featuring performers from Europe to Australia. It is a propaganda coup, particularly at a time when artists from around the world have boycotted Israel, due to its treatment of the Palestinians.
As the Aboriginal writers of this letter know, the oppression of Palestinians under Israeli occupation has many similarities to our own situation.
We share a history of settler-colonialism, and this land that you routinely celebrate on Australia Day, when you sing the national anthem, is founded on the dispossession of our people and the destruction of our traditional lands.
In the early days of invasion, our warriors resisted and were massacred in frontier warfare. This is what is happening right now to the Palestinian people, who are fighting for their land, and the right to live peacefully and with control over their futures.
What has changed with our own situation is the tactics. We are not in danger of sniper fire at our protests, although we still protest. But the act of killing takes a slower form. They kill us in the health system, in the justice system and in the child protection system, and when they do kill us, there is no accountability. Our lives are seen as without worth, and so our forms of protest are acts of resistance to say: we are still here.
But just like our bodies are seen as without value, so are the bodies of Palestinians. When they are massacred, they are not only forgotten, but their pain is painted over with propaganda, just like the event you have decided to support.
As a prominent member of the Aboriginal community, we have supported your career from your very early days. We know that there is a greater onus on Aboriginal public figures, which at times can be extremely unfair. But the least we could expect of you is that you stand in solidarity with the Palestinian people, who share so much in common with us in the global struggle. An act of resistance could be as easy as refusing to participate. You could refuse to accept the benefits that come with uncritically supporting Israel.
Instead, you are participating in a propaganda festival for a regime that over the past month has once again shown its traditional brutality to the Palestinians.
A friendly concert as Israeli snipers shoot unarmed peaceful protesters
We want to stress the timing of you proudly announcing that you heart Israel. Over the last month, the people of Gaza have held several large-scale protests, demanding that those expelled in the Nakba be allowed to return to their homes, and that the siege of Gaza be lifted. The protests are set to continue each week until Nakba Day, on May 15.
The Nakba refers to the large-scale ethnic cleansing of Palestinians from 1947 to 1949 by Zionist militias, and later the Israeli army when it was formed. Through massacres, large-scale expulsions, psychological warfare, and the pressure of military offensives, some 750,000 Palestinians fled or were driven out of their homes, and then prevented from returning. Over 400 Palestinian cities, villages and towns were wiped out, or taken over by Jewish settlers.
There are about 7 million Palestinian refugees today, either expelled in the Nakba or descended from them. Out of a population of some 1.9 million Palestinians crammed into Gaza, 1.3 million of them are refugees, expelled during the Nakba, or their descendants.
The Israeli government responded to the recent protests by bulldozing mounds of earth for snipers. Senior officials, such as Israeli Defence Minister Avigdor Lieberman, publicly threatened the lives of protestors. The spokesperson for the Prime Minister Binyamin Netanyahu posted a video of a Palestinian in a field by himself, standing around before being shot. "Ain't it a shame", he asked? The subtext was clear.
During the first protest, Israel estimated that some 30,000 protesters showed up.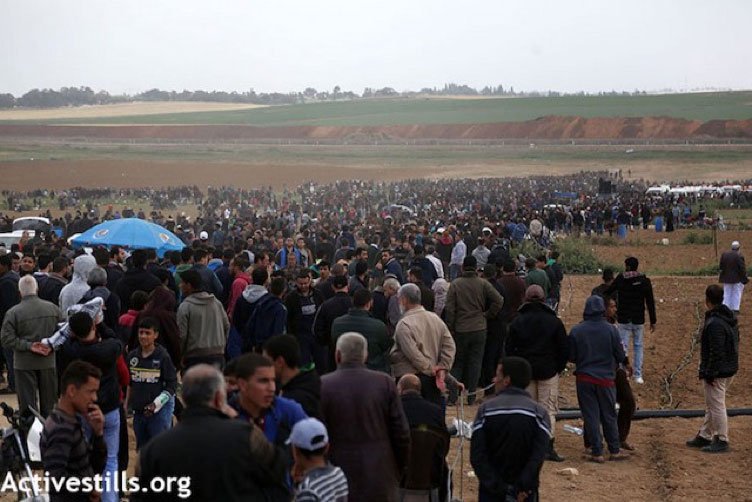 20 Palestinians were shot dead by Israeli snipers. 750 were wounded with fire from live ammunition. During the second week, another 25,000 Palestinian protesters showed up, according to Israel's army. About none more were shot dead, and another 300 were wounded by live ammunition fired by Israeli snipers.
We have video footage of some of those shot by Israel.
There was the teenager running away from Israeli soldiers, towards a Palestinian crowd. He was shot by an Israeli sniper.
Disturbing footage from @Joo_Gaza of a Palestinian boy being shot down today by an Israeli sniper while running AWAY from the Gaza buffer zone pic.twitter.com/nZ7kdGeXxC

— Liam O'Hare (@Liam_O_Hare) March 30, 2018
There was a Palestinian man, totally isolated, slowly walking. He was shot.
Unarmed , no stones , no aggressive move , but still he was shot by an #Israeli army sniper in #Gaza today . #GreatReturnMarch pic.twitter.com/gGnxlzyCHA

— Nasser Atta (@nasseratta5) March 30, 2018
There was a Palestinian youth, slowly walking towards the Israelis, carrying a Palestinian flag. He was shot.
I documented this moment for a young Palestinian while carrying the flag of Palestine and walking near the border then the snipers shot him .

Posted by Walid Mahmoud on Friday, March 30, 2018
There was a Palestinian soccer player, filming himself at the protest. He was shot in the knee. He'll never play soccer again.
Video shows the exact moment of shooting the Palestinian footballer Mohammed Khalil in his knee putting an end to his career.
Note that Mohammed was protesting peacefully & unarmed in #GreatReturnMarch 🇵🇸
Now, Mohammed needs a knee replacement surgery to be able to walk again pic.twitter.com/xGM9z9k7TU

— Mohammed Kareem (@vic2pal) April 3, 2018
There was a Palestinian group kneeling down to the ground as they prayed. One of them was shot in the leg.
#Israeli sniper shoots a Palestinian boy while he was praying!
Brutal face of #Israel #Gaza 🇵🇸 pic.twitter.com/7UqDlQ8iiG

— katherine (@fz_katherine) March 31, 2018
In the face of large-scale revulsion in social media across the world, Israel slightly shifted tactics at the second protest. It targeted journalists, shooting six. One was murdered, Yaser Murtaja. He had "PRESS" prominently displayed across his body.
Israel didn't respond to the damning footage by saying these were accidents, or that things would change. It responded by doubling down.
One Likud spokesperson said in a television discussion that "All 30,000 are legitimate targets". Defence Minister Avigdor Lieberman said all of the soldiers deserved a medal, and that "It has to be understood that there are no innocent people in Gaza… Everyone is affiliated with Hamas, they are all paid by Hamas, and all the activists trying to challenge us and breach the border are operatives of its military wing." He later said he hadn't meant to use the word "innocent", just "naïve". He didn't retract the claim that they were all "operatives" of the "military wing" of Hamas. This would presumably make them fair targets for snipers.
The boy who was rolling a tyre? Deserved it, said an Israeli Brigadier General. The boy he had been active in rolling tyres at the fence around Gaza, the officer said.
The journalist? Lieberman explained that "anyone who operates drones over Israeli soldiers needs to understand he's putting himself at risk".
The Israeli army proudly tweeted that it had meant to fire every bullet as it landed. They later deleted their tweet for some reason.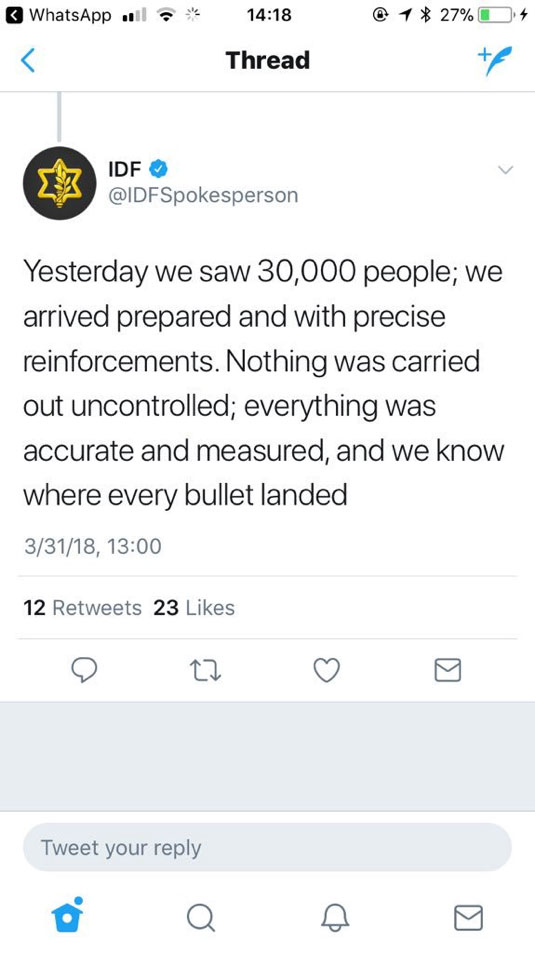 Why are they protesting in Gaza
There are two primary motivations for the protests in Gaza. One is the Nakba, and the call for the refugees to be allowed to return to their homes. The other is by the siege on Gaza and the destruction caused by Israeli attacks.
In 2006, having withdrawn settlers from Gaza in 2005, Israel began to impose a blockade on the area. In the words of the advisor to the Prime Minister, "The idea is to put the Palestinians on a diet, but not to make them die of hunger". Israel repeatedly tightened the siege, in particular in 2007 when Hamas pre-empted a coup attempt by their rivals in Fatah. It was admitted by the security cabinet that the goal was to use "civilian levers" against Hamas. Civilian levers, meaning the civilian population was targeted by the Israeli government. In 2008, Israel told US officials of their intention to "keep Gaza's economy 'on the brink of collapse' while avoiding a humanitarian crisis".
In June 2008, Amnesty International observed that "the Israeli government imposed an unprecedented blockade on the Gaza Strip, virtually imprisoning its entire 1.5 million people population, subjecting them to collective punishment and causing the gravest humanitarian crisis to date".
It got worse, as Israel unleashed brutal large-scale assaults on Gaza, whilst keeping the blockade in place to prevent reconstruction. First came the attack in 2008-9. Then the attack in 2014.
For almost two months in 2014, from early July to late August, Israel bombed Gaza. The destruction was immense. Whole suburbs were levelled and razed. Entire families were wiped out at a time, as 216 people were killed in attacks on their homes. Gaza's infrastructure was devastated. Ambulances and medical personnel were bombed at least 24 times. Some 18,000 homes were damaged or destroyed. 100,000 Palestinians were displaced, out of a population of close to 2 million. Israel damaged 63 water facilities, and destroyed 23. The only power plant in Gaza was bombed four times. 2,251 Palestinians were killed, including 1,462 civilians, and 551 children. Over 11,000 were injured.
Hundreds of thousands of Palestinian children were left needing "direct and specialised" psycho-social support.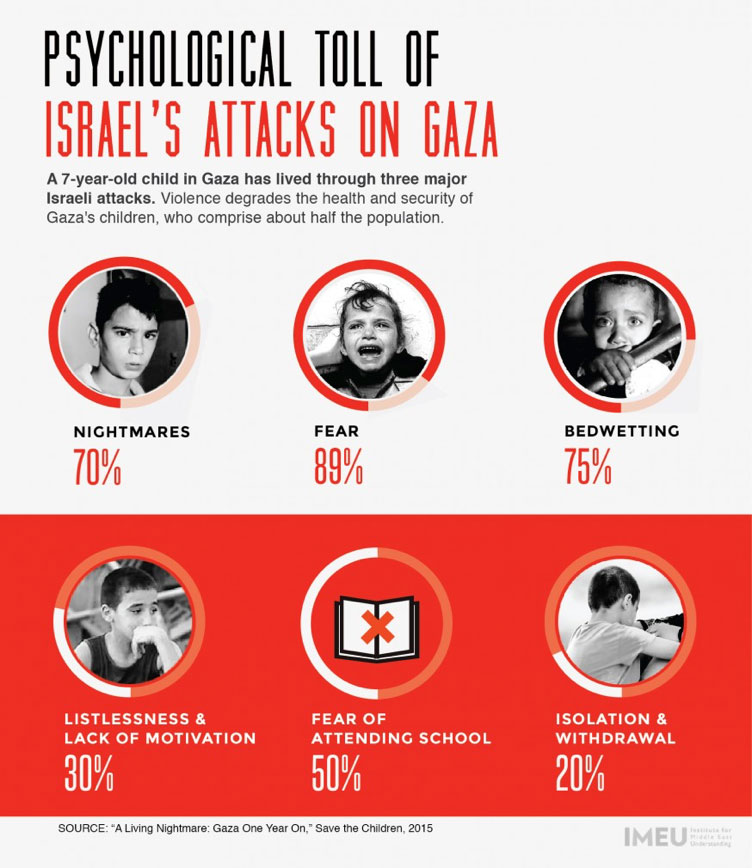 By 2009, upwards of 90 per cent of Gaza's water was undrinkable. It could be fixed, if Israel would stop bombing Gazan infrastructure and would let in the materials needed to fix the water supply. Last year, unemployment in Gaza reached over 46 per cent. The hospital system is collapsing, and medicine is increasingly unavailable. The Red Cross warned last year that "a systemic collapse of an already battered infrastructure and economy is impending."
The UN warned in 2012 that if current trends continued, Gaza would be uninhabitable by 2020. That warning was repeated in 2016. The UN now warns that 2020 may be an overly optimistic date for when Gaza will be uninhabitable.
The warnings have come constantly for over 10 years. Mary Robinson formerly served as the President of Ireland and as the United Nations High Commissioner for Human Rights. She observed of the siege: "Their whole civilization has been destroyed, I'm not exaggerating. It's almost unbelievable that the world doesn't care while this is happening." She said that in 2008.
Meet the Israeli government
It is not hard to understand why Israel's response is so brutal, given the openly declared brutality and racism of the Israeli government.
The Chief of General Staff of the Israeli army is Gadi Eisenkot. Eisenkot is best known to many for announcing the Dahiya Doctrine.
"What happened in the Dahiya quarter of Beirut in 2006 will happen in every village from which Israel is fired on. […] We will apply disproportionate force on it and cause great damage and destruction there. From our standpoint, these are not civilian villages, they are military bases. […] This is not a recommendation. This is a plan. And it has been approved."
Take the Defence Minister, Avigdor Lieberman, the civilian who oversees the Israeli government. He suggested in 2009 that the way to victory against Gaza was by "breaking the will and motivation of Hamas to fight us, as was done to the Japanese in the last days of World War Two". For Arabs "who are against us, there's nothing to be done – we need to pick up an axe and cut off his head". During the war on Gaza last year, he urged a boycott on Arab businesses striking against the war. He previously recommended the expulsion of 90 per cent of Israeli Palestinians to the West Bank. After all, "They have no place here. They can take their bundles and get lost."
The current Deputy Defence Minister of Israel is Rabbi Eliyahu Ben-Dahan. He holds the view that Palestinians "are beasts, they are not human", and that a "Jew always has a much higher soul than a gentile, even if he is a homosexual". Rabbi Ben-Dahan is in charge of the Civil Administration, which means he is "responsible for all aspects the occupation that don't involve boots-on-the-ground security operations", according to Israeli academic John Brown.
Israel's Justice Minister is Ayelet Shaked. She has made a litany of racist remarks, including laughingly agreeing that she hoped her pilot husband would be "pounding the Arabs hard with bombs". She infamously shared an article explaining that Palestinian parents should be killed to prevent more "little snakes" from being raised.
Israel's Education Minister, Naftali Bennett said to a Palestinian MK that, "When you were still climbing trees, we had a Jewish state here". He also bragged that "I have killed lots of Arabs in my life – and there is no problem with that."
Israel's Minister for Culture is Miri Regev. She was one of the Likud politicians who attended a rally against African asylum seekers in Israel. She declared, "The Sudanese were a cancer in our body." The crowd, suitably riled up by Regev and other demagogues, went on to smash up shops associated with the African community, and beat up Africans they could find. The mob chanted, "The people want the Africans to be burned".
A week ago, Israel agreed to settle 16,000 African asylum seekers in Israel, and the rest overseas. The political right, including within Likud revolted, and within a day, the Prime Minister suspended the deal he had just signed. Duly chastened, Netanyahu said "we will continue to act work with determination to exhaust all possibilities at our disposal to remove the infiltrators".
Meet the Israeli Prime Minister
About four and a half million Palestinians live in the West Bank and Gaza under Israeli military rule, without any of the civil or political rights granted to Israeli citizens. Whilst the occupation exists, they are disfranchised. As former Israeli Prime Minister Ehud Barak put it, "As long as in this territory west of the Jordan River there is only one political entity called Israel it is going to be either non-Jewish, or non-democratic… If this bloc of millions of Palestinians cannot vote, that will be an apartheid state." That is the reality that has existed for almost 51 years, since June 1967.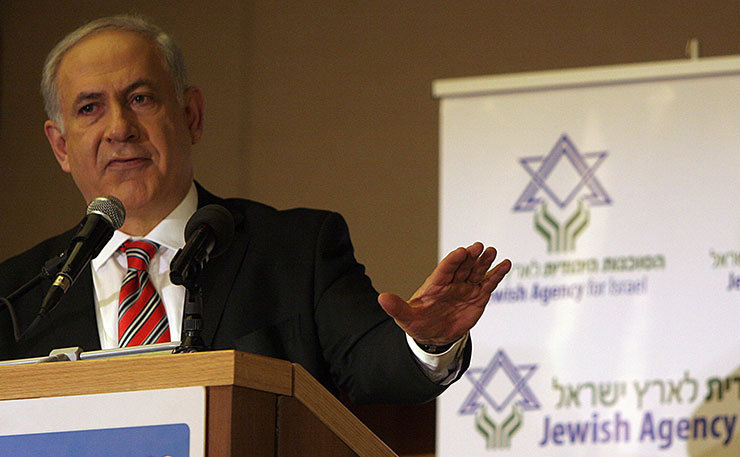 How does the Prime Minister Netanyahu see this issue? By saying no to a Palestinian state, and yes to permanent rule over a disfranchised population. In July 2014, Netanyahu frankly announced, "I think the Israeli people understand now what I always say: that there cannot be a situation, under any agreement, in which we relinquish security control of the territory west of the River Jordan." What he always says. As he said in his book in 1993, to "subdivide this land" is to "try to defend what is indefensible, is to invite disaster". As he said in 1978, "The stumbling block to the road for peace is this demand for a PLO state…. When this demand is abandoned we can have real and genuine peace."
Given this position, it is unsurprising that Netanyahu has certain opinions about the people he is determined to deny self-determination. He explained that Israel surrounds itself with fences and barriers, because "In the area that we live in, we must defend ourselves against the wild beasts." In a secret recording from 2001, he bragged about how he put an "end to this galloping forward to the '67 borders" through devious subversion of the Oslo agreements. As for the Palestinians, the way to handle them is to "beat them up, not once but repeatedly, beat them up so it hurts so badly, until it's unbearable".
He has had other suggestions for resolving the conflict. In 1989, Netanyahu was Deputy Foreign Minister. He complained that "Israel should have taken advantage of the suppression of the demonstrations in China [the Tiananmen Square massacre], when the world's attention was focussed on what was happening in that country, to carry out mass expulsions among the Arabs of the Territories. However, to my regret, they did not support that policy that I proposed, and which I still propose should be implemented."
Conclusion
That's the Israeli government. That's who they are, from the mass expulsions of Palestinians during the Nakba, to over 50 years of military occupation from 1967, to the brutal siege on Gaza, to the massacres of unarmed protesters. The world is increasingly turning on Israel, because of its apartheid and brutality. And this, Jessica Mauboy, is when you show up. This is the regime you are performing on behalf of, that you are uncritically supporting. That is the truth behind your hashtag, #iheartyou #israel
This is also an opportunity for you. Where do you stand on millions of disfranchised Palestinians, living under military occupation? Where do you stand on the destruction of Gaza? Where do you stand on the open, brazen massacres of unarmed protesters that have again disgusted the world? Do you stand with the Foreign Ministry, as it uses you to whitewash its crimes against humanity?
The Aboriginal community has largely supported you for all your achievements. But if we continually make a stand for you, why can't you make a stand for those who are suffering?
* Michael Brull is a Jewish writer who has contributed to a range of publications, including New Matilda, Overland, Crikey, ABC's Drum, The Guardian and elsewhere.
Amy McQuire is a Darumbal and South Sea Islander journalist from Rockhampton, Central Queensland
Meriki Onus is a Gunnai Gunditjmara woman, involved in community organising and is a commentator mainly on issues around family violence and police brutality against Aboriginal people.
Nayuka Gorrie is a Kurnai/Gunai, Gunditjmara, Wiradjuri and Yorta Yorta freelance writer.
Randa Abdel-Fattah is an award-winning author of 12 books and is published in over 15 countries. She is currently a Research Fellow at Macquarie University working in the areas of race, Islamophobia and young people.
Samah Sabawi is a Palestinian-Australian-Canadian writer, commentator, author and playwright. She has written and produced the plays Cries from the Land and Three Wishes, both successfully received in Canada.
Bassam Dally is a Palestinian-Australian academic, commentator and advocate for the cause of justice and freedom for the Palestinians. He is founding member of The Australian Friends of Palestine Association and is the vice-president of the Australia Palestine Advocacy network.
Jordanna Moroney is a Masorti Jew and refugee activist who lives on Dharawal land in Western Sydney.
Jordy Silverstein is a Jew and a historian based at Melbourne University. She's the author of Anxious Histories: Narrating the Holocaust in Jewish Communities at the Beginning of the Twenty-First Century (2015).
Donate To New Matilda
New Matilda is a small, independent media outlet. We survive through reader contributions, and never losing a lawsuit. If you got something from this article, giving something back helps us to continue speaking truth to power. Every little bit counts.