An elder statesman of the Australian jazz music industry has admitted he showed lewd images to students while he was running a music academy auspiced by the Catholic Church in 2010, the same year he was accused of sexually assaulting a young female student.
But while Graeme Lyall, aged 75, now admits he did show teenage students images of naked women he received on his work computer, despite long-standing denials, he has contradicted claims by the James Morison Academy (JMA) that his access to students was later restricted after the release of an explosive Catholic Church investigation in 2016 into the sexual assault allegations levelled by the 19-year-old female student.
That investigation – which resulted in a 60-page confidential report written by a lawyer/investigator appointed by the Catholic Diocese of Adelaide – was produced under the church's 'Towards Healing' protocol, which deals with victims of sexual, emotional and physical abuse. It is the subject of a suppression order from the District Court of South Australia after a legal application by lawyers representing Mr Lyall. Its contents cannot be reported.
The church investigation also resulted in a confidential settlement with the woman, in late 2016, which included a "payout", according to Mr Lyall.
South Australian Police conducted a preliminary investigation into the woman's allegations in 2012, however Mr Lyall – a Member of the Order of Australia – was never formally charged.
Mr Lyall – one of Australia's most accomplished saxophonists and the former Music Director for Channel 9 and popular show Hey, Hey It's Saturday! – has denied the allegations contained in the report and remains highly critical of the investigation process led by the church, for which he declined to be formally interviewed.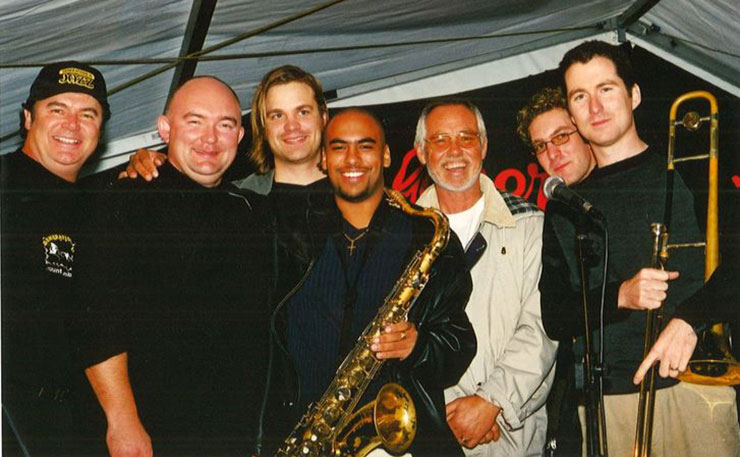 The music academy, Generations In Jazz, was based on the campus of the Tenison Woods College in Mt Gambier, South Australia. It was closed in 2014, and re-formed in 2015 as the James Morrison Academy.
Mr Lyall, a longtime friend and mentor of Mr Morrison – one of the nation's most prominent musicians – was rehired by JMA, which expanded its operations and signed a third party agreement with the University of South Australia (UniSA).
But by 2016, the Catholic Church investigation into the original sexual assault allegations was completed. Mr Lyall claims the woman provided a copy of the investigation to UniSA, which "cost me my whole career".
HOUSE AD – INVESTIGATIVE JOURNALISM IS COSTLY. PLEASE CONSIDER CHIPPING IN A FEW DOLLARS TO SUPPORT OUR ONGOING REPORTING ON THIS ISSUE BY CLICKING HERE.
Mr Lyall's contract with JMA was not renewed at the end of the 2016 final semester, however he denies claims by the Academy's head, James Morrison, that he was ever prevented from one-on-one interaction with students after details of the Catholic Church investigation became known.
Showed lewd images to students
In a lengthy interview with New Matilda, Mr Lyall conceded that he showed lewd imagery to a group of male students.
Early in the 40-minute interview, Mr Lyall denied any allegations that he had ever conducted himself inappropriately while working as a teacher for the Generations In Jazz Academy.
NEW MATILDA: The issue though is some of the other students substantiate some of the… allegations, for example, that you showed lewd imagery to students. But you deny that, I understand?
GRAEME LYALL: Yep, absolutely.
Later in the interview, Mr Lyall's story changed.
GRAEME LYALL: I showed the boys once, and it's not really lewd, it was a comedy thing it was on the email somebody sent me. But I did not show, you cannot get pornographic stuff through the Catholic filters.
NEW MATILDA: How would you know that?
GRAEME LYALL: Because it's always been.
NEW MATILDA: … Lewd images are not necessarily pornographic images, they're naked images, which you shouldn't be showing students, but it's alleged that you did.
GRAEME LYALL: Yeah, I did show it to the boys. Not to [the alleged female victim].
NEW MATILDA: But you have denied that.
GRAEME LYALL: No, I don't think I did deny it.
NEW MATILDA: Well you denied it to me earlier.
GRAEME LYALL: … I didn't show it to her. She was not in the room.
'My duties were never restricted'
During the interview, Mr Lyall also claimed that his teaching duties were never restricted at the James Morrison Academy in 2016, despite the emergence of the Catholic Church Toward's Healing investigation.
Correspondence obtained by New Matilda contradicts this account. In 2012, while Mr Lyall was employed by the Generations In Jazz academy, he was suspended from teaching while police investigated the allegations of sexual assault. He was subsequently re-instated after police decided there was insufficient evidence to proceed with criminal charges.
By 2016, following the completion of the Catholic Church Towards Healing report, Mr Lyall worked for the James Morrison Academy. A copy of that report was provided to JMA, and to the University of South Australia.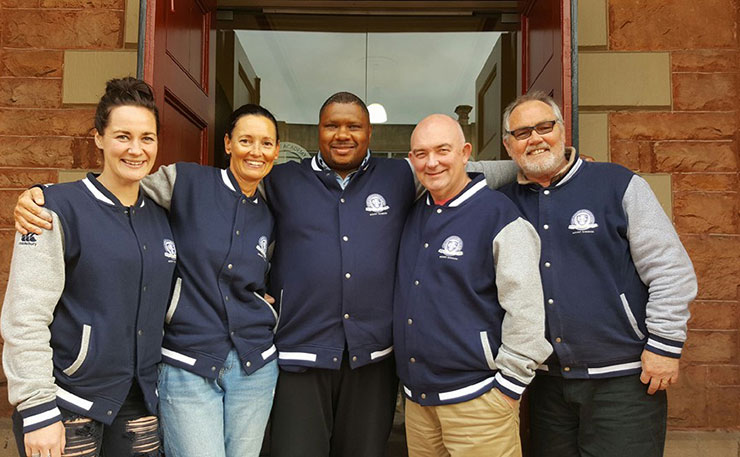 In February 2017, vice chancellor of UniSA David Lloyd wrote to the young female student assuring her that once university and academy officials became aware of the church report, restrictions were placed on Mr Lyall's employment, and his contract was not renewed at the end of the year.
"As you are aware, in 2014, UniSA entered into a partnership with JMA to support the provision of a music education program with well renowned music experts. In our parlance, this was what we call a 'third party arrangement', it enabled JMA students access to UniSA resources as registered UniSA students, including student supports services, while being instructed by staff from JMA in their learning.
"As soon as you made your experiences known to us and your concerns regarding the continuing tenure of the JMA staff member involved, UniSA made enquiries into the matters you raised and held discussions with JMA staff, leadership and the Board of JMA – stressing the need for urgent action in relation to the relevant staff member.
HOUSE AD – INVESTIGATIVE JOURNALISM IS COSTLY. PLEASE CONSIDER CHIPPING IN A FEW DOLLARS TO SUPPORT OUR ONGOING REPORTING ON THIS ISSUE BY CLICKING HERE.
"As a result of our request for action, JMA subsequently confirmed to us that the staff member's employment was ended.
"I have enquired into what measures were put in place by JMA between the period we notified them of our concerns, and the cessation of the JMA staff member's employment….
"On return to teaching in late September classes resumed for 6 weeks till Mid November. During this 6 weeks the JMA staff member was placed on limited teaching duties and was restricted to teaching only full classes and was not permitted to have any classes with individual students during this time."
That action – the restriction of Mr Lyall to only teaching full classes and not individual students – was reiterated by the vice chancellor (Mr Lloyd) and JMA head James Morrison verbally, in a meeting in 2017 with the young woman, and a second woman who attended as a support person.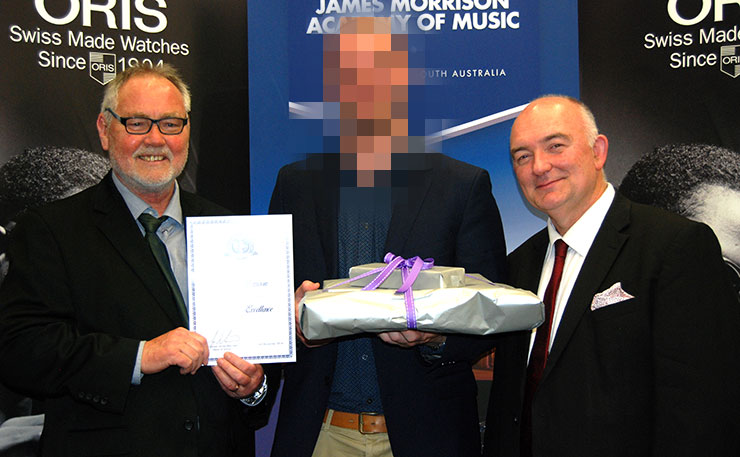 The support person's written notes from the meeting support the claim by UniSA and James Morrison that Mr Lyall's access to students was restricted.
"JMA was spoken to by UniSA in August or September (?) 2016 re Lyall. JMA board met in September to discuss what to do. Lyall was allowed to return after Sept break, but only allowed to teach full classes, not have one-on-one lessons. Reason for not removing him completely was concern he'd sue them for unfair dismissal so waited till semester ended in November & didn't renew contract."
But Mr Lyall tells a very different story. In his interview with New Matilda, he remains adamant that while his contract was not renewed, "because of [the woman]", his teaching duties at the Academy were never restricted in any way.
NEW MATILDA: The University of South Australia has alleged that you were on restricted teaching duties from July to the end of 2016.
GRAEME LYALL: No, not true.
NEW MATILDA: …So you weren't placed on any restricted teaching duties while you were at Uni of SA?
GRAEME LYALL: Nope.
NEW MATILDA: You weren't prevented from individual sessions with students?
GRAEME LYALL: No.
NEW MATILDA: From your perspective it was business as usual at Uni of SA?
GRAEME LYALL: Yes and you can ring James Morrison who was my boss.
NEW MATILDA: … they took no action against you from July to December 2016?
GRAEME LYALL: No, nope none at all.
NEW MATILDA: Can you say then why your contract wasn't renewed?
GRAEME LYALL: Because of her.
NEW MATILDA: So they did take some action against you?
GRAEME LYALL: Not until December.
NEW MATILDA: Right, but from July to December, you can categorically state they did not – UniSA, nor James Morrison Academy – took any action whatsoever to restrict your access to students or your teaching duties?
GRAEME LYALL: No, none at all.
UniSA declined to answer a series of questions. A spokesperson instead issued a brief statement: "Graeme Lyall has never been an employee of UniSA. Any queries pertaining to his employment should be directed to his former employers."
The James Morrison Academy did not respond to repeated attempts to seek clarification prior to publication.
Mr Lyall continues to work in Mt Gambier, and provides private lessons for music students through Manser Music. He told New Matilda his life was now in tatters, and took aim at the woman he says is responsible.
"I'm sick of her dragging this up every year," Mr Lyall said. "She got a payout from the Catholic Church. That should have been enough, but no, she went to UniSA showed them the report which was confidential. Cost me my whole career."
CALL TO ACTION: Do you have any information to share? You can contact the writer by email here, or via Facebook here or Twitter here.
HOUSE AD – INVESTIGATIVE JOURNALISM IS COSTLY. PLEASE CONSIDER CHIPPING IN A FEW DOLLARS TO SUPPORT OUR ONGOING REPORTING ON THIS ISSUE BY CLICKING HERE.
Donate To New Matilda
New Matilda is a small, independent media outlet. We survive through reader contributions, and never losing a lawsuit. If you got something from this article, giving something back helps us to continue speaking truth to power. Every little bit counts.