As political reporting goes, it doesn't get much more lightweight than the Daily Telegraph. And so, appropriately the Daily Terror's 'chief political reporter' is none other than, Sharri Markson. The flyweight of lightweights.
You might remember Sharri from such exposes as 'I went undercover as a uni student (while I still looked like a uni student) and took a selfie in a lift to expose how journalism lecturers at Sydney universities trash News Corporation'.
Note to Sharri… all university lecturers the world over trash News Corporation reporting. Because it can be pretty shite.
Markson is one of those News Corporation journalists who's drunk so much company Kool-Aid, its entirely possible she actually believes everything she says, and writes. Which explains this staggering exchange on the Daily Tele earlier today, where entertainment reporter Jonathon Moran engages in a lively discussion with Markson on politics in Canberra, in which Markson tries to school him on 'bias'.
MORAN: "Old mate (Tony Abbott), like when's he just going to quit politics?".
MARKSON (laughing): "This is why you can't be a political reporter."
Markson then argues Abbott still has a very big following.
MORAN: This is a man who was there with the children overboard. This is a man whose been given so many chances… and still just waffles on with his rubbish. He ripped public education to shreds, he's saying the cities are chockers, and that education needs to be improved, so improve education even though I scrapped it and ripped it to shreds and stuffed it all up.
MARKSON: You're reading from Bill Shorten's playbook. It seems like they've sent you some talking points.
MORAN: Tony Abbott makes me feel sick.
MARKSON: Oh no, you can't say that.
MORAN: … it's not easy to interview someone as pig-headed as (Abbott).
MARKSON (feigning exasperation): "JMO, you can't say these things about a former Prime Minister."
Sigh. Where to start…?
Markson, as perhaps the most transparently partisan 'political reporter' in the country, has a very long history of boosting the right, and trashing the left. Her last article for 2017, about the winners and losers of politics for the year, is a case in point.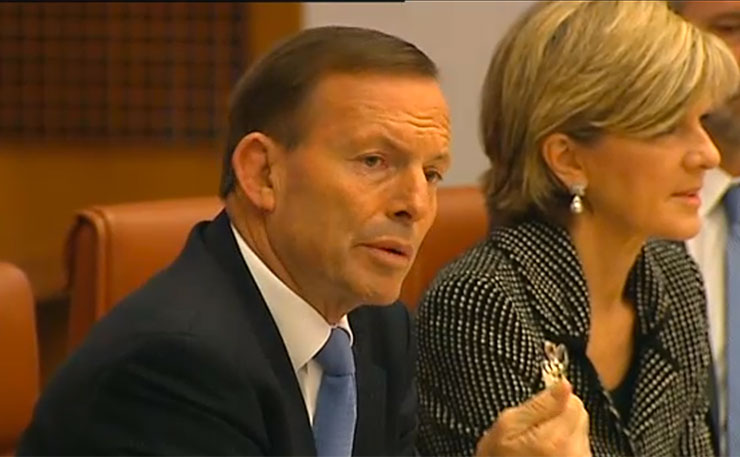 Under the heading "LOSERS" she writes, "This untold story of how the Greens nearly killed off marriage equality earns the left-wing lunatics the top spot on my Losers list."
So you can't call a former Prime Minister 'pig-headed', you can refer to an entire party as 'lunatics'.
It'll come as no surprise that in the same article, Markson labels Malcolm Turnbull, Peter Dutton, Josh Frydenberg, Mitch Fifield, and Peta Credlin as 'winners'. She also boosts Labor's Michael Danby and Ed Husic… because they came to the defence of the Lib's Frydenberg over his citizenship crisis.
As for the losers, they were Bill Shorten, because he entered into "negotiations with the grubby CFMEU" and because he "misled the Australian public about dual citizens in his ranks" (so did Turnbull). There was also George Brandis, a Liberal centrist.
If you're wondering how seriously Markson is taken by her colleagues in Canberra, a little aside – the other 'loser' in her annual list was "THE PRESS GALLERY".
You can take the kid out of high school, but you can't take the high school out of the kid.
Donate To New Matilda
New Matilda is a small, independent media outlet. We survive through reader contributions, and never losing a lawsuit. If you got something from this article, giving something back helps us to continue speaking truth to power. Every little bit counts.