UPDATE: Crikey has reported that Charles Waterstreet claims he has NOT launched defamation proceedings against Tina Huang. The original ABC article has a correction at the bottom of the piece which says the report was in error.
The circus that surrounds New Matilda's ongoing investigation into Charles Waterstreet just added another ring. Chris Graham reports.
In the space of just a day, Charles Waterstreet has pulled out of a planned – and highly controversial – appearance on ABC's Q&A program; the NSW Bar Association has issued an extraordinary public statement on the issue; and the ABC is now reporting that Mr Waterstreet has launched legal proceedings against one of his accused, 21-year-old law student Tina Huang, the original whistleblower in the Waterstreet investigation.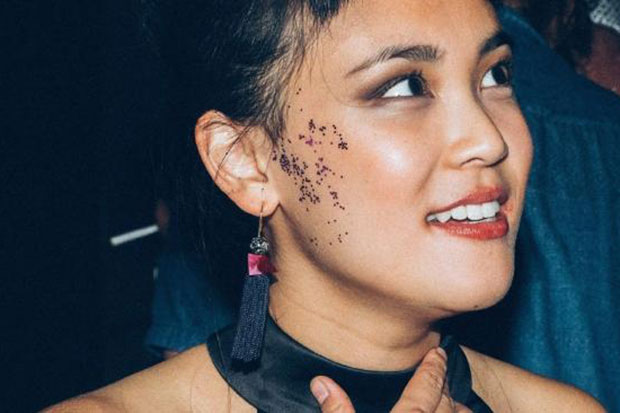 Ms Huang is one of three women who have publicly alleged serious sexual harassment by Mr Waterstreet in the workplace – 20 minutes into a job interview with the Sydney criminal barrister, Ms Huang says she was shown a video by Mr Waterstreet (from his phone) of him being masturbated by two sex-workers.
Genevieve Wilks, who worked for Mr Waterstreet for 10 months, has made a series of detailed allegations around sexual harassment – the full story is available here.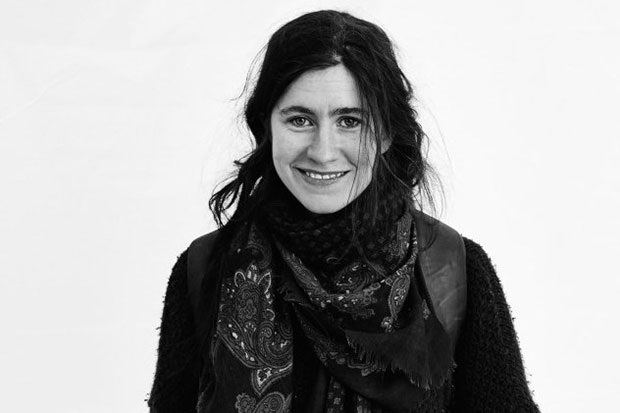 A third woman, Anita* (not her real name – she has asked for it to be suppressed) says she was also sexually harassed by Mr Waterstreet during a job interview last year, at which he is alleged to have pulled out a vibrator.
Earlier today, Mr Waterstreet tweeted a three-part statement explaining that his appearance on Q&A had to be abandoned because of his obligations to the NSW Bar Association, which regulates the code of conduct applying to barristers.
(1/3) It is with deep regret that I announce that I am pulling out of the Q&A special on the #metoo movement. I would like to thank the ABC for inviting me to be on the panel. I was looking forward to discussing the topic from a legal perspective, sharing my knowledge of

— Charles Waterstreet (@CCWaterstreet) February 15, 2018
(2/3) the law and past cases to broaden the wider community's knowledge of this important subject. However, I must be first and foremost guided by my obligations to the NSW Bar Association and the broader legal profession.

— Charles Waterstreet (@CCWaterstreet) February 15, 2018
(3/3) When considering these obligations I do not consider that it would be appropriate for me to appear on the panel, given the controversial nature of the topics. I look forward to watching the other panellists tonight.

— Charles Waterstreet (@CCWaterstreet) February 15, 2018
The NSW Bar Association also issued its own statement – a spokesperson for president Arthur Moses SC confirmed Mr Waterstreet had been warned against the ABC appearance:
"The Bar Association confirms that the President of the Bar Association, Arthur Moses SC wrote to Mr Waterstreet informing him that it was his firm view that it was neither appropriate or prudent for him to appear on the Q and A television program to discuss issues concerning the #Me Too anti-sexual harassment movement.
"The reasons for that view being expressed by the President were communicated to Mr Waterstreet and it is not appropriate that those reasons be disclosed by the Bar Association."
And in a fresh development this afternoon, the ABC is reporting that Mr Waterstreet has commenced defamation proceedings against Ms Huang.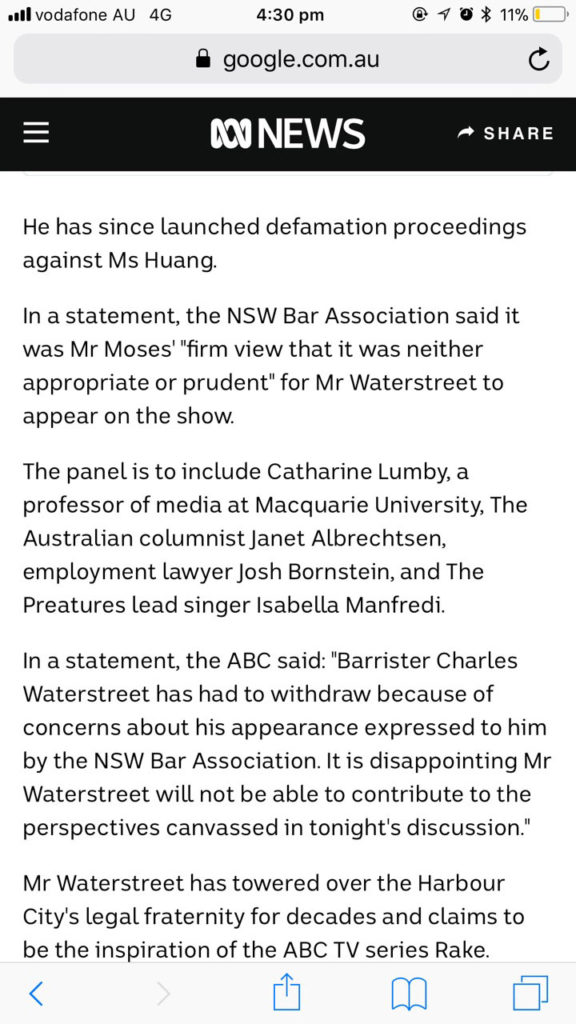 Ms Huang confirmed to New Matilda that no defamation concerns notice has been served on her. No notice has been served on Marque Lawyers either, which represents Ms Huang and New Matilda.
It is possible – although unusual – to launch defamation proceedings without serving a Concerns Notice.
Mr Waterstreet did not respond to requests for comment at the time of publication. The ABC had also not responded to requests for clarification around its reporting at the time of publication.
In other developments, New Matilda reported this afternoon that Mr Waterstreet spent the Australia Day long weekend 'forgiving' the women he had sexually harassed, among others.
In a bizarre post, intended as a tribute to his son, Mr Waterstreet wrote:
"… [A] stripper told me at a Mind, Spirit Body Conference that I sexualise everything, her criticism was right, I will do better…"
"Whatever grief I caused others, I apologise, Any grievance anyone has for me, I forgive you and ask your forgiveness, I embrace myself sinner and sin eater and part time Saint…."
New Matilda is a small, independent publication. Our investigation into Charles Waterstreet, and other Australian men accused of sexual misconduct, is ongoing. You can contribute to our fundraising campaign here, by subscribing here, or by donating via the Paypal button below. We need all the help we can get.
Donate To New Matilda
New Matilda is a small, independent media outlet. We survive through reader contributions, and never losing a lawsuit. If you got something from this article, giving something back helps us to continue speaking truth to power. Every little bit counts.