The former Labor Senator Sam Dastyari is far from the only federal politician to peddle influence for cash and favours. But he's one of countless who will never have to face the wrath of a federal anti-corruption watchdog. Ben Eltham wonders why.
I've only met Sam Dastyari once.
I was at a bar in Canberra. It was the night of budget lockup a couple of years ago. Even before he arrived, his star qualities were in evidence. "Sam Dastyari is coming!" whispered a delighted Meghan Hopper, Victorian Labor right operative and former mayor of Moreland Council.
And soon enough, there he was: a tiny man with a beaming presence, radiating factional energy, glad-handing the Labor faithful, brimming with manic enthusiasm.
WE NEED YOUR URGENT HELP TO RAISE ENOUGH MONEY TO KEEP A MAJOR NEW MATILDA INVESTIGATION ONGOING. PLEASE DONATE IF YOU CAN HERE.
There is no doubting Dastyari's political ability. At just 34-years-old, he has enjoyed a meteoric rise through the New South Wales Labor Party, where he was one of the youngest ever general secretaries of the state party.
As a senator, Dastyari was tireless and mediagenic, even if most of his efforts seemed aimed at self-promotion, rather than policy responsibilities. He played starring roles on committees looking into corporate tax avoidance and the future of public-interest journalism.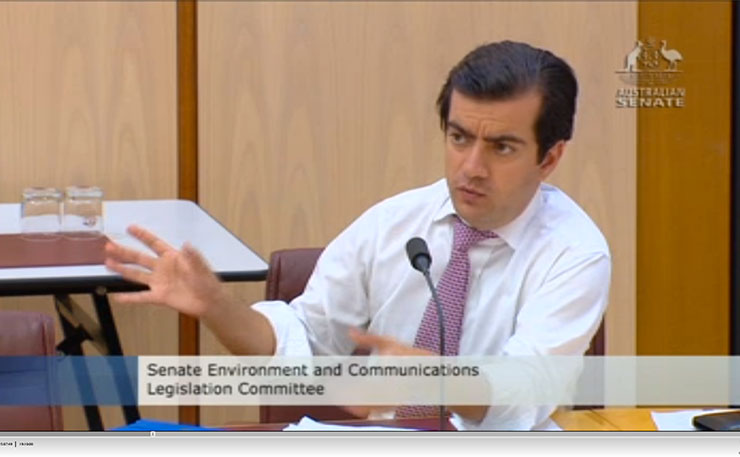 Unusually for a backroom boy, he seemed at home in the public spotlight and even appeared to exhibit a little bit of the common touch. Halal snack packs and viral videos of his children showed a self-deprecating side that was as disarming as it was calculated.
But, as James Jeffrey wryly observed yesterday, "the problem with a meteoric rise is that eventually nature remembers which way meteorites travel".
Yesterday, it was over: the promising career, the lifetime of Labor politics, a future on the front bench or even in the top job.
"I've been guided by my Labor values, which tell me that I should leave if my ongoing presence detracts from the pursuit of Labor's mission," he told reporters.
"It is evident to me we are at that point, so I will spare the party any further distraction."
It wasn't the first time Dastyari has had to issue a heartfelt apology. His career has been clouded for more than a year – ever since it emerged that he had accepted money from a political donor to pay a legal bill.
That donor was Huang Xiaomo, a wealthy businessman who heads up the Yuhu property group. As Fairfax's Primrose Riordan reported in a 2016 profile, Huang is a classic self-made man of modern China, a property developer who started with little as a functionary in the state-owned China Railway empire, before making squillions in Shenzhen real estate.
Since coming to Australia, Huang has firmly established himself as a political player, by the simple but effective method of generous donations to major parties and public institutions. He has donated millions to the University of Technology Sydney to set up a China-Australia think tank, and channelled hundreds of thousands in political donations to the Liberal and Labor parties.
WE NEED YOUR URGENT HELP TO RAISE ENOUGH MONEY TO KEEP A MAJOR NEW MATILDA INVESTIGATION ONGOING. PLEASE DONATE IF YOU CAN HERE.
But it was his close ties to Dastyari – and the perception that those links influenced Dastyari to take a pro-China political position – that has brought Huang into the spotlight.
And it's the thorny issue of political influence that is the real issue here. Dastyari's downfall poses some very big questions about the integrity of Australia's democracy.
Dastyari has been forced to resign, not so much for taking money from foreign donors, but for so obviously showing the political favour that can be bought with such largesse.
While the government has whipped itself into a xenophobic frenzy over the issue, Dastyari's conduct was certainly questionable. How many Labor voters would be comfortable with the revelation he pressured Tanya Plibersek not to meet with a Hong Kong democracy advocate? Or that he warned an intelligence target (Huang) that he was being surveilled by Australian intelligence agencies? Or that he advocated for appeasement of Chinese territorial ambitions in the South China Sea?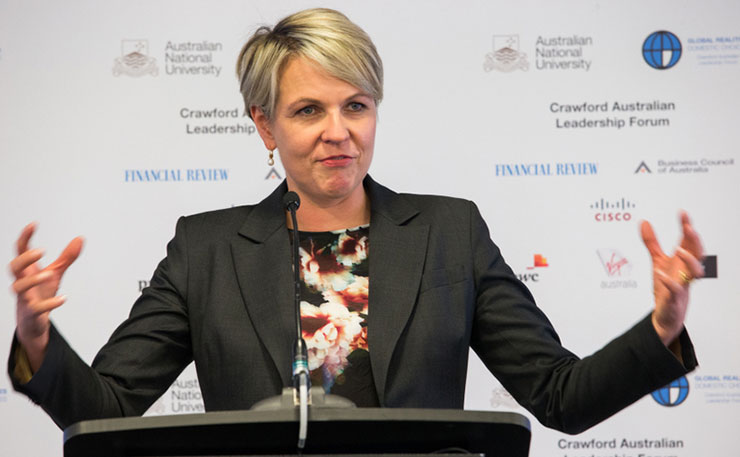 The Dastyari controversy is an intersection of a number of third rails in Canberra discourse. China is currently a major preoccupation of foreign policy and national security elites. The recent Foreign Policy White Paper was strident in its denunciation of Chinese adventurism in the South China Sea, and made much of Australia's desire for a "rules-based international order", a phrase all the more attractive to the foreign policy wonks for the unrealistic nature of its description.
As a result, Dastyari's transgressions have been painted as more than a simple integrity crisis. Security hawks in both the government and the mainstream media are worried about Chinese soft power (in a way they seem utterly unconcerned about in regards to the US or India), and the disclosures that Dastyari has lobbied on policy matters is genuinely concerning to the denizens of the deep state.
For the more fertile conspiracy theorists, this is what underlies the leaks to Fairfax Media about Dastyari's various activities on behalf of Huang Xiangmo. Was ASIO involved? We may find out in 30 years, or never. A more likely source is the Prime Minister's Office, which receives ASIO briefings.
Are the concerns around Chinese influence over-blown? Undoubtedly. China, like any great power, seeks to advance its own interests in its region. Australia is naturally a target of such activities. To point this out is merely to state the reality of international relations, in which there are no friends, merely interests.
WE NEED YOUR URGENT HELP TO RAISE ENOUGH MONEY TO KEEP A MAJOR NEW MATILDA INVESTIGATION ONGOING. PLEASE DONATE IF YOU CAN HERE.
The China syndrome is a bad case of misdiagnosis. While China is indeed asserting itself in the region, it is not as though China has multiple military bases on Australian soil, nor intelligence sharing agreements of the significance of the Five Eyes treaty. Nor has China ever actively meddled in Australian politics in anywhere like the level that the US has, as the historical record amply demonstrates.
On any analysis, American influence in Australia far outweighs any minor sway the Chinese state has managed to build up amongst a few scattered political operatives and university campuses.
In the current environment of hyper-partisanship, it is easy to find rusted-on Labor supporters who feel Dastyari has copped a raw deal. After all, is it not the case that the Liberal Party also accepts foreign donations, including from Chinese business interests? Indeed, is it not the case that the Liberal Party has accepted tens of thousands from the very same Huang Xiangmo?
And the Turnbull government can scarcely claim to be squeaky clean when it comes to matters of probity. Leaving aside the section 44 train wreck, the Coalition has lost a string of ministers to integrity scandals – including a minister, Stuart Robert, forced to resign for his lobbying of business interests in China while on an official trip.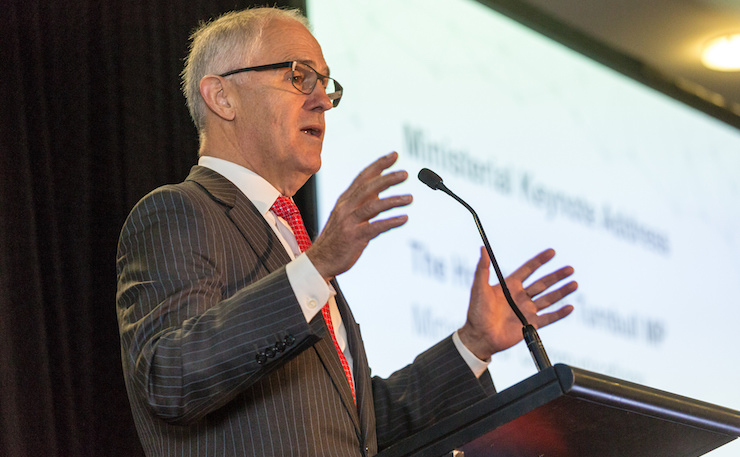 The Dastyari affair also shows some worrying aspects of Australia's political establishment, which remains insular and out of touch with the mood of the electorate on many basic aspects of governance and probity. Not for the first time, it was Katherine Murphy who put it best when she wrote yesterday that "if we think Dastyari is the only person in politics who has trouble knowing where to draw lines, we are all suffering from a collective delusion".
"The culture of chasing the money that lurks behind the basic misjudgment is endemic," Murphy observed, "and a problem for both major parties, one they have seemed very reluctant to fix."
What would be best, obviously, would be for a reforming government to attempt to clean up the system. This would include a much more transparent donations regime, as well as a genuine register of foreign and domestic special interests and their lobbying activity.
Finally, of course, we need a federal anti-corruption body – one with real teeth, and appropriate resourcing.
Don't hold your breath. Any lingering desire on the behalf of the major parties for greater integrity is far outweighed by the certain knowledge that more transparency equals more scandals.
WE NEED YOUR URGENT HELP TO RAISE ENOUGH MONEY TO KEEP A MAJOR NEW MATILDA INVESTIGATION ONGOING. PLEASE DONATE IF YOU CAN HERE.
A true corruption watchdog would lead to all sorts of unseemly investigations. The experience of politicians in New South Wales, the only state or territory to boast a corruption body with genuine power, has not been a happy one. It is hardly surprising that the major parties are holding out.
That doesn't mean it can't happen. As we saw with the government's spectacular cave-in on a banking royal commission, single-issue campaigning can be extremely effective. Once enough pressure builds, and particularly once an effective opposition swings behind a campaign, it can be all but impossible for a weak and prevaricating government to stand against it.
That is now Bill Shorten and Labor's challenge. Australia's political system is in desperate need of reform. The access and influence that donations can garner are an open secret, and an ongoing scandal.
Donations must be made more transparent, and the days of hiding them through money laundering operations like the Free Enterprise Foundation must end. A genuine corruption body with sharp teeth and plenty of power must be created. And a bright light needs to be shone on all the agents of influence in our political system, whether foreign or local.
After all, as powerful as the Chinese business lobby is, its domestic influence is a long way short of that enjoyed by the four big banks, the Minerals Council, the Property Council, or the Pharmacy Guild.
PLEASE CONSIDER SHARING THIS STORY ON SOCIAL MEDIA: New Matilda is a small independent Australian media outlet. You can support our work by subscribing for as little as $6 per month here.
Donate To New Matilda
New Matilda is a small, independent media outlet. We survive through reader contributions, and never losing a lawsuit. If you got something from this article, giving something back helps us to continue speaking truth to power. Every little bit counts.