ANALYSIS: Even if we take Robert's defences at face value it's clear he has breached ministerial standards. Malcolm Turnbull must move against his own once more, writes Ben Eltham.
It's been a bad week for the federal Minister for Human Services and Veterans' Affairs, Stuart Robert.
Robert has been caught up in a sleazy donations scandal in which he appears to have lobbied a Chinese government minister as a favour to a Liberal Party donor.
Even worse, he's done a woeful job of explaining himself. His days in the ministry are surely numbered.
The scandal involves a trip Robert took to China in 2014. While he was there, Robert met with senior Chinese government officials, including a Chinese minister. He also attended the signing of a mining deal between the giant Chinese steel corporation Minmetals and Nimrod Resources, an Australian mining company. According to the government, Robert took time off from his official duties as Assistant Minister for Defence, and was in China simply in a private capacity.
Nimrod Resources' executive chairperson is Paul Marks. Marks is a key donor to the Liberal Party – he has donated more than a million dollars to the Liberal Party in the past two years. $500,000 more came from Nimrod itself, in 2014, plus $431,000 from the investment company P. Marks Pty Ltd.
In short, Marks is one of the Liberal Party's most important individual donors.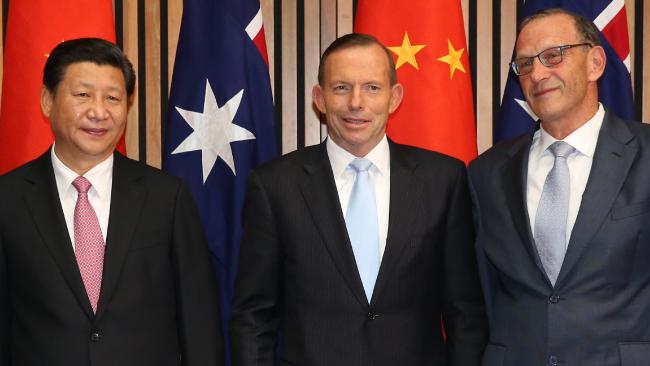 His relationship with Stuart Robert is well-known. Robert was the Liberal politician who introduced Marks to Tony Abbott. In March 2015, Tony Abbott attended a lavish birthday function for Paul Marks in Melbourne. As the Herald Sun's Stephen Drill, Ellen Whinnett and Tom Minear reported last year, "how Mr Marks became such a good friend of the Liberal Party is still not clear."
"He was brought into the fold by Stuart Robert, the Queensland-based Assistant Defence Minister and the party's most prolific and aggressive fundraiser," Drill, Whinnett and Minear added.
Marks was also part of an official Australian government reception in November 2014 for the signing of the China-Australia Free Trade Agreement. Marks even got a photo with Tony Abbott and Xi Jinping.
So it's not surprising that Stuart Robert – supposedly travelling as a private citizen – was in China a few months earlier, in August 2014, to be a part of Paul Marks' landmark deal with Minmetals.
Robert also met with a Chinese government minister, vice-minister for lands and resources Wang Min, the day after the signing ceremony. As Fairfax's Primrose Riordan points out, representatives of Nimrod Resources were also at that meeting, according to an official Chinese government media release.
And just to connect all the dots nice and neatly, Stuart Robert owns shares in Evolution Gold, a company associated with Paul Marks.
Robert's defence – that he took leave and was therefore "not acting inappropriately" – is somewhere between threadbare and farcical.
The Minmetals media release lists Robert as the "Assistant Minister of Australian Department of Defence." The Chinese government webpage explicitly states that Robert spoke with Chinese minister Wang Min about Australia welcoming mining investment.
In Estimates hearings this morning, it emerged that the Department of Foreign Affairs understood the Chinese government to be dealing with Robert in a "ministerial capacity."
It beggars belief that Robert was able to access these high offices simply as a citizen of Australia. He was there because he was an Australian minister. I don't know about you, but on my last overseas trip, I didn't attend any big money signing ceremonies, or meet with any foreign government ministers.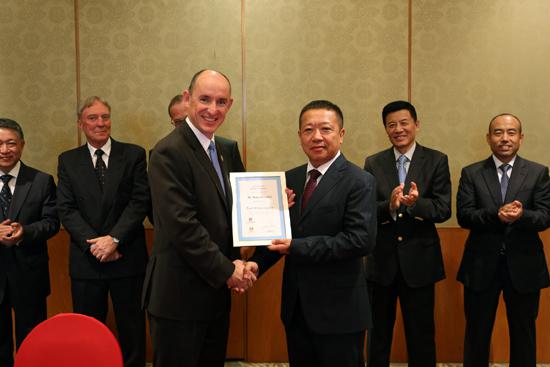 Given all this, it's amazing Stuart Robert has not yet resigned. It's even more astonishing Malcolm Turnbull hasn't sacked him.
You can't get a clearer conflict of interest than this. You couldn't find a clearer breach of ministerial standards than this.
Robert's fate hangs on an investigation by Malcolm Turnbull's top public servant, the Secretary of the Department of Prime Minister and Cabinet Martin Parkinson. It's hard to see how Robert can be vindicated.
Let's examine the relevant clauses of the current Statement of Ministerial Standards, dated November 2015. Under section 2.1 (entitled "Integrity"), the Ministerial Standards state:
Although their public lives encroach upon their private lives, it is critical that Ministers do not use public office for private purposes.
And in section 2.20 ("other forms of employment"), the Standards mandate that:
A Minister shall not act as a consultant or adviser to any company, business, or other interests, whether paid or unpaid, or provide assistance to any such body, except as may be appropriate in their official capacity as Minister.
Given that Stuart Robert has quite plainly used his position to advance the business interests of a friend and Liberal Party donor, he would seem to be in breach of both section 2.1 and 2.20.
After all, Robert is trying to defend himself by saying he attended the signing ceremony in a "private capacity." If that were true, then he couldn't have been in China on official capacity as Assistant Minister for Defence, and he was therefore moonlighting in breach of section 2.20.
Stuart Robert's own defence is, in effect, an admission that he has breached the Ministerial Standards.
Robert will be sacked, probably this afternoon or tomorrow. The Turnbull government will lose another minister for misconduct, and another cabinet reshuffle will be required.
A reshuffle was inevitable anyway, as we found out this afternoon with the departure of Warren Truss and Andrew Robb. Now spots will have to be found in a rather general rearrangement of the cabinet swivel chairs. Turnbull will be reconfiguring his cabinet for the second time since taking office in September 2015. It's beginning to feel a little like the brittle Gillard years, when cabinets reshuffled every few months, and Labor went through five small business ministers in one term of government.
No wonder Malcolm Turnbull is having such trouble selling tax reform to the Australian people. Political infighting and the division of factional spoils have obviously been keeping him rather busy.

Donate To New Matilda
New Matilda is a small, independent media outlet. We survive through reader contributions, and never losing a lawsuit. If you got something from this article, giving something back helps us to continue speaking truth to power. Every little bit counts.