Sydney barrister and media personality Charles Waterstreet is facing explosive allegations of sexual harassment.
His accuser is Tina Huang, a 21-year-old third-year law student at the University of Sydney, who applied for a paralegal position with Waterstreet in August this year, after seeing an advertisement on the university's Careers hub website.
In a sworn statement, Ms Huang alleges that during the subsequent interview with Mr Waterstreet, he discussed sex parties and threesomes, while showing her images of naked women on his phone.
It has also been alleged that in the course of the one-hour job interview, Waterstreet showed her a video of a man being masturbated.
Ms Huang was offered the job. She felt "confused", "uncomfortable" and "unsure of how to respond" to his behaviour, but ultimately accepted the position.
A few days after the interview, Ms Huang turned up for her first shift hoping that the office environment would be more professional. But during the course of her first day on the job, Waterstreet revealed he was upset because he had been overlooked for an invitation to a recent "sex party", and had her reply to personal emails he received about late payments for sex toys, along with replying to emails organising dates with women.
In the end, Ms Huang's job in Charles Waterstreet's office lasted just three hours.
After leaving Waterstreet's Elizabeth Street chambers, Ms Huang wrestled with what to do.
Waterstreet is, after all, something of an institution in Sydney. His networks include powerful media figures, underworld characters, and ranks upon ranks within the legal fraternity.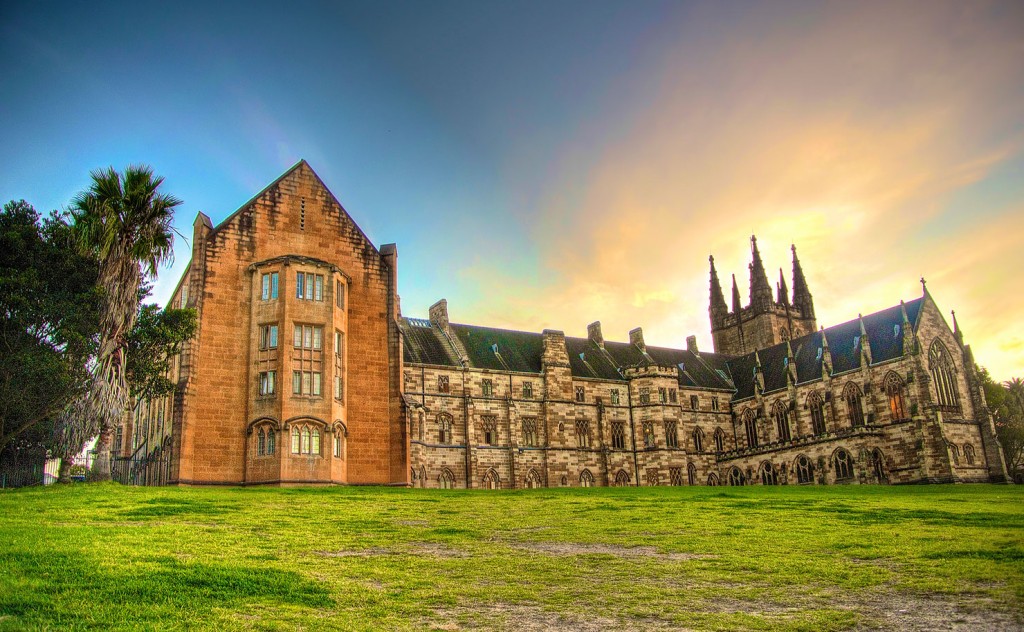 He is an old boy of both St John's College and St Andrew's College, also located at the University of Sydney. And he is a darling of the media.
For years, Fairfax – publishers of the Sydney Morning Herald – openly platformed Waterstreet's controversial writing – including his views on rape and consent.
More recently, and more famously, the ABC commissioned a fifth season of Rake, a fictionalised drama which is said to be loosely based on Waterstreet's own life.
Ms Huang, by contrast, is a young woman at the beginning of her career. She is neither established nor well-connected within the halls of power. She has ambition, of course, as almost all young law students do, but she is also in a vulnerable and precarious position.
In the days and weeks following the interview Ms Huang sought counsel from friends who cautioned her about what speaking out "could mean for her career". An expert she consulted advised her that she only had two options: "Either make a big fuss, or go away quietly and move on with your life."
Initially, Ms Huang took the quiet option: the day after her first shift with Charles Waterstreet, she wrote a polite email explaining that her "circumstances had changed" and thanking him for the opportunity.
HOUSE AD – NEW MATILDA HAS LAUNCHED A MAJOR FUNDRAISER TO ENABLE OUR ONGOING INVESTIGATION INTO VIOLENCE AND SEXUAL HARASSMENT DIRECTED AGAINST WOMEN. PLEASE CONSIDER CHIPPING IN A FEW DOLLARS BY CLICKING HERE.
But now – as international media fuels a growing storm around the treatment of women by men, particularly in the workplace – Ms Huang has chosen to speak out.
As it turns out, this is not the first time Waterstreet's hiring practices have been called into question.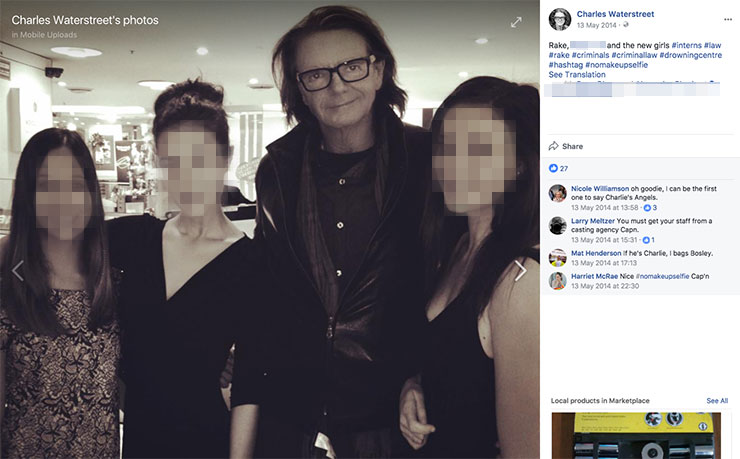 Charlie's Angels
In 2014 The Daily Telegraph published an article detailed how Charles Waterstreet openly admits to preferring "photographs" of potential employees to their CVs.
"In Sydney legal circles they're known as Charlie's Angels, and their boss is looking for a new one.
Charles Waterstreet, a top barrister for 40 years, raises a few eyebrows because he surrounds himself with a team of smart, talented young females. But the man who was the inspiration for ABC TV's hard-living lawyer Rake, is unrepentant.
One of his team is about to go overseas and he says he needs a suitable replacement, and the recruitment process isn't as complicated as you might think. Waterstreet openly admits he prefers "photographs" of potential employees to their CVs, but insists you shouldn't be fooled by his candidates' good looks….
'[A staff member] is about to go to New York, so I'm looking for a new angel. Though, I don't mind devils, or fallen angels,' Waterstreet joked. So, what's the selection process?
'Many barristers insist on a CV. I just insist on photos."
It's a brazen thumbing of the nose at the law around sexual discrimination by Waterstreet, but if you think it's just the bluff and blunder of a publicity seeker, you'd be mistaken.
In same article, a former staff member described how during her job interview Waterstreet looked her "up and down" and told her on the spot "my God, you start on Monday".
So who is the real Rake?
On Waterstreet's personal Instagram account, he describes himself as "The Real Rake": a reference to the womanising Cleaver Greene character featured in the popular ABC drama. Rake has already aired for four seasons, and production on a fifth commenced earlier this month.
It's been a ratings bonanza for the ABC – in 2016 Rake Season 4 received the equal highest number of views (1.2 million) of any drama on the ABC's online, on-demand iView platform.
Greene – played by actor Richard Roxburgh – is obviously a rogue, but he's described widely by critics as a "lovable" one, albeit deeply flawed.
The 'Real Rake', however, projects a much grittier image of an Australian male, as his Instagram account quickly reveals.
It contains an assortment of lewd photos, including images of nude women in BDSM bondage scenes bound by ropes; semi-clad women with their heads in drying machines; cartoons of vaginas including a cartoon of a penis preparing to enter a vagina; along with several images of Waterstreet shirtless, wearing boxer-shorts or otherwise posing with beautiful young women.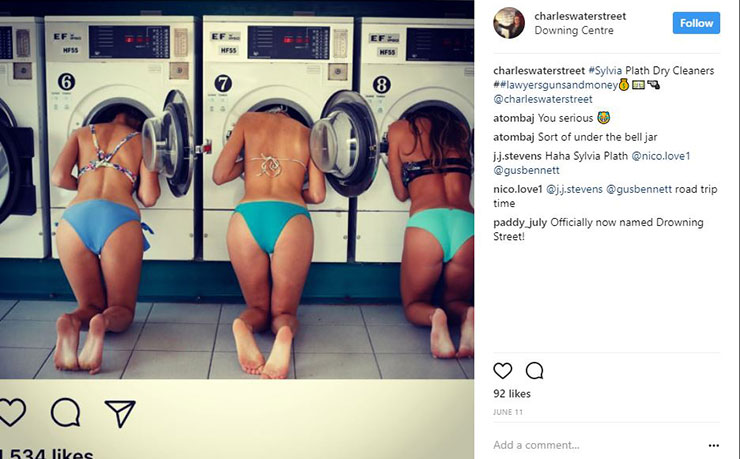 So just who is 'The Real Rake'? And what do we know of Waterstreet's real history?
If you believe Waterstreet's Facebook profile, he's aged 62. In fact, he's nudging 70. Born in 1950, Waterstreet attended Waverley College in Sydney's Eastern suburbs before moving to Sydney University where he studied law. There he lived at St John's College – notorious for its past scandals involving the mistreatment of women – before moving to St Andrews College.
Reflecting on this period in his life, Waterstreet writes that "getting nude was very much part of the college machismo", adding that "when men are gathered together in living quarters as boys, when their hormones are raging against the night, fuelled by Foster's and unlimited liquor, in an atmosphere that winks at shows of bravado and rebellion, then the consequences are predictable. Someone is bound to go too far because the boundaries are so blurred."
A perfect example of what "going too far" might look like is described by Waterstreet in a Sydney Morning Herald article published in 2009. Waterstreet reminisces how, as a college man, he burst into the bedrooms of dozens of unsuspecting college women as they lay in bed, before pulling their clothes up and kissing their bottoms:
"On a dare I kissed the bottom of every girl at Women's [College], running from room to room flinging the bedclothes off and lifting their nightdresses up and plastering a wet one."
Waterstreet described the sexual assaults in the Herald article as a "stunt".
Soon after, in 1974, he graduated and took up a position teaching law at the University of New South Wales.
"I made a pledge with myself not to sleep with any students until the graduate course," he said in a 2012 interview with Honi Soit. "Then I took them two at a time."
Waterstreet eventually moved into private practice where he developed a reputation as a flamboyant criminal defence barrister, albeit one known to hit the bottle. His caustic wit and ability to fill column inches with his antics has made him a regular staple in the media, and he counts several well-known celebrities among his friends.
His social media accounts are populated with photos of Waterstreet alongside some of the nation's most powerful movers and shakers, political and cultural.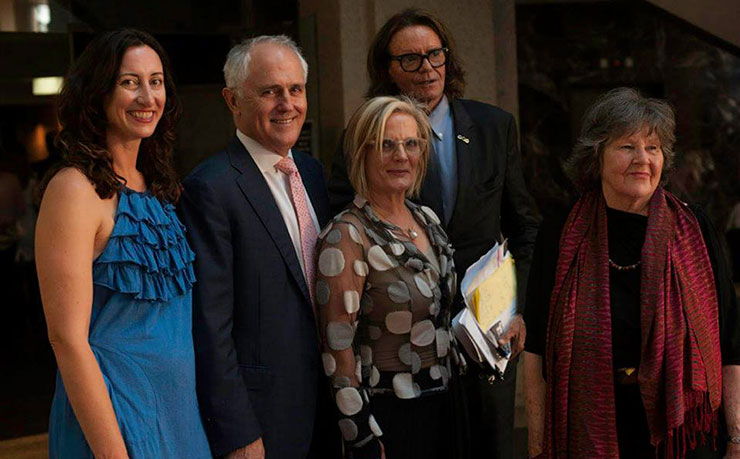 In one image he's photographed alongside Malcolm Turnbull. In another, with Turnbull's wife, Lucy. He's pictured with renowned American astrophysicist Neil deGrasse Tyson, and Australian acting royalty like Jacki Weaver and Bryan Brown.
Yet some of the descriptions he gives of those interactions with celebrities make for very uncomfortable reading.
In 2010, for example, following the MTV awards in Los Angeles, Waterstreet penned a bizarre article for the Herald describing how he was invited by Lady Gaga to join her at Morton's Steakhouse on Melrose to "eat her meat-dress, shoes, and hat".
I secretly hoped I was going to be the next Lord Gaga but there is a Boy Gaga in her life, and a Girl Gaga unless I am wrong about all the tongue kissing with the waitresses.
Most Los Angelenos are vegans, so there was plenty to eat and Lady Gaga, "call me Ga", soon had me licking the dress off her back, as I ordered steak tartare in the hope of becoming titled.… she's light as a feather when I picked her up to lick the plate clean after we demolished her wardrobe in a few bites… she was fully nude when I asked her if she wanted to try out some tart. "Depends what she looks like" [she said]. I said, "Perhaps we could eat some cheesecake or peach tart with ice-cream sorbet on your breasts."
She got into it right away and we cleaned up some rhubarb pie with lashings of chocolate sauce off her, followed by decaf macchiato out of her belly button. I inquired if she wanted to help with the washing up but she insisted, as I was her guest, that one of the busboys do it, which he did smartly.
Waterstreet says the night ended with Gaga planting "a big wet one right on my gob, with plenty of tongue" before he headed to Chinatown for "a special massage bought with a bathhouse".
It's not clear whether the article was intended as fantasy or fact, or something in between – a poor man's tribute to Gonzo journalism. Either way, it was published in the 'politics' section of the SMH with no qualifier or satire tag.
But regardless, it's still an eye-opening journey into what Waterstreet considers to be fit for public consumption, and what the Herald was prepared to publish.
Charles Waterstreet vs feminists
Among feminist circles, Waterstreet remains an incredibly divisive character. He claims a friendship with several high profile feminists, including Germaine Greer, yet many younger feminists find his views on women – and particularly his views on rape and consent – to be problematic at best, and deeply offensive and even dangerous at worst.
In 2011, following a high-profile case where a man stood accused of raping a sleeping partner, Waterstreet wrote in a column for Fairfax's Sun-Herald – that "the couple made love several times before falling asleep, presumably from exhaustion. [The accused] presumably thought he would have one for the road and did not disturb her".
For those who have experienced rape while asleep or unconscious, the notion that sexually penetrating an unconscious person is merely taking "one for the road" is highly disturbing and insensitive.
Yet Waterstreet went on to openly mock consent laws in NSW suggesting that having to get "fresh consent" can "take the romance out of sleeping over":
"Heaven help us, Hatzistergos slipped this into the same Amendment Bill 2007 s61HA(4)(b), to the effect that a person does not consent to sexual intercourse if the person does not have the opportunity to consent because they are asleep. Now, do you have to wake your sleeping partner, even after a long night's shagging, to get fresh consent?… In future, young lovers should wake their sleeping partners, get them to ring the Legal Aid HelpLine for independent advice as to giving consent; on what conditions – for example, breakfast in bed, walking the dog; and have the local newsagent witness it as a justice of the peace. It does become a bit of a wet blanket and take the romance out of sleeping over."
The idea that having to gain a woman's consent before sexually penetrating her is somehow an annoying inconvenience or a "wet blanket" for a man, is precisely the sort of self-centered and entitled attitude that feminists have sought to quash. And it's not because feminists want to reduce men's fun, but because they wish to reduce the incidents of women being raped, and the subsequent trauma that follows.
More recently, Waterstreet again sparked controversy after he suggested that the convictions in the Bilal Skaf gang rape case – one of the most notorious rape cases in Australian legal history – were "based on a myth".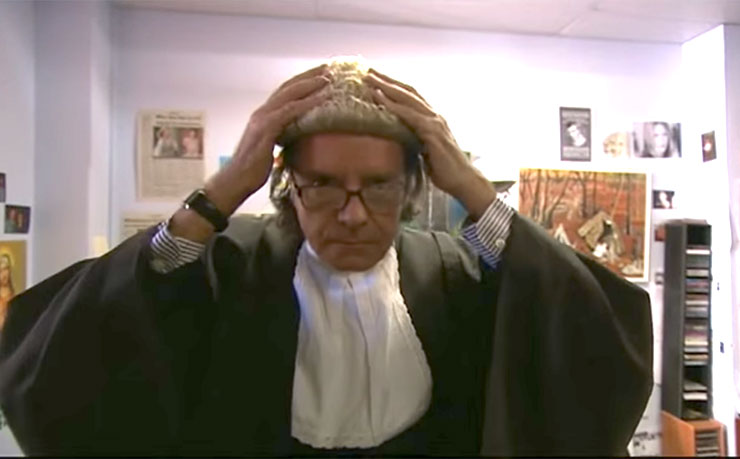 Appearing on SBS's The Observer Effect with Ellen Fanning in 2013, Waterstreet said that there were contradictions between the victim's two statements and that she had "dreamt" aspects of the case: "So in my view… there's been a great injustice because many of those men, in my view, were not there."
Waterstreet also stated that "there was nothing to suggest that [the victim]had either consensual intercourse or non‑consensual intercourse". While he acknowledged that the victim had been a "brave young woman" he also questioned the duration of the jail sentences handed out to the convicted gang rapists stating "when you send someone to jail you're sending the whole family to jail and that there should be a moment's reflection".
"Those series of cases with those extraordinarily long sentences for young teenagers were brutal and arduous and cruel in my estimation. I thought that there was so much overreach, so much community anger…. One feels incredible compassion, of course, one does, for the victim but does one then use that outrage to punish people beyond the limits of cruelty?"
Discussing rape trials more broadly, Waterstreet told Fanning that "you can't bully a female victim in the box. But sometimes you've got to cut them to pieces to reveal the lie within the lie…."
In rape trials Waterstreet tries to empanel women on the jury "because women are harder on other women… [they're] much sterner and much more likely to call out someone who's not telling the truth…."
In longer trials he likes to "pick fat people because fat people make good jurors because they're more likely to get sick during the course of the trial and five days in cross‑examining is very tiring. So get a sick juror everything has to stop and if you're in a long trial having a sick juror is very good. You've got a day off because no‑one can sit, you can't do any work."
Waterstreet has also been criticised for calling into question the veracity of adult survivors of child sexual assault and the reliability of their memories. Since the 1990's he has been a skeptic of recovered memory, despite a wealth of evidence from academics such as Dr Michael Salter arguing that "delayed disclosure and amnesia are now understood as normal coping mechanisms in response to abuse".
As Waterstreet wrote in 2014:
"When Dylan Farrow again accused her adoptive father Woody Allen of having sexually assaulted her when she was seven, she unleashed a horde of elephants that hitherto had been standing silently in that very room…. A child's memory of events, even if neo contemporaneous, can tend to be very unreliable and the sad fact is that they are commonly poor historians of what happens…. Children can and do lie. People do lie, even if they are doing their very best to tell the truth."
The rakish ironies
"History is replete with countless episodes with ordinary-looking men in political power, with a few drinks under the belly, thinking they have become God's gift to women…. You can't get away with it any more."
That was Charles Waterstreet, with no irony intended, in the Sydney Morning Herald in 2014. But Fairfax is not the only publication over the years to have given prominence to the musings of one of Sydney's sharpest legal minds. More recently, Waterstreet has begun writing for Penthouse magazine. And therein lies some deep irony.
In September, Waterstreet penned this article, A Warning to Wannabe Celebs: Our Pets Bite in the midst of a fresh sex scandal within the National Rugby League.
He writes: "For far too long, women have been exploited and treated as sexual objects without intelligence and resilience by high profile sportsmen, with benign club support. It is recognised that the world at large and the rugby league world in particular is not an equal playing field, and star footballers and athletes have used their status to abuse and use women like a box of Kleenex, for decades."
While Waterstreet's sentiments are obviously true, an article from the Guardian in 2016 levelled similar accusations against the legal profession. But even setting that aside, at the bottom of Waterstreet's article is a series of photos of a naked woman… being treated as a sexual object.
Waterstreet's most recent article for Penthouse magazine was published only last week, on October 19. It's titled, The Hollywood Casting Couch Is The American Way, and explores the explosive accusations leveled against powerful media mogul Harvey Weinstein.
Waterstreet writes: "The casting couch is an apt symbol for all institutional and corporate social/sexual power structures where women, formally in the secretarial pool swam out of that primaeval (sic) mud, and climbed the corporate tree until their heads hit glass ceilings. Harvey Weinstein preferred hotel rooms with mirrored ceilings."
This is where the irony probably doesn't get richer.
Unlike Weinstein, Waterstreet is not accused of sexual assault or rape. Instead, he stands accused of very serious sexual harassment. There is an important legal difference.
However, it was the Weinstein scandal that ultimately motivated Tina Huang to act.
HOUSE AD – NEW MATILDA HAS LAUNCHED A MAJOR FUNDRAISER TO ENABLE OUR ONGOING INVESTIGATION INTO VIOLENCE AND SEXUAL HARASSMENT DIRECTED AGAINST WOMEN. PLEASE CONSIDER CHIPPING IN A FEW DOLLARS BY CLICKING HERE.
"I was lying in bed scrolling through the news about Harvey Weinstein and realised we're in a cultural moment where something could change," Huang told New Matilda.
"In speaking out, I'm hoping to reassert some control over this narrative and turn a disempowering experience into an empowering one.
"I want other women to feel less alone and more supported, I want to encourage every woman who has been victim of harassment to speak truth to power."
Charles Waterstreet has denied the allegations about his conduct towards Ms Huang. You can read his denial at the end of this article.
DO YOU HAVE INFORMATION TO SHARE? You can contact the author of this article by email by clicking here, or phoning 0407 555 328. The author of this article Facebooks here, and tweets here.
If you or someone you know has been impacted by sexual assault or harassment support is available by calling 1800 424 017 and speaking to a qualified trauma counsellor at the NSW Rape Crisis Centre.

Donate To New Matilda
New Matilda is a small, independent media outlet. We survive through reader contributions, and never losing a lawsuit. If you got something from this article, giving something back helps us to continue speaking truth to power. Every little bit counts.