The Chairman of the nation's most powerful Aboriginal Medical Service has called on the Chief Executive Officer of the AFL to resign after suggesting that racism allegations levelled against the sport by retired star Héritier Lumumba were because his mental health was fragile.
Sol Bellear AM, one of the nation's longest serving and most respected Aboriginal health professionals, said the "smearing" of Lumumba by AFL CEO Gillon McLachlan was "disgraceful" and made his position at the head of the nation's richest sporting code untenable.
A fortnight ago, Lumumba, a former star player for Collingwood of Brazilian and Conoglese heritage, publicly revealed in a documentary on SBS that his nickname among some players in the early days of his time at the Collingwood Football Club was 'Chimp'.

Lumumba also revealed that after he spoke out publicly about club president Eddie McGuire's racial slur of Adam Goodes (McGuire suggested in 2013 that Goodes should be used to promote the film King Kong) he was targeted by senior officials within Collingwood, and eventually forced out after a decade playing for the club.
The AFL had remained largely on the silent issue, until last week when McLachlan told media the issue was related to mental health, not racism.
"With respect to [Lumumba]… this issue is really about where he's at and his state of mind and his welfare," McLachlan was quoted in the Herald Sun.
McLachlan's claim has been in lock step with the spin emanating from the Collingwood Football Club – numerous journalists have been backgrounded that Lumumba is unwell, and Collingwood captain Nathan Buckley repeatedly questioned Lumumba's health during a recent press conference.
For his part, in a scathing piece published in The Guardian yesterday, Lumumba says his mental health is fine, and is not the issue.
"I find it worrying that both Collingwood and AFL officials have continually cast direct and indirect aspersions on my mental health and wellbeing. I have been upfront about my struggles with depression in the past. It's not unusual that a professional athlete might struggle under the enormous stress of performing at such levels. To see this history weaponised as a reason to now dismiss or discourage reporting on my story is deeply troubling and a dangerous precedent in a society where we are trying to encourage people to speak out about their difficulties," Lumumba wrote.
Mr Bellear, who apart from chairing the Aboriginal Medical Service for several decades has served as an official within the National Rugby League, said he had no doubt Lumumba's "state of mind" was not the problem.
"The issue is not about mental health, it's about racism," Mr Bellear said. "[The Redfern Aboriginal Medical Service] had a big campaign about 'racism making people sick'. And here's someone who raises an issue in support of an Aboriginal man, or another person of colour, and he's hounded and held down and told that he's got mental health issues.
"From the Redfern Aboriginal Medical Service perspective, I find it absolutely disgusting. It's blaming the victim.
"I'm calling for the CEO's resignation. I want all the clubs, if they really want to discuss and fix racism in the AFL, they need to call for his sacking. Or he needs to resign."
Mr Bellear said beyond smearing Lumumba, the AFL had mislead people about how it tried to deal with the issue.
"What the AFL have done is lied, not only about mental health issues, but they've lied about meeting with Lumumba at the highest level," he said, a reference to leaked emails which revealed the AFL was seeking to meet with Lumumba the day after it claims it had already met him.
"[The AFL] should re-assess their position of having a CEO who does that.
"I'd like to ask Gillon McLachlan what degree he has in emotional and mental well-being? What experience does he have with mental health?
"And if he does have degrees in mental health issues, then how does he know anything about Lumumba's mental health, if he hasn't met with him to find out?"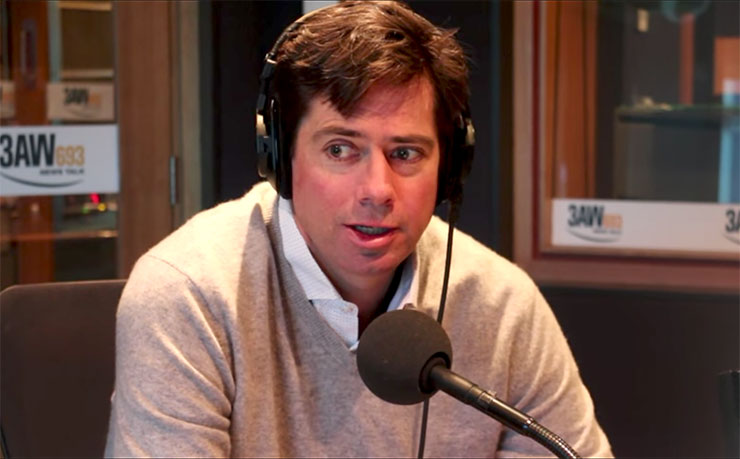 Mr Bellear said racism – particularly that directed at Aboriginal people – had been around as long sport itself.
"Aboriginal people are absolutely familiar with this. It goes way back in just about every sporting code – it's not just unique to the AFL," he said.
"It goes back many, many years, before Adam Goodes, before Michael Long and Nicky Winmar. It's been an issue for a very long time, and to simply dismiss another black man and then question his mental health issue is absolutely appalling."
Mr Bellear also dismissed AFL initiatives such as the 'Dreamtime at the G' and the Indigenous round.
"It's complete window dressing. They've had numerous opportunities to address race relations over years and years and years," he said.
"They had the perfect opportunity to seriously address racism in the sport during and after the Goodes issue. They refused to do so.
"We think we're managing racism in Australia and this sort of stuff happens and it just turns the whole thing upside down. The AFL have got a lot to answer for.

"Things like cross cultural awareness programs are just not going to work. They need to have an Aboriginal player's committee, where they go and sit down and yarn with them, made up of current and past players.
"While-ever they've got certain people of high profile, particularly involved in the media, and involved In Collingwood, sitting back and laughing at these issues, and making jokes, they're never going to fix it."
Mr Bellear said sportspeople would also now be less likely to highlight issues of racism when they arise.
"People that do raise an issue of being racially abused, they're going to be frightened to do that now. People, particularly AFL players, who have genuine mental health issues, [who are now]going to be very frightened about bringing up the issue with their coach or medical team, about feeling drained or mentally unfit.
"It's just going to become a throwaway line – 'he or she's just got mental health issues'.
The AFL has still yet to respond to a series of questions from New Matilda last week about its handling of the Lumumba affair.
* PLEASE CONSIDER SHARING THIS STORY ON SOCIAL MEDIA: New Matilda is a small independent Australian media outlet. You can support our work by subscribing for as little as $6 per month here. The author of this article Facebooks here, tweets here.

Donate To New Matilda
New Matilda is a small, independent media outlet. We survive through reader contributions, and never losing a lawsuit. If you got something from this article, giving something back helps us to continue speaking truth to power. Every little bit counts.