Sparkke's latest crowdsourcing campaign in support of marriage equality – Say I Do ends soon. If you want to secure your share of the first batch of high quality white wine bubbles in a can ever produced in Australia, you've got less than 24 hours. You can get a 4-pack of 'white wine bubbles in a can' for just $35… that's equivalent to a 1.3 bottles of wine.
Anyhoo… here's the top 8 reasons to support New Matilda's favourite drop…
1. Sparkke supports the causes you love
At the Sparkke Change Beverage Company, they wear their values on their sleeves… and they put them on their cans. Sparkke has punched on on issues like changing the date of Australia day, supporting refugees, sexual consent and equality for women. Name a beverage company beyond Sparkke that takes on all those issues? You can't. And now Sparkke is supporting marriage equality. You can support those causes and more by supporting Sparkke.
2. It's a group of young women taking on the world
If you look at the major beverage companies in Australia, see if you can guess what gender dominates their hierarchies? Lion, a Japanese owned company, has two women in its nine top executives. It has one woman on its board. AbInBev, the largest brewer in the world and the dominant distributor in Australia, lists 21 people in its senior management team. One of them is a woman. It has 15 Board members, two of them are women. Coopers – Australia's largest homegrown brewer, has six board members, one of them is a woman. All of those companies are headed up by men.
Sparkke, by contrast, is run by a group of young women from Adelaide. They're trying to smash corporate gender norms, and that's worth supporting.
3. The product quality is outstanding
Sparkke products are overseen by Rose Kentish, Australia's first female Winemaker of the Year. Say I Do, Sparkke's 'white wine bubbles in a can' in support of marriage equality is produced by Sarah Lyons, a young queer winemaker from Brisbane (now in Adelaide).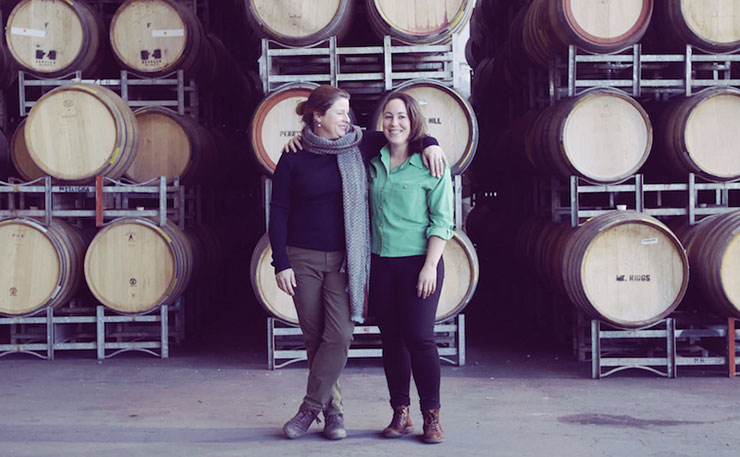 Sparkke's other products – a Pilsner, a ginger beer, a cider and a hard lemonade – are produced by Agi Gajic, a former brewer at Young Henry's and one of only a handful of women under 30 in Australia who brew.
In short, the quality of Sparkke's products are outstanding. They're premium quality drinks at a reasonable price… that's worth drinking AND supporting.
4. They're tiny, and taking on the big guys
Sparkke looks pretty flash from the outside. That's because the team works hard to project a strong, professional approach. They actually do that from a garage in Adelaide.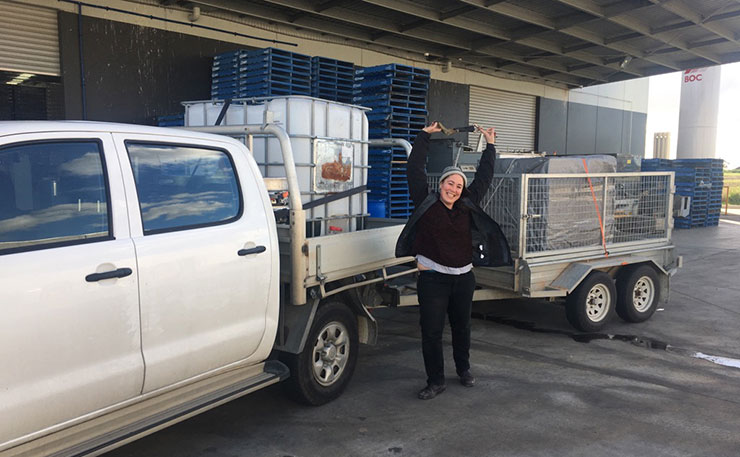 To give you an example, to save money on Sparkke Bubbles, winemaker Sarah Lyons and mentor Rose Kentish loaded a tonne of wine (literally a tonne) onto a trailer and drove it to Melbourne, for a test canning recently.
Sparkke does everything on the sniff of an oily rag… that's worth supporting.
5. Your money goes to the causes you love
Sparkke donates 10 percent of direct sales to the causes aligned with the campaigns. In Say I Do's case, 10 percent of the money raised goes to Australian Marriage Equality, to help them take the fight up to the Australian government. If you want to see 'corporate Australia' being more socially responsible, supporting Sparkke is a good way to send that message.
6. They're innovative
This is Australia's first 'white wine bubbles in a can'. That's right, wine in a can. It might sound unusual, but wine in a can is the 'next big thing' in the US. Apart from environmental advantages, there's a lot of practical reasons for canning wine – Say I Do is the perfect way to take bubbly to festivals, picnics, anything that requires travel, and it reduces wastage… one can equals two standard drinks, which makes it perfect for restaurants and bars (they don't have to open a whole bottle for one customer). Innovation is worth supporting.
7. They're cheeky as hell
Sparkke created the brands 'Consent can't come after you do', Nipples are nipples', 'Change the date' and 'Boundless Plains To Share'.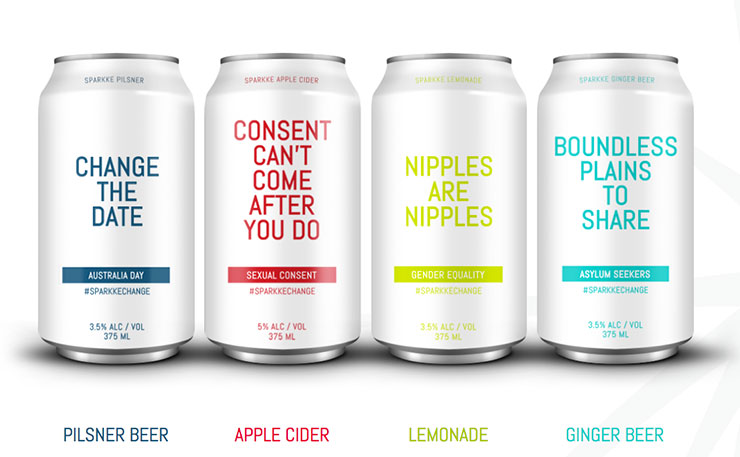 They do things differently at Sparkke, with a flourish of cheekiness. That's refreshing, like their drinks, and also worth supporting.
8. It helps New Matilda
New Matilda has a small shareholding in the parent company which owns Sparkke. Helping Sparkke will one day help New Matilda produce high quality independent media. It's a pretty novel way to fund journalism, admittedly, but the traditional media models have been smashed, so we figured… why the hell not. Support NM by supporting Sparkke.
Fundraising for Sparkke's 'Say I Do' – their white wine bubbles in a can – ends soon. Get in and support them while you can. And you can find out more about Sparkke, plus order their other products, online here.

Donate To New Matilda
New Matilda is a small, independent media outlet. We survive through reader contributions, and never losing a lawsuit. If you got something from this article, giving something back helps us to continue speaking truth to power. Every little bit counts.