New Matilda's latest adventure is about as far out of left field as you can get. Okay, maybe not that far. Chris Graham explains.
The definition of insanity is doing the same thing over and over, and expecting a different outcome. So while you were all sleeping, New Matilda went and got involved in a craft beer company in Adelaide.
I'm not kidding.
Overnight, the Sparkke Change Brewing Company officially launched on Pozible, a crowd sourcing website well known to NM readers, with a bold target of 10,000 pre-sale cases of beer, cider, ginger beer, and alcoholic lemonade.
Basically, at New Matilda, we're still trying to 'change the world' through independent media, we've just added one of history's greatest conversation starters into the mix.
I'm still not kidding. I'm a small but proud part-owner of the company, and a (tired) director… turns out taking on the $4 billion beer industry is quite time consuming.
There's a few reasons why New Matilda is involved, and a few reasons why I'm rather excited about it.
Firstly, the people. Sparrke is run by nine young women (from Adelaide and Sydney and beyond). I'm one of only two 'token males' involved in the company. By way of example, our brewer, Agi, is one of only a handful of young women under 30 working in the Australian brewing industry (and, as it turns out, she's pretty damn good at brewing beer to boot!). Sparkke's Head of Policy is a young First Nations woman, Kaleesha Morris. And obviously, the folk who work in the company, own the company.
Second is the product. Sparkke's alcoholic lemonade is called 'Nipples are nipples'. Our ginger beer is 'Boundless plains to share' (a reference to the second verse of our National Anthem, and, obviously, asylum seekers). The Sparkke Apple Cider is called, literally, 'Consent can't come after you do'. Which begs the question, do you like apples Donald Trump? Well how to do you like THESE apples?
We've got a whole raft of other social issues in the pipeline… marriage equality, men's health, the Frontier Wars. The issues that are important to Sparkke are important to New Matilda and our readers.
My favourite product (and campaign) is our Pilsner. It's called 'Change the date', a reference to January 26 and the fact that we still, apparently, expect Aboriginal people to celebrate a day that marks their dispossession and slaughter. Sparkke is hoping to 'spark' a big discussion in the lead up to January 26 about the appropriateness of the date. And we're partnering with a stunning Aboriginal organisation to do it. Watch this space.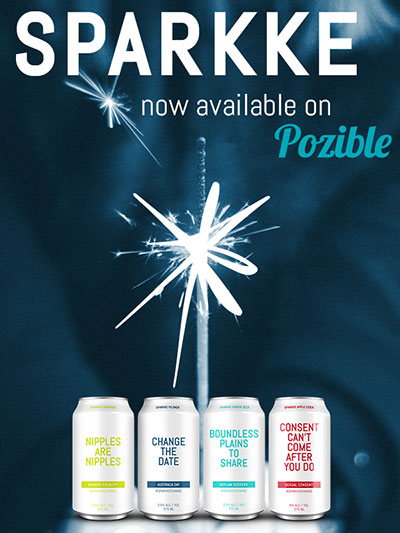 Thirdly, we're doing it ethically. We're producing mid-strength products to promote responsible drinking, and whatever campaign we roll out, we partner with charities and organisations that are working within the various areas of interest.
Long story short, 10 per cent of our sales go to organisations who are punching on to hold the government (and corporate Australia) to account. Kaleesha is finalizing those organisations this month, and Sparkke customers will then vote on where they want their spending power directed.
All of this begs another question: why would an angry, leftist independent media outlet get involved in a craft beer company.
Over the last few years, it's become quite apparent that we can't keep doing things the way we've always done them. In the course of a year, more than one million Australians read New Matilda stories, but almost all of them do it for free, and we're still, largely, preaching to the converted.
Fact is, New Matilda is a glorious thing, but like all independent media, we struggle along on the sniff of an oily rag. Sad to say, I'm yet to find an ethical, open media model that is sustainable and can pay fair wages to its staff, without racking up ridiculous debt. So while I hope Sparkke starts some important conversations, I also hope it goes on to help fund some important journalism.
For that to work, it's going to require reader support. New Matilda readers have kept this business alive for more than a decade. I think you deserve a drink… but obviously, you're going to have to pay for it! You can find out more about Sparrke here, and support our Pozible campaign here.
I hope you find a way to buy a carton or two. I think it's going to be a pretty historic product (think Duff beer, but with actual ethics underpinning it). I particularly recommend it as Christmas gift to family members and friends who like a tipple, but maybe don't spend a lot of time thinking about important social issues. Film their face when they unwrap their gift… post it on social media!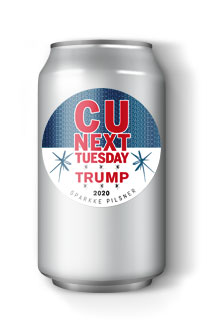 And for New Matilda readers, there's a special offer. Sparkke has produced a special one-off can, paying tribute to the world's newest, shiniest world leader. Called 'C U Next Tuesday Mr Trump', it's a reference to the November 8 election in the US, and the fact that they always occur on a Tuesday. And maybe a reference to other things as well. My tip: it'll be a collectors item one day, so don't drink it. And yes, it's only available to New Matilda subscribers. You'll need to be an NM subscriber, and use the password 'pussygrabsback' to access the offer here.
Obviously, I'm ridiculously excited about Sparkke. It's the very model of disruption and aligns with the values of New Matilda. It's about changing the way business is done, and promoting socially responsible messages while we do it.
That's always been New Matilda's goal. And now we'll be doing it with a Pilsner in hand. Please support it here if you're able, please share it on social media and make the thing go viral… and cheers!

Donate To New Matilda
New Matilda is a small, independent media outlet. We survive through reader contributions, and never losing a lawsuit. If you got something from this article, giving something back helps us to continue speaking truth to power. Every little bit counts.