The culture of fear and intimidation pervading the employment services industry is pushing vulnerable unemployed workers to the brink, writes Owen Bennett.
The Government's $3-billion-a-year employment services industry is out of control. Since the Coalition took office, the number of penalties imposed on the unemployed by job agencies has more than tripled.
However, this figure does not tell the whole story.
Despite job agencies imposing a record 2 million penalties in 2015-16, most Australians would not have the foggiest idea of what it is really like to be penalised by a job agency.
With the Coalition currently pushing hard to give job agencies even more powers to punish the unemployed, these penalties are presented in the media as not only justified but not harsh enough. The actual experiences of unemployed Australians are swept under the rug.
Leigh Markovic, aged 21, from Sydney, spoke to New Matilda to set the record straight, after enduring more than eight months of what she calls "mental abuse" from Max Employment, a Turnbull government contracted job network provider.
"They broke me down emotionally and treated me like dirt," said Markovic.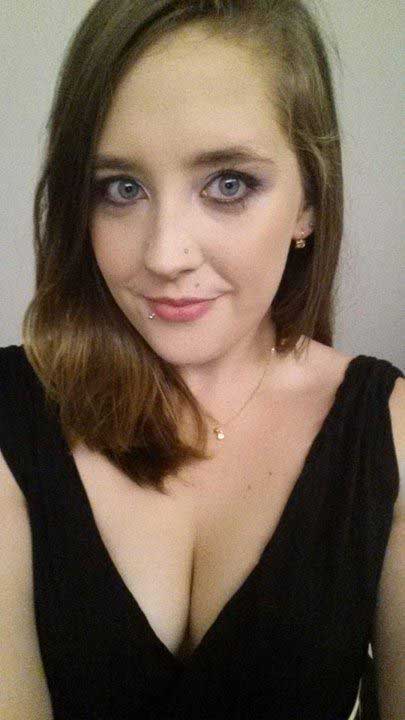 She says that Max Employment – a US-owned billion-dollar organisation contracted by the Turnbull government to provide employment services to roughly 120,000 unemployed Australians – routinely belittled her medical condition, work history, and ambitions.
The abuse started early. When Markovic asked Max Employment if they could help her get a Responsible Service of Alcohol certificate they refused, saying that "they're just a piece of paper and there's no point doing it – it makes no difference to employers".
"They killed my hopes and dreams and made me feel like I was stupid", said Markovic. "That's when my self-esteem first went out the window, and when the anxiety and depression first hit – because of them".
Confronted with Max Employment's browbeating, Markovic was desperate to get a job and escape. However, she found that Max Employment weren't just shirking their contractual responsibility to help her look for work – they were actually hindering her job search efforts.
"I asked them about this housekeeping gig I had heard about and Max told me 'No, that's a job, you're in the Work for the Dole phase, you need to complete that'", she said.
Despite providing Max Employment with a medical certificate and a letter from her psychologist stating that attending 25 hours of Work for the Dole per week would be detrimental to her health, Markovic was told she would be penalised if she did not attend.
"The morning I was meant to attend [Work for the Dole] I ended up having a panic attack and couldn't go.
"Every time I went to Max or had anything to do with them, they would set me off in a panic attack or I would cry as soon as I got there.
"That's when I realised enough was enough".
Having previously had her requests to transfer job agencies unfairly rejected by both Max Employment and Centrelink, Markovic felt trapped. The next day, she asked Centrelink to take her off the dole.
"Although I am very grateful to have received these payments from Centrelink when I had no other form of income", wrote Markovic in a statement to Centrelink, "I am going to have to cancel them because of the treatment I have received from Max Employment.
"They along with Work for the Dole ended up pushing me to the point of a panic attack and its done nothing but put a huge strain on my mental health and I can't do it anymore.
"I would much rather be homeless and have no money that be on this any longer. Thank you."
Many homeless Australians would no doubt share similar stories. Unsurprisingly, recent local surveys in Melbourne and Sydney have shown a significant increase in Australians sleeping rough – a national disgrace.
Thankfully, Centrelink rejected Markovic's application to be taken off the dole and transferred her into a Disability Employment Service (DES) agency. The bad news for Markovic was that the DES Provider she was referred to was – yep, you guessed it – Max Employment.
Punishing the Sick
During this ordeal, Markovic's health began to rapidly deteriorate. Due to a number of serious illnesses she was unable do anything for days at a time, let alone look for a job. Medical bills in excess of $1,000 quickly depleted her savings.
After being transferred to Max Employment's Disability Employment Service, Markovic was hopeful that she would finally get some support. She soon realised her mistake.
"When I got assessed by Max, I told them about all of my symptoms and the scripts I had to take", she said.
"But because I was young and looked healthy, Max kept telling me that the problem is mostly in my head. No matter how much proof I had that I was sick they just said that 'your young, you'll be right'".
When Markovic was booked in for surgery for a chronic breathing problem, Max Employment's bullying reached shocking new heights.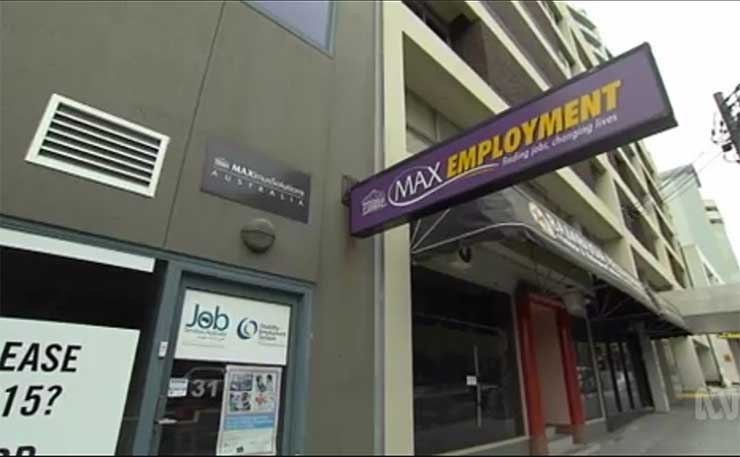 The day after having surgery, Markovic called Max Employment to tell them she was unable to attend her upcoming appointment because she was recovering from the operation.
"I was told I needed to go to Centrelink and hand in the medical certificate from the hospital that day.
Under the Coalition's $3 billion-a-year employment services system, unemployed workers can reschedule job agency appointments on the phone provided they call at least 24 hours in advance and have a "valid reason" – broadly defined as something an ordinary member of the public would consider "reasonable". Physical evidence of the reason – such as a doctor certificate – is not required prior to the appointment.
Defying the employment services contract, Max Employment refused to reschedule Markovic's appointment until she submitted the medical certificate to Centrelink.
According to Max Employment, recovering from surgery is not an excuse an ordinary member of the public would consider "reasonable".
After making a few frantic phone calls from her hospital bed, Max Employment agreed to allow Markovic to send the medical certificate to them on the condition that she hand the certificate to Centrelink when she had recovered. Max Employment then sent Markovic a text seen by New Matilda rescheduling her appointment to a few weeks later.
"Then I got another text message 45 minutes after Max closed saying my payments had been suspended because I didn't attend the appointment and to ring Max as soon as possible."
Markovic was now facing a 'No Show No Pay Penalty', which if approved by Centrelink, would cut her Newstart by 10 per cent – roughly $60. A further 10 per cent would be deducted for each day she failed to 'reengage'.
Dysfunctional and Out of Control
Markovic called Max Employment first thing the next morning to fix up what she thought must have been a mistake.
"I told them about my predicament and my case manager said she was in a meeting and told me to call Centrelink. I told her my text said to call them and she said no and hung up.
"I called back instantly and spoke to a different person and asked him why is it that when a client calls in saying they have a cold and can't come in you guys say 'its fine'".
"But here I am fresh out of surgery, I have called you every day since and updated you saying I couldn't make it for a legitimate reason and you suspend my payments because it's invalid?"
Max Employment was unmoved. After confirming that the suspension was correct, they asked Markovic when she would be discharged from the hospital to attend a 'reengagement' appointment.
"They thought I was still in hospital and still expected me to attend the appointment!"
For the second time in a few weeks, Max Employment had pushed Markovic to the edge. She called Centrelink to ask them to reinstate her payment.
"Centrelink told me to just go to the doctor and get a proper certificate.
"They explained that it's not them that control the payments, it's Max Employment – they're the ones that pushed the button saying my reason was invalid and to suspend payments, so I should talk to them".
Centrelink were lying.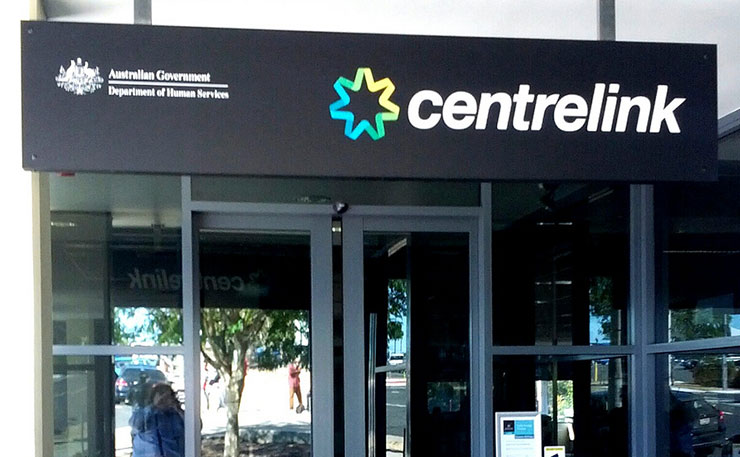 Under social security law, Centrelink make all compliance decisions and are legally required to investigate each case to ensure the penalty is fair. This is designed to make sure privately-owned job agencies like Max Employment do not abuse their power and penalise unemployed workers unfairly. Centrelink could have easily reinstated Markovic's payment.
Instead, Centrelink sent her back to Max Employment, who in turn, sent her back to Centrelink. Caught in the middle of this Kafkaesque nightmare, Markovic did not know where to turn.
"I have done nothing wrong", Markovic said. "I literally just followed instructions and got abused for it – the last thing I need whilst trying to recover from surgery."
Human Services Minister Alan Tudge, by contrast, says the requirements placed on unemployed workers are "miserably low".
Max Employment's chief operating officer, Darren Hooper, acknowledged that the suspension was an error and has issued an official apology to Markovic.
"I would say that we could have serviced her better and that there were actions we took we shouldn't have… around the appointment," said Hooper.
Despite Markovic lodging a formal complaint with the Department of Employment, Hooper admitted last month that the Department has not been in contact with Max Employment in relation to it.
Markovic is not surprised.
"The Department said they'll contact Max and get their side of the story – we all know how that's going to go."
Markovic's instincts are right – the Department of Employment has a proven record of burying unemployed worker's complaints and automatically siding with the job agency.
Nevertheless, Markovic strongly encourages all unemployed workers to stand up for themselves against their job agency and demand the government take action.
"If everyone sweeps their situations under the rug then this will never get sorted", said Markovic. "They're just going to keep getting stronger with their manipulation tactics because all the power has gone to their heads and they think they can get away with anything they want.
"We need an agency that actually caters to peoples needs, understands them and gives them words of encouragement and positivity and wants to help, otherwise the public is going to go nowhere but downhill and fast.
"No one can handle the amount of mental abuse that Max gives."
The Australian Unemployed Workers' Union* is hosting a 'Solving Our Job Agency Crisis' Public Forum on Sunday 27 November in Melbourne. Click here for more info and to RSVP your ticket.
If you have been unfairly fined by your job agency, click here to find out if you are interested in joining the AUWU's legal challenge.
The AUWU has released a petition asking the Government to set up an independently body to regulate and review the employment services industry.
* The author of this article, Owen Bennett is the founder of the AUWU.

Donate To New Matilda
New Matilda is a small, independent media outlet. We survive through reader contributions, and never losing a lawsuit. If you got something from this article, giving something back helps us to continue speaking truth to power. Every little bit counts.