If you didn't know better, you'd swear that News Corporation is full of left-wing plants determined to lift the fortunes of Greens politicians everywhere.
And one in particular. Because there's no other possible explanation for the extraordinary amount of attention newly elected Brisbane City Greens' Councillor, Jonathan Sri has been getting over the past few months, from Queensland's own Courier Mail.
You'll remember that publication from such stunning journalistic 'adventures' as 'She Male'… (on reflection, maybe it should be called the Courier Male).
But back to Sri.
In a Courier Mail headline yesterday, Queensland's only state-wide daily shrieked, 'Brisbane City Councillors slam Cr Jonathan Sri for floating ideas at meetings'.
The story goes a little something like this…
"BRISBANE'S only Greens councillor has been accused by both sides of politics of bringing "thought bubble" ideas to committee meetings.
Greens Councillor Jonathan Sri (The Gabba) raised the ire of several councillors in the City Planning Committee this morning, after he said there was an urgent shortage of supported accommodation for young homeless people in inner-Brisbane.
But in a somewhat unusual sign of bipartisan support, the LNP and Labor councillors both accused the rookie councillor of bringing "thought bubbles" to Brisbane City Council meetings.
The debate began after Cr Sri said Brisbane needed medium-term accommodation for 10 to 18-year-olds who were orphans, did not live with their families or needed live-in carers."
Right… stop you there. Not sure 'we're not interested in your ideas' qualifies as a debate. But anyhoo, how dare Sri raise the issue of homelessness within a government forum. Just who, exactly, does he think he is?
Apparently, someone who promotes such radical concepts as 'democracy' and 'equality', because the Courier Mail goes on to detail a list of 'thought bubbles' Sri has apparently had.
And steel yourself New Matilda readers… some of this is genuinely disturbing.
In no particular order, Sri also thinks it would be a good idea to
allow alcohol consumption in selected public parks;
Participatory budgeting, where Constituents actually help decide how to spend the ward's local public space infrastructure budget;
Publicly-accessible power points for phone or laptop charging in public parks and squares;
Neighbourhood tool-sharing systems;
Intersuburban public transport connectivity;
Allowing pets to travel on public transport; and
A Barrier-separated bike lane grid in the CBD.
Sri also floated the idea of installing swings at bus stops and using public golf courses as community fruit orchards. No wonder the Courier Mail is freaking out – a greater threat to the Australian way of life is hard to imagine.
Perhaps Sri's most outlandish 'thought bubble' is cleaning up the Brisbane River so that residents are able to swim in it once more (nowadays, it's browner than the Yarra).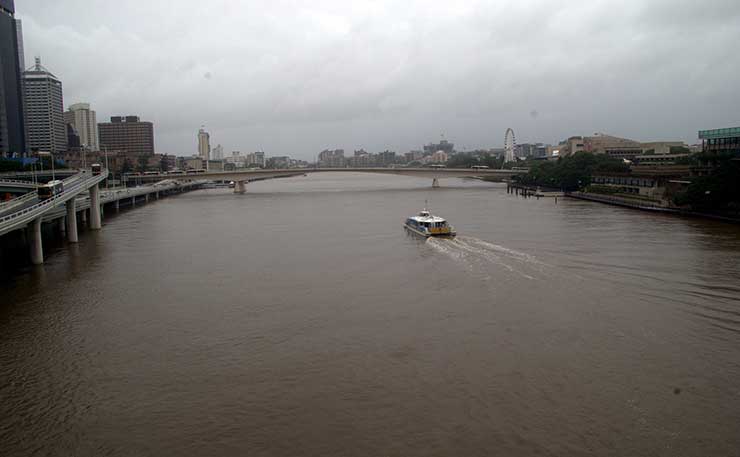 Genuinely shocking stuff, and clearly ideas that will foreshadow the death of capitalism.
Speaking of people who should never be trusted for living the morals they espouse, Sri is also apparently living in an "illegal share house", despite serving on the Council with explicit by-laws related to housing populations.
Said Sri in his maiden speech: "… I'm Queensland's first Greens city councillor and, to the best of my knowledge, I'm the first elected representative to live in a five-bedroom rental share house with seven other adults."
Fortunately, the Courier Mail is on the case, replete with disapproving comments from the LNP-aligned Mayor.
"We've had a law in Brisbane now for some years where the maximum number of unrelated people living in a residence is five," Quirk told the Courier Mail.
Because of course the Liberal National Party is the party of small government, which doesn't seek to intrude into the lives of individual citizens.
Rumour has it Sri is also planning to advocate greater environmental protections, Indigenous rights, and direct action protests against developers who are seeking to lock low income earners out of the Brisbane inner city.
Outrageous.
Donate To New Matilda
New Matilda is a small, independent media outlet. We survive through reader contributions, and never losing a lawsuit. If you got something from this article, giving something back helps us to continue speaking truth to power. Every little bit counts.