Should political parties rely on their heads or their hearts when directing preferences?
It's a question that comes up every time Australia heads to the polls, with the vicious cycle of political recrimination and posturing particularly voluble this time around.
And the combination of calculated self-interest, political antipathy, and straight-up retribution certainly does bring together some odd couples. One Greens branch, for instance, chose to preference the deeply homophobic Christian Democrats above a gay, Indigenous Liberal candidate, giving rise to approximately 20,000 Fairfax articles and, eventually, a reversal of the decision by the local branch.
But at NM we think we've found the weirdest preference deal of the election.
In the safe Liberal seat of of Farrer, the far-right Australian Liberty Alliance (ALA) is trying to make inroads, broadening its central anti-Islamic message to scrape rural votes from those concerned about water distribution in south western NSW. (Is the the Murray-Darling halal!?!)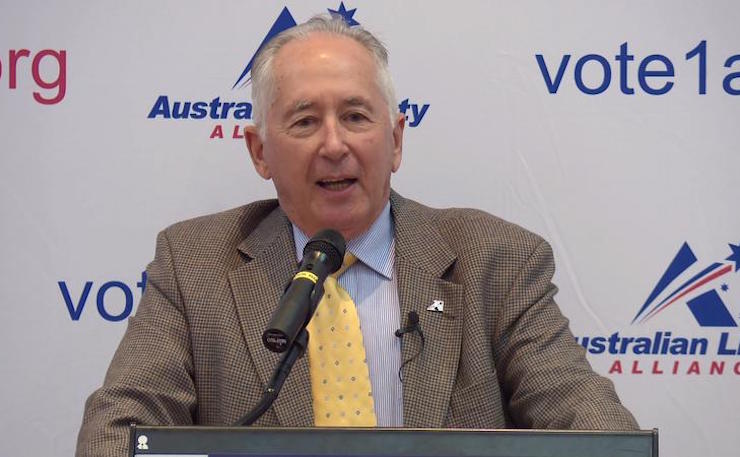 As we reported yesterday, local candidate Ron Pike has been tasked with the challenge, distinguishing himself so far by making remarks deeply hurtful to Aboriginal people.
But make no mistake, Pike's in it to win, and has therefore done everything possible to get himself above the incumbent member and Health Minister Sussan Ley.
In the pursuit of such glory, Pike has preferenced Ley last on his How To Vote cards – below both Labor and the Greens. This is particularly odd for a number of reasons.
Firstly, his party really, truly, deeply, from the very bottom of their Christian souls, hate the Greens. When Bernard Gaynor launched the ALA Queensland senate ticket last week, his first item of business was to send a warning to any greenie-pinkos who happened to be listening. "You are dangerous, you are divisive, the Australian Liberty is coming after your seats," Gaynor said, to great cheers.
Though the Greens have no chance of winning Farrer, giving them the nod over Ley does seem a little inconsistent. But what's far stranger is the fact Pike has put the now disendorsed local Labor candidate Christian Kunde above the Minister as well.
Kunde, if you recall, temporarily shot to national attention after being derided in the Murdoch press for his alleged links to Islamist group Hizb ut-Tahrir. Those links appear to have been overhyped – Kunde is friends with one of the group's controversial spokespeople and a source who knows him in a work capacity said he held relatively standard "left wing" views – but Labor rapidly dumped him once the news came to light.
Whatever you think of Kunde, his downfall plays nicely into the narratives about Labor being soft on sharia law and Islamisation and blah blah blah that the ALA loves to construct. And yet there he is, number four on their HTVs.
So how did this happen? According to Pike, it was the result of a botched deal in which Labor screwed him over.
Pike told New Matilda that before Kunde was disendorsed he met with the candidate and other figures who agreed to preference the ALA above the Liberals, in return for the same. The ALA then printed their HTV cards. Pike wasn't aware of the shitstorm that was about to hit the Labor camp.
But just before it did, says Pike, Labor "welched" on the deal.
"Typical Labor Party. Shook hands on the deal and then away they go and all of a sudden it's a different board game," he said.
But Kunde emphatically denied this version of events. He said he met Pike in the AEC office and was complimentary of his commitment to the water issue, but said there was no way he could endorse the ALA candidate. To demonstrate why, he presented Kunde with an image taken on his phone of his family – including his wife, who wears a headscarf.
Kunde said that at no point did he entertain preferencing Pike, and that he told him "mate, your party's platform is abhorrent, we can't support it".
But with Kunde still technically on the ballot, Pike opted not to change his HTV cards (something others like the Greens did opt to do).
To his credit, Pike was very open about his reasons for asking voters to place his ideological opponents above the sitting member.
"That's just mathematics mate," he said yesterday. "I came down here to win this seat. Obviously to do that I have to defeat Sussan Ley. Now you might also note she's put me last. We both understand the mathematics. It's got nothing to do with ideology, it's about mathematics."
And that, according to Pike, is how an anti-Islam party ended up preferencing a Labor candidate disendorsed over his alleged links to an Islamist political movement.

Donate To New Matilda
New Matilda is a small, independent media outlet. We survive through reader contributions, and never losing a lawsuit. If you got something from this article, giving something back helps us to continue speaking truth to power. Every little bit counts.