The Treasurer has created quite a stir today, after telling ABC radio that he understood and had experienced the prejudice faced by Labor Senator Penny Wong.
Wong had warned that holding a plebiscite on marriage equality would provoke a torrent of hate speech and potentially violence.
"I understand the concern Penny is raising, I know it from personal experience, having been exposed to that sort of hatred and bigotry for the views I've taken, from others who have a different view to me," Morrison said. He said people who have "different religious views" on marriage equality have been subject to "quite dreadful hate speech and bigotry as well."
The comments have sparked outrage, with the suggestion that a white, straight, wealthy politician would have felt the same persecution as members of the LGBTI community putting many offside. But has social media been too swift to judge? A look at Morrison's record helps put things in perspective.

When The Bigots Tried To Silence His Gay-Hating Mates
It's true that Morrison has been criticised for some aspects of his Christian faith.
At this year's Australian Christian Lobby conference, Morrison shared a stage with Eric Metaxas, who infamously compared the LGBTI rights movement to the rise of Nazism in the 1930s, as well as Jeffery Ventrella, from the US group Alliance Defending Freedom, which wants sodomy criminalised and spreads anti-LGBTI propaganda globally.
The Treasurer was criticised for the appearance and subsequently stood up for the rights of those men to speak at the conference, teaching us all a valuable lesson: those who hold bigoted views are fine, it's the people who object to them that are the real bigots.
HOUSE AD – NEW MATILDA NEEDS YOUR HELP. OUR LATEST FUNDRAISER ON POZIBLE IS HERE. HELP US PAY OUR HUGE LEGAL BILLS AND KEEP INDEPENDENT MEDIA ALIVE!
When He Blamed A Refugee For Getting Murdered
Refugees are some of the most demonised people in the world. But Scott Morrison knows what it's like to face prejudice, and that's why he subtly blamed Reza Barati for his own murder using a set of facts that quickly turned out to be completely untrue.
When Barati was murdered on Manus Island, a crime two men have now been convicted of, Morrison initially blamed refugees who "take themselves outside the centre and place themselves at great risk" for the violence that led to his death.
Only one problem. Barati, as was reported at the time and later confirmed, was killed inside the centre, next to his room.
Morrison did correct himself four days later, at around 8:45pm on a Friday night. You wouldn't want to make the clarification any earlier though, who knows what kind of bigotry the Minster might have faced!
The Time He Tried To Help Destroy Gillian Triggs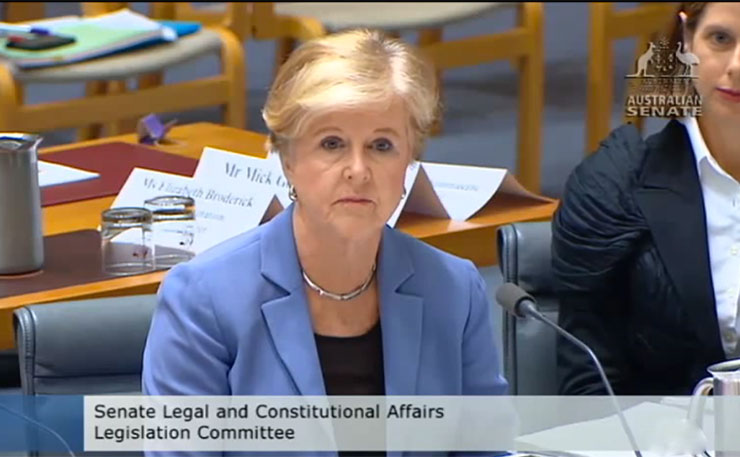 Of all the haunting forms of prejudice that undermine Australia as a modern, multicultural nation, none is worse than anti-Coalition bigotry. No wonder senior government Ministers were forced to pile on to Gillian Triggs after she decided to run an investigation into the treatment of children in detention.
Scott Morrison joined the fun, laying down a personal attack on Triggs, accusing her of partisanship and of taking the Human Rights Commission in the Human Wrongs direction. Another bigot busted!
The Whole Plebiscite Thing
Members of LGBTI communities have become increasingly vocal about the dangers of a plebiscite, which would not bind parliament but, they argue, lead to an outpouring of homophobia and demonisation, similar to that provoked by the Safe Schools debate.
Morrison is in favour, however, and indicated he'll campaign on the 'no' side should it go ahead. But don't worry, LGBTI Australians, if you do face any harassment, violence, or persecution as a result of the process, old Scott Morrison knows just how you feel, and will be there to support you by fighting to entrench the ban on you entering a legally recognised union.
When He Fell In Love With The Culture Of Sri Lanka
Sadly, many white Australians continue to hold a prejudicial attitude towards our neighbours, and look down on those of sub-continental descent. Not the Treasurer, though, who warmly embraced multiculturalism by serving up Sri Lankan delicacies when Annabel Crabb came to visit.
ScoMo wouldn't be held back by the bigotry of his countrymen, even keeping hundreds of Tamil refugees from Sri Lanka in immigration detention centres in Australia, PNG, and Nauru, to make sure their vibrant culture could be spread all across the region.
When He Stood Up To The Terrifying Gays Offering To Adopt Children In Need Of A Home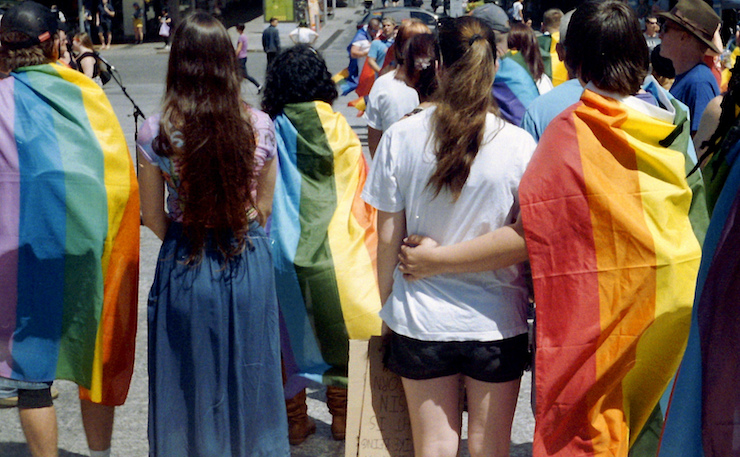 Anti-marriage equality groups are fond of the 'please think of the children' line. And the Coalition thinks there needs to be an increase in the number of adoptions happening in Australia, something they talk about as a solution to the massive rates of removals of Aboriginal children into 'out-of-home care'.
So surely we can all agree that allowing same-sex couples who meet other requirements for adoption should be allowed to do so.
Not so, says ScoMo. "I am extremely disappointed by the recent decision of the NSW Parliament to legalise same sex adoption. However, I do not consider this error should be compounded by our federal parliament," he wrote in 2015, in a letter published by SameSame.
When He Refused To Apologise To Workers He Got Fired Over False Allegations
The government was forced to pay compensation to a group of Save the Children workers who were removed from Nauru in 2014 after Morrison said there were allegations some had coached refugees to self-harm. A government commissioned report subsequently found no evidence to support that or other claims against them.
But Scott Morrison won't give in to the bullies, of which he is most certainly not one. On Insiders, Morrison sparred with Barry 'the bigot' Cassidy and refused to apologise to the workers he had smeared.
Today
As the above makes clear, you can't deny that the Treasurer has been the victim of and advisory towards bigotry, the kind of which Penny Wong could only imagine.
So how do we explain the aggressive reaction to his comments today?
Scott Morrison is oppressed.
All rich able-bodied cis heterosexual conservative white men know the struggle isn't over.
Be brave, Scott.

— Je Suis Paris (@DavidParis) June 22, 2016
More bigotry, of course.
HOUSE AD – NEW MATILDA NEEDS YOUR HELP. OUR LATEST FUNDRAISER ON POZIBLE IS HERE. HELP US PAY OUR HUGE LEGAL BILLS AND KEEP INDEPENDENT MEDIA ALIVE!

Donate To New Matilda
New Matilda is a small, independent media outlet. We survive through reader contributions, and never losing a lawsuit. If you got something from this article, giving something back helps us to continue speaking truth to power. Every little bit counts.