OPINION: The call to have reporters given access to detention centres and the tiny 'rogue state' is not, in truth, a partisan issue, writes Max Chalmers.
Last night A Current Affair aired its story on Nauru, after being the first media outlet to gain access to the country since The Australian got Chris Kenny onto the island last year.
The report it produced failed to break much new ground, aside from the revelation of its own existence. Refugee advocates had feared a hatchet job, but the result was relatively benign.
To their credit, ACA interviewed a significant number of refugees, though the absence of translators for the multiple language groups held on the island proved an issue. To her discredit, reporter Caroline Marcus has now used her visit to the island to help support the fiction that any serious media scrutiny is allowed.
"After spending years calling for media outlets to be allowed on the Pacific island to see what's really going on in offshore detention centres, the Left press and refugee activists couldn't have been more incensed one finally made it on," she wrote.
"Why? Because it wasn't one of their own."
"Those grapes never tasted so sour."
Marcus said last night that the Australian government had not known about the visit until after her team arrived on the island, and that no undertaking had been given to the Nauruan government in regards to positive coverage. Nothing has emerged to contradict that account.
And there was nothing wrong with Marcus and her team going to Nauru, though some refugees were evidently left angry by their encounter with the team (disclosure: Marcus rejected this report, which I filed last week, in her op-ed today, though didn't go into detail as to why).
The greater issue is that the visit contained a potential propaganda value for the regime that runs the island, one which Marcus' comments strongly play into.
HOUSE AD – NEW MATILDA NEEDS YOUR HELP. OUR LATEST FUNDRAISER ON POZIBLE IS HERE. HELP US PAY OUR HUGE LEGAL BILLS AND KEEP INDEPENDENT MEDIA ALIVE!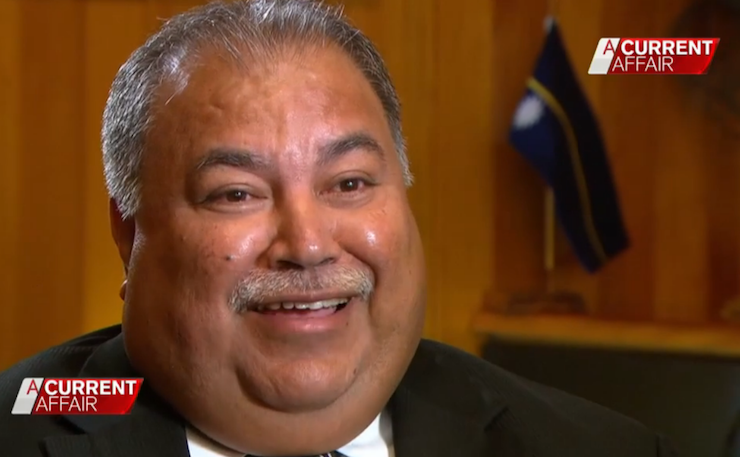 Aside from the well-documented issues around the treatment of refugees, it's often forgotten that this is a government that has collapsed the civil and political rights of its own citizens. New Zealand was so concerned by this shift that it cut aid to Nauru's justice sector. The US State Department called for Nauru to ease internet censorship. Even Julie Bishop was forced to have seek assurances from the country's representatives that the rule of law has not been undermined – which it quite transparently has.
But granted the rare access she received, Marcus didn't see fit to ask about any of that.
Given this is what she has previously written on the topic, it's not that great a surprise. In her writing, Marcus echoes conservative talking points on refugees and asylum seekers – some of which date back to the Howard era – recently doing so to defend Peter Dutton's assertion that refugees pose a risk thanks to the fact they simultaneously take too much welfare and too many jobs.
Is there perhaps more than sour grapes going on, then, when you consider frustrations that outlets like the ABC remain barred from visiting. What would Heydon Cooper and Alex McDonald have asked President Baron Waqa? The pair exposed serious allegations of bribery facing Waqa and his key colleague Justice Minister David Adeang, but have never received a substantive response to their questions.
There's nothing wrong with letting right wing journalist travel to Nauru. But when states are able to pick which kind of reporters can visit their country, we should be able to overcome the usual political divides and agree this has negative outcomes for democracy – in this case both on Nauru and in Australia. That is a concern, I would suggest, that exists outside the world of the "Left press" and refugee activism.
This is why the A Current Affair report amounts to something worse than the sum of its soft-ball interviews, flippant treatment of allegations of sexual assault, and complete sidestepping of the serious failures of governance and principle on behalf of those ruling the tiny island state.
It's impossible to completely control media access, but you can manage it in a way that maximises the possibility of positive coverage, and minimises the likelihood of criticism. The state of Nauru currently uses its visa policies to do so.
The two groups of media who have travelled to Nauru from Australia since 2013 have had an unfair burden placed upon them by that policy, and have nonetheless contributed some useful information to the public record. But Marcus' write-up on return suggests the ethical challenges of working with the consent of a state that is hostile to press freedoms have not weighed too heavily on her shoulders.
The headline on Marcus' piece today read: "Why are activists so afraid of the truth about Nauru?" As with her report, the tough question has been put to the wrong group.
In their conversation, President Waqa smiled heartily as he assured Marcus that refugees on the island are treated well. Seeing her denounce those who have called for greater transparency on Nauru will no doubt increase the size of his grin.
HOUSE AD – NEW MATILDA NEEDS YOUR HELP. OUR LATEST FUNDRAISER ON POZIBLE IS HERE. HELP US PAY OUR HUGE LEGAL BILLS AND KEEP INDEPENDENT MEDIA ALIVE!

Donate To New Matilda
New Matilda is a small, independent media outlet. We survive through reader contributions, and never losing a lawsuit. If you got something from this article, giving something back helps us to continue speaking truth to power. Every little bit counts.