Former immigration whistleblowers are set to appear before a parliamentary inquiry into the Nauru detention centre today, as the country's ex-magistrate blasted its government for lacking transparency and preventing the operation of an independent press and judiciary.
Peter Law, an Australian who previously served as the island's sole magistrate, described Nauru as a "rogue state" in a withering submission to the inquiry that aired heavy criticism of the country's civil and political institutions.
"There has been a failure of the media to act independently when reporting as the media in Nauru is government owned and operated," Law said.
"Opposition MPs have been banned from interview by government journalists and the media does not publish stories or incidents which might reflect adversely on the government."
In January 2014, Law was sacked as the country's magistrate and deported by President Baron Waqa, actions he said were undertaken for political reasons.
When Nauru's Chief Justice Geoffrey Eames issued an injunction barring the deportation, he too had his visa cancelled.
In his submission, Law said there was no accountability for Australian aid to the country.
"The failure of the Government of Nauru to demonstrate any commitment to the Rule of Law by their actions outlined above, when combined with their ostracism of Members of Parliament, raise very serious questions about commitment to democracy and the 'separation of powers'.
"Why is it the Australian Government has no expectations as to the conduct of this 'rogue state' despite providing the bulk of its funds for survival."
Australia is expected to deliver $25.9 million in development assistance to Nauru in 2015-16.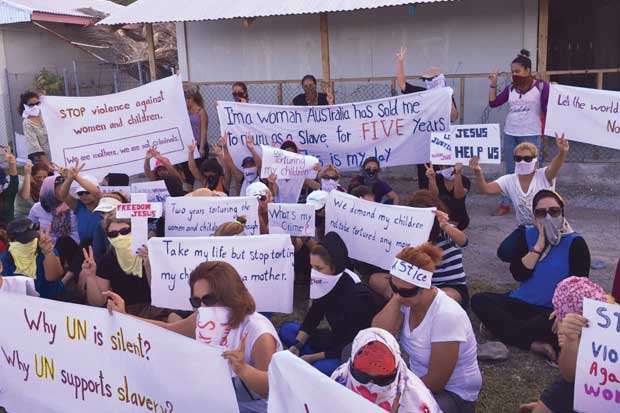 According to the Department of Foreign Affairs' website, Australia provided 20 per cent of domestic revenue to the country in 2013-14, and is "Nauru's most significant donor partner".
"The effectiveness and accountability of aid is a key element of the Australian Government's aid performance framework," a DFAT spokesperson said in a statement.
"This framework, announced in November 2014, applies to all Australian aid including that provided to Nauru. Australian aid programs are also subject to internal oversight, evaluation and audit."
Nauru has recently clamped down on access to internet sites including Facebook, which has been banned.
In a press release, President Waqa said the move had nothing to do with refugees, who regularly use the website to contact advocates and flag concerns about their treatment.
In his submission, Law also accused the Nauruan Police Force of lacking independence and failing to bring charges after a string of violent incidents against refugees in the community.
"The failure by the Nauruan Police Force to bring charges suggests political interference and highlights an unwillingness to bring to public attention, the circumstances of refugees in Nauru generally."
Law is before a public hearing of the Senate's inquiry today, joining former doctors and staff who worked in relation to the island's detention camps.
Among the witnesses will be Professor David Isaacs, Dr Peter Young, and former Save the Children employee Viktoria Vibhakar.
The former whistleblowers told New Matilda last week that legislation recently passed with joint Coalition and Labor support is designed to target those wishing to speak out about their experiences working in detention.
The laws introduced a new two-year jail term for unauthorised disclosures and do not include any public interest exemption.
In her own submission to the Senate Inquiry, Vibhakar detailed allegations of sexual assault against minors in the Nauru detention centre and said the Department of Immigration was aware of the allegations long before they were claimed.
She outlined a number of disturbing case studies relating to child abuse in the centre.
The Inquiry has also heard from an anonymous Wilson staff member who claimed Greens Senator Sarah Hanson-Young was monitored by employees of the company during a visit to the island.
Donate To New Matilda
New Matilda is a small, independent media outlet. We survive through reader contributions, and never losing a lawsuit. If you got something from this article, giving something back helps us to continue speaking truth to power. Every little bit counts.