Well, it's certainly a clever marketing ploy, but as for its reliability in predicting the outcome of July's federal election, but the poll might be a little biased… literally and figuratively.
---
In our inbox this afternoon landed a media release from Domino's Pizzas, with one of the bolder predictions we've seen in the past 30-odd days.
"Pizza Lovers Predict a Labor Win at Next Month's Federal Election".
Apparently, the pizza giant slipped a political poll onto it's website, so that customers who actually sat and watched an automated clock tell them what phase their pizza was at (being prepared, cooking, being delivered, being lost in a random backstreet, then being eaten by a hungry, university student/delivery driver) also had the opportunity to weigh in on the heady topic of national politics.
Hence this:
"According to Australia's pizza lovers, Labor will take home victory in the Federal election next month, with the Domino's Pizza Enterprises Limited (Domino's) GPS Driver Tracker Customer Polls predicting the win.
"Domino's CEO and Managing Director Don Meij explained Domino's is now able to predict the outcome of the election using innovative technology on the company's mobile app.
"With over 75,000 unique responses to the polling questions over the past couple of weeks, the nation has spoken. Pizza lovers all over Australia have voted and they believe Labor will be voted into Parliament at next month's Federal Election," said Mr Meij.
Well, we're not sure 'the nation' has spoken. But in truth, the Domino's Pizza Poll is probably no less accurate than any poll published online by Fairfax, News, the ABC or, point in fact, us… but it still begs a few very important questions.
Firstly, does Dominos really serve 'actual pizzas'. It's unfortunately a staple diet of the New Matilda family (there's one across the road from our offices in Redfern… so… you know) but there's an ongoing dispute about whether or not Domino's actually qualifies as pizza, or just 'fast food resembling pizza'.
Secondly and more importantly, how representative of the voting public is the average Domino's customer?
So we decided to find out. We polled New Matilda readers earlier today, and both of them decided that Domino's eaters are not at all representative of the broader voting public. They are, however, reasonably representative of people who eat Domino's pizzas, and happen to order online… and are so devoid of any real life that they'll sit and watch the pizza tracker for 20 minutes… and respond to online surveys.
But back to the press release, which also notes: "According to the pizza poll, the nation wants the Australian Electoral Commission to keep up with the times as an astounding 79 per cent of people think voting should be online however they don't want to be regulated as 77 per cent of people say they are against the Government regulating the internet."
HOUSE AD – NEW MATILDA NEEDS YOUR HELP. OUR LATEST FUNDRAISER ON POZIBLE IS HERE. HELP US PAY OUR HUGE LEGAL BILLS AND KEEP INDEPENDENT MEDIA ALIVE!
Yes… respondents to the poll – who are too lazy to go down the road and pick up their pizza and so order online – believe that more things should be decided… online. Go figure.
"Mr Meij explained the opportunities with the pizza polls were endless as the Company is able to ask customers anything in real time to drive strategic business decisions and meet their needs."
Well, turns out we've got a few questions for Domino's.
How do you get so much oil into your chicken wings? Are the chickens raised in oil, drowned in an oil bath, soaked in oil before being deep-fried in oil, and then delivered to our office by a man smothered in oil?
If we forget to order a Thin and Crispy crust, why do you automatically send us the pizzas with the thick crusts. No-one likes thick crusts. Why don't you stop doing that?
Why do your delivery drivers judge us for having to deliver a pizza across the road? That's what delivery drivers are for? We're all busy journalists, you know.
Your desserts are delicious, and the caramel popcorn with the white chocolate mousse is an inspiration. That's obviously not your idea, so who came up with it?
Anyway, back to Mr Meij: "The app of course allows customers to opt out of our polls if they choose not to be involved however we're taking this opportunity to get to know our customers better – what are they looking for, what changes do they want to see, what frustrates them and what do they like."
Which begs one final question: If Dominos customers prefer Labor, then why does a search of the Democracy For Sale website (thank you Greens) reveal the company has only ever made one political donation… $5,000 to the Queensland Liberals?
HOUSE AD – NEW MATILDA NEEDS YOUR HELP. OUR LATEST FUNDRAISER ON POZIBLE IS HERE. HELP US PAY OUR HUGE LEGAL BILLS AND KEEP INDEPENDENT MEDIA ALIVE!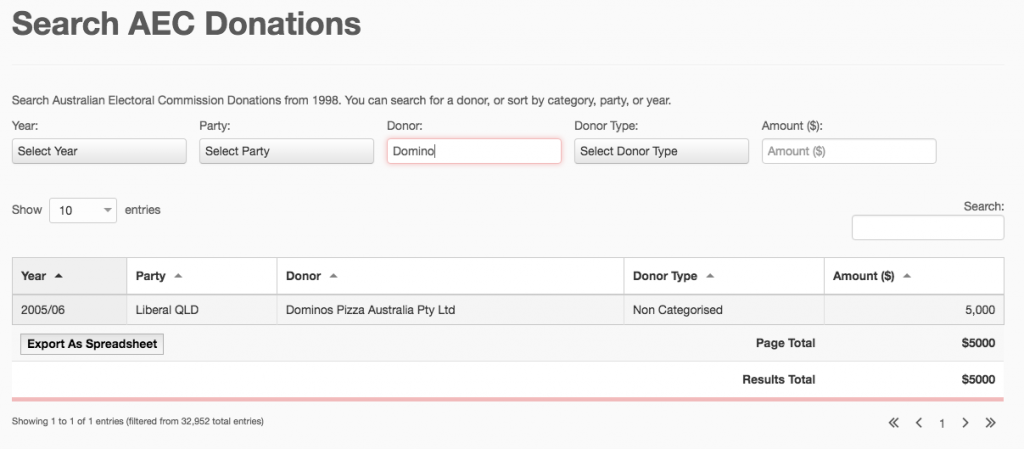 Donate To New Matilda
New Matilda is a small, independent media outlet. We survive through reader contributions, and never losing a lawsuit. If you got something from this article, giving something back helps us to continue speaking truth to power. Every little bit counts.