A new report, which Carmen Lawrence helped launch today, draws attention to the abuses of women perpetrated as a result of Australia's current policies. Max Chalmers reports.
A former Labor Premier who went on to serve as a minister in the Keating government says "real and serious" harm is being done to the men and women held on Nauru and Manus Island, as a result of the bipartisan policy of offshore detention.
Carmen Lawrence, the country's first female Premier, has criticised both of the major parties for failing to take a lead on the issue, saying the community must push back to put pressure on both sides to find "smart" alternative policies.
"There is a way for us to think this through, to work with local communities in the region, to work with governments, to develop a policy that is good for the long-term and does not use people as human shields," Lawrence told New Matilda.
"The moral argument is: we punish these people, we use them as deterrence for those who might come. That's the sort of ethical dilemma that people study in philosophy in their first year of university. They come out on the side of seeing that as a totally inappropriate moral equivalence."
Lawrence made the comments at a forum held today in the NSW Parliament House, launching a report detailing the abuse of women transferred to Nauru.
Co-authored by Lawrence and a number of prominent women who have worked in politics, journalism and the law – including refugee advocate Pamela Curr and New Matilda's contributing editor Wendy Bacon – the report compiles a series of stories from Nauru, and examines the history of colonial domination that led to its recent political and economic woes, with a particular focus on the impact on women.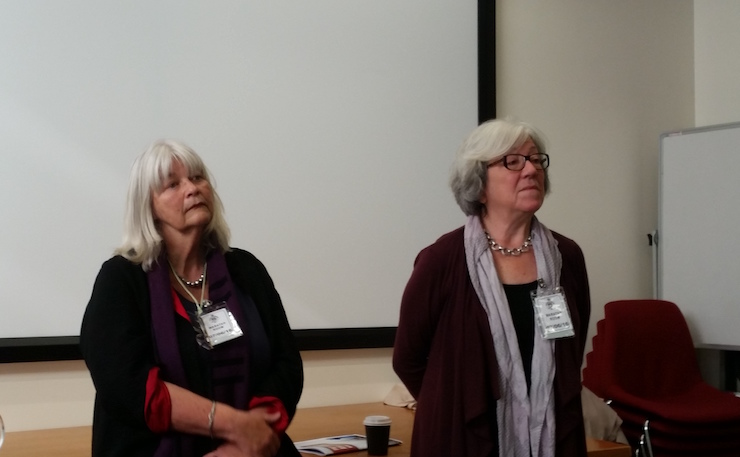 Included among the case studies is the story of a woman known as 'S99', who was raped on Nauru while suffering an epileptic seizure and became pregnant as a result. The young African woman, found to be a refugee owed protection, was denied a request to be transferred to Australia for a termination.
In conjunction with a number of other examples, the report describes the incident as part of what it calls "the mounting evidence of a pattern of systemic assault and rape of refugee women on Nauru".
Both Lawrence and Bacon had originally planned to travel to Nauru in order to complete the report, but were prevented by Nauruan authorities. The pair rapidly raised over $20,000 in a crowd funding exercise to help them overcome the notorious $8,000 fee the country demands from journalists applying for visas. Despite offering to oblige, both women had their applications ignored. Bacon's emails were never returned, and a lengthy bureaucratic endeavour on Lawrence's part eventually ended with silence on the Nauruan side.
With journalists and even former ministers kept out, and refugees and asylum seekers held in, Lawrence said Australia should take in those people currently held on the island, as well as on Manus.
"Why should New Zealand take them? Why should Canada take them? They're already trying to do their bit in the international community," she said. "We should be doing our bit."
Lawrence said she would vote for Labor in her own electorate of Fremantle, but that in some other electorates a vote for either the Labor or Liberal candidate would ultimately help affirm "destructive" refugee policies. A former member for Fremantle herself, Lawrence passed the seat on to Melissa Parke, who became one of the party's most outspoken opponents of offshore detention. Current Fremantle candidate Josh Wilson was involved in a local council decision to cut ties with Wilson Security because of its role in offshore detention, but has since stated he supports Labor's current policies.
Lawrence implored voters to think seriously about the issue before they vote on July 2.

Donate To New Matilda
New Matilda is a small, independent media outlet. We survive through reader contributions, and never losing a lawsuit. If you got something from this article, giving something back helps us to continue speaking truth to power. Every little bit counts.