With the Department of NSW Planning and Environment in the crucial final stages of deciding whether the highly controversial second stage of its WestConnex project, the New M5 tollway, should be given the go ahead or not, New Matilda can reveal an engineering company hired to assist it in making the decision has a history of working for WestConnex. Wendy Bacon investigates.
Major engineering company Arup is being paid by the NSW Department and Environment to work on the assessment of the proposed design of open space around the New M5 tollway, despite the fact it has been awarded at least four other contracts relating to various aspects of the WestConnex project.
With massive community opposition to the removal of open space along the tollway corridor, the suggestion that private companies, which stand to benefit from the 33 kilometre road system, are involved in what is supposed to be an independent decision making process is likely to exacerbate concerns about the adequacy of the planning process.
According to information released to Greens MLC Mehreen Faruqi under the NSW Government Information Public Access Act in 2014, Arup were in on the ground floor with WestConnex with early contracts for work on the WestConnex business case in 2013 and 2014 worth more than $80,000.
Last year, Arup was awarded at least two WestConnex contracts for fire safety design in proposed tunnels and independent technical engineering advice for a total of $326,000.
It is not possible to know how many other contracts have been awarded to Arup because in NSW, unlike under the federal jurisdiction, contracts under $150,000 are not published. There is no archive of NSW contracts.
WestConnex was handed over to publicly owned private company Sydney Motorway Corporation last year which. Unlike public departments, the Corporation does not have to publish its contracts.
Arup's involvement with the Department's assessment process came to light in March at a meeting between the NSW Department of Planning and the WestConnex Action Group, a community organisation opposed to the development. The meeting was initiated by the Department and attended by Executive Director of Priority Projects Assessment David Gainsford.
WestConnex Action Group (WAG) spokesperson Pauline Lockie said the group was surprised to be introduced to two Arup engineers when they arrived at a Department meeting.
"We were shocked. We were shocked to find Arup there when we arrived. We had been forwarded an agenda and names of people attending. There was no mention of Arup," she said.
Lockie told New Matilda she was left with the impression Arup had been invited to find ways of getting herself and two other members to engage in discussion about how impacts of the New M5 could be mitigated rather than deal with their arguments opposing the whole project.
"We made it very clear that there was no real mitigation that they could offer that would mitigate for something like putting a massive interchange and two pollution stacks right in the middle of our St Peters community," she said.
When told by New Matilda that Arup had already provided advice to WestConnex, Lockie said she was "disgusted." She said during the meeting she had explicitly questioned Arup representatives and the Gainsford as to whether the company had contracts on any other parts of the WestConnex project and both answered with a clear 'no'.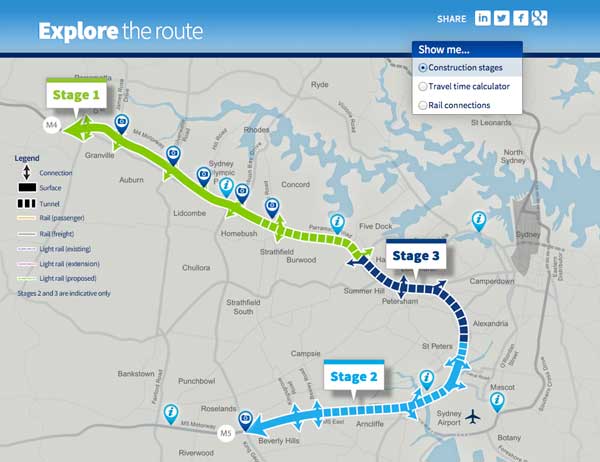 The New M5 is the second of three stages of the WestConnex, a series of tollways that make up Australia's biggest infrastructure project, estimated to cost more than $17 billion dollars in total.
Community groups have been campaigning against the loss of open space the project entails, including the removal of critically endangered Castlereagh Ironbark forest in Kingsgrove in south-west Sydney, a large section of Kogarah Golf course – including habitat of the endangered Green and Gold Bell Frog – and hundreds of trees and sections of Sydney Park in Sydney's inner-west.
WestConnex is being funded by direct grants from Federal and NSW governments as well as loans from the Federal government and investment banks that will later be repaid by tolls.
Residents and community groups made a record breaking 12,000 plus submissions to the Planning Department in response to the New M5 Environmental Impact Statement, with more than 99.91 per cent of objecting to the project in its entirely. The final decision on whether the project can go ahead or not is expected soon.
Nearly 5,000 members of the public and several local councils also objected to the M4 East project that was approved in February. Opposition and anger to that part of WestConnex led to the occupation of a heritage home in Haberfield in Sydney's inner-west last Saturday. The home is one of 206 houses and 31 businesses that are slated for demolition after construction begins. Two of the campaigners who occupied the house were arrested, while riot police were also called to St Peters on the New M5 route last week when residents tried to stop Westconnex drilling.
The major concern expressed in submissions responding to the New M5 Environmental Impact Statement was a frustration and lack of faith in the planning process itself, which many feel amounts to little more than a rubber stamping of decisions made by the NSW LNP government without proper review or transparency.
New Matilda put a number of questions – listed at the end of this article – to both the Planning Minister Rob Stokes and the Department of Planning about Arup's apparent conflict of interests. The Department sent through a single paragraph in response:
"The advice the Department has requested solely relates to the urban design around road interchanges, with a view to creating useful recreational open space for the community and improving walking and cycling connections. This is different and separate to any previous work undertaken by Arup and as such there is no conflict of interest."
The Minister referred New Matilda to the Department's response and did not answer any questions.
The response from the Planning Department suggests that conflict of interests issues do not arise so long as an organisation or individual do not both independently assess and gain financial benefit from precisely the same aspect of a development.
Lockie rejected this view. "I don't think most reasonable people would decide whether there is a conflict of interests by asking if an organisation has worked on the same tiny bit of a massive project like this," she said. "A conflict of interests means you are benefiting from other parts of the project."
"The entire planning process has lacked transparency and independence from the start. And if we can't rely on the Department of Planning to get in experts that don't have conflicts of interests, that process becomes a farce."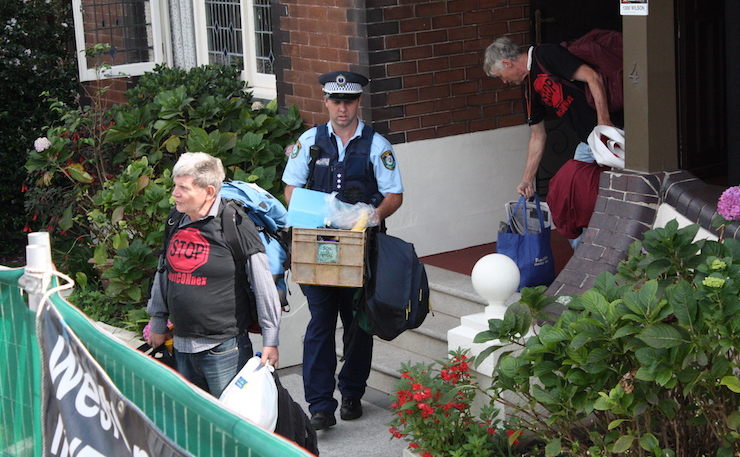 Last year, a Federal Court class action in which Arup was sued for misleading traffic projects on the BrisConnections Airport Link tollway, which went into receivership in Brisbane in 2013, was settled with the court finding that 379 investors would each "receive fair and reasonable compromise" of their claims.
Jeanette Brokman, a spokesperson for the Better Planning Network, told New Matilda, "What we are seeing increasingly are potential conflicts of interest, in the assessment of major planning projects in NSW, where the lack of independent scrutiny and transparency is eroding public confidence.
"Another case point is Sydney's light rail project, which has raised major concerns around governance and process. What's disturbing to see is that the NSW government now wants to reduce the assessment time for major projects by 50 per cent, whereby it's likely the governance process will be further eroded."
Another issue is the close interlinking relationships in the world of Australian tollway construction in which engineers and managers move in and out of companies and the powerful NSW Roads and Maintenance Services and WestConnex. The "design interface manager" of the New M5, for example, is Struan Wilson. According to Wilson's LinkedIn profile, he worked at Arup from 2008 until 2013, after which he joined another private consultant that works for NSW Roads and Maritime Services (RMS). Six months ago, he moved across to the Sydney Motorway Corporation which is responsible for WestConnex.
One of the other major community concerns with transparency has been that another global engineering company AECOM – which has benefited from more than $32 million worth of WestConnex contracts across all stages of the project – was allowed to carry responsibility for the Environmental Impact Statement for both M4 East and New M5 stages of the project. Part of AECOM's job was to prepare a report that responded to all criticisms of its New M5 Environmental Impact Statement.
In its final submission to the Department of Planning two weeks ago, the City of Sydney, which is strongly opposed to the entire WestConnex project, accused those responsible for preparing the final report of failing to "respond to the actual issues raised in the City's submission" or "provide any evidence to support" its position.
City of Sydney added, "This lack of response to the issue or lack of evidence may be due to the fact that the Response to Submissions Report was delivered within five weeks of the exhibition closing date. This is an extraordinarily fast turnaround to respond to 12,866 submissions on the project."
New Matilda published a report on AECOM's involvement in the project last year.  At that time, Curtin University Professor Peter Newman, who had some involvement in the early stages of WestConnex, described the planning processes as, "really very, very light – just a few ideas being thrown together without any serious detailed work being done, and all the detail that was done showed very poor cost-benefit ratio."
"They have completely subverted the normal planning processes and now they're subverting the consulting processes.
"It's corrupting the process, that is what you can say. It doesn't mean that it is corrupt in a legal sense, but it is close to the edge."
AECOM has worked closely with the major WestConnex contractor Leighton Contractors – which is now known as CIMIC – on other infrastructure projects. AECOM is currently being sued for negligent advice on the Brisbane Clem 7 tollway project. The relationship between AECOM and Leighton Contractors will be covered in Part Two of this investigation.
New Matilda offered to interview Arup senior partner Richard Sharp, who was one of two Arup engineers at the Planning meeting. We sent him written questions asking the whether Arup disclosed its WestConnex contracts to NSW Planning and whether he agreed the contracts represented either a conflict of interests or a perception of one. We also told him that according to WAG members present at the meeting, he had denied that Arup had contracts with WestConnex. We offered him the opportunity to make any additional comments but when contacted back, his assistant told us he did not wish to be interviewed and would answer no questions.
We also asked the head of the Planning and Environment Department, Carolyn McNally, the following;
when Arup engineers had been hired by Planning and for what purpose
whether the head of Priority Projects David Gainsford was aware that Arup had held WestConnex contracts when he told WAG that they had not
what due diligence was exercised by the Department to ensure private consultants do not have conflicts of interest
what checks were carried out in the case of Arup
whether Arup had informed the Department that it had been involved in the Westconnex project between 2013 and 2015
whether Ms McNally considered it appropriate that a company that has done work on WestConnex projects should be involved in a supposedly independent assessment process and why private consultants are so directly engaged with the decision making process
Of NSW Minister for Planning Rob Stokes we asked;
whether he was aware that Arup had been hired and that it held contracts with Westconnex
whether it is appropriate that a company that has directly benefitted from Westconnex contracts should be involved in assessing a Westconnex project
As noted, the Department's statement was the only response received.
Wendy Bacon is an editor of The People's New M5 EIS and is involved in the campaign against WestConnex.

Donate To New Matilda
New Matilda is a small, independent media outlet. We survive through reader contributions, and never losing a lawsuit. If you got something from this article, giving something back helps us to continue speaking truth to power. Every little bit counts.