Students at Melbourne University have quite literally laid bare their demands that the institution divest from fossil fuels, after activists at the University of New South Wales spent the night camped out in the Vice Chancellor's building.
The actions come as part of a wave of student protests sweeping campuses around the country. Activists say they've been demanding full divestment for years, but made little progress cleaning up endowments.
This morning, students at Melbourne University unveiled an innovative clarion call, suggesting it's time the school's more than $1 billion endowment "stripped its dirty fossil fuel investments".
Yesterday, students at the University of Queensland occupied the Vice Chancellory well into the night, and left satisfied with a "marathon negotiation". At the University of New South Wales, the student activists never left. After staging a sit-in at 10am, they rolled out their sleeping bags because the Vice Chancellor cancelled a scheduled meeting.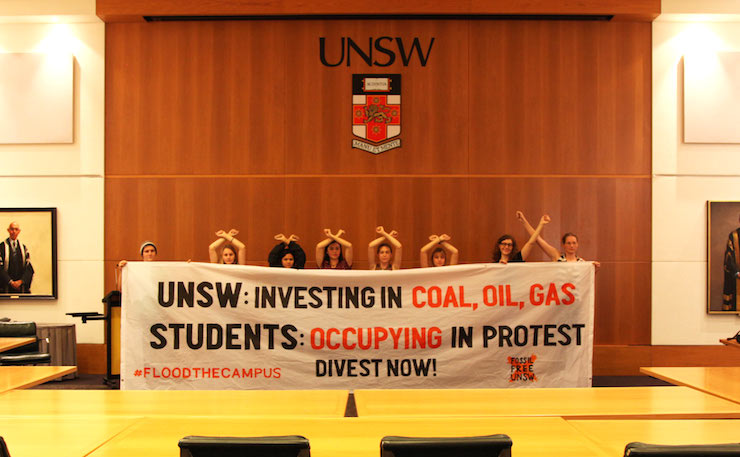 "The Vice-President of UNSW conveyed to us that we needed to guarantee we would leave the space at 5pm in order for them to follow through with the meeting," said Breana Macpherson-Rice, one of the student activists.
"We pushed for the meeting plan to go ahead as before, at 4pm, with the opportunity to discuss with the group after whether we felt it appropriate to leave the space," she said.
"He then told us that the University is not open to negotiating about divestment, and that furthermore the University is concerned about losing face if we do come to an agreement because it sends a message to others that 'you can just occupy and get your demands met'."
She said a freedom of information request has revealed that the University of New South Wales holds $50 million in fossil fuel equities. The University did not address questions from New Matilda about its exposure to fossil fuels, but the Vice Chancellor is understood to have circulated a message to the University community.
"UNSW encourages staff and students to discuss, debate and express their views in a respectful, considered and lawful manner [and]it is precisely for that reason that the University will not adopt a political stance or a campaigning position," Vice Chancellor Professor Ian Jacobs said.
He said University authorities had been "looking forward to a considered discussion" about the prospect of fossil fuel divestment, but the decision to occupy a building "crossed the boundary of acceptable expression of views and the meeting could not proceed under those circumstances".
Professor Jacobs said the University is "working in many ways to facilitate moves to a fossil fuel-free future." The pace of change, however, has been dismissed by student activists as too slow. They have also found political support from State Greens MP Jeremy Buckingham, who has joined them on campus.
A snap rally is planned for 1pm today.
Macpherson-Rice said those occupying the VC's building are also backed by a further group of 120 students and staff who have "pledged to take bold action". The students are again seeking a meeting with University Executives.
"I think they weren't taking us seriously earlier, and are rethinking that now. We are looking for outcomes," Macpherson-Rice said.
Divestment advocates at the University of Queensland had more luck negotiating with University Executives, claiming victory late yesterday after a similar occupation of the Vice Chancellory. Activists took to Facebook to outline the outcomes they'd secured.
The week's escalating actions are part of a coordinated campaign being carried out under the banner 'flood the campus', which is supported by the climate advocacy group 350.org.
Other Universities involved include the Australian National University and the University of Sydney – which have already made partial divestment commitments – and the Queensland University of Technology and Monash University.
As Dr Vivienne Waller wrote in New Matilda last week, the University of Swinburne is also in the process of seeking an investment fund that can provide a fossil free portfolio.
Across this range of campuses, University Staff have expressed widespread support for students' activism around divestment. The Deputy Director of the Melbourne Sustainable Society Institute, Professor John Wiseman said "rapid divestment from fossil fuels is a crucial step on the pathway to a safe climate future".
"Divestment from fossil fuels is therefore an urgent ethical and financial responsibility for all Australian investors and institutions – including universities," he said.
The divestment movement has grown rapidly over the last three years. It seeks to undermine the financial security and social license of fossil fuel companies, and is modelled on similar campaigns against tobacco.
At the United Nations climate conference in Paris last year advocates for divestment, including the President of the Rockafella Brothers Fund, revealed that funds representing $3.4 trillion had committed to some form of divestment.

Donate To New Matilda
New Matilda is a small, independent media outlet. We survive through reader contributions, and never losing a lawsuit. If you got something from this article, giving something back helps us to continue speaking truth to power. Every little bit counts.