The President of the Rockefella Brothers Fund sees fossil fuel investments as increasingly risky, and the former Development Minister of France is heralding a "cultural shift" in financial markets. Thom Mitchell reports.
Over 500 funds managing nearly three and half trillion dollars have joined the global fossil fuel divestment movement, a panel of environmentalists and financial heavyweights announced at the United Nations climate change summit in Paris today.
Campaigners spearheading the fast-growing movement at climate advocacy groups 350.org and Divest-Invest said that in the past 10 weeks alone more than 100 institutions had promised to 'divest for Paris', including the city of Melbourne and the insurance company Allianz.
The $3.4 trillion figure represents funds 'under management', not funds invested directly in fossil fuels, and many of the commitments represent only a partial pull-out from polluting energy of at least one form of fossil fuel (coal, oil, or gas).
"Because of their varying degrees of disclosure with these commitments, we don't have the exact total of the amount divested, but we do know that standard portfolios contain around 3.7 per cent of fossil fuels," said May Boeve, Executive Director of 350.org.
"But the point here has never been exactly how much is pulled out in that way… and that's for a simple reason: A growing number of investors, representing a growing amount of capital, do not want to be associated with this industry any longer," she said.
"It is a rogue industry, and that is what these commitments represent. It demonstrates that investors are taking climate risk extremely seriously."
The $860 million Rockefella Brothers Fund was one of the first big institutions to divest from fossil fuels, in September last year, and the philanthropic organisations' President Stephen Heintz told media that since that time the divestment movement had grown from around $50 billion in assets under management, to $3.4 trillion.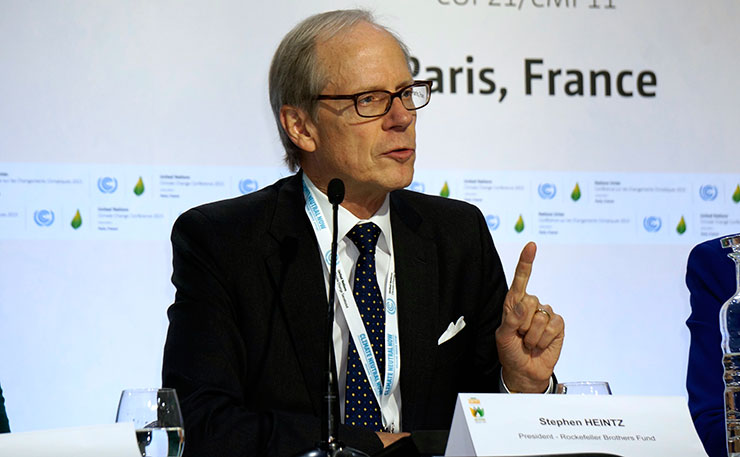 "You can see that this movement is rapidly growing, and it's because of two things: There is a moral imperative to save the planet, and to do so we need to end the fossil fuel era now, and it also makes economic sense," he said.
"As governments from around the world come together to set the framework in place for moving us quickly into the fossil fuel-free era, those assets are going to become less and less valuable."
The former Development Minister of France and now Senior Advisor for International Climate Affairs at the World Resources Institute, Pascal Canfin, said the fact that companies like Allianz were signing up to the divestment movement demonstrated there is a "cultural shift" underway.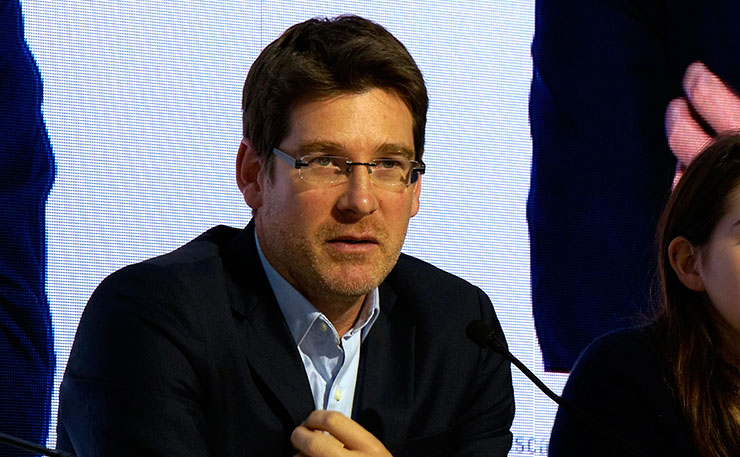 "What we have seen for the last month is that the divestment movement started mainly with the foundations, the philanthropy, and then it is starting to spread into more mainstream financial actors like pension funds, insurance companies and banks," Canfin said.
"It's very clear that we are experiencing something which is very new."
News of the latest tally in fossil fuel divestment comes just two days after a group of 20 governments, including Australia's, promised to double their commitments to clean energy research and development within five years.
Known as 'Mission Innovation', the initiative is backed by the multi-billion dollar 'Clean Energy Breakthrough' enterprise which is spearheaded by billionaire Bill Gates. Indirectly, both are complemented by the announcement this week of an alliance of 120 governments which will work to speed up the roll-out of solar energy between the Tropics of Cancer and Capricorn.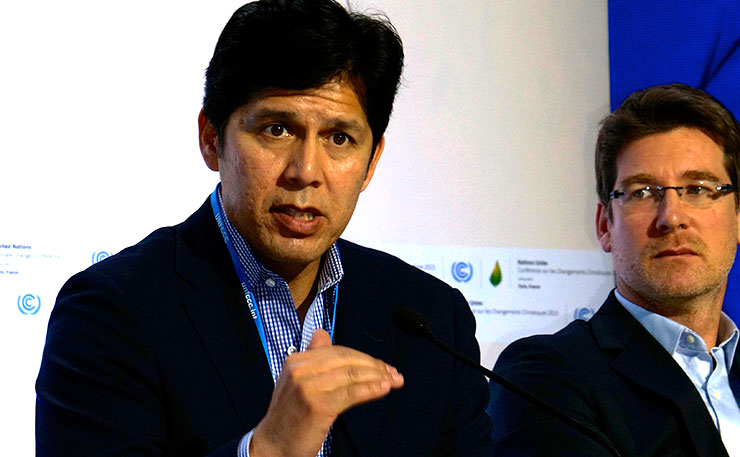 Those initiatives are geared at mobilising the funds needed to decarbonise whole economies by driving development in clean energy technologies, but the President of the California State Senate, Kevin De León, said it's already possible to decouple economic growth from carbon emissions.
"California is the seventh largest economy on planet earth. Not in the USA, but on planet earth," he said. "We have successfully decoupled GDP and carbon, so what that means in short is that our economy is actually growing, while simultaneously we have reduced our carbon emissions," he said.
A key goal of the United Nations summit is to 'mobilise' through government money and public investment of $100 billion in 2020, and for each year after to help developing countries stave off the worst affects of climate change and clean up their energy systems.

Donate To New Matilda
New Matilda is a small, independent media outlet. We survive through reader contributions, and never losing a lawsuit. If you got something from this article, giving something back helps us to continue speaking truth to power. Every little bit counts.