A seven-year-old Pakistani girl is suing her government over climate change, arguing that the state has a responsibility to protect common natural resources for the benefit of future generations.
The groundbreaking Supreme Court challenge, lodged on Wednesday, will highlight the Pakistani government's statements on the importance of tackling climate change, and contrast them against plans to massively increase coal consumption.
Rabib Ali, through her father, Pakistani Attorney Qazi Ali Athar, is the petitioner in the case. She's supported by the U.S based not-for-profit Our Children's Trust, which is building a wave of youth-led climate action around the globe.
"Last year, to celebrate 'World Earth Day,' I pledged allegiance to the Earth and to the flora, fauna and human life that it supports, with safe air, water and soil, economic justice, equal rights and peace for all," young Rabib Ali said.
"I want my government to take a similar pledge, by creating a plan that will allow me and future generations a safe environment to grow up in."
The case is the latest in a global string of lawsuits geared at forcing governments to do more on climate change. It follows a landmark win in the Netherlands last year, where the government was forced to increase emissions reductions targets.
In Pakistan, Our Children's Trust Chief Legal Officer Julia Olsen said, "it's about asking the courts to declare the law, and the rights of the youth and future generations in Pakistan to have their public trusts responsibly protected, and their fundamental rights under the constitution protected".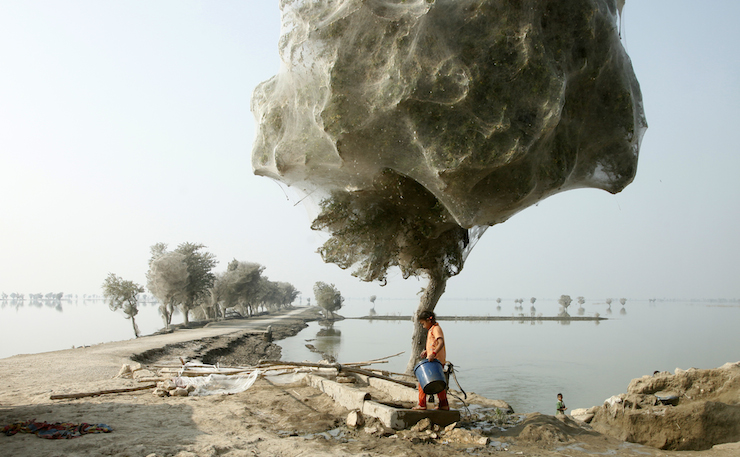 Much of the case relates to the ancient Public Trust Doctrine passed from the Romans into English common law: "A simple doctrine that says sovereign nations or states' governments hold vital national resources in trust for the citizens including future generations of citizens."
"What that means is things like air, water, wildlife, and the shores of our seas and our seas, those things are common to everyone and have to be protected for everyone and they can't be impaired by one generation or sold off and put in the private sector," she said.
"This case asks [the court]to also apply the public trust doctrine to the atmosphere as essential to survival."
Rabib Ali's father, attorney Qazi Ali Athar, said that energy-impoverished Pakistan has "more than enough" renewable energy resources to meet energy needs moving forward.
"Yet the federal and provincial governments of Pakistan…are exploiting Pakistan's most environmentally degrading and carbon intensive fuels—low-grade coal from the Thar Coal Reserves—in violation of the Pakistani people's constitutionally protected fundamental rights," he said.
According to Olsen, "if they were to develop those coal fields it would basically elevate Pakistan's emissions 1,000 times their current levels, so keeping that coal in the ground is one really important part of the case". She said those involved in the case want the courts to "direct the government to develop a climate change plan to transition away from fossil fuel sources of energy and start investing in wind and solar instead."
HOUSE AD: NEW MATILDA IS CURRENTLY FUNDRAISING TO SEND OUR EDITOR CHRIS GRAHAM ON A FACT-FUNDING TRIP TO PALESTINE. YOU CAN PITCH IN A FEW BUCKS HERE IF YOU'RE ABLE.
Pakistan is no stranger to the affects of climate change, and has been wracked by deadly floods and droughts in recent years. As Prime Minister Nawaz Sharif noted at the Paris climate conference, Pakistan is "one of the most vulnerable" nations. Last year, it was ranked as the tenth most vulnerable nation in the German Watch Climate Risk Index, which is based on observed impacts between 1994 and 2013.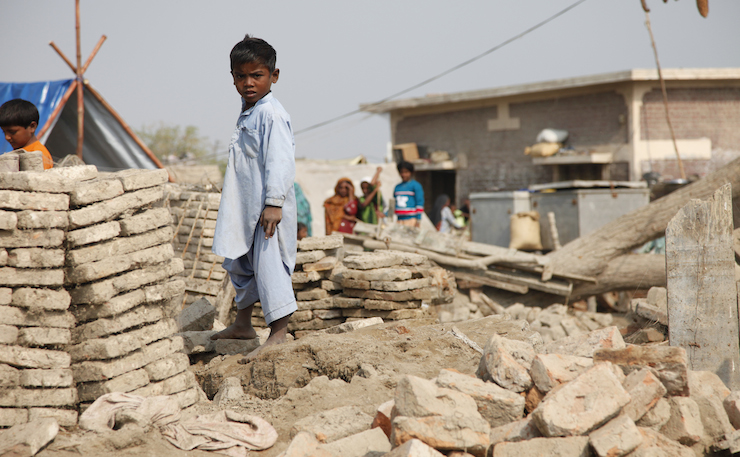 According to Olsen, the young face of this historic court case has a personal motivation for suing the government.
"She is seven. She live in Karachi, in the metropolis, and she really cares about protecting the environment, but she lives in a place where she can't see flowers or wildlife. She basically lives in an area that's so polluted that she can't access the kind of natural resources she would like to spend time in," she said.
"She's young and she wanted to be involved in this in order to protect others in Pakistan and future generations."
Olsen is at the forefront of a global wave of youth climate litigation. She said there's cases being developed, but not yet lodged, in Australia, Canada, France, Norway and the UK. Most notably, though, 21 young Americans are suing the US government over its failure to take more substantial action on climate change.
Olsen said that in Pakistan, "the chances are very good". Last year, the High Court of Lahore ordered the creation of a "climate council" to force the state to uphold its commitments on climate change, and Olsen said "the courts in Pakistan understand the pubic trust doctrine".
"They've issued some very powerful decisions on the rights of future generations  and the need to protect public resources," she said.
"Given the threats that Pakistan faces from climate change, and the need for this huge untapped coal resource that can stay in the ground, I think it's a really ripe case to establish there's a line and that we can't cross this line."

Donate To New Matilda
New Matilda is a small, independent media outlet. We survive through reader contributions, and never losing a lawsuit. If you got something from this article, giving something back helps us to continue speaking truth to power. Every little bit counts.