It started out looking like a cakewalk but, surprisingly quickly, Nick Folkes found himself under the pump.
3AW radio host Neil Mitchell isn't exactly known for his sympathy to progressive causes, or those who call-out racism in contemporary Australia, but even he couldn't find any love for far-right aspiring politician and Cronulla Riots apologist Nick Folkes when the agitator appeared on his breakfast radio program.
Folkes is the head of the Party for Freedom and claims to be running for the Senate in the next federal election, though the Australian Electoral Commission's website does not list any registered party under that name. Folkes also recently cropped up in the media after trying but failing to hold a rally celebrating the anniversary of the Cronulla Riots.
Undeterred, he was back at his usual shtick this week, promoting himself and his anti-Muslim, anti-immigrant cause on 3AW after orchestrating a protest outside a halal expo in Melbourne, where his motley crew were violently confronted by an anti-fascist counter protest.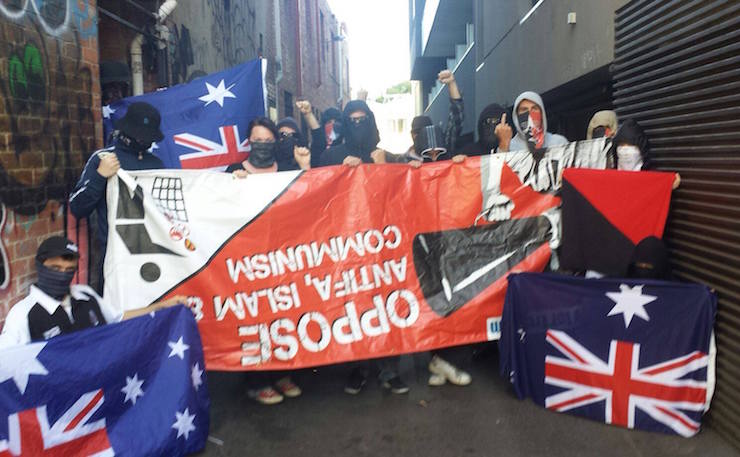 Mitchell seemed sympathetic at first, walking Folkes through questions about the violence allegedly inflicted by the anti-fascist counter-protesters, who left one man with a serious-looking cut to the face.
Folkes listed injuries he had acquired during the confrontation, and then tried to strike a noble tone by suggesting he – unlike the leftie rabble – respected the right of anybody, "even Muslims", to protest.
At this point, Mitchell's sympathetic line of questioning veered.
"Even Muslims?" the host repeated back, with a hint of irony in his voice. "That's good of you".
From here, things started to degenerate for Folkes, as the shock-jock push him on his talking points, and the provocateur found it increasingly difficult to justify his self-portrayal as the well-meaning victim.
"You did have some pretty offensive banners with you, didn't you," Mitchell noted.
He certainly did. Folkes has embraced the 'rapefugees not welcome' slogan, popularised among right wing groups in the wake of the December Cologne attacks. The anti-Muslim protester injured had been wearing a shirt with the slogan on it, a sight presumably not welcomed by the men, women, and children who had come out to see the expo.
But Folkes rejected the idea the tag was offensive. As Australians, we've got a right to protest peacefully, he intoned. Mitchell was losing patience and Folkes quickly changed tact, saying some had been at the rally to oppose animal cruelty, a charge commonly laid against halal slaughter, but generally rejected by the RSPCA.
"Yeah sure, and you were really there on animal cruelty, you weren't there to cause trouble with the Muslim community," the host retorted sarcastically.
Folkes was losing sympathy rapidly, and as Mitchell impatiently tried to wrap-up the conversation, the anti-immigration activist once more tried to win the shock jock back.
He turned to the oldest trick in the public relations book.
"Beautiful city, really enjoyed myself here…" Folkes said of Melbourne, where the halal expo had been held, and where Mitchell's audience is based.
But the attempt to butter-up Mitchell and his listeners – much like Folkes' efforts to rouse a mass protest on the anniversary of the Cronulla Riots – failed.
"You enjoyed yourself," Mitchell snorted back, now incredulous. "You got beaten up and harassed people – and you enjoyed yourself?"
Folkes, perhaps misreading the tone of the presenter, perhaps desperate for a final chance at redemption, giggled, and attempted to smooth over the sarcasm with humour.
"Well it was unfortunate [that the violence]happened but I wouldn't have missed it for all the kebabs in Lakemba," Folkes replied with a laugh. His mirth was not echoed from the other end of the line.
"You're an idiot," Mitchell replied.
The host briskly thanked Folkes for checking in, and the line went dead. In the dying seconds of the interview, with Folkes no longer present in the conversation, Mitchell took on both the roles of host and guest, imitating the anti-immigrant agitator and concluding the the conversation with an appeal to higher powers.
"Seriously, 'I had a great weekend, I harassed people, I offended people, and I got beaten up, oh it was marvellous fun'," Mitchell said. "Heaven help me."
Within a few hours, anti-fascist and islamophobia awareness social media channels were sharing the clip widely. Looks like Folkes might have helped Mitchell find an unlikely new audience.

Donate To New Matilda
New Matilda is a small, independent media outlet. We survive through reader contributions, and never losing a lawsuit. If you got something from this article, giving something back helps us to continue speaking truth to power. Every little bit counts.