State Greens MP Jenny Leong found a receptive audience at a Sydney rally supporting the Safe Schools program last night, when she declared Prime Minister Malcolm Turnbull and NSW Premier Mike Baird lead parties of "bigots and homophobes and transphobic bullies".
A couple of hundred people had turned out at Town Hall Station in the gathering Wednesday dusk, angry that a vanguard of conservative parliamentarians has successfully carried off the 'gutting' of an anti-homophobia program that's been at the centre of a national controversy for weeks.
Funding will be cut next year, and demonstrators cheered Leong's assertion that the two Liberal leaders have aligned themselves with "the most evil of transphobic and homophobic bigots, that we see in the most conservative elements of the Liberal National parties".
"They talk about how this program is not just about bullying," said another speaker, Cat Rose from Community Action Against Homophobia. "Well that's true, and the people from Safe Schools have always said that proudly – that you can't actually challenge bullying unless you want to challenge the discriminatory basis on which it exists."
"That's why it takes up the demand for pride, that's why it tells people about diversity and acceptance of difference." But with scrutiny of the program reaching fever pitch last week, and Federal Education Minister Simon Birmingham announcing changes to a number of lesson plans, demonstrators felt that many of the best aspects of the program have been dropped.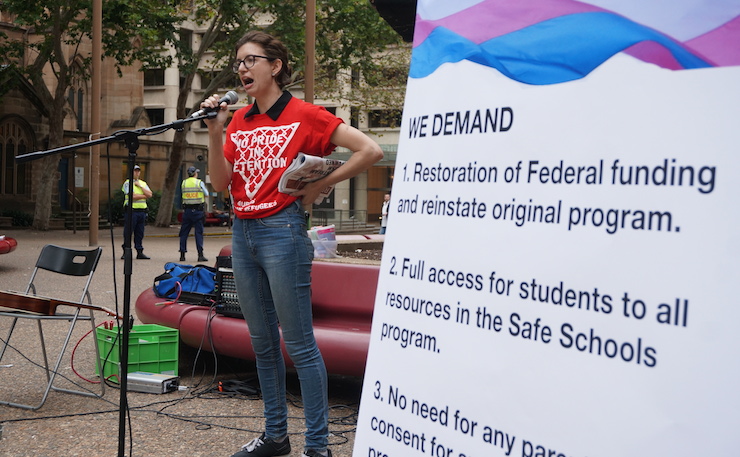 Parental consent will also be required before students can participate. According to one leading critic of the program, Nationals MP George Christensen, Safe Schools has been "gutted" under Malcolm Turnbull's Government.
Last week the Human Rights Commission expressed concern at the tenor of the debate, which has been driven by campaigning from The Australian newspaper, and flagged the potential for parental consent requirements to lead to the 'outing' of potentially vulnerable students.
Demonstrators demanded the program be left as is, that it be extended to all students without requiring consent from parents. For many of the roughly 300 people at the Sydney, it was a deeply personal response.
Activist Dylan Lloyd is working on ways reduce high rates of LGBTQI homelessness, and he told the crowd that "young people who are being kicked out of their homes are [now]being told to ask permission from their parents to participate in a program that could literally save their lives".
"We already know there's an overwhelming overrepresentation of queer people in terms of the homeless population, in terms suicide, of mental health, anxiety, all of those kind of issues," he said.
"The government is entrenching this in our schools when it does things like attack the Safe Schools program, which is there to help people who are going to end up on the streets because they have abusive families."
He said New South Wales Premier Mike Baird's comments this week, that much of what the program targets would be better handled by councillors, showed a misunderstanding of the reality of how schools respond to queer youth.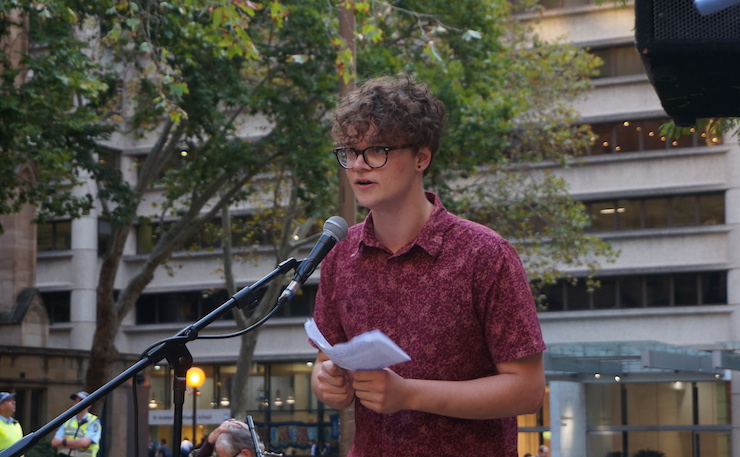 "You can't send kids to counselling when you've replaced all the staff with chaplains. I tried to get counselling when I was in high school four years ago: I was told that God would help me 'cure my curse' if I changed my ways," Lloyd said.
"The limited information in the textbook about how it was wrong to discriminate against queer people was explicitly repudiated by my PDHPE teacher. We actually had an assessable pop-quiz in which we were told we were meant to answer 'true' to the question of whether homosexual people are responsible for over 80 per cent of underage sexual assaults. That is shameful…"
The Labor party has made similar comments since Malcolm Turnbull acquiesced to the Liberal party's far right, which demanded a review of the program at a party room meeting in late February. "The bullies have won," Opposition Leader Bill Shorten tweeted in response to the changes Birmingham has announced.
The New South Wales Teachers Federation agrees, and "condemned the Turnbull government for undertaking a review of the work of Safe Schools Coalition as a direct capitulation to the conservative and ignorant voices in the parliament wand broader community who seek to demonise their work and young LGBTIQ people".
The Federation said the changes announced go "well beyond the findings and recommendations of the review and pandered to the right wing extreme". They called on Mike Baird to continue funding the program after Federal money is withdrawn.
If Baird did fund the program, he'd be following the lead of the Victorian Labor Government. Premier Daniel Andrews has described Safe Schools as "brilliantly effective," and vowed to extend it to all the state's secondary schools. "We'll lock that funding in at a state level – because if it saves just one life, it's worth it," Andrews said.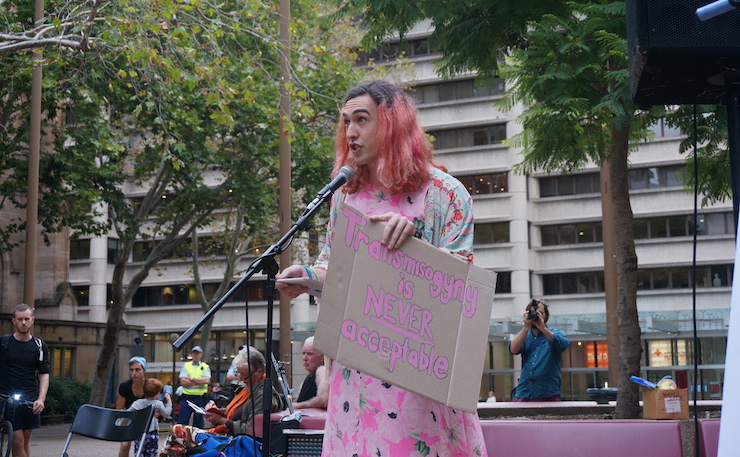 At the Sydney Rally, which followed a demonstration of up to 2,000 people in Melbourne on Monday, transgender woman Andrea Zephyr said that she first attempted suicide at 13, and had tried six times since.
"Every day I get gendered as a man in a dress and as a child this was my greatest fear. I felt that I couldn't ever be recognised as who I am, who I know I am – not what I want to be, because I'm already a woman. I've always been a transgender woman regardless or what I've been told by my parents, or my school, or society," she said.
"That's taken me 22 years to feel comfortable enough to reclaim, especially in front of a large group of people, and I proclaim that every single day. Something at school that would have taught me who I am is okay would have reduced 22 years of the pain of trying to be able to do that so significantly."
Another speaker recalled how, decades ago, it was six 16-year-old school children who actually beat their boyfriend to death. A group of current students from Castle Hill High School told the rally that the program could have saved their friends life last year, and prevented her suicide.
"If she got the support she needed, this wouldn't have happened," said Megan Robinson, one of the students. "We shouldn't even have to be here. Why are they cutting it? I don't understand."

Donate To New Matilda
New Matilda is a small, independent media outlet. We survive through reader contributions, and never losing a lawsuit. If you got something from this article, giving something back helps us to continue speaking truth to power. Every little bit counts.