After a punishing few years for advocates, the fight for digital rights is getting serious in Australia, building on unusual partnerships to increase pressure on the major parties. Max Chalmers reports.
In the boardroom of Australia's newest digital rights lobby an unspoken pact may be necessary: don't mention the tax wars. And don't even think about bringing up Andrew Bolt.
The new organisation, known as Digital Rights Watch (DRW), was launched late last week. It formed in the wake of a tough year for those who wish to keep the internet free from government censorship and surveillance, with 2015 seeing the passage of mandatory data retention laws as well as legislation enabling the Federal Court to order websites infringing copyright to be blocked.
As the Board of DRW attests, the coalition of interests offended by these moves draws from across the political spectrum, serving up an odd new alliance.
The group's inaugural chair is Tim Singleton Norton, Head of Campaigns at NGO Save the Children, and a former Greens staffer who has done time for both Senators Rachel Siewert and Scott Ludlam. Norton said DRW would act as a kind of "umbrella organisation", helping to bring together and organise those already pushing back against restrictions to digital freedoms. His pedigree may be green, but Norton insists adding another left-wing voice to the muted outrage over the government's data retention program, or laws allowing courts to block websites infringing copyright, won't shift the debate.
"If it's just the extreme lefties, of which I would probably classify myself, we're never going to appeal to the legislators or the broader public," he told New Matilda.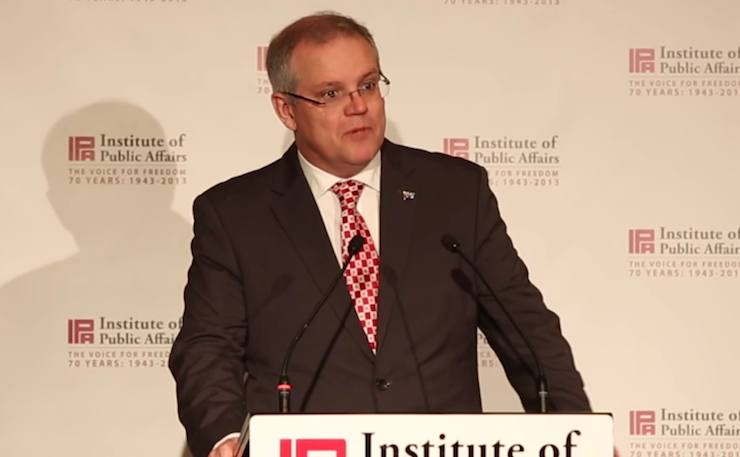 And that helps explain why DRW's board also includes Chris Berg, a prominent commentator who serves as a Senior Fellow at right-wing think tank the Institute of Public Affairs (IPA), an organisation uniquely loathed by the contemporary Australian left.
Aside from pushing for the privatisation of the ABC, and vigorously defending Andrew Bolt, the IPA has recently proved somewhat of an incubator for the Liberal Party, with former staffer Tim Wilson and James Paterson both making tilts at parliament at the next election.
Despite links of ideology and patronage to the Liberal party, the IPA has also campaigned against restrictions on digital freedoms under governments of both stripes, slamming Stephen Conroy's failed attempt to blacklist a number of websites in 2012, and attacking the Coalition's own website blocking laws two years later.
The IPA aren't the only ones linked to DRW who take a right-wing route to opposing such laws. While DRW's list of official supporters includes a number of left-leaning academics and advocates – Julian Burnside, Anthony Lowenstein, and Scott Ludlam among them – it also lists those such as the (right-wing) Centre for Independent Study's Trisha Jha.
Norton said other libertarian voices had also participated in early workshops, and indicated support for the project behind closed doors. He said it didn't matter whether you opposed censorship and surveillance on the basis of individual or collective rights. In Norton's view, the ideological journey is less important than the policy destination.
"It was really good to be able to reach out to a massive group of people, find common ground, and say 'put ideological issues aside'," he said.
Berg for one sees nothing odd about the new alliance, and said it was in keeping with his desire to make Australia a freer place.
"If you have an idea that Australian politics is split into waring camps where people loathe each other on personal grounds, then perhaps it seems unusual. But when it comes down to it, I want to defeat bad policy," he said. "I'll work with whoever I can to defeat that policy."
Berg has indeed proved happy to do so in the past, criticising the Coalition government's citizenship stripping laws at discussion hosted by the left-leaning NSW Council for Civil Liberties last year.
He noted that despite the passage of the data retention legislation, the debate about which agencies would be provided warrant free access to that data was ongoing, describing it as a "big fight".
That's a fight DRW will be taking on in 2016, while it monitors other areas including changes to biometric facial recognition surveillance, runs public awareness campaigns on encryption, and looks at content censorship by social media platforms such as Facebook and Twitter.
The hope is that with its more diverse membership the group will have a better time of lobbying Canberra than other digital rights groups have in recent years.

Donate To New Matilda
New Matilda is a small, independent media outlet. We survive through reader contributions, and never losing a lawsuit. If you got something from this article, giving something back helps us to continue speaking truth to power. Every little bit counts.