It was a great night to be a fan of cricket in Australia – and a considerably less enjoyable evening to be a fan of privacy or journalism.
The Coalition has succeeded in passing its data retention laws, which will force phone and internet companies to store client data for two years and hand it over to a range of government authorities on request.
The legislation passed the Senate last night with Labor support, ensuring spirited objections from the crossbenchers and the Greens fell on deaf ears.
The votes of Leyonhjelm, Lambie, Lazarus, Madigan, Xenophon, and Muir and the Greens could not prevent the inevitable, with Labor and the Coalition aided by lone PUP senator Dio Wang.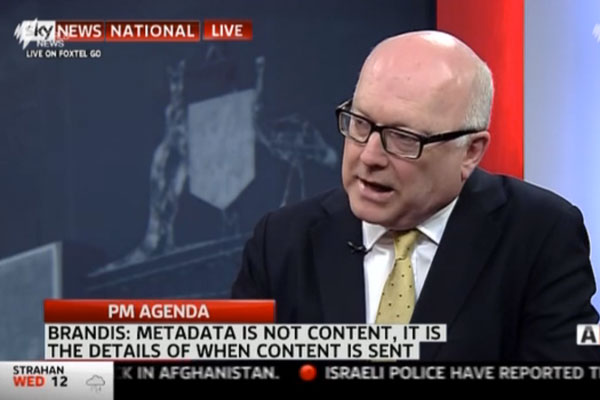 The bill had previously been examined by the Joint Standing Committee on Intelligence and Security, which is made up entirely of Labor and Coalition members.
Telcos have spoken out against the new laws which will force them to dish out to collect and store the extra data. The total cost of the scheme is expected to be $400 million a year, according to reports.
Over the past week, Labor Senator Jacinta Collins has defended the final legislation, which ensures a warrant will be needed to retrieve the metadata of journalists who will be represented by a government appointed Public Interest Advocate. Journalists will not be told when a warrant for their data is requested and the disclosure of such a warrant could lead to up to two years jail.
There are no exemptions for ordinary citizens, and questions have been raised about how effective the Public Interest Advocate will be in arguing on behalf of journalists.
"Mandatory data retention is not mass surveillance," Collins said on Thursday.
In the face of persistent opposition from the Greens' Scott Ludlam, Collins defended the checks and balances in place to stop government organisations misusing the powers afforded by the legislation.
"I will make it very clear: the Labor Party has not caved in in this matter," she said.
Senator Scott Ludlam didn't agree.
"We're here tonight because the Abbott Government has chosen to ignore the very clear warnings sent by tens of thousands of people and pressed ahead with a bill that entrenches passive surveillance of over 23 million Australians," he said.
"The ALP has caved in to Tony Abbott's self-interested fear campaign and supported the bill," he later added.
Ludlam went on to quote Communications Minister Malcolm Turnbull, who earlier gave an interview explaining ways to get around the legislation.
Opponents of the bill have argued that in spite of effectively monitoring all Australians, it will not bolster the ability of security agencies to combat terrorism.
"In terms of caving in, I would have to say the 74 amendments that were accepted by the government in the debate in the House of Representatives represent the critical concessions that have been made in this debate to build a system that does have integrity and does have balance," Collins said.
As a series of amendments were moved by the Greens and crossbenchers, and just as quickly scuttled, the Attorney-General explained his opposition to requiring warrants for access to the data.
"Surely, Senator Ludlam and Senator Leyonhjelm, you must see as a matter of common sense that, if that is the demand by the authorities for access to metadata — 340,000 a year — there is no practical possibility, none, that a warranted regime could work. None. The sheer volume of the need of the authorities to access metadata precludes the procedure for warrants," he said.
Earlier in the day journalist Peter Greste – recently released from an Egyptian prison where he was detained as a result of his reporting  – addressed the National Press Club and warned of the impact the laws could have on press freedom.
"I've spoken to a number of experts who seemed pretty convinced that there are ways of managing both the security issues in a way that doesn't necessarily impinge on the journalists' capacity to investigate the government, to hold the government to account, and it certainly doesn't close down the space for people like whistleblowers to operate," he said.
"If we do that, then I think we lose something fundamentally important to our society. And we need to bear that in mind, and this is something, as I said, that I believe has helped make Australia what it is today."
Donate To New Matilda
New Matilda is a small, independent media outlet. We survive through reader contributions, and never losing a lawsuit. If you got something from this article, giving something back helps us to continue speaking truth to power. Every little bit counts.