Once in a while, a motion picture comes along that simply takes your breath away. This story is about one such motion picture.
The Australian Defence League – a tiny but determined band of 'Great Aussie Patriots' – have seriously escalated the 'War on Islam' with a propaganda video that will almost certainly go viral.
And if it doesn't, it won't be for lack of entertainment value… because, trust us, this video is highly entertaining.
Everything about it – the production values, the singing, the lyrics, the costumes – screams Oscar nomination.
The video features a large man with a fake beard, who is singing what the filmmakers claim to be a rip off of 'I Am Woman'. Its lyrics include 'I am Moslem (sic), hear me roar, in numbers too big to ignore, and I'm going to breed you Europeans out'.
The backdrop appears to be a borrowed red bed sheet. The costume also appears to be a bed sheet.
At one point, the filmmakers clearly become worried they're losing the viewer, so they simply start rotating the screen 360 degrees.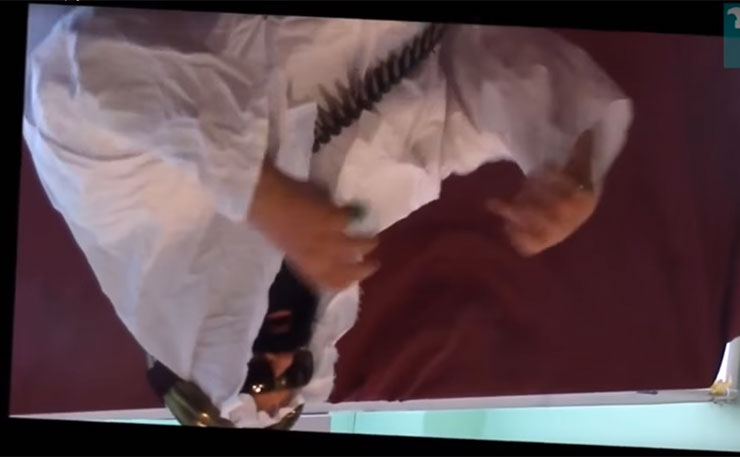 If you're a fan of lip syncing – or more particularly, if you like the audio in your music clip to match the video – then this film may disappoint. We particularly recommend watching from 1:10, when the audio cuts out entirely, but the character appears to be singing with gusto.
In other parts of the clip, the filmmakers reinvent the principle of cropping… by leaving out the head of the performer.
Eventually, the filmmakers appear to lose interest in the original Helen Reddy song, abandoning it altogether for something else (which is, sadly, indecipherable).
The video ends with scrolling text, which suggests complaints should be directed to "Dr Robert Sparrow of Monash University", a reference to claims earlier this year that far right activists had finally unmasked 'slackbastard aka Andy Fleming', an occasional NM contributor and noted anarchist blogger, whose been embarrassing the daylights out of patriots for years.
Fleming's real identity remains unknown, but that's not through lack of trying either – Sparrow is the second person in as many years to wrongly be 'exposed' by the patriot nutters as Fleming.
Disappointingly, the film has only had 44 views (at least five of them by New Matilda staff), and the Youtube channel only one lonely subscriber. And so with that in mind, we thought this sort of art deserved a much bigger audience.
We've downloaded their video (in clear breach of their copyright) and re-uploaded it to New Matilda's own Youtube account, so you can watch it in full without 'contributing to the patriot cause'.
Enjoy, and feel free to leave comments, tips and reviews below.
Donate To New Matilda
New Matilda is a small, independent media outlet. We survive through reader contributions, and never losing a lawsuit. If you got something from this article, giving something back helps us to continue speaking truth to power. Every little bit counts.